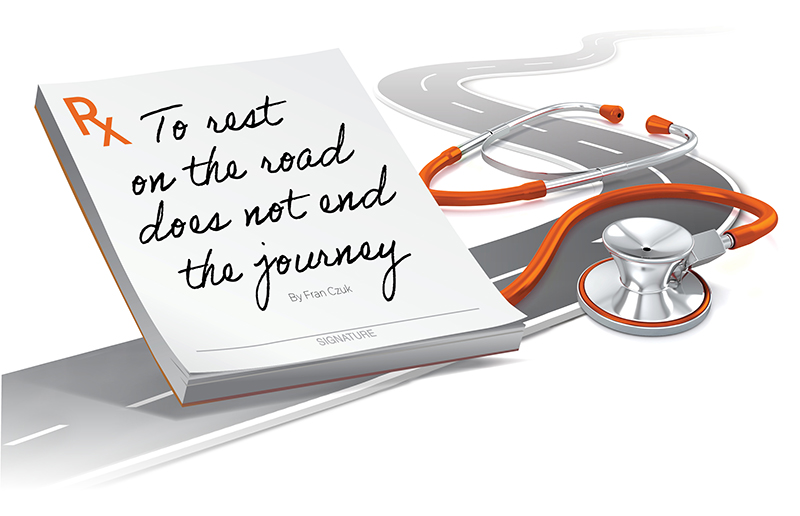 To Rest on the Road Does Not End the Journey
By Fran Czuk
Dr. Tamea (Johnson) Evans '93 displays in her office a picture, made for her by a patient, featuring a quote that sums up much of her life path: "To rest on the road does not end the journey."
For Evans, life has not been a straight, continuous road from start to goal. Rather, her path has been full of twists and turns, breaks and pauses, and jumps to new paths that ultimately led her to where she wanted to be: providing community-based health care in a neighborhood that traditionally has faced barriers to care.
"My husband always says, 'God put you on this weird journey that you never would have had if you'd gone the straight and narrow and followed all the rules,'" Evans said. "Every time you did, you felt like you bumped your head, so you would find a new path, and that new path gave you all these neat experiences. It ultimately put you right back where you wanted to be in the first place."
Her winding way started with a misconception that brought the Flint, Michigan, native to Kalamazoo College in 1989.
"When I took the ACT, there was a box to check if you wanted public or private institutions," Evans said. "I didn't know what that meant. I was studying government at the time and I thought, well, I seem to like private things better, so I picked private. Then everybody else started getting information on Michigan State and Michigan, and I'm getting Hope College, Adrian and Kalamazoo College. I had no clue about those schools."
She started visiting them regardless. K's high acceptance rate into medical school stood out to Evans, who wanted to be a physician.
"I was one of those first-generation, rule-following, let's-find-the-right-path students," Evans said. She envisioned four years at K promptly followed by medical school and a physician job. Her path, however, was not to be so straightforward.
"I think about half our class wanted to be in health sciences when we came in," Evans said. "I jumped right in there and every quarter it seemed like half the people had disappeared. I was thinking, okay, I'm not going to make it."
While she struggled with the intensity of the short terms and the rigorous science curriculum, Evans loved K and learned invaluable lessons from the liberal arts approach.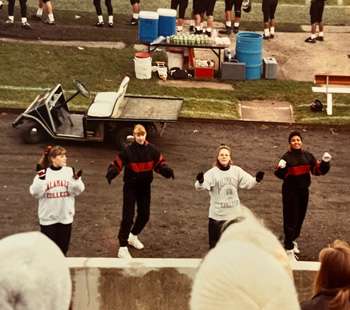 "K was a great learning space," Evans said. "One of the things I loved about Kalamazoo was that we got to take other kinds of courses that were not necessarily what you were majoring in, and that's the part about my college experience that I can tell other people didn't get. It was that enlightenment of yourself—lux esto, be light. I really hold that near to heart because I think sometimes, we get very narrow in our focus, and K forced me to broaden my horizons."
A community-based education course and a first-year course on critical thinking, neither of which Evans would have taken on her own initiative, taught her about herself as a learner—lessons she would return to again and again throughout her life.
Another course at K changed Evans' view of literature.
"I hated literature my whole life until I took a class at K," Evans said. "It wasn't interesting to me; I couldn't appreciate it because I never saw myself in it. In that class, I finally got to read stories that centered me as a Black woman. Then I could appreciate other people's stories more and I began to understand why we need literature."
Evans went on to win a literature award from Randall Robinson, a lawyer, author and activist known for founding TransAfrica and opposing apartheid in South Africa, who spoke on campus in 1992.
"He is a quiet, powerful force," Evans said. "He gave one of the most phenomenal speeches about media, how the way we receive information in America is not truly news, and he gave us ways to read the news from a more worldwide perspective. I have never looked at the media the same since."
At the time, students were required to attend a certain number of Liberal Arts Colloquium Credit events by the time they graduated.
"My husband talks about this sometimes, because he would never get his done," Evans said, laughing. "They would bring in speakers on various topics you probably never considered. You would oftentimes be like, oh, I don't want to go to this because it's not a topic I'm interested in. It was another one of those enlightening experiences because you needed your credits, so you would go to them anyway, and you would always learn something new. It would make you go places you never expected to go."
Author and activist bell hooks, who spoke on campus in fall 1989, was an LACC highlight for Evans.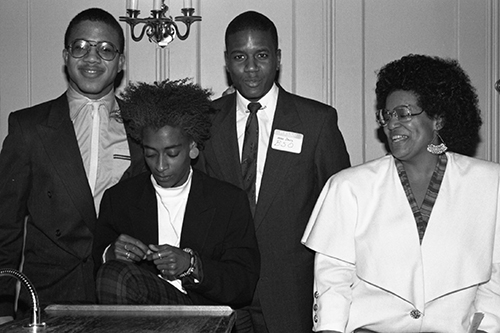 She was the original source of an idea Evans heard from Jeanne Baraka-Love, director of minority affairs and a mentor to Evans during her time at K.
"Dr. Love said it like this," Evans said. "Every day of your life, you would come home and sit down to dinner and your whole family was Black. Now you come to school and that's not the case—and that goes for white students as well—the world is not just your family. Now you've got to figure out how to navigate that space. I think that's what school is about. Everything's not going to look like it did at home; your table is now the table in the cafeteria. Who are you going to sit with and get to know? I feel comfortable walking into all kinds of rooms, and it starts in those places like K."
Baraka-Love played an instrumental role in bringing Evans to that place of comfort.
"When you are one of eight black students in a class, you need someone to help navigate that space," Evans said. "Dr. Love was one of those people. She helped me affirm who I was and know that I should be comfortable in my own skin, no matter what that skin looked like."
A rule follower by nature, Evans credits K with shaping her into someone willing to break the rules when necessary, which enabled her to diverge from the K-Plan when she needed to rest on her college journey.
"I was having some struggles and I felt like I wasn't in a space where the structure of the K-Planwas helpful for me," Evans said. "I didn't go on foreign study. I ended up taking an internship and taking organic chemistry at Western Michigan University. For that class, K was too fast-paced for me and I needed to slow down."
Evans recognized what she needed because K had taught her what kind of learner she was.
"I was determined that I wasn't going to fail the class just because of the way it was structured," Evans said. "I had to do it my way. I did one course at Western and that gave me the confidence to come back and tackle K again."
Evans completed her Senior Integrated Project (SIP) at Upjohn Farm on how milk components changed the effectiveness of antimicrobials used to treat bovine mastitis. The SIP helped her land an internship after graduation, as well as jobs testing water and working as a microbiologist.
Resting on the road
Evans marvels now that it was so common at K to graduate in four years and to go on to post-graduate school.
"I think that speaks volumes," Evans said. "The focus was going on to bigger and better."
With that in mind, Evans took the MCAT—and did not do well. As a first-generation college student, she did not know how to prepare for the entrance exams into medical school.
"Even though K prepared me to be a great thinker, you just don't know what you don't know," Evans said. "I was never going to ask, because that was my nature back then. I made a lot of assumptions and went with them. I didn't know a lot about process, like how to study for the MCAT. I winged it a lot."
When she performed poorly on the MCAT, Evans started looking for a job. During that process, she visited a community health center in Kalamazoo.
"It was my view of how I wanted health care to be," she said. "It was like one-stop shopping in the Meijer fashion. I thought, well, maybe I'm not meant to be a physician in one of these places; maybe I'm meant to run one of these places. I wanted to help people, whatever the journey was going to be; I thought maybe I was going to help the world in a different way."
The desire to work in community health felt like a religious calling for Evans, like God had set her on that path, and she sought to be open to however that might look.
She married her college sweetheart, Rodney Evans '93, who had a daughter, and they added another daughter to their growing family.
"I didn't know what to do at that point," Evans said. "I still wanted to help the world but I didn't know how that was going to look as a mom."
Evans became a stay-at-home mom while her husband earned a master's in public health and an executive M.B.A. He got a job in Clarksville, Indiana, on the border with Kentucky, and the Evans family settled on the Louisville side of the Ohio River. When Evans was ready to return to work outside the home, she applied for a water company job, a path that eventually diverted her back to the medical field in two unexpected ways.
The first was through a chance encounter on the sidewalk as Evans was looking for the water company's office.
"This young woman was passing me, and she said, 'Oh, I just quit that job. Here, contact this person,'" Evans said. "She was probably a 30-something-year-old Black woman, and she looked at me and she said, 'Because I'm going to be a doctor.' It intrigued me and we ended up swapping numbers.
"It was during the interview for the customer service job at the water company that Evans saw a poster with the quote, "To rest on the road does not end the journey." That resonated with Evans. She returned to it later, at an employee evaluation where her boss told her that while she was the best worker he had ever had, he could not promote her because she had taken time off to care for her daughter when she got sick.
In the meantime, her predecessor in the job, that chance sidewalk meeting, had become a friend and confidant.
"She's a force and we just vibed and truly connected," Evans said. "We would have these conversations and when I got angry about the job, she was like, 'Girl, we should just study for the MCAT.'"
Being denied a promotion despite excellent work proved to be the push Evans needed. She quit the job, and the two friends prepared for the MCAT together. Both would eventually become physicians.
"I might have been 26 when this all happened and I felt old," Evans said. "I'm not saying I was, but I felt at the time like I had lived a lifetime and had done more than the average bear as far as what I had been exposed to."
Evans opened her medical school entrance essay with the quote from the poster, "To rest on the road does not end the journey."
"That does express exactly how I felt," she said. "My story was not the traditional story. Medical school was relatively easy for me, which I would never have guessed and I still, to this day, thank K for that. K taught me to be a critical thinker and a great self-teacher and I realized that when I got to medical school ."
Continuing the journey
Evans earned her medical degree from the University of Kentucky in Lexington. Afterward, Evans worked for a federally funded health clinic in Richmond, Kentucky, where she saw firsthand the gaps in care. Patients could not afford to see a specialist. When gas prices were high, they could hardly afford to get to one medical appointment.
"They would pay a sliding fee to see me and get all their labs," Evans said. "If they needed to see a specialist, there was just no way they could. The barriers to their care were so great."
Diabetes was a common problem among patients Evans saw, and an area where she felt weakest in her knowledge and abilities. Seeing the need of her patients, she committed to learning more and became a diabetologist.
"The place that I felt the most vulnerable in knowledge, I ended up having to learn so well that I became very good at managing diabetes," Evans said. Eventually, she became the state champion for diabetic self-management, education and support. She now trains doctors in that programming so they can teach patients to be self-learners and manage their diabetes.
After Richmond, Evans worked in a diabetes center and in primary care before taking leadership of the medical team at a new University of Louisville Health Urgent CarePlus facility that opened in July 2021 in west Louisville's Parkland neighborhood. The facility offers both primary and urgent care. Evans serves as the primary care physician and diabetologist.
"It comes back to that place in Kalamazoo where I thought I could be the community health person," Evans said. "I don't take anything for granted—good, bad. When my patients are struggling, I always tell them, I never lose, I only win or I learn. That's how I had to go forward because life always throws you curveballs. It was a tough journey to get here but it was worth every moment."
While Evans loves Louisville, she says it has a long history of redlining—discriminatory loan and insurance practices that segregate neighborhoods and contribute to structural racism. The establishment of the Parkland Urgent Care Plus was an act of anti-racism by the former president of the University of Louisville, Evans said.
"She wanted to have community partnerships and have a provider here that could reach out to the community in a way that maybe other providers don't do," Evans said. "I'm in that space where I'm a physician, but I'm also doing administrative and community-based things that are needed to break down social determinants of health, like transportation."
As with her experience in Richmond, transportation is a huge barrier to specialized care for her patients in Louisville. Evans is currently working with a donor to endow a fund that will provide transportation to patients who need it. In addition to providing care and seeing patients, she meets with community members and donors, leads discussions on topics such as depression and quality measures, seeks out grant money, and helps plan and execute initiatives.
Recently, she has been working with the Department of Public Health regarding a grant they received to help with equity in west Louisville.
"They're moving into things like economic or entrepreneurial equity that help people build wealth and improve health by having more wealth," Evans said. "I get to dabble in spaces where we can really problem solve to improve the health of the people in the area."
Reflecting on her path
Tamea and Rodney Evans have three children; the youngest is in college and the oldest has three children herself.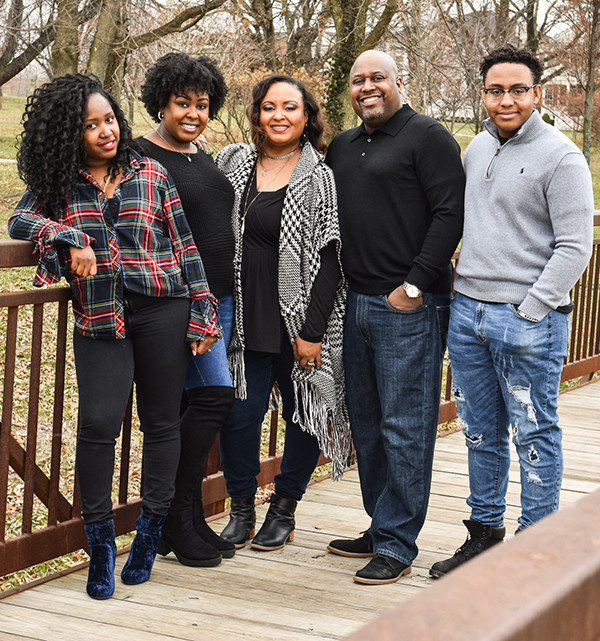 All her children have attended historically black colleges and universities, though one did apply to Kalamazoo College before making a different choice. Although Evans wishes at least one of her children would have gone to K, she hopes maybe one day one of her granddaughters will.
"I'm a lover of Kalamazoo College and I try to send tons of people," Evans said. "I tell them about K, hoping that for one kid it will spark some interest in going there.
"I hope, if someone's interested in Kalamazoo College, they take a hard look past the surface. I learned from K that diversity isn't always about color or race; it's diversity of ideas that make the world better, and I know with certainty, K was one of the most diverse places for ideas that I've ever been."
She is still in touch with some of her classmates from K.
"My allies in life as a Black person, that are white, mostly come from K," Evans said. "I never thought of needing allies when I was young. But as I got older, I realized you need white allies as we fight injustice. And almost all of them come from Kalamazoo College, because I think it was a place where you had to go to some uncomfortable places."
Evans has sought out schools and communities for her children that live up to that vision of diversity.
She reflects, "My K experience was broadening, and I attribute a lot of that to lux esto. You have to be light to the world and you can't do that if you don't have anything to share. You've got to be able to shine light in places that people don't think to look.
"K shaped a lot about me. I look back and realize a lot of who I am came from Kalamazoo College. It has had a handprint in a lot of my life."