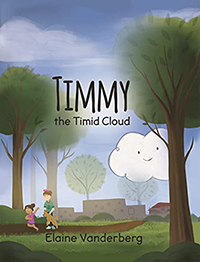 Elaine (Hrach) Vanderberg '52 has published the first in a series of four children's books she has written. Each book follows a main character's journey toward overcoming challenges, and the books are meant to give children hope and a way to find happiness. The first title is Timmy, the Timid Cloud (Dorrance Publishing Co. 2021), soon to followed by Chloe, the Left-Behind Angel, Sammie, the Sad Salamander and Cora, the All Alone Girl. Elaine lives in Frankfort, Michigan, and serves on the Board of the Friends of the Darcy Library in Beulah, and has always enjoyed working for and supporting the arts, even becoming a silversmith in her spare time. She has served on more committees than she cares to mention, and has most recently been involved with her local gardening club. Elaine especially enjoys her three children, five grandchildren and two great-grandsons. She writes, "A little late in life to start such a big project, but why not?! I was taught by K-College to never stop learning and doing."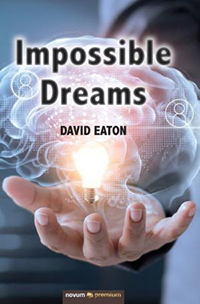 Dr. David Eaton '64 is a retired chemistry professor and the author of two college-level chemistry books, The World of Organic Chemistry: A Laboratory Approach, and Laboratory Investigations in Organic Chemistry, both published by McGraw-Hill. These books were written to make organic chemistry much more interesting, appealing and meaningful to students. Another passion of Dr. Eaton is energy, especially the creation of a practical, safe and unlimited form of the ultimate energy source: nuclear fusion. His latest book, Impossible Dreams (Wsb Publishing 2020), is the result of that passion. In this novel, Mark Adams is adopted by poor but loving parents. Growing up, he proves gifted, but awkward and unpopular. He then falls deeply in love with Elaine Moore, but her domineering mother unjustly forces Elaine to end the relationship. After she marries someone else, a devastated Mark presses on and develops a nuclear fusion process to end the misery of the energy crisis. He becomes, at age 27, the 2036 Nobel Prize laureate in physics and instantly becomes a national celebrity and hero. Elaine's husband's is a powerful lobbyist who vows to discredit Mark and the process. Now Mark must overcome her husband's treachery and his heartache over her betrayal. Can he do it?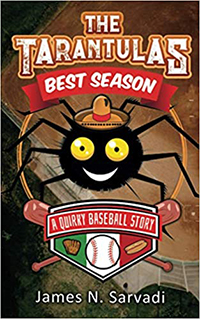 James Sarvadi '72 has published his debut novel, The Tarantulas' Best Season (Amazon 2021). Billed as a "quirky baseball story," it follows four minor league American baseball players who are sent to Mexico during the off-season to play for the Tupequena Tarantulas, a hapless member team of the Central American Baseball Association, which is owned almost in its entirety by an Arabian conglomerate run by El Aya Fat Kabat. The Tarantulas are owned by Señor and Señora Renaldo and Dolores de Castoriana Sanchez and represent the last privately owned team in the league. As the Sanchezes fight off the acquisition of the club by Kabat during the first and only winning season in the team's 35-year history, archeologist Liberty LaChance also arrives in Tupequena to research the one and only case of accidental cannibalism in recorded history. Her interaction with the Tarantulas and the Sanchezes takes many twists and turns as she tries to discover the truth behind the bizarre case. James is a graduate of the Iowa Writer's Workshop and a recipient of a James A. Michener fellowship from the University of Iowa. He lives in Colorado with his wife, Ruth, and his daughter Stefani and his three grandchildren. You can reach him through his website at jnsarvadiauthor.com.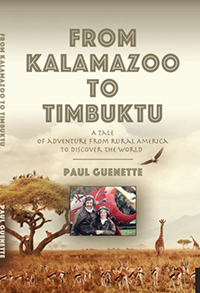 Paul Guenette '74 published his memoir, From Kalamazoo to Timbuktu (Booklocker) in August 2021. In it, a young boy waves at passing cars on a dusty rural road in Upper Michigan and dreams of the wide world. Step by step he follows his dream, becoming his family's first college graduate, and studies in Europe help him realize the excitement and diversity of the world. Peace Corps service brings him to Senegal on the edge of Africa's Sahara Desert, where he experiences first-hand the hardships of the world's poorest people—who teach him important lessons about generosity, sufficiency and luxury. In Africa, he finds love and discovers a career that opens the world to him, eventually visiting 90 countries across Africa, Asia, Europe, Latin America and the Caribbean, working to make the world a better place while raising his family and facing multiple health challenges with remarkable optimism. Paul is a "retired-unretired" economic development advisor living large with the love of his life, Debbie, just outside of Washington, D.C. His writing, painting and poetry keep his creative juices flowing between episodes of frenetic dancing at weddings.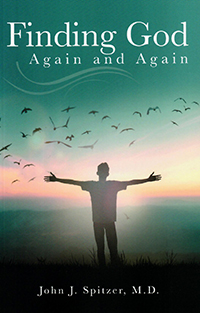 John Spitzer '83 recently published his book, Finding God Again and Again (Archway Publishing 2021), an account of his spiritual journey. With two young children with Anne Blatchford '82, the stakes were high when John found out his testicular cancer had returned after thirteen years. The relapse forced him to confront his mortality—and a second relapse two years later drove the point home. The setbacks also gave him a great opportunity to become one with God. In this book, Spitzer looks back at how it took over twenty years of life experiences to realize that he had to feel God in his heart again. While he started this book wanting to pass something on to his children if he died, he continued it after realizing he'd live. In it, he describes his spiritual development, what it was like to confront death, and how his relationship with God has grown deeper over time. Sister Marcell Clancy, CSJ, said, "I loved reading this book. It details in the context of an ordinary man's life, the extraordinary presence and intimate love of God found, lost and found again and again." Learn more at johnspitzermd.com.
The Federal Reserve Bank of New York announced that Dianne Dobbeck '88 was named as head of the supervision group, effective August 1, 2021. She is also a member of the New York Fed's executive committee. As head of supervision, Dianne oversees the teams and functions responsible for supervising, under delegated authority, financial institutions in the Second District subject to Federal Reserve supervision. She will also contribute to the Federal Reserve System's implementation of supervisory policies and procedures. In this respect, she will serve alongside other Reserve District supervision heads on the Board of Governor's supervision committee, and will serve on the Board's Large Institution Supervision Coordinating Committee (LISCC), which oversees the largest, most systemically important financial institutions in the United States. Prior to being named head of supervision, Dianne held different leadership positions across the supervision group, including having led teams of policy and risk experts. She is also currently a member of the Basel Committee for Banking Supervision. She holds a master's degree from the Princeton School of Public and International Affairs at Princeton University.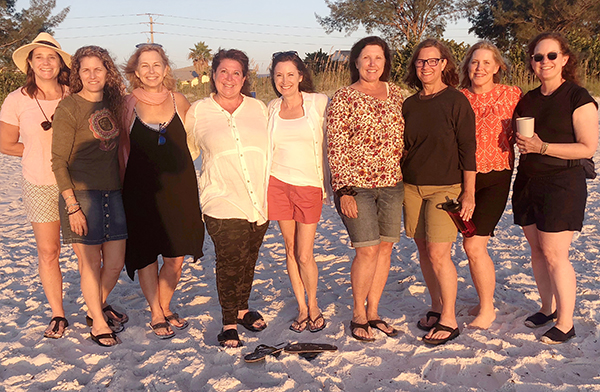 Meredith Eaton '88 shared this snap from a Class of 1988 girls' trip to Anna Maria Island in October of 2021. Pictured left to right are Christy (Kortryk) DeGrendel, Allison Pudduck, Anne (Herrnstein) Morris, Tracey (Beecher) Mead, Jill (Craven) Congelio, Erin (O'Brien) Whaley, Linda (Roth) Platt, Meredith (Robertson) Eaton and Dianne Dobbeck.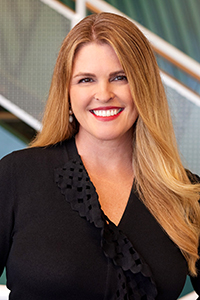 Passage Bio, Inc., a clinical-stage genetic medicines company, announced that Simona King '93 has joined the company as chief financial officer (CFO). She is responsible for finance, accounting, tax, treasury, investor relations functions and information technology. Simona, the former executive vice president and CFO at Tmunity Therapeutics, has more than 20 years of pharmaceutical and biotech strategic finance experience, with both large and small companies. Prior to Tmunity Therapeutics, she was at Emergent BioSolutions as vice president of financial planning, analysis and assistant treasurer. Before Emergent, she worked for 19 years at Bristol-Myers Squibb. She is a certified public accountant, earning her M.B.A. from Columbia Business School. She also has a diploma in African Studies from the University of Cape Town, where she attended as a Rotary Ambassadorial Scholar.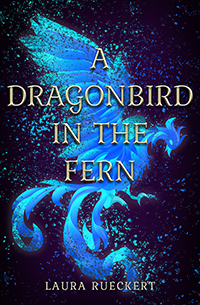 Laura (Preister) Rueckert '94 published her debut YA novel, A Dragonbird in the Fern (North Star Editions) in August 2021. The story unfolds after an assassin kills the Princess Scilla, whose restless spirit then haunts her loved ones until her murderer is brought to justice. Scilla's betrothed, King Raffar, arrives and requests that 17-year-old Jiara take her sister's place as his bride to confirm the alliance between their countries. Jiara, who has dyslexia, is terrified of living in a foreign land where she'll be unable to communicate. Yet when she discovers evidence that her sister's assassin comes from the king's own country, she realizes she can hunt the murderer and release her family from Scilla's ghost. Kirkus Reviews notes that the novel "offers dazzling settings and swoon-worthy romantic moments, using Jiara's emotional and literal journeys to hammer home the twin messages of acceptance and accommodation for different cultures, sexual orientations and faiths." Laura lives in Germany with her husband and two sons, 14 and 16. You can learn more at laurarueckert.com.

Ben Farkas '03 has been named the athletic director at Hudsonville High School in Hudsonville, Michigan. Prior to Hudsonville, Ben served as Holland High School's athletic director for nine years. He completed his undergraduate studies at K and earned his master's degree at Western Michigan University. He worked at Bellevue High School for two years, including one as the athletic director. He then served as the assistant principal and athletic director at Delton-Kellogg for six years before arriving in Holland.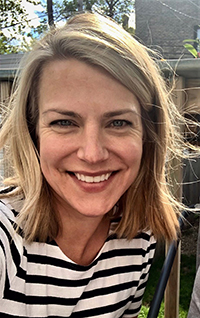 AbelsonTaylor has promoted Laura (Poskey) Paul '05 to senior account director. She will play a lead role in launching a novel treatment for recurrent C. difficile in the expanding area of microbiome therapeutics and continue as team leader on two established accounts. Laura joined AbelsonTaylor in 2011, working on award-winning professional and consumer campaigns in a diverse range of therapeutic categories. She has special expertise in gastroenterology and endocrinology and has helped launch several products in these areas. Before joining AbelsonTaylor, she worked as an account supervisor with Corbett Accel Healthcare Group (now TBWA WorldHealth) in Chicago.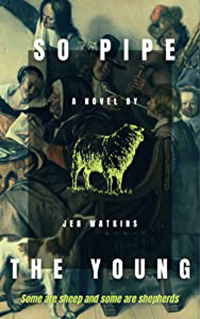 Jen Watkins '05 published her first novel in May 2021, So Pipe the Young (Etheridge Press). The story follows Annabelle Granger, a graduate of a small liberal arts college in Michigan, who uproots her family for rural New Mexico to seek a simpler life. She builds an Instagram brand touting the joys of homesteading—but her rosy images disguise a much darker reality. Life among the underserved families who have lived on the same land for generations challenges Annabelle's worldview and has set her decision-making compass spinning. Are the neighborhood children independent or neglected? Are they helping her son recover from a terrible incident at his old school or encouraging his morbid fascination with death? Is this wholesome country life or something much more sinister? The author notes that the careful K reader may recognize Light Fine Arts Building and the houses along Academy Street in the story. After graduating from K, Jen moved to New Mexico to work for Los Alamos National Laboratory where she stayed for twelve years. In 2017, she left for a sabbatical spent learning to sail on a 40-foot steel sailboat with her partner. While living aboard, she started writing. You can learn more at jenwatkins.com.

Elvin Caldwell '11 was recognized as one of Lansing's 10 Over the Next Ten Awards in September 2021. This honor recognizes Greater Lansing's top 10 young professionals who are expected to contribute significantly to the community over the next 10 years. Elvin serves as a legislative affairs consultant, closely monitoring, researching and assisting clients in developing public policy strategies. Elvin is also the owner of the Umbrella Sock Company, a Lansing apparel company that has provided thousands of dollars to organizations in the community. He is an executive board member of the Capital Area Housing Partnership and the recipient of the Lansing Champion award and Lansing Boys and Girls Club Coach's award.
Steve Davis '19, Senior Wealth Management Associate at Greenleaf Trust, has received his Certified Financial Planner (CFP®) certification. Steve is responsible for the development of comprehensive wealth management plans, the execution of goal-based planning strategies and the management of investment portfolios. Steve has worked with Greenleaf Trust since 2019, after earning his bachelor's degree in Spanish and business, with an emphasis in finance, from K.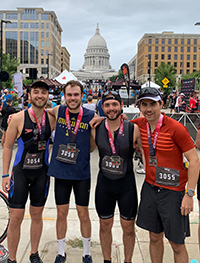 A group of 2019 K classmates competed together in the IRONMAN 70.3 Wisconsin race in Madison. Pictured left to right are: Pete Schultz (6:23), Nick Schneider (7:36), Jake Bonifacio (6:10), and Zach Morales (6:32).
Reunion Highlights Lasting Lessons, Forever Friendships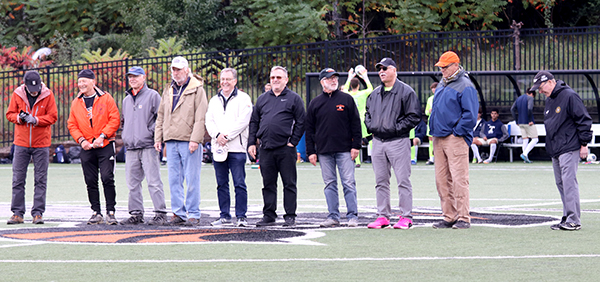 In 1975, the Kalamazoo College men's soccer team won its first of ultimately 12 MIAA titles. Eleven members of that team, under the tireless leadership of Co-captain Ralph Pearce '77, decided to organize a "First MIAA Soccer Champs" reunion, 45 years after their first-place finish. An event two years in the making, the reunion was originally scheduled for 2020 but delayed due to the pandemic; fortunately, the champs got a do-over in 2021 during Homecoming. COVID risks still made participation challenging—one 1976 graduate, a physician in Ireland, had bought a plane ticket, but had to cancel due to quarantine restrictions. Yet despite these obstacles, the reunion was a resounding success, and attendees hailed from Georgia, Minnesota, New Jersey, Ohio and Michigan. Many had not seen each other for 45 years. Joined by their coach, Hardy Fuchs, they attended both of the current soccer teams' victorious matches, enjoyed two barbecues and held a team dinner at Bells. Ralph said, "[Men's Soccer] Coach Lumumba Shabazz was gracious and utilized us for team-building events. Three of us spoke to his players, pre-match, on Wednesday. We shared our experiences at Kalamazoo and focused on how the school and the sport teach lifelong lessons. Enjoying the thread of continuity between players was an especially rewarding aspect of this reunion. Both coaches are to be commended for their efforts to mentor and collaborate."
During Homecoming, the team was introduced at midfield before the men's soccer game against Trine. The presentation was arranged by Coach Shabazz, and greatly appreciated by the 1975 team members. Coach Fuchs was elated to see his players for the first time in decades and touched by the fact that they were still hanging out together and had traveled long distances to be at K for the occasion. He noted that this bond might be a variation on the college's motto, "More in four. More in a lifetime." He said to Ralph, "Winning that championship in 1975 was important and memorable, but I think that this past weekend was equally memorable."