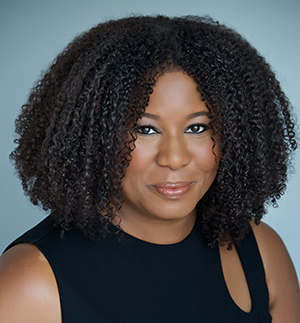 Connecting Kalamazoo College students with alumni has always been a key strategy for the Center for Career and Professional Development (CCPD).
As part of the center's new strategic plan, which gives focus to uplifting historically underserved students, the mentoring approach has a new twist. Recognizing that these students face unique challenges in preparing for and entering the workforce, the CCPD aims to facilitate more mentoring based on shared identities and affinities.
The strength of that type of connection is clear to Michelle Fanroy '88, vice president of the Alumni Association Engagement Board, member of the Kalamazoo College Board of Trustees, and founder and president of Access One Consulting, which provides leadership development, mentoring program design and diversity planning and training to corporations.
As a female, Black, middle-class, first-generation (her mother attended college but did not graduate) college student, Fanroy relied on mentors in the CCPD and on her own determination to find her way through academic, financial and workplace struggles. Now she delights in sharing her experiences and hard-won lessons with students who face similar challenges.
"I love coming back to campus," Fanroy said. "I love talking to students, especially first-generation students, students of color and women. It's so rewarding to help them find their way. I want them to feel they have someone who understands their experience."
Fanroy has spoken on panels, visited with students at the Intercultural Center, participated in Amy MacMillan's marketing class "Shark Tank" and more. She is quick to hand students her card, and promises that if they reach out to her, she will help in any way she can.
She recalls a time when a student called her because she needed a new computer to complete her schoolwork.
"She was African American, she was first generation, she was on financial aid, and she was struggling," Fanroy said. "I said, 'I was in a similar situation. They do short-term loans on campus; go to financial aid, tell them the situation.' She called me a few days later; she'd gotten the loan, she'd gotten the computer, and she said, 'I can't thank you enough. I didn't know what I was going to do.' It's little things like that, the struggles you had that might help somebody else. I was able to give her a resource when she felt like she was all by herself."
Identity-based mentoring is one of many strategies the CCPD is employing to improve career mobility for underserved populations of students. To that end, the CCPD will be sending out interest forms to alumni to find out what identities and affinities they are willing to share in mentoring and advising relationships with students.
As someone who values what K brought to her life, Fanroy prioritizes paying it forward.
"If there's ever a legacy that I want to have, it's that I want to have made someone else's experience a bit easier than mine," Fanroy said. "I feel that I'm helping to do that and that gives me great joy."