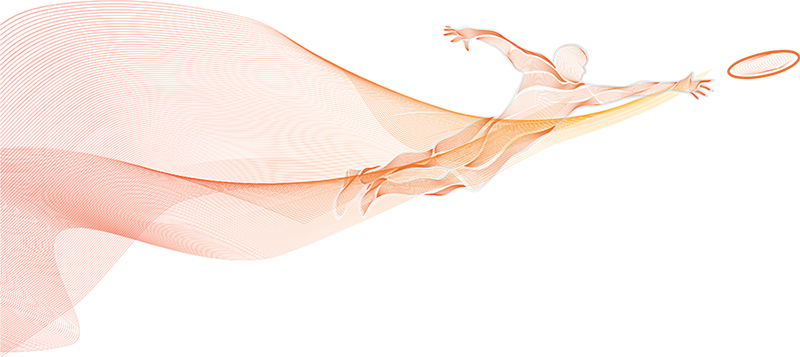 K Traditions:

50 Years of




Ultimate Frisbee
A student-athlete, then known best in cross country and track circles, attended his first residents' meeting at Hoben Hall as a first-year student in fall 1972. In that meeting, a young Bruce "Frisbee" Johnson announced he was putting a sign-up sheet on the door of his room as he encouraged his peers to join him on the Quad to learn the game of Ultimate Frisbee.
"That Friday night, I was in bed sleeping because we had a cross country meet in the morning," Johnson said. "Back then, the drinking age was 18, and all these guys came up, very loud and very raucous. They said, 'Hey, Frisbee Johnson. We're going to sign up on your door.'"
That might not sound like a fateful moment, but it gave Johnson a nickname he has kept to this day and it started a chain of events that grew into a Frisbee phenomenon at K. Since then, hundreds of students have played the sport which combines soccer, basketball and football, turning practices and tournaments into athletic passions, along with lifelong friendships. And Johnson is among the pioneers now celebrating the 50th anniversary of bringing Ultimate Frisbee to K.
"I've always said K should write a whitepaper about how to keep an Ultimate team going," Johnson said. "When you have a team like there is at K that's passionate about a sport, they can have a passing of a torch when senior leaders move on because more people can fall in love with it easily. It's a sport like running, cycling, golf or tennis that you can play for the rest of your life."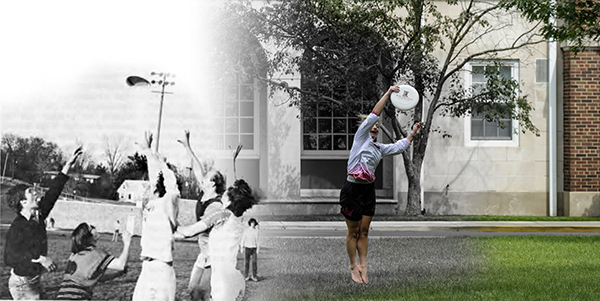 Ultimate Frisbee demands speed, stamina and agility as it requires players to score points by passing the disc to a teammate in the opposing end zone. Players can't run with the disc and teams maintain possession until they drop it, which constitutes a turnover to the opposing team. It's one of the few sports that always requires two players for a team to score points, and it uniquely is played without referees or umpires. Players, through what's known as the spirit of the game, call their own fouls.
The sport's competitors trace its roots to fall 1968 when Joel Silver, a student at Columbia High School in Maplewood, New Jersey, proposed to the student council that a school Frisbee team be formed. The next summer, he recruited students to play what he called "the ultimate game experience," which was an adaptation of a Frisbee football game that he had learned at a summer camp in Massachusetts.
In turn, Johnson learned the sport from a few of the founders at the annual International Frisbee Tournament held in the Keweenaw Peninsula, subsequently bringing it to K. After the initial games on the Quad, K students competed in their first intercollegiate contest in 1974, against Calvin College, in what reportedly had been one of the first match-ups conducted west of Pennsylvania.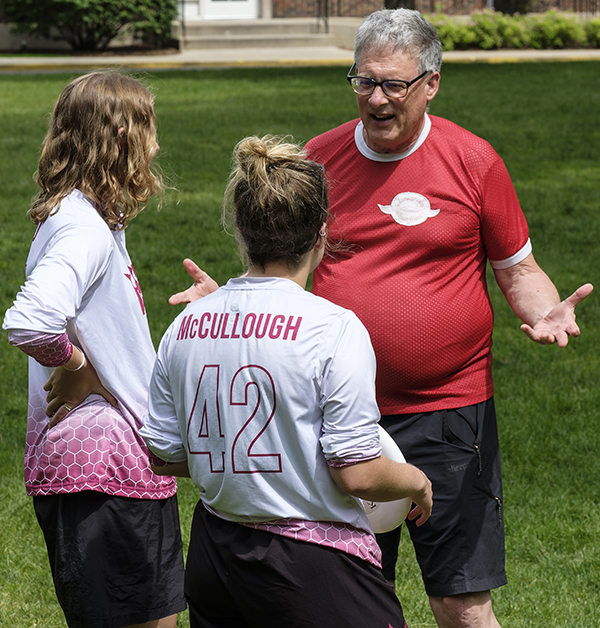 K continued developing its presence in the sport, eventually acquiring the name Kalamazoo College Ultimate Frisbee Society (KCUF). In 1976, KCUF was one of a select few teams to participate in the first College Nationals Tournament in Amherst, Massachusetts. Around the same time, the team played a showcase game against Michigan State University during the halftime of a basketball game between MSU and Indiana. In front of 15,000 fans, KCUF defeated Michigan State, 7-1, with Johnson, who later became an All-American and played in the World Frisbee Championship in the Rose Bowl that August.
After college, Johnson promoted the sport by serving in various leadership positions from being the first Midwest director of the Ultimate Players Association, also known as USA Ultimate, in 1978, to being a leader in the Kalamazoo Ultimate Disc League (KUDL). In 2014, Johnson was honored by the Ultimate Frisbee Hall of Fame as a member of the Johnny Appleseeds, a group of people recognized as having been critical to the germination of the sport.
Now, Kalamazoo College Ultimate Frisbee consists of a men's team, the Ultimate Buzz, and a women's team, the Queen Beez. Both teams are open to all, regardless of skill level, and conduct regular practices interspersed with several tournaments during the academic year. The club sport consistently grows through K-Fest, the College's annual involvement fair each fall, yet Maddy Guimond '22, a Beez captain last year, first tried the sport after her LandSea orientation counselor recommended it.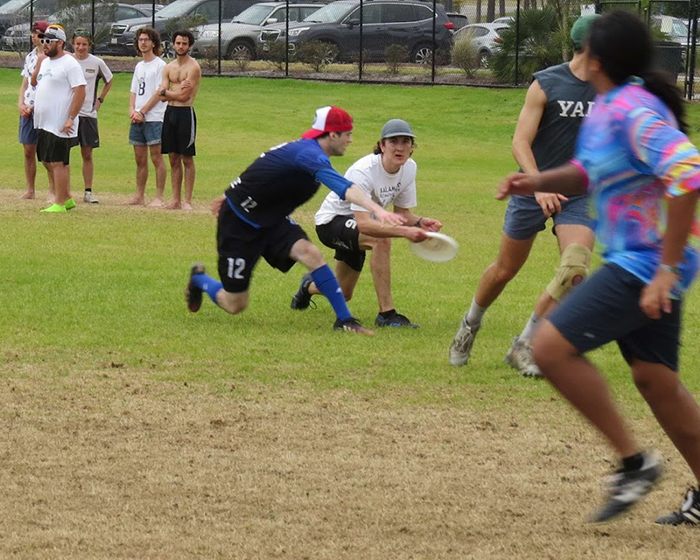 "I had heard of Ultimate Frisbee a little when I was in high school, even though I never had a chance to play it," Guimond said. "But when I did the LandSea backpacking trip, my leader was one of the senior captains. She was really into it and pushed me to join, and I just fell in love with it. It's intense and fun to play at the same time."
Regionals for the women's team in Guimond's senior season were conducted in April, although community tournaments and scrimmages lasted throughout the spring. Moving forward, the Queen Beez now are looking to recruit new students to the team as COVID-19 caused a decline in participation.
"We've been trying to recruit people and get people excited," Guimond said. "We need people who are committed to the club and will come consistently to practices so we can rebuild and have a strong foundation of people who know the rules and have the fundamentals down so they're able to teach other people. I think it's incredible that it has survived for so long. I'm impressed and happy with all the captains have done to keep this club going because it's a lot of work, but it's super rewarding to have a wonderful space for people to feel welcome and respected."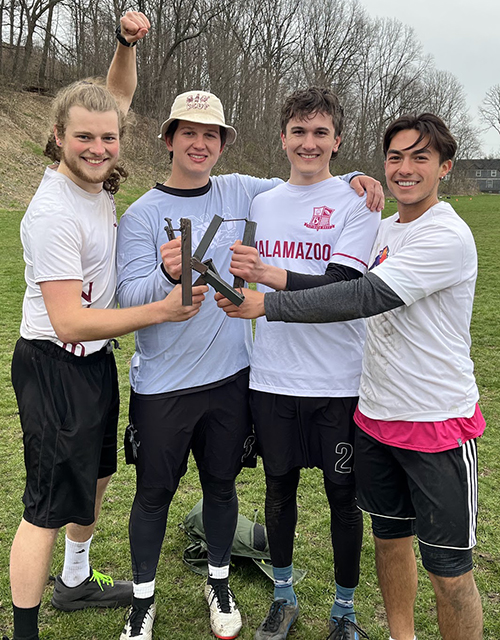 The Ultimate Buzz has experienced similar problems with recruiting because of COVID-19, yet has attracted some accomplished players such as Tommy Saxton '22, one of the senior captains from the 2021–22 season.
"When I was a senior in high school, I visited Kalamazoo College and stayed with three other seniors at one of the Living Learning Houses," Saxton said. "It happened to be a house full of Frisbee people. They told us about the team and it seemed to be a fun group. All three of us not only ended up playing on the team, but we ended up living in the same Living Learning House."
Ultimate Frisbee remains a club sport, which presents funding challenges, yet K fields competitive teams against schools such as Western Michigan University, which the Buzz beat three times this year, and regional squads from institutions such as Butler University. The Buzz lost convincingly to Butler in fall, yet came within two points of beating the school, which ultimately fell one game short of the national championships, during regionals. Grace College, the team that eliminated Butler, beat the Buzz by just one point in the tournament before regionals.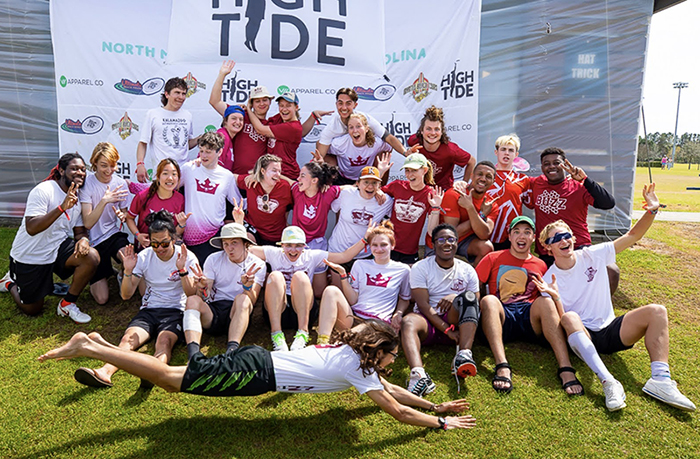 "It's a large club that feels like a team," Saxton said. "We compete at as many or more tournaments in the fall and spring as a lot of the other teams on campus, so I definitely would consider anyone who participates in Frisbee to be a college athlete. We hang out regularly outside of practice every week, even when we're not competing, so it's a close-knit group of people, and a group of people you can call your friends."
Guimond and Saxton agree they hope to return to K as alumni someday and see more players drawing the same enjoyment they did.
"I think everyone who plays Frisbee and graduates K recognizes Frisbee as one of the most influential college experiences," Saxton said. "This is probably true at other schools as well. Alumni feel nostalgic about the team, having friends that they made and still communicate with. I'm sure that I'll be talking for my whole life with the friends I've made. It's been a significant part of my experience at K."