Coming together to talk about how their lives have intertwined over the years, the two friends find even more commonalities between them—much to their mutual delight.
"So many twists and turns in our lives come back to Kalamazoo College," says Lynn (Achterberg) Offerdahl '85 about her friendship with Jeff Gorton '00.
One point in common comes up again and again. And again.
"Our diving coach, Ron Bramble," Offerdahl says. "He was everything. He was such an extraordinary human being, like a second father to me."
"An exceptional coach," Gorton agrees. "My life changed because of K and because of Ron. To have that caliber of coach—incredible."
Offerdahl came to Kalamazoo from St. Joseph with a goal of getting into Division I Nationals. She had first heard about K from her grandmother, a Kalamazoo College alumna, but a scholarship took her to Western Michigan University instead for her first two years before transferring to Kalamazoo College for her junior year.
"I wanted to compete in the Nationals, but then Western canceled that program," Offerdahl says. "I had good enough grades to be accepted by several schools, but not the scholarships. Kalamazoo College turned out to be perfect—a smaller academic atmosphere where I could thrive, including the chance to do my foreign study in Germany. I couldn't have orchestrated it better. It was God's providence."
A generation later, another K freshman was about to become a diving star on campus—and beyond.
"I was a good student, not great," Gorton says. "A late bloomer in high school. My high school coach told me I might be able to get half of a scholarship to Michigan State University, but I wasn't thrilled about such a big school. Bob Kent was the swim coach at K then, and when he learned that I was undecided about where to go, he came to my house. My mother made brownies. And I was enamored with the idea of a coach that cared enough to come to my house to recruit me."
Gorton decided on K. His decision didn't come without sacrifice. His parents took out a second mortgage and Gorton signed up for work/study and a financial aid package.
In their respective diving careers as Kalamazoo College students, both excelled. In her senior year, Offerdahl won the NCAA Division III championship on the three-meter board, becoming Kalamazoo College's first female national champion.
Gorton earned five national championships as a Kalamazoo College student. In his senior year, he held the NCAA record on both the one-meter and three-meter boards, every Kalamazoo College diving record, and every MIAA diving record. He was named diver of the year at the NCAA Division III Championships in his senior year.
Yet diving was not the only pursuit the two had in common. Both Offerdahl and Gorton decided on an art major. Offerdahl also pursued a physical education minor and teaching certificate, while Gorton added on a business minor.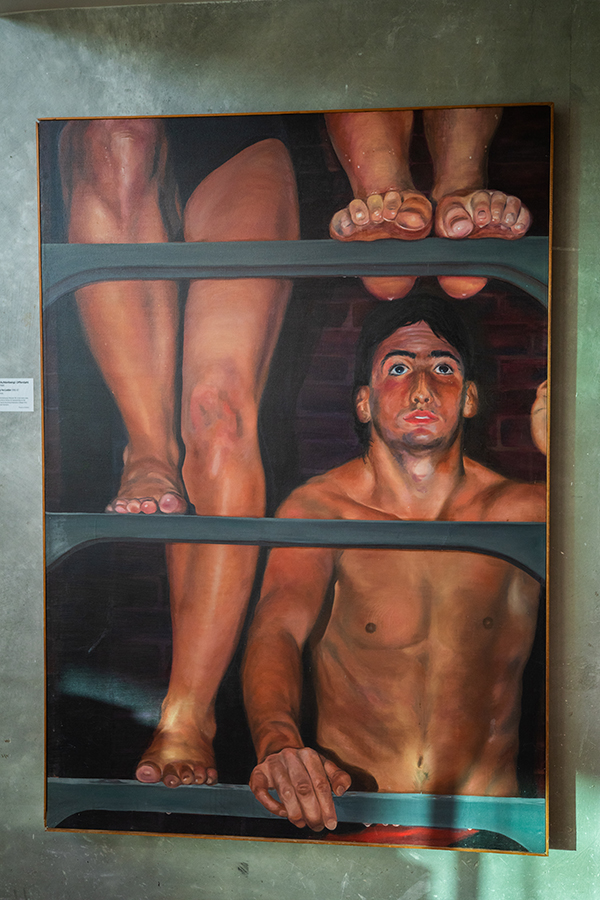 "I preferred to paint in oil," Offerdahl says. "I would photograph athletes at Kalamazoo College and then paint them. I had three large-format oil paintings that I recently donated to K's new natatorium."
"I prefer watercolor," Gorton says. "But for my Senior Integrated Project—my SIP—at K, I had an exhibit of oil paintings—where I, too, used swimmers as my subjects! I then got an internship at the marketing and advertising agency, Biggs|Gilmore."
"You did? Biggs|Gilmore? I worked there, too!" Offerdahl calls out, and the two burst into laughter at another connection found.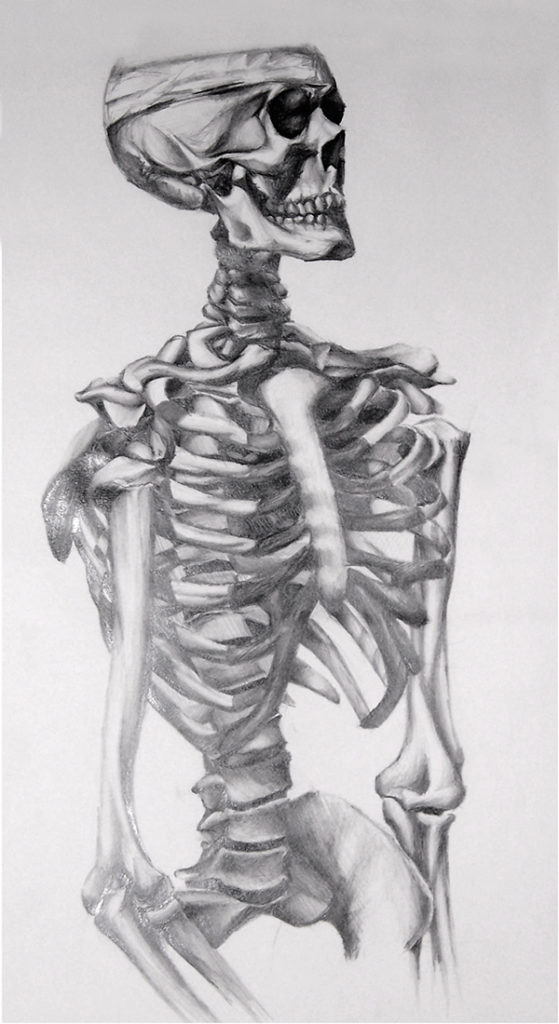 Those artistic skills would later play a part in connecting the two once again—but first, it would be diving that would intertwine their paths and form the basis of a new friendship.
"During my senior year, I had some success in diving in Fort Lauderdale," Gorton recalls. "I got to know U.S. Olympic coach Tim O'Brien there, and he asked me what I was doing after I graduated from K. Tim is the son of Ron O'Brien, former eight-time U.S. Olympic diving coach for Olympic diving champion, Greg Louganis."
Coach O'Brien invited Gorton to return to Fort Lauderdale after graduation to continue his training at the International Swimming Hall of Fame Aquatic Complex.
"I vividly remember standing on the balcony of our hotel and asking Ron Bramble, do you think I can do this?" Gorton says. "He said, 'Absolutely you can do this!' That moment triggered an alteration in the entire direction of my life. After graduation, I moved to Fort Lauderdale."
As chance would have it, Offerdahl lived in Fort Lauderdale with her husband, John Offerdahl. Back during her first college years, at WMU, Offerdahl had met John, an aspiring football player. John later played for the Miami Dolphins in the NFL.
"I remember that whole transaction," Offerdahl says. "Ron had asked me to judge one of the meets there. He would keep telling me—you have to meet Jeff."
"Ron would tell me stories about Lynn and her husband, John," Gorton echoes. "He told me I needed to meet them."
The dinner Ron Bramble arranged was a meeting of athletic minds—and appetites.
"John gave me half of his steak," Gorton laughs. "Today, it's the other way around."
Friendship established, the athletes would remain in close contact as Gorton started working for the Offerdahls during the day and training for the next four years under Coach O'Brien in the afternoons.
"I missed the finals at the Olympic trials by just a couple of points," Gorton says. "Only the top two finishers go on to the Olympics. I took it as far as I could, but that was the end of the line for my diving."
While Gorton was competing, Offerdahl and her husband established a chain of restaurants, called Offerdahl's Off-the-Grill. It was the outgrowth of their initial chain of gourmet bagel shops, now become fast-casual dining, open for breakfast, lunch and dinner.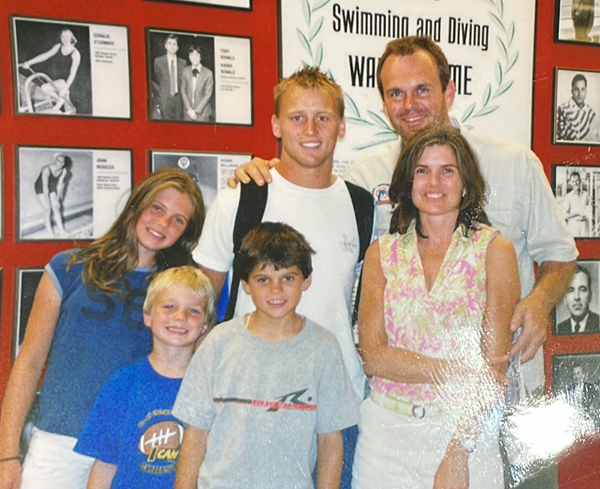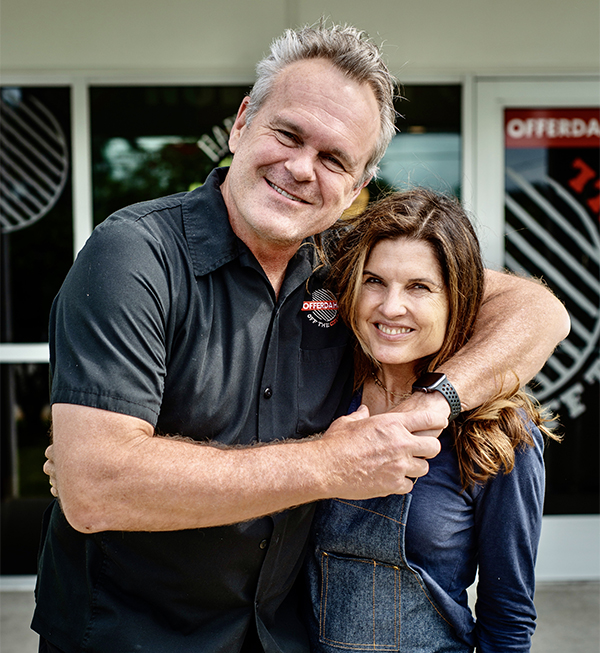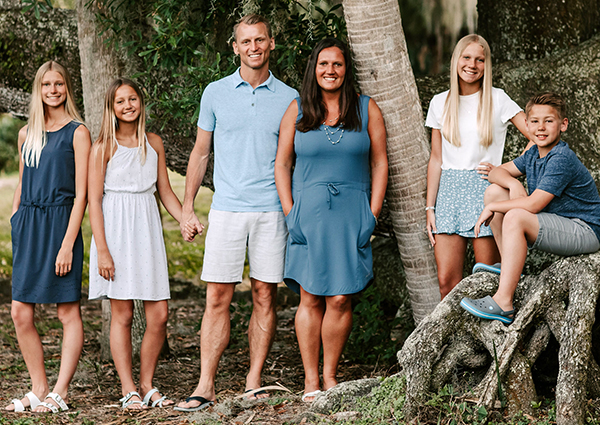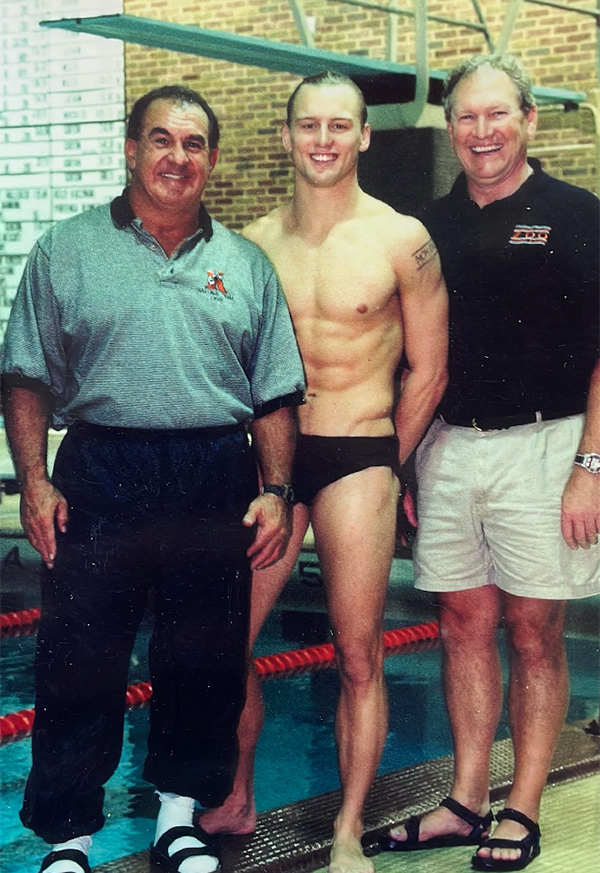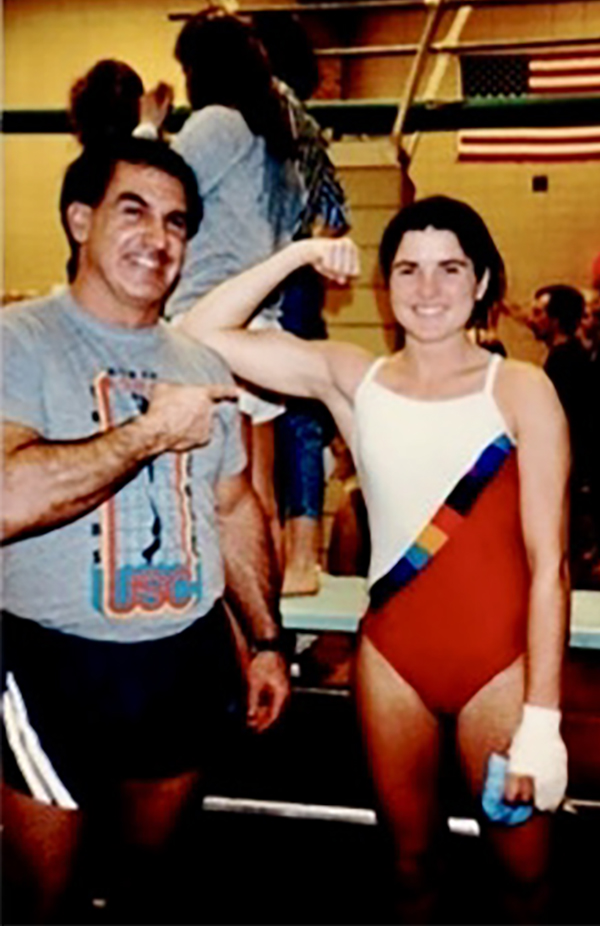 "I always wanted to go into cooking," Offerdahl says. "I taught school for a while, while John was in the NFL, but then we decided to write a business plan. Neither of us had any experience in the food business, but as an athlete, I was passionate about nutrition. Our first bagel shops were only open for breakfast and lunch. By the time we met Jeff, we had shifted from just bagels into grilling. His graphic design skills were just what we needed, so we hired him as our marketing guy. He designed our menus, packaging, everything—and we still use some of his designs today!"
"Still?" Gorton asks.
"Still! I wish we could hire Jeff back. I ask to be fired every day," Offerdahl laughs.
Gorton met his wife on a pool deck. She was a swimmer at Hope College. They married shortly after graduation and after diving ended, started a family that today includes five children. The Offerdahls have raised three.
"We opened nine shops together with the Offerdahls," Gorton says. "I worked for them for seven years, but then, as our family grew, we missed our family in Michigan. We wanted to return to the Midwest."
The friends discover another connection. Gorton today is the vice president and general manager of Stryker's Sage business in greater Chicago. He first began working for Stryker Corporation in 2007, where one of Offerdahl's sons is also employed.
"What K did for me," Gorton says. "I learned how to learn there. Fortunately, I did better in academics than my parents may have feared—my swim team consisted of really smart people and that brought me up. I loved the K community, the great relationships we had with professors. And I still talk about my study abroad experience in Madrid, Spain. Most of all, my life changed because of our coach, Ron Bramble, and his unwavering belief in what we could achieve. I wanted to win because of him, for him."
"The relationships at K were amazing," Offerdahl adds. "Everyone there was so darn smart, so I kept trying to do my best, too. K gave me confidence. Our professors cared, they wanted to see us succeed. But Ron called out the very best in me. He even prayed with me when I was feeling anxious, bringing me back to my faith. And Jeff—he has become a part of our family."
"Ron was awarded Coach of the Year in 2000," Gorton says. "That meant a lot to us."
Offerdahl nods. "We both got to realize our goals—because of Ron, because of our friendship, because of Kalamazoo College."

Ron Bramble was a champion diver, a teacher and a diving coach in Kalamazoo area schools and colleges for over 30 years. At K, Bramble coached seven national championship performers, as well as numerous conference champions, All-Americans and Academic All-Americans. He was named NCAA Division III Men's Diving Coach of the Year in 2000 and 2003. Bramble passed away in 2005, leaving an indelible legacy and cherished memories in the hearts of K divers. In 2014 he was inducted posthumously into the Kalamazoo College Athletic Hall of Fame, and in 2021 the diving well of the new Natatorium was named in his honor, thanks to the generosity of Bebe Lloyd '98.