They didn't know it when they left their hometowns, but Moises Hernandez '17 and Viridiana Carvajal '15 wound up finding their forever homes—both in terms of place and with each other—after landing in Kalamazoo.
Both native Californians, Carvajal, who lived in Mexico from ages 6-12, left Westlake, a community outside Los Angeles, to come to K, the first in her family to attend college.
Hernandez hails from Indio, a mid-sized agricultural community in Riverside County. Coming from a city with a large Latinx population, he briefly struggled to find his footing after arriving at K, but soon found support with MEChA, a Latinx student organization.
"I had never really heard of experiential learning, much less been immersed in it," he says. "It was a bit of a shock first coming here, both culturally and academically."
A Posse Scholar—a high school student with extraordinary academic and leadership potential who attends college as part of a diverse cohort, or "posse"—Hernandez also found the overall culture of K supportive of the social justice mindset that he began to develop in his church youth group and through community service activities in high school.
"I wanted to get involved in community service at K when I applied," he says. "I was really happy to find out how social justice is integrated into so much of what the College does and stands for. There are so many opportunities to be involved in helping to enact positive change in the world. I really found a home there."
While at student at K, he was a Civic Engagement Scholar through the Mary Jane Underwood Stryker Center for Civic Engagement, working at Maple Street Magnet School as well as in the El Sol Elementary After-School program. Deeply committed to the academic success of kids, he continued working in the schools in the summer of 2017 as a Youth Development Worker with Kalamazoo Communities In Schools' Think Summer! program, focusing on educational equity.
Carvajal experienced some of the same challenges when she matriculated. She remembers classes where she was the only Latinx student, a "bit of a shock" after coming from a school that was comprised mostly of students who looked like her and shared her culture. By her sophomore year, her grades started to drop, and she thought about transferring to a college near her home. Yet she persisted.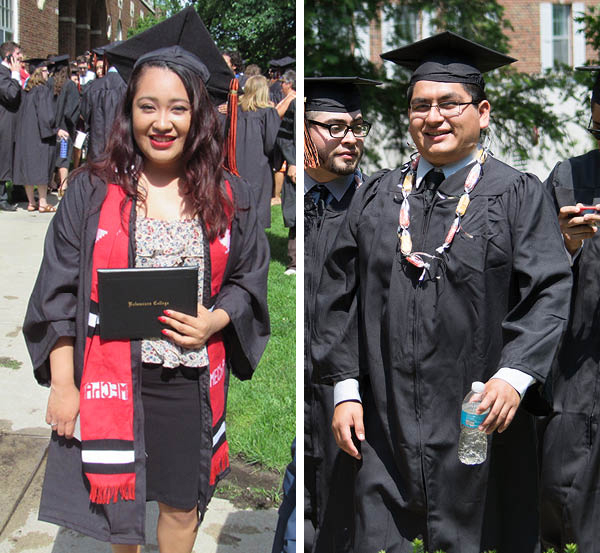 "I told myself, 'Alright. I am here. I can do this,'" she says. "I got a lot of support from my mom and family. I am the first in my family to go to college. I leaned on my friends and people I met in various student organizations, who supported me a lot."
Carvajal works as an After School Coordinator with Communities In Schools, organizing programming that enhances student success in myriad ways, from tutoring to extra-curricular activities that support social and emotional learning. She also oversees a volunteer program at El Sol Elementary School, where lessons are taught in both English and Spanish, and where K students volunteer, helping kids achieve greater academic success.
Hernandez and Carvajal met while working in K's Center for Civic Engagement—where Hernandez now works as the Assistant Director—recognizing in each other values they held dear within themselves, they say.
"We saw pretty early on that we have similar values in our work," Carvajal says. "It shapes us as we move into our future. We have a very close bond. You could say that the personal values we have for equity and social justice, and that were allowed to grow at K, played a big part in bringing us together as a couple."
Those values also play a large part in how they raise their 4-year-old son, they say.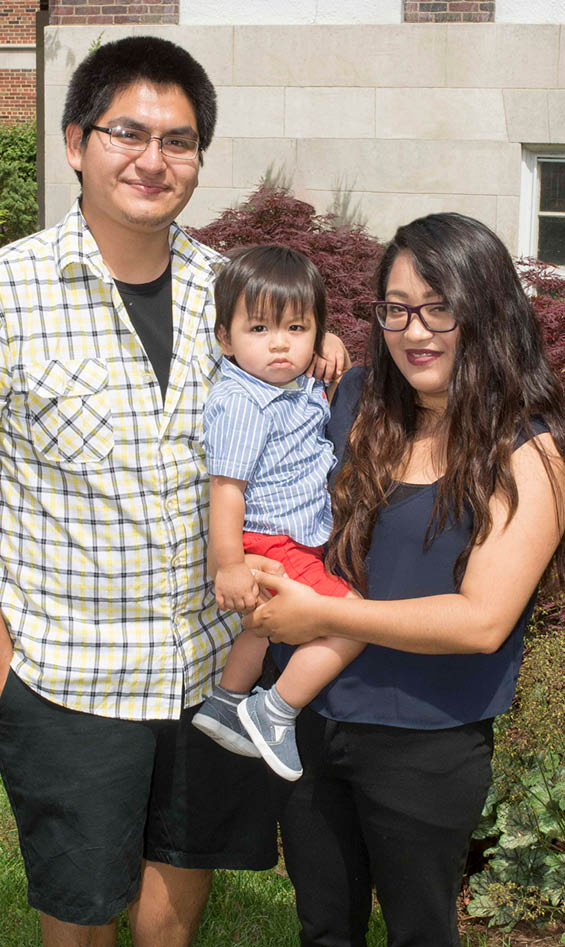 "We try to be more informed about child development and raising a son who will be informed and fight for equality and social justice like we are so passionate about," Hernandez says. "The way I grew up is different from the experiences I had at Kalamazoo College, where we were encouraged to think critically about important issues. I know that how we learned to think about the world will be a part of his life."
In the city of Kalamazoo they found a community that embraces and celebrates the core facets of the campus culture at K—community engagement, social justice, diversity and the importance of education. The Kalamazoo Promise, the tuition-free college program, was one of several factors that made them decide to call the city home, especially looking toward their son's academic future.
Hernandez misses the strong cultural roots of his upbringing. So, too, does Carvajal, who says she still pines for the diversity of culture and food of the greater LA area. Though they thought about heading back to California after they both graduated, their roots in the Kalamazoo community were too strong, they say, nourished with the knowledge and experiences they took away from K.
"The city is trying to advocate toward equity and healing," Hernandez says. "And that is what our family is trying to do, too. This is where we are supposed to be."
CIVIC ENGAGEMENT AT K
By forging a link between service and learning, the Mary Jane Underwood Stryker Center for Civic Engagement (CCE) works to:
• Strengthen the community
• Invigorate the educational experience and
• Promote students' informed and ethical engagement to build a more just, equitable and sustainable world.
CCE works with 30-35 community-based organizations, public schools and governmental entities.
Faculty offer about 20 community-based classes spanning the disciplines.
About 300 students enroll in community-based courses.
About 250 students participate weekly in co-curricular programs, in Community Building Internships and in paid federal work study jobs; around 20 serve as Civic Engagement Scholars leading these programs.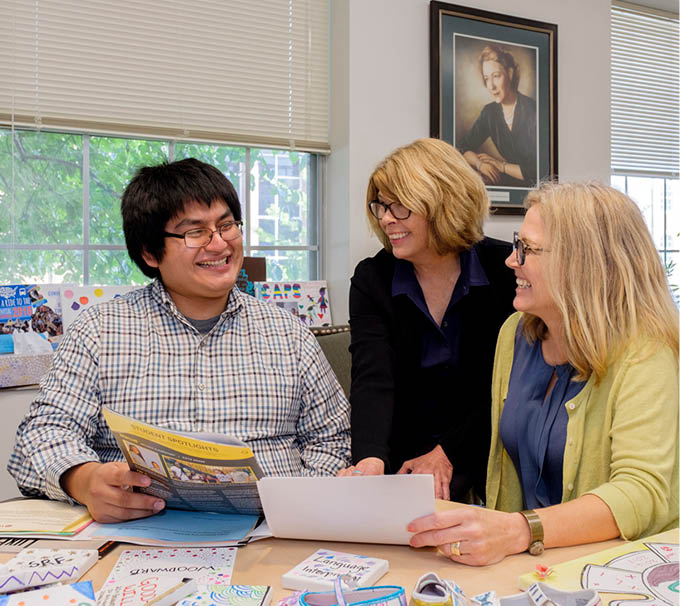 Vice President for Advancement Al DeSimone • Associate Vice President for Marketing and Communication Kate Worster • Editor Sarah Frink • Creative Director Lisa Darling • Project Manager Lynnette Pryor • Design and Animation Craig Simpson