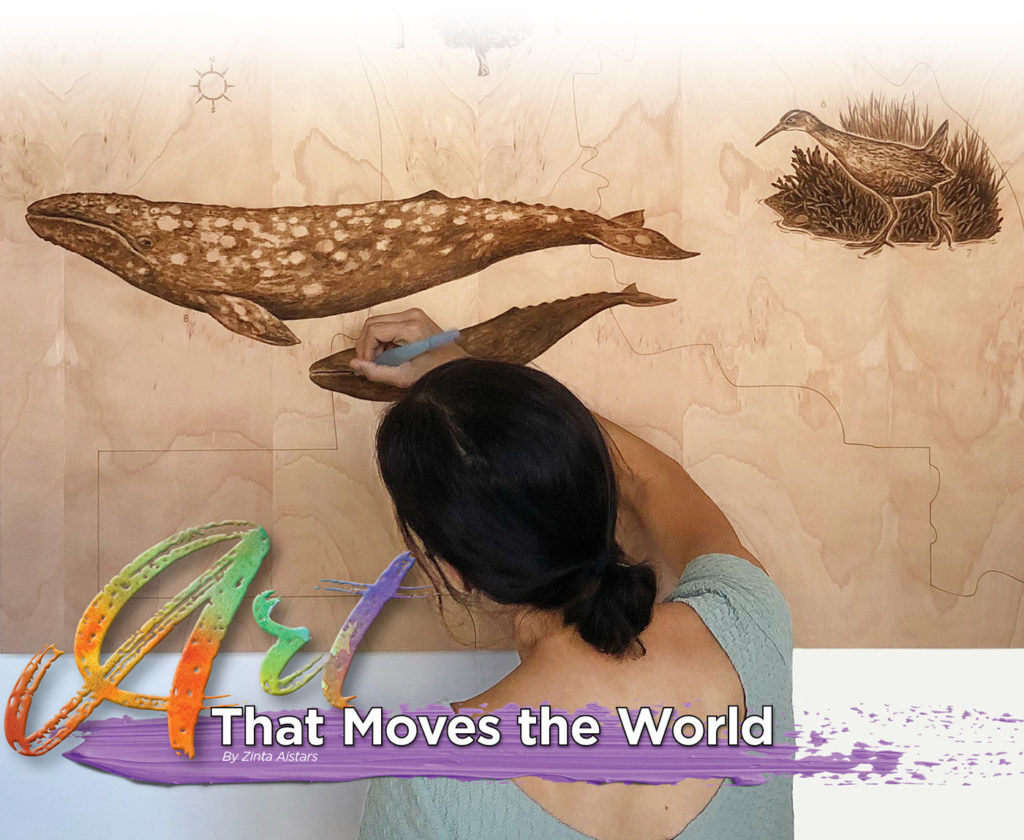 While many climate crisis activists use images of devastation to waken the public to the imminent dangers of our changing climate, Fiorella Ikeue '06 takes a different approach. Her tool of awakening is the beauty we may miss in our harried every day.
Ikeue uses art to illustrate the beauty of our planet, enticing the viewer to take a closer look, a look that will, one hopes, turn into an appreciation worthy of the fight to save that beauty. The Peruvian-American illustrator has combined her love of art and science to create intricately detailed illustrations of nature, scientific ideas and environmental issues.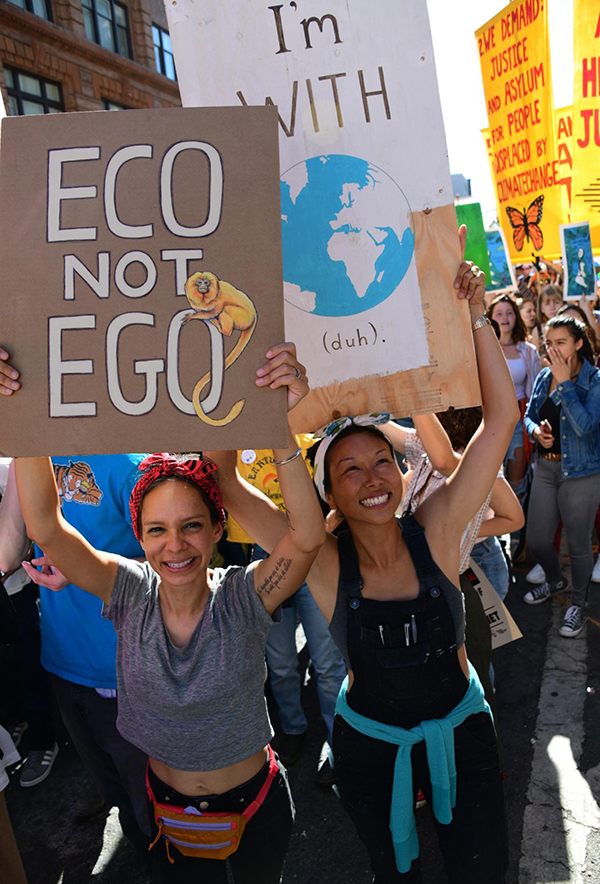 "Art is about emotion," Ikeue said. "Science is about information. Art and science can be similar in how they make you sit back and observe. They complement each other and can connect people to the natural world."
Born in California to parents who emigrated from Peru, Ikeue moved to Grand Rapids, Michigan, with her family at age 8. The family often traveled back to Peru, Ikeue's first exposure to the world outside of the States.
"Peru is an eye-opener," she said. "People seem happy even though there is an astounding level of poverty— Peruvians know how to do with very little. And the coast, the Andes, the Amazon Rainforest are full of such natural wonder. I would love to return there again someday to do illustrations."
Ikeue's interest in both biology and art were sparked by her Peruvian roots.
She enrolled at Kalamazoo College after visiting several Midwest colleges, drawn to the study abroad program and majoring in biology.
"Biology seemed like the better career path, perhaps more practical than art," Ikeue said.
It was Binney Girdler, professor of biology, who spotted her student's gift for illustration on the margins of her class notes. 
"Professor Girdler saw some of my doodles on my notes and admired them," Ikeue said. "She asked me if I'd ever thought about science illustration. That was the first I'd ever heard of it."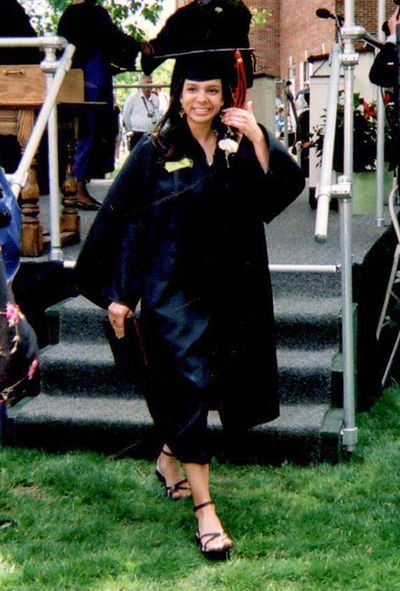 The idea for a different career path, one that would combine her two interests, got tucked away in the back of Ikeue's mind, noted but then nearly forgotten, as she traveled to France for nine months of study abroad. It was her chance to explore Europe, traveling to Spain, Germany, Italy, Greece. The experience developed a taste for adventure.
"I went to Japan for four years after I graduated from Kalamazoo College," she said. "I was craving more adventure, even though I didn't speak Japanese or know anything about the culture other than 'Hello, Kitty.' I liked the risk."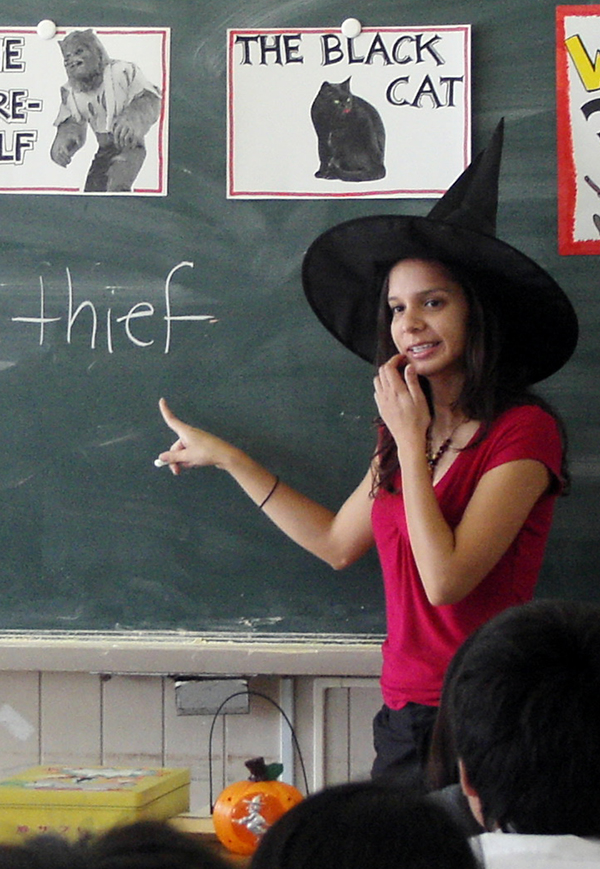 Ikeue taught English in a government program for elementary to high school students.
It was in Japan that she met Kosuke, the man she would marry.
"He was a nurse in Japan, but liked to DJ at nightclubs," she said. "That's where we met. I didn't speak Japanese, and he didn't speak English, but we bonded over music. We watched music videos together."
By 2012, Ikeue was fluent in Japanese, married, and moved back to the States—to San Francisco—with her new husband. She took a job at Patagonia, a clothing business known for its activism, with a mission to inspire and implement solutions to the environmental crisis.
"It was initially just as staff, just so I could get back to San Francisco, but I was at Patagonia for four years, and working there brought me back to science because of their mission," Ikeue said. "Patagonia opened my eyes to activism."
Ikeue was asked to create chalkboard art for the store—drawings of plants and animals in parts of the world where the store supported environmental groups—and a memory surfaced in Ikeue's mind.
Binney Girdler's words… "Have you ever considered science illustration?"
"Patagonia offered paid internships, so I requested an internship at the Ojai Raptor Center," Ikeue said. "I worked cleaning bird cages, but meanwhile I was doing illustrations for them and building up my portfolio."
Ikeue drew detailed and colorful drawings of an American kestrel feeding a tiny lizard to its open-mouthed babies in their nest. She drew a barn owl, its wings outspread just before swooping down on an unsuspecting mouse. She drew a great horned owl, a red-tailed hawk, a detailed foot of a Cooper's hawk, the silhouette of a peregrine falcon.
A passion for science illustration was born, a new path unfurling ahead.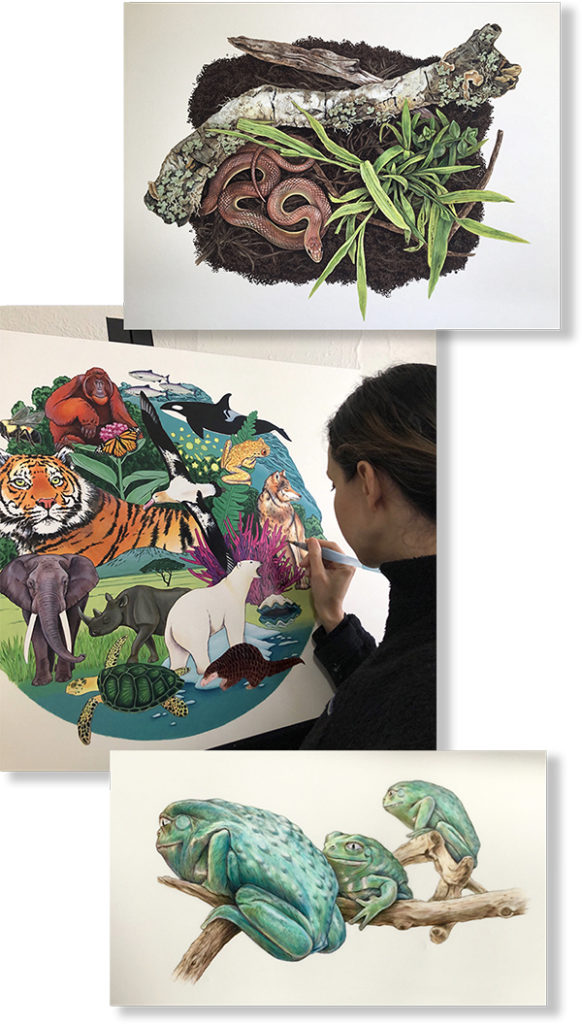 In 2017, Ikeue earned a master's certificate in science illustration from California State University Monterey Bay. She taught art classes for visitors at Yosemite National Park and created brand-focused illustrations for nonprofits. A new job at Ink Dwell Studio with artist Jane Kim had Ikeue scaling buildings and painting immense murals.
"I learned how to start on paper, get ideas down, then transfer them onto the wall using a grid," Ikeue said. "You really have to get it all figured out before you start painting on a building."
Drawing nature and living in California intensified Ikeue's awareness of the changes in the environment.
"I've seen those pink skies," she said. "Pink from wildfires. We couldn't go outside because the air was so bad. It's scary. With my art, I want to wake people up to what is at stake around us—look at this! It's important to connect to people emotionally. I've drawn animals covered in oil, for instance, but at some point, I realized that the best way to get attention is to focus on the amazing things on this planet. I like to zoom in on small things, get close up, so people can see things in a new way, in a way they haven't seen them before. I like drawing insects for that reason."
And then there was Rain. Rain, Ikeue's son, was born in 2021, and he was the reason Ikeue and her husband moved back to Japan.
"It's too expensive to give birth to a child in the United States," Ikeue shrugged. "So we returned to Japan, where we could get the maternal care I needed for much, much less."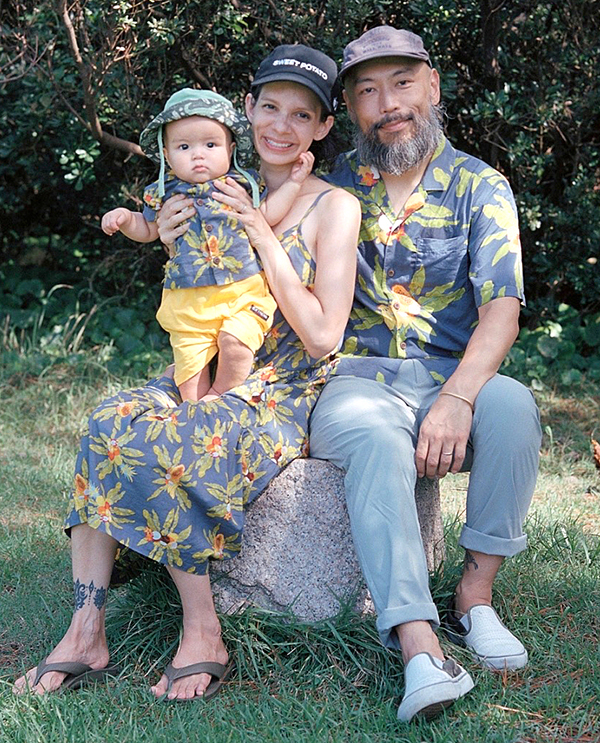 In September, a baby boy in her arms, the Ikeue family returned—this time full circle to Michigan, to spend time with her family.
"I look at Rain now and wonder," Ikeue said. "I wonder what his world will be like as he grows up. All I can do is instill a love of nature in him."