Helen Bernice (Place) Sparks '46 on August 26, 2021, in Arlington Heights, Illinois. Helen lived in South Bend, Indiana, for 91 years before moving to Illinois. On July 19, 1947, she was united in marriage to Fred Sparks. Together, they enjoyed 46 years of marriage until his passing in 1994. Helen received her bachelor's in economics from Kalamazoo College and retired in 1995 as a bookkeeper for Clay Service Center in South Bend. She is survived by her daughter and three sons, nine grandchildren and 11 great-grandchildren.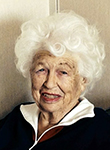 Norma Jean (Harris) Hilker '47 on June 9, 2021, in Newport Beach, California.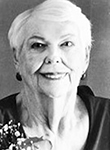 Sharon Joanne (Burnham) Halliday '49 on August 2, 2021, in Deland, Florida. Sharon was born in Royal Oak, Michigan. She went to Kalamazoo College and married Alan Beebe. She is survived by her four children, including Scott Beebe '72. Her second husband was Willis Halliday. In her life she enjoyed teaching 5th grade, painting, writing poetry, singing in the church choir and wearing blue. She was a gentle, loving soul who is celebrated by all who were fortunate enough to know and love her.
Patricia (Treat) Hartman '49 on September 10, 2021.
Elzora (Leiter) Wagner '49 on June 26, 2021. Ellie was a member of Parchment (Michigan) United Methodist Church, founding member of the Friends of the Library in Parchment and she enjoyed quilting, cooking and especially playing bridge. She was also member of the Parchment Garden Club. On March 27, 1947, in Battle Creek, Ellie was united in marriage to Robert Wagner '49 who preceded her in death in 2014. Surviving are three children, six grandchildren, 12 great-grandchildren and 2 great-great-grandsons.
Mary Lou (Harvey) Williams '49 on November 8, 2020. Mary Lou grew up in Kalamazoo and earned her bachelor's degree at Kalamazoo College. She taught high school in that area where she met her husband, Dr. Clarence Murray Williams, a fellow teacher. Later she earned a master's degree at Western Michigan College (now Western Michigan University). When her husband accepted a position as a professor at University of Rochester, Mary Lou and her young family moved to the Rochester, New York, area where she was the homemaker for her family, eventually going back to teaching when her youngest started kindergarten. When her husband accepted a position as associate dean of research at Gallaudet College, the family moved to the Silver Spring, Maryland, area where she has resided ever since. During that time, she completed a second master's degree from Gallaudet College. She worked as a teacher for the hearing impaired in Prince Georges County for many years until her retirement. After she retired, she retrained as a reading recovery teacher for Prince Georges County and continued to teach, finally retiring again from formal teaching at the age of 75. For many years afterwards, Mary Lou taught reading in local schools through Riderwood's volunteer program, as well as in the K-1 classrooms of the school where some of her great-grandchildren attended, helping with primary writing and reading skills. She impacted many lives and she was known as being kind, gracious and quietly loving the Lord. Mary Lou was predeceased by her husband. She is survived by her five children, 16 grandchildren and 34 great-grandchildren.
Herman E. Glaser '51 on October 18, 2018.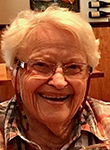 Laura Mae (Blandford) Higgins '53 on July 13, 2021, in Petoskey, Michigan. Laura graduated from Creston High School and received her bachelor's from Kalamazoo College and her master's from Western Michigan University. She taught in the Grand Rapids Public Schools, Lakenheath Air Force Base in England and Grand Rapids Community College for many years. Laura volunteered for her sons' Cub and Boy Scout troops and Grand Rapids Public School PTAs. She planned and attended a church youth group trip to Isle Royale National Park, roughing it in a basic cabin with her boys. She was actively involved at North Park Presbyterian Church for most of her life. Laura enjoyed entertaining family, friends, neighbors and visiting pastors in her family cottage in Bay View. She constantly volunteered and participated in a wide variety of educational, religious and recreational events. An active organizer on the Bay View and Petoskey CROP Walk, she cherished her family, religion, cooking and friendships. Her adventurous spirit led her to travel the world throughout her life, even bringing back a Karmann Ghia convertible from Europe after teaching in England. Laura loved reading, devouring books on topics from Hemingway and Shakespeare to British mysteries. Always learning and open-minded, Laura enjoyed theatre and cultural events her entire life at Stratford Canada's Shakespeare Festival and in her beloved Bay View. She was preceded in death by her husband, the Rev. Edgar Higgins. She is survived by her three sons and four grandchildren.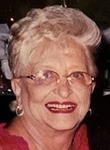 Constance (Wilson) McGuineas '53 on April 18, 2020. Educator. Devoted wife to the late Roger McGuineas '56. Loving mother and inspiration to Cynthia Cay McGuineas. Graduate of Kalamazoo College. A force of nature with a heart to match, Connie surrounded herself with friends and family alike. As they say, "She never met a stranger." In the mid-70s, she and a group of talented women developed and launched the first adult education program in southeast Michigan. She brought her love of life to teaching. Seeing others thrive and succeed brought her such joy. She had a salty sense of humor and reveled in weaving tales small and tall. She leaves this world a much better place.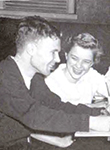 Rudolf M. Planert '54 on July 18, 2021, and his wife Ingrid (Scharenberg) Planert '54 on March 7, 2021. Married for 65 years, they met at Kalamazoo College, where both were students and graduates of the class of 1954. Ingrid's parents immigrated to escape from Germany during the rise of Hitler. Her father was a prominent professor of neuropathology at the University of Michigan and one of the first neuropathologists in the United States. Ingrid received her bachelor's from K and later a master's degree in speech pathology from U of M. She worked as a speech pathologist for the Arlington schools while Rudy attended U of M law school, then left to focus on raising her children and participating actively in civic and community affairs. Rudy was born in Berlin, Germany, in September of 1932. His father was a gymnasium teacher. His mother was Belgian. During the early days of the war, she left Berlin and later went back to the French-speaking area of Belgium where she was born. She never returned. When Berlin became intensely bombed by Allied forces, the German government sent the teachers and children to southern Germany, which was safer; Rudy and his father went to Bad Tolz, Germany, where dear friends lived, to continue schooling. After the war ended, they returned to Berlin. During the time of the blockade, Rudy's father died, and Rudy, then a teenager with no parents, moved back to Bad Tolz to live with their friends (his "aunties") and finish school. The U.S. government at that time had a one-year scholarship program that brought young Germans to study in America, so that they could return to Germany and spread the word as to how nice Americans were and the benefits of our democratic way of life. Rudy received this scholarship and adapted well, loved Kalamazoo College, and made many friends; K offered him a four-year scholarship if he could stay. Despite many efforts by the school, friends and politicians, he was not able to stay and he returned to Bad Tolz. The day after he returned, he went to the American embassy and applied for a student visa, which was granted and he returned. While at K, he unsuccessfully attempted to get an immigration visa. He also tried joining the army, but they would not take him since he was on a student visa and was not a citizen. After graduation he started law school, and after about one year, he and Ingrid were married. Since Ingrid was a citizen, he was now eligible for citizenship and almost immediately was called up to be drafted for the Korean War. Fortunately, he was allowed to finish law school and was soon thereafter drafted. The army wisely sent him to Germany instead of Korea and Ingrid, who spoke German, joined him; there they became translators for the commanding officer. In 1960 he became a naturalized citizen and after returning to the States, served as an officer in the Judge Advocate General Corps at the Pentagon, rising to the rank of captain. Upon completing his military service, he spent his career as an attorney for the Internal Revenue Service Office of Chief Counsel in Washington, D.C. He retired in 1997. Rudy is remembered by his friends and family for his sense of humor, his love of history and for his devotion to his wife and children. Ingrid is remembered for her love and compassion for others. Survivors include their three children and five grandchildren.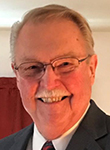 The Rev. Charles Burtis Crooks Jr. '55
on September 23, 2021, in Uncasville, Connecticut. He is survived by his wife of 59 years, Patricia Maynard Crooks. Burt grew up in Oaklyn, New Jersey, received his bachelor's degree from K and earned his master of divinity from Colgate Rochester Crozer Divinity School in New York. He was ordained in 1958, began his ministry in Voluntown, Connecticut, then served as pastor of South Congregational-First Baptist Church in New Britain for 24 years. After retiring in 1993 and being named pastor emeritus, he went on to serve as interim pastor for congregations in Bristol, Canton, Manchester, Hartford, Ledyard-Gales Ferry and Old Mystic. During his years of ministry with the American Baptist Churches, Burt held many offices at the local, state and national level of the denomination. Throughout his career he was devoted to ecumenical ministry and interfaith partnership. He later became an active member of the Poquonnock Bridge Baptist Church, where he and Patti were recently named ministers emeriti in recognition of their loving service and faithful ministry. Burt's deepest joy and greatest pride belonged to family: his wife, Patti, his two daughters and his five grandchildren. He was "Uncle Burt" to beloved nephews and nieces, and throughout many years of facing medical issues and health challenges, he showed only grace and gratitude to all of his caregivers. He enjoyed his home at Hillcrest Retirement Community in Uncasville, where he is remembered for leading the Christmas carol sing-along and discovering a talent for watercolor painting. Burt loved to travel with family, attend Baptist conventions with friends and spend summer vacations at the beach.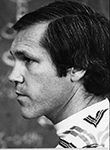 Arleigh Dodson '55 on September 1, 2021, in Wausau, Wisconsin. Arleigh lived an incredibly full life dedicated to family, education and politics. A true student-athlete, he graduated with a degree in chemistry from Kalamazoo College while playing football and running track during the day and shoveling coal to heat the campus at night. He went on to earn his Ph.D. in organic chemistry from Michigan State University before spending 35 years as a professor and subsequent chair of the chemistry department at Lewis & Clark College in Portland, Oregon. Arleigh always saw teaching as just the start of his commitment to Lewis & Clark. During his tenure, he served as co-director of the environmental studies program, acting athletic director, interim and acting dean of faculty and acting provost. For his contributions to college athletics, both the Lewis & Clark College Athletic Department and the National Association of Intercollegiate Athletics (NAIA) inducted him into their Hall of Fame. In 2015, he was awarded the Lewis & Clark Alumni Citation in recognition of his combined passion for teaching, leadership and community involvement. Outside of Lewis & Clark, he was president of the Lake Grove Parent Teacher Association and a member of the Lake Oswego school board and the Lake Grove water board. Well into retirement, he remained active on county and statewide Democratic Party committees. He spent the turbulent 1964 Summer of Freedom in Jackson, Mississippi, supporting voter registration as part of the civil rights movement unfolding across the state. In 1967-68 he was a visiting professor at North Carolina Agricultural and Technical State University, a public, historically Black, land-grant research university in Greensboro. In 1972, his love of learning and adventure took Arleigh, his family and 24 students to Ghana, West Africa, for six months as part of the Lewis & Clark College study abroad program. That trip established the groundwork for Ghanaian students to enroll at Lewis & Clark. He will be remembered for his keen intelligence, how deeply he cared about world events, and the dignity, respect and kindness with which he treated everyone he met. His wisdom and lessons in life spread to all who knew him. Arleigh is survived by his wife of 66 years, Marion (Johns) Dodson '55, and his four sons, seven grandchildren and two great-grandchildren.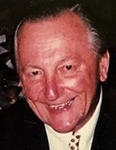 Roger Marshall McGuineas '56 on May 28, 2020. A graduate of Kalamazoo College, Roger served in the Korean War. His wife of 66 years, Constance "Connie" McGuineas '53 passed away April 18. He is survived by his loving daughter. Roger liked playing a good game of tennis and golf, downhill skiing, hearing and telling salty jokes and grilling a darn good steak back in the day. He taught his daughter how to throw a "mean spiral" and how to be a good sport, win, lose or draw.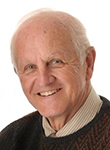 Frank L. Grimm '58 on June 18, 2021. He was preceded in death by his wife of 61 years, Evelyn. Frank lived his whole life in Wyoming, Michigan, but his impact spread far. Frank was a three-sport athlete at Wyoming Park (football, basketball and track) and was also involved in theatre. Very well-liked by his classmates, he was voted most popular with his future wife, Evelyn. He competed in two sports in college and was the MIAA conference champ in cross country. After graduating from K, he taught biology and physiology at Wyoming Park for 35 years. In addition to teaching, he also coached cross country and track. His successes as a coach are many, but what was most important to him were the individuals on his team. His honesty, integrity and expertise helped his athletes achieve great performances and also served as a great example for life. Even when Frank was done coaching and retired from teaching, he worked basketball games and continued to run the Wyoming Relays (renamed the Frank Grimm Wyoming Relays). In retirement, Frank didn't slow down. He ran a painting business with some of his kids. He and Ev traveled together with friends to Alaska, Hawaii, Panama and Europe, among other places. He biked with friends and relatives all over the U.S. He hiked most of the Appalachian Trail, bits at a time over years, with his brothers-in-law. He also did several horseback-riding trips out west. In retirement, his garden continued to grow, especially the flower portion, specifically dahlias. Frank made connections with other dahlia growers and ended up with a huge variety of dahlias that he would cut and deliver all over town several days a week, just because it made people smile. If a person knew Frank from any of the above activities, they probably would also know how much he loved his wife. Frank bragged about Ev all the time. They fell in love in high school and lived a Godly life together ever since. Frank became Ev's full-time caregiver when Alzheimer's kept her from being able to care for herself. His devotion to her to the end has been inspiring. Frank looked forward to his move to Rivertown Ridge a year and a half ago to share his jokes, stories and kindness with residents and caregivers. In the short time he was there, many have said what a good man he was and how he positively impacted their lives with his humor, compassion and thoughtfulness. Frank's children will forever remember his example of hard work, striving to do the right thing, words of wisdom and the best hugs. He will be greatly missed by his six children, 17 grandchildren and five great-grandchildren.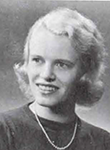 Mary Rose (Ramsey) Guimond '58 on October 2, 2017. In Seattle where she grew up, Mary Rose developed her lifelong love of opera, dance and classical music, studying under renowned choreographer Eleanor King and joining the city's celebration of Toscanini's first visit to the Pacific Northwest. She graduated from Roosevelt High School in 1954. She moved with her family to New York City and then went to K where she received her bachelor's in philosophy. After taking graduate courses at Boston University and Columbia University, working at Macy's flagship store in New York City, and living in Boston and Freeport, New York, she and her husband, the late James Guimond '58 and daughter Laura settled in central New Jersey. Mary Rose joined the biology department at Princeton University as a secretary in 1965. In 1973–74, the family spent a year in São Paulo, Brazil, where a second daughter, Catherine (Katy), was born. Mary Rose returned to Princeton in 1976 and played a vital role in the creation of the Department of Ecology and Evolutionary Biology in 1990; she served as the department manager until her retirement in 2009. In 2002, James was diagnosed with Parkinson's disease and Mary Rose devoted herself to his care. She continued to come into New York to see her beloved Metropolitan Opera, the New York City Ballet and the New York City Opera; she enjoyed attending performances of the New Jersey Symphony Orchestra and special presentations at McCarter Theatre in Princeton as well. She also maintained her longstanding engagement on a host of political and social issues. Mary Rose was diagnosed with Stage IV colon cancer in March 2016. Mary Rose and James moved to Russellville Park in Portland, Oregon, in 2016 to be closer to their daughters. Mary Rose passed away with her daughters by her side; her husband, James, passed away on October 24, 2020.
Susan Jane (Bloomquist) Warner '58 of Columbus, Ohio, on June 28, 2021. On December 24, 1960, she married John Henry Warner in Ithaca, New York, and together they shared 12 years of marriage before his passing in 1972. Susan worked as an editorial assistant at The Ohio State University and retired in 2003 after 20 years of service. She was a member of the King Avenue United Methodist Church. She loved reading, music, nature, animals, volunteering and knitting. Most of all, Susan enjoyed spending time with family and friends. She was a champion for peace and social justice and was a rebel by nature. She was loved for her sweet, kind and helpful spirit, her sense of humor and intelligence. She is survived by her daughter, grandson and two great-granddaughters.
Nancy Ann Kaley '59 of Mount Pleasant, South Carolina, on November 14, 2020.
Dr. James Laidlaw '59 on July 26, 2021. Jim was born in Tawas City, Michigan, and graduated from Tawas Area High School, Kalamazoo College and the University of Michigan Medical School. After an internship at Los Angeles County Hospital, Jim entered the U.S. Navy, serving aboard the USS Simon Lake. When the USS Simon Lake berthed in Charleston, South Carolina, Jim met Barbara Smith, R.N., whom he later married. Jim completed a fellowship in cardiology at the University of Michigan and the couple moved to Winchester, Virginia, where Jim practiced as a cardiologist at Selma Medical Associates. While practicing with Selma, Jim also served as chief of staff at Winchester Medical Center. After his retirement, Jim went on to serve as the medical director of the Shenandoah University Physician Assistant program. Jim was also committed to his community, serving as board president for Preservation of Historic Winchester, and on the board of the Museum of the Shenandoah Valley where he was president from 2003–05. Jim was a member of Christ Episcopal Church and resided at Shenandoah Valley Westminster-Canterbury since 2014. He was a highly accomplished pianist, enthusiastic skier and bicyclist, and he loved people. In spite of many medical challenges, Jim always had a smile on his face and was a kind and gentle man who was adored by friends, family and colleagues. He leaves behind his wife of 54 years, Barbara, two children and three grandchildren.
Barbara Joan (Engel) Johnson '60 on August 7, 2021. Barbara graduated from Nazareth Academy in Kalamazoo and continued to Kalamazoo College, where she studied English and was a part of the drama club. She acted in multiple plays during this time, but her fondest memory was being a part of the Tennessee Williams play, The Glass Menagerie. Barbara met the love of her life, Walter, shortly after her sophomore year at K. They were joined in marriage October 10, 1958. Barbara had many talents and hobbies, including beachcombing along Lake Michigan, bead working, reading, nature and always looking for new adventures. Barbara enjoyed life and always said, "I never learned to walk. I went from crawling to running." She was selfless and strong, nurturing, and never turned a deaf ear to anyone. Barbara is survived by her husband of 62 years, Walter, her two children and her granddaughter.
Ronald A. Siwik '61 on December 28, 2020, in Chagrin Falls, Ohio. He was predeceased by his daughter Julie and his grandchildren, Lindsay and Ian Hatch. He is survived by his wife, Rita, his two children, including Steven Siwik '85 and his seven grandchildren.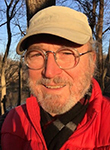 James G. Lindberg '62 on September 23, 2021, after a very short bout with pancreatic cancer. The Grand Rapids, Michigan, native earned his bachelor's from Kalamazoo College and Ph.D. from Baylor University. In 1967 he joined the chemistry faculty of Drake University from which he retired in 2002. While he published and presented a number of scientific papers, his passion was teaching, with a career spanning 48 years, primarily at Drake (35 years) but with visiting positions at Grinnell College (13 years), Stanford University (3 years), and University of Oregon. In his retirement Jim developed a passion for genealogy and gardening and continued a long history of wonderful travels with his wife, Sandy, as a bonus. Jim is survived by his wife and partner of 28 years, Sandra K. Renshaw, his former wife and mother of their children, Harriette Tsosie, his three children, his sister Judith K. Shoolery '57, as well as dear nieces and nephews, grandchildren, great-grandchildren and thousands of students and colleagues.
Robert T. Hayne '63 on December 14, 2020, in Prescott, Arizona.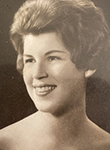 Emily Jackson '64 on July 2, 2021, in Traverse City, Michigan. Emily Jackson graduated in 1959 from University High in Kalamazoo, after which she attended Vassar before transferring to Kalamazoo College. She then went on to Thomas Cooley Law School, where she received her Juris Doctorate. She married Thomas Guerne in 1964 and they had two daughters, Jennifer and Caroline. Emily worked in Gladwin and Kalamazoo. In 1986 she was hired as a caseworker for Friend of the Court in Grand Traverse and Antrim counties. In 2003 she retired from Friend of the Court and worked as a teacher for the migrant education program and volunteered for the Inland Seas Program. Emily was a lifelong learner. She studied languages, sewing, knitting and art. She was an avid reader, a member of the American Association of University Women and she was an enthusiastic bridge player. Emily was a supportive, loving mother and encouraged and supported her children in whatever interests they chose to pursue. She is survived by her two daughters and five grandchildren.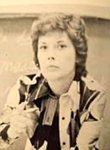 Marianne Elizabeth Lucas '64 on August 4, 2021. Marianne realized her future career while still in high school in Wyandotte, Michigan. She was a teacher's aide her last two years there. Marianne graduated from Kalamazoo College and began a long career in teaching German and mathematics at North Muskegon High School (1964–2003). Marianne had a genuine thirst for learning and loved her profession and her students. She was a very respected and influential educator to many students. This was her life. This was her passion. She not only passed on her knowledge of the subject material taught, but she also gave so many important life lessons, among them honesty, integrity, perseverance and respect to all. She cared deeply for equality of education for both men and women. Marianne is missed by all whom she knew and touched.
Stephen William Carson '65 on May 9, 2021. Stephen attended Kalamazoo College, where he met and married Patricia Fitzharris '77, who gave birth to his only son, Christopher Fitz Carson. Steve wore many hats: carpenter, miner, long-haul truck driver and armchair philosopher. He served in the United States Army Airborne Division where he developed into a patriot and an advocate for freedom. Steve was known for his passion for helping others and his kind, compassionate spirit. He aided the homeless by building shelters in southeastern Colorado. Steve loved to lend a hand and did not shy away from hard work, especially for a friend. He never met a stranger and would help anybody at any time. He will be missed. He is survived by his son, Chris.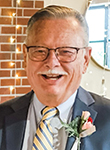 W. Wallace Kent Jr. '65 on September 23, 2021. Wally grew up in Kalamazoo where he graduated from University High School in 1959. Shortly after, Wally enlisted with the U.S. Army and was honorably discharged in 1964 in order to attend Kalamazoo College where he studied history and English. Following his graduation, he attended the University of Michigan Law School in Ann Arbor, graduating with his Juris Doctor degree in 1967. Later that year, Wally moved to Caro to practice law with Maurice Ransford and later, Gary Crews. In 1975, he was appointed by Governor Millikin to succeed the Honorable C. Bates Wills as the Tuscola County Probate Judge, a position he held for thirty-four years until his retirement in 2010. He would often say his juvenile and social service workers were critical to better the lives of the foster children he helped to place. Wally was united in marriage with Catherine Heida-LaFave on September 9, 1989, in Caro, and the couple has celebrated 32 years of joy and adventure together. Wally was born in the North, but was southwestern at heart, dressed appropriately in cowboy boots, belt buckle and bolo tie. He loved to travel and toured the world with Cathy, from the Rhine River and Mediterranean Sea to his favorite place on earth, the Upper Peninsula of Michigan. His laugh was infectious and his stories were long. While not a large man, he had a booming voice and a big personality. He loved a terrible pun and a good argument. Wally was a family man at heart and especially enjoyed attending his grandchildren's sporting events and activities. He participated in several plays with the Thumb Area Center for the Arts and was known to reminisce about the past with those he just met or ones he'd known for years. Wally was a member of the Caro Rotary Club where he was a Paul Harris Fellow, the Michigan State Bar Association, Michigan Probate Judge Emeriti, Alumni Associations of Kalamazoo College and the University of Michigan and the Caro Area District library board. In 2017, Wally and Cathy moved to San Antonio, Texas, where he volunteered for a crisis hotline and served as treasurer for a fellowship group. His passing will leave a void in the hearts of countless friends and family. Left to cherish Wally's memory are his loving wife, Catherine, six children, 15 grandchildren and three great-grandchildren.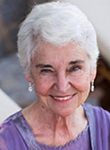 Carol (Cameron) Lauhon '66 on August 3, 2021, in Chicago, Illinois, succumbing after years of resisting a neuroendocrine form of cancer. The daughter of Charles Cameron '37 and Ruth Cameron '38, Carol grew up in Chelsea, Michigan, a hometown she never stopped loving, successfully managing as a schoolchild the effects of her father's prominence as superintendent of schools. She also loved Kalamazoo College, from which she graduated in 1966, after a one-year delay for surgery to correct a spinal problem. In 1966 she married Edward Brooks Lauhon, confirming the love that began for them at Chelsea High School. She completed a master's in special education at the University of Michigan in 1969, taught in the Ann Arbor school system, and supported Ed's progress toward his Ph.D. in education and his appointment to the faculty of Augustana College in Rock Island, Illinois—all while adding three children to the family. In 1984 Ed suffered a cardiac arrest after running a routine weekend race. Revived but paralyzed and unable to speak due to brain damage, Ed survived five years at home, cared for by Carol and the children and caregivers, until passing away in January 1990. Carol continued rearing her children through middle school, high school and college, while also continuing to pursue her own Ph.D. and the teaching of creative non-fiction writing at the University of Iowa and in private classes in the Quad Cities. She also committed years of work to leading the group that brought a Planned Parenthood facility to the Quad Cities. Her teaching was remarkable for its personal effect on students, her evaluations often including "best teacher I've ever had." A friend from her Kalamazoo College years, Randy Huyck '65, became a companion in these years. In 2004 she moved to Chicago, where her son, Lincoln, and his wife had settled, and where her daughter, Alicia, also settled later. She finished her dissertation and received her Ph.D. in 2005. She continued her commitments in major committee work for Lake Street Church in Evanston and for Gale Elementary School in her adopted neighborhood of Rogers Park. Carol is survived by her three children, two grandchildren, three brothers including Jim Cameron '69 and his wife, Marcia '70, her companion, Randy, and his three children and many other friends and relatives.
John Scott Erickson '69 on August 23, 2021. He was a longtime teacher at Hanson Park School. John "Scott" treasured the Christian faith he shared with his family and friends at Bethany Beach. He was the beloved husband of Alice, a dear brother, cherished brother-in-law, devoted uncle and loving great-uncle of many great-nieces and great-nephews.
Margaret L. Olds '70 on August 15, 2021.
Carl Bollinger '71 on March 2, 2008. Carl graduated from K with a degree in religion and philosophy. Later he received an advanced degree in library science from Western Michigan University. In 1983, he moved to California where he served as a supervisor for six years at the Pomona city library. When illness required his retirement, he returned to Michigan to be closer to family.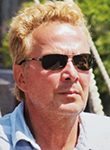 Claus-Stefan Globig '76 on July 25, 2021, after fighting prostate cancer. Born in Darmstadt, Germany, the eldest of three children, Claus and his family boarded the S.S. Atlantic in September of 1959 to travel from Rotterdam, Holland, to New York City in order to start a new life. After spending two years in New York City and Hamilton, Ohio, they settled in Kalamazoo. Every day after school, Claus and his mother spent an hour on German lessons and he was always grateful to be fluent in two languages while also maintaining a working knowledge of French. At Loy Norrix High School, he lettered in tennis with a .900 winning percentage. During his first collegiate stint, he often secluded himself in a campus piano room where Beethoven's nine symphonies transfixed him for hours. Six months later his gypsy spirit broke through and he headed to Europe. Returning stateside a year later, he attended Kalamazoo College, after which he attended law school briefly in Santa Barbara, California, before moving to New York City, where he worked at a wine shop and taught tennis at Columbia University. At 26, he attended Michigan State University where he began working on his master's degree in film and video production. He established a university-wide organization, Promethean Productions, which employed English students for original scripts, theatre majors for actors, film students for production work and art department personnel for set construction and design. He graduated from MSU in 1987 and headed for the Hollywood hills. He remained in Los Angeles from 1988 to 2004, working his way through the film industry and eventually finding satisfaction as an in-house producer for movie titles and digital effects. His first film client was the writer/director of Sling Blade, Billy Bob Thornton. Among the 150 or so other projects he represented was Titanic, his company's first major digital effects project. After returning to Kalamazoo in 2004, Claus attended graduate school at Western Michigan University, obtaining a master's in industrial organizational psychology, then a graduate certificate in substance use and abuse. He found a job at KPEP as a clinical therapist and group facilitator for probationers and parolees. Throughout his life, his favorite pastimes included playing hockey on Woods Lake, backgammon and chess, photography, darkroom printing, writing poetry, short stories and screenplays, playing competitive tennis, participating in the fencing club at K and traveling throughout Europe and the United States. He was a voracious reader and a lover of fine arts. He is survived by the love of his life, Teresa, and many dear family members and friends.
Stephen Mohney '76 on June 30, 2021.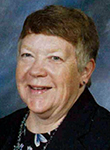 Annette Marie Johnston '79 on July 21, 2021. Annette graduated from Port Huron Northern High School in Michigan in 1975 and Kalamazoo College with a degree in economics. She will be remembered as a good Christian, a loving daughter, a doting aunt and a good friend to all she met. She lived life with a joyful enthusiasm that was admired by all. She spent a long and successful career with Ameriprise as a financial advisor. Her clients trusted her and many became lifelong friends. Annette was active in her community and church, First Presbyterian of Port Huron. She was a member of the church choir, where she played the baroque recorder, and also played as needed for several churches in the Port Huron area. She was an accomplished player and had many recordings made with her musical partner, Gary Rhody. In retirement, Annette enjoyed traveling, book club, crafting and camping with friends. Another of Annette's passions was writing children's stories which helped teach financial skills in a fun way. She lived on her farmstead, "Frolic Farm," where she enjoyed giving tours to school-aged children and talking about animals and financial management. She is survived by many family members and friends. She will be missed by all who knew and loved her.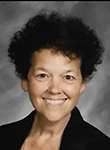 Jane Harker Tallmadge '83 on August 19, 2021. Jane was born in Sturgis, Michigan, and attended Nazareth College, Kalamazoo College and the University of Michigan. She recently retired from Sturgis Public Schools, where she was a teacher and librarian for 31 years and taught with her four sisters and her brother-in-law. Jane's life was marked by many lasting friendships, devotion to her family, and spending time at nearby Klinger Lake. She enjoyed traveling, cooking, reading and her pets. She described herself as a "Proud Harker Girl" and she loved Sturgis. Incidental to her life were her many medical struggles that began 36 years ago and lasted until the end. She defied death many times with her positive attitude and unwillingness to give up. She was always the most popular patient among the nurses on her floor and a favorite of some of the best doctors in the country. She took time to learn the life stories of her caregivers. They were always in her prayers. Jane was a faithful member of Holy Angels Church in Sturgis, and later St. Joseph's in White Pigeon. She held a special devotion to our Blessed Mother, regularly praying the rosary to give her comfort during her many medical struggles. Jane is survived by her husband Brian Tallmadge '84, her daughter and her two beloved grandchildren. She is also survived by her father, brother and four sisters, including Susan Sleeper '84 and Stephanie Schau '90.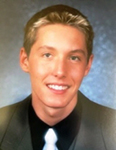 Michael John Shanks Jr. '07 on July 8, 2021. Michael grew up in Jackson, Michigan, where he enjoyed hockey, golf, water skiing, snow skiing, roller blading and paint ball. He attended Cranbrook High School and Lumen Christie High School and graduated from Kalamazoo College with a bachelor's degree in finance and economics. Michael spent his later years in Menominee, Michigan, surrounded by many loving relatives. Michael enjoyed listening to music while taking car rides in the country and spending time with family. Michael is survived by his parents, brother, sister and the niece he adored, along with many loving aunts, uncles and cousins.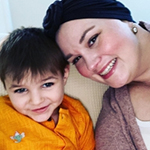 Lee Karraker Cambata '08 on July 28, 2021. Lee brought love, laughter and light to all whom she met. She was an incredible woman, friend, mother, partner, daughter, business woman and so much more. She will be missed by so many, but especially by her son, James, her husband, Ian, her mother, her in-laws, her extended family and her best friends. Lee showed us all how to be better people, by putting the need to support others ahead of her own needs. She showed us that we can do anything we chose, that personal growth is a necessity and can be achieved, and that regardless of the situation we must find time to enjoy life with family and friends. Her passion for her son, traveling the world, cooking, personal fitness, laughter and love gave her a fun, exciting and rewarding life. Our lives are forever brighter and fuller because of the time we had with Lee. She helped each of us be better by giving us such deep meaningful connections that spanned countries and decades and brought a much-needed human connection in a time of digital devices. We will eternally love you, Lee, and treasure the remarkable impact you had on our lives.
FACULTY, STAFF AND FRIENDS OF THE COLLEGE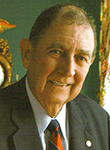 Thomas L. Holton on June 14, 2021, in Jupiter, Florida. He was formerly a resident of Greenwich, Connecticut, and maintained a residence in Juno Beach, Florida. Thomas was born in Prairie Hill, Texas, one of six children in a Primitive Baptist family. His father worked a small farm and later operated a gas station and fuel delivery service. His upbringing instilled a work ethic that would serve him well throughout his life—he was fond of recalling how he would assist his father at an early age, driving the John Deere tractor before he was big enough to crank it. When he enlisted in the military in World War II, Holton was asked by a woman at the recruiting desk, "Army OK with you?" He was about to say yes, but then impulsively said, "No, Navy"—a capricious but perhaps life-changing decision. He was assigned to the Naval Petroleum Reserve in Southern California (possibly a nod to his Texas background), where he met his wife, Maxine, who worked in the naval supply depot, and was introduced to accounting. After the war, on the GI Bill, he earned a bachelor's degree in business and a master's degree in accounting at Baylor University. Thomas started his career at a small accounting firm in San Antonio, where he rejected lucrative offers from the corporate sector in favor of public accountancy. His firm's merger with Peat, Marwick, Mitchell & Co. led to a move to Chicago, where he became managing partner of Peat, Marwick's Chicago office as well as area partner for the Midwest region. He earned a reputation within his firm for being a problem solver and expert in auditing procedures and professional practices. He was transferred to the firm's executive offices in New York in 1968, where he became the partner in charge of the New York office and was elected to the firm's board of directors. In 1979, the partnership elected him chairman and chief executive of the firm, an office he held until his retirement in 1985 (he remained chairman of the international partnership until 1986). Thomas served as an advisor to presidents Carter and Reagan, served as chairman of the American Institute of Certified Public Accountants (AICPA) committees on SEC regulations and auditing procedure, was named Accountant of the Year in 1985 by the accounting society Beta Alpha Psi, and was honored by Baylor University with both the Outstanding Achievement Award and the Distinguished Alumni Award, as well as the establishment of the KPMG Peat Marwick—Thomas L. Holton Chair of Accounting. In 1991, he received the Gold Medal for Distinguished Service from the AICPA, the highest honor in the accounting profession. In retirement, he served on the boards of Bethlehem Steel, Kalamazoo College and Jupiter Medical Center Foundation in Florida. He is preceded in death by his wife of 61 years, Maxine, and his second wife of nine years, Florence L. Holton. He is survived by his son and daughter, Dana Holton Hendrix '80, his stepson and stepdaughter, two grandsons, including Cullen Hendrix '00, a granddaughter and three great-granddaughters.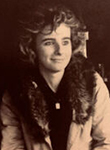 Gail H. Stewart on July 11, 2021. Gail was born March 4, 1940, in Chicago, Illinois. She was formerly employed by the Crosstown Inn of Kalamazoo and was a member of facilities management at Kalamazoo College for over a decade. Gail enjoyed computer games and her animals and had a quirky sense of humor. She is survived by several nieces and nephews.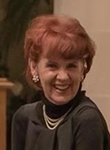 Shèr Marie Farrell on July 15, 2021. Shèr was the founder and artistic director of Farrell Ballet Theatre, and longtime ballet mistress at Kalamazoo College. Although she lived most of her life in Kalamazoo, Shèr made numerous extended visits yearly to her hometown of Binghamton, New York, to spend months with her best friend and mother, Ma. She was a devout Catholic and a devoted sister and daughter. Shèr was a vibrant soul who enjoyed walking in her woods to watch the latest season unfold, as much as choreographing a classical ballet production for her Farrell Ballet Theatre. She was the inspiration of the many students she taught for over 45 years. One of her dreams was to bring her dance troupe to the Roberson Museum and Science Center in Binghamton, to dance in the top floor ballroom where she learned ballet at an early age. Wise before her time, Madame Farrell said, "In refusing to impose limitations on my dreams and the dreams of my students, I am reminded each class of how much we need art to inspire and call for the dignity of dreams." Earning an undergraduate degree from Georgian Court College in Lakewood, New Jersey, and a graduate degree from Harpur College in Binghamton, Shèr studied and danced with the Bolshoi Ballet for a year in Paris, France, bringing a rich history to her dance students and an always interesting conversation to her friends and family. She loved international travel and among other places, traveled to Europe as a humanitarian, bringing love and hope to friends she made while in Bosnia. Traveling once to Spain to walk the Camino de Santiago, she was walking several miles daily at home, to again walk the pilgrimage of the El Camino at age 75. Shèr's beautiful red and white home with green shutters looked like a French cottage; she splashed color all over from her many meticulously cared-for flower gardens and pots, in the middle of a rolling green park-sized lawn. She was extremely fit, followed the healthiest of diets and was a very young 72 years old. Shèr's passing is a shock to her family and friends. Shèr is survived by her mother, her brothers and sisters, and by many nieces and nephews who adored her and to whom she was known as Tante Shèr, French for aunt.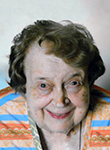 Berdena Thressa Rust '49 on March 23, 2021. Berdena was born July 7, 1928, in Kalamazoo. She was a lifelong Kalamazoo area resident until 2018 when she relocated to Jenison, Michigan, to be closer to family members. Berdena graduated with a bachelor's degree from Kalamazoo College. Following graduation, she began employment with the business office at K, which she continued for over 45 years until her retirement. Berdena was a lifelong active member of the Kalamazoo Protestant Reformed Church.