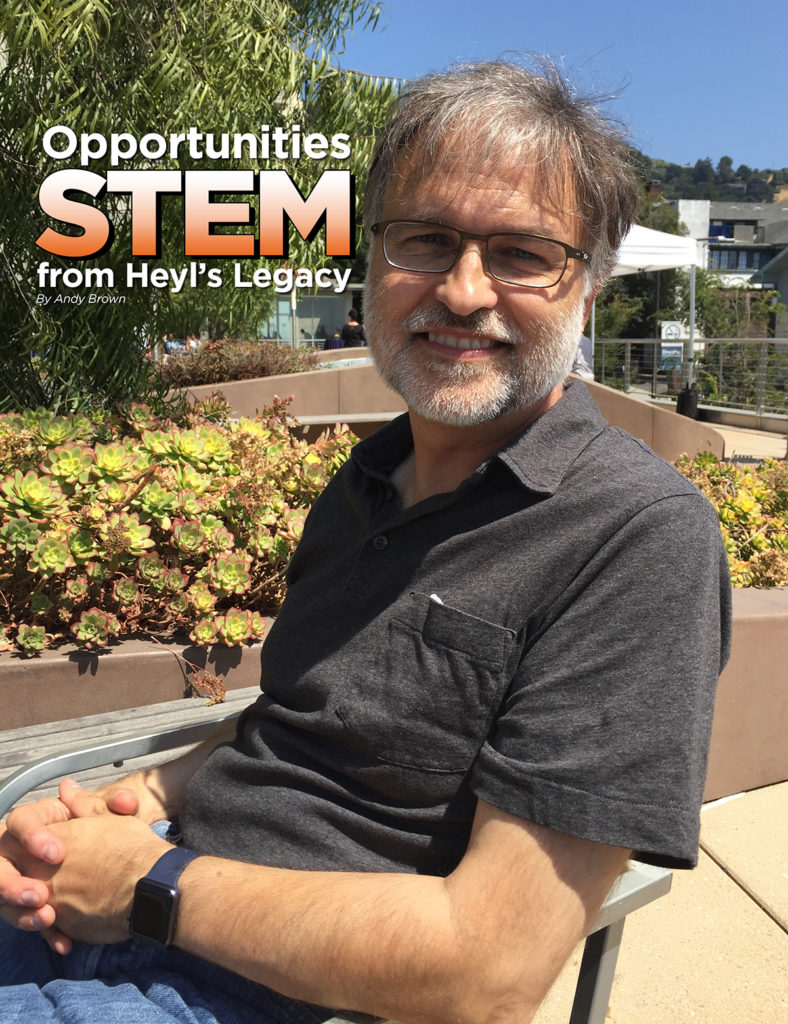 If you love technology products from Apple, chances are you've admired the work of Paul Flynn '83 without even knowing it. His job involves designing software that helps all the bells and whistles in your Apple Watch, iPhone or iPad coexist, preventing glitches.
"These items are small and they have lots of radios in them that kind of get in each other's way sometimes," said Flynn, a software engineering manager. "Normally, you'd want to design the product by fixing all those issues in the hardware, but that's not totally possible to do. What I do is come up with solutions to fix it in software."
After career stops at Motorola, Nokia Siemens Networks and AT&T Bell Laboratories, Flynn joined Apple in 2011, where he has worked with iPhone development since the 5S model. He's also expanding into technologies such as the Apple HomePod Mini. But before Flynn's career success, he was a Heyl scholar at Kalamazoo College.
The Heyl Scholarship Fund, established in 1971 through the will of Dr. Frederick Heyl and Mrs. Elsie Heyl, is celebrating its 50th anniversary. Frederick Heyl was the first chemist at The Upjohn Company, later becoming a vice president and the company's first director of research. He also contributed to about 80 research papers and patents while teaching chemistry at K. He maintained a lifelong passion for science and education and was awarded an honorary doctor of science degree from K in 1937.
Since then, Heyl scholarships have enabled hundreds of high school graduates from Kalamazoo County to attend Kalamazoo College for STEM-focused majors or Western Michigan University for nursing, with renewable benefits for up to four years that cover tuition, fees, housing and a book allowance.
As Flynn graduated from Loy Norrix High School in 1979, he considered attending Oberlin College, Carleton College and K. He leaned toward K because of its study abroad opportunities, and ultimately decided to stay in Kalamazoo when he earned a Heyl scholarship. He credits that decision for a lot of his career success.
"I had this broad range of experiences at K that helped me learn how to communicate more effectively," Flynn said. "That's one thing that is clearly different between me and the typical person I work with. Some days it feels like the bugs we have are due to miscommunications between people. They happen because one person told another person one thing, and the person who heard misunderstood. Written communication especially is not the forte of an engineer. But the differences in my college experiences have been really helpful."
Flynn majored in math at K and remembers the steady influence of Wen Chao Chen, a political science professor who worked as a mentor for Heyl scholars of his time. Chen joined K's faculty in 1950, and served as librarian, director of academic services, dean of special services, vice president, acting president and executive director of the L. Lee Stryker Center during his 36 years at the College.
"For those of us who were Heyls at the time, he was a key presence for us," Flynn said. "He was like a second academic adviser."
In his sophomore year, Flynn had a career development experience interning with the state's House Taxation Committee through state Rep. Mary Brown, a Democratic member of the Michigan House of Representatives from 1977 through 1994. On Brown's behalf, he analyzed the quantitative aspects of public policy by examining the effects of a specific policy on a given industry or the public.
In his junior year, Flynn studied abroad for two terms in Clermont-Ferrand, France, where he broke his ankle while running in a cross-country race. Regardless, Flynn credits the overall study abroad experience for helping him navigate aspects of international business culture while working in Europe and Asia in his career. And in his senior year, Flynn completed his Senior Integrated Project (SIP), an independent study in linguistics and formal languages.
Eight Heyl scholars have matriculated at K this fall, and all of Flynn's experiences—plus his classes in French, Spanish, political science and economics—represent what Flynn would advise them to pursue in their years at the College.
"I would encourage them to take advantage of K being a liberal arts college and try out different things to see what interests them," Flynn said. "Look for some breadth in your education. If you're going to be a math major or a chemistry major, don't just load up your schedule with tons of classes in the sciences. Go dabble in other areas to see what interests you because you never know what could be useful 10 to 20 years from now."
'I still remember when I got the call'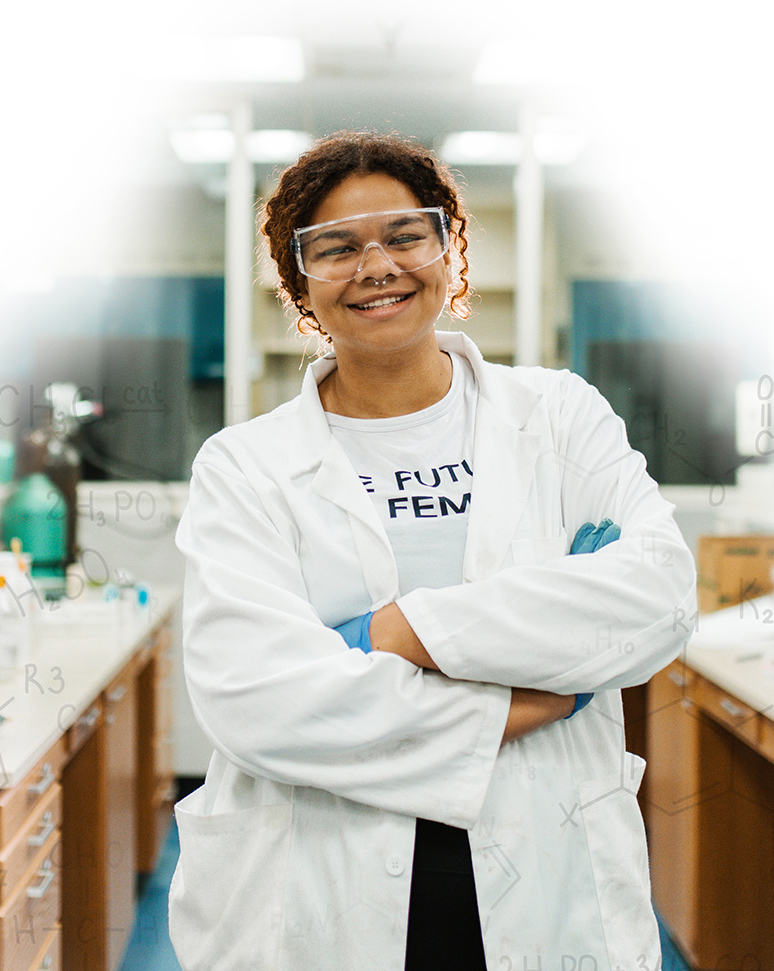 Annie Tyler '22 is among the current Heyl scholars, and she exemplifies how the curiosity Flynn described can shape academic paths and student success. She's a chemistry and religion double major, having taken classes as varied as Organic Chemistry and Spirituality, Money and Travel.
"Science explains how the world works and religion explains how humans work," Tyler said. "I've also taken ancient Greek, which I never thought I would learn, but I did."
When Tyler was in middle school, she began thinking about pursuing a college education out of state. In her time at Kalamazoo Central High School, however, she realized staying close to home would be beneficial.
"In my junior year I took AP chemistry and my teacher said I should think about going to K and applying for the Heyl," Tyler said. "I thought about it more and more, and by senior year, I decided I would stick with K no matter what, even if I didn't get the Heyl."
Still, it was only a matter of time until she learned she would be a Heyl scholar.
"I still remember when I got the call," Tyler said. "I was shopping for my prom shoes and I always have my phone loud. My mom could overhear the conversation and she was jumping for joy in a shoe store."
As Declaration of Major Day approached her sophomore year, Tyler was tempted to choose biology over chemistry because she was intimidated by some of chemistry's coursework, including calculus and physics. That's when Roger F. and Harriet G. Varney Assistant Professor of Chemistry Dwight Williams stepped in to guide her into thinking differently.
"Dr. Williams said, 'Are you leaning toward being a bio major because they don't have to take those classes or because you actually like biology?'" Tyler said. "I ended up majoring in chemistry. I took physics and calculus, and they were fine. I even took Calculus 3."
Tyler now pursues personal passions in the Black Student Organization and Sukuma, a peer-based support group for students of color. Plus, she worked this year in Williams' summer research lab, where she teamed up with eight other students in examining antibiotics and antimicrobials.
"Biotic resistance is a big problem right now," Tyler said. "Penicillin was only discovered about 70 years ago, and it's practically useless in a lot of bacteria. Our goal is to be able to make new antibiotics, so antibiotic resistance isn't such a problem."
Williams said Tyler had a distinctive role to fill within that lab.
"The chemistry I'm asking her to do is not trivial," he said. "When we work through it, it's supposed to work as we expect, but it might not. In order to do it, she's got to be a creative thinker in terms of problem solving, and she's tenacious. She doesn't give up. I will definitely remember her as a student in my lab for many years to come."
Tyler thinks she will take a gap year between graduating from K and beginning graduate school. She's debating between medical school along with a career as a pediatrician and continuing in chemistry as the Heyl has empowered her to do.
"To be part of such an honored scholarship is really humbling," she said. "Receiving it motivated me to do well because I knew I was here for a reason. I was given the scholarship because I can do well academically, so I felt I had to prove that I could, especially with there being such a love and respect for science in this community."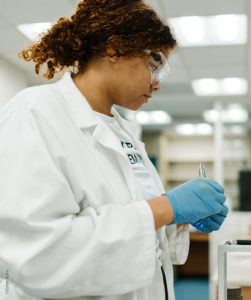 Building a diverse pipeline
Scholars such as Flynn and Tyler have ensured the vibrance of Heyl success over the foundation's first 50 years, and Heyl Foundation Executive Director Wraegen Williams seeks to build on that over the years to come.
Williams' first year at K didn't quite go as planned considering the pandemic's effects. The traditional spring banquet honoring Heyl recipients, for example, was canceled in 2020 and the 2021 banquet was postponed until the fall. However, she has big plans to talk about the Heyl Foundation to younger Kalamazoo Public Schools students, diversify the pipeline of Heyl candidates, and increase word-of-mouth regarding Heyl scholarships in the community.
"We're going to hit the ground running this fall," Williams said. "Hopefully we can bring some more life to conversations about the Heyl, so we can have it on everybody's lips. We're probably never going to be as big as the Kalamazoo Promise, but our goals should be in that realm. People know about the Promise, and we also want them to know about the Heyl. That's what I'm looking to bring to the table."
Once Heyl scholars arrive on campus, Williams hopes to emphasize a well-rounded college experience beyond their STEM-related focuses.
"Even though the scholarship is geared toward science, we don't want that to be their sole focus," she said. "We want them to take advantage of a liberal arts education with that breadth and depth. They can't be a part of that if they spend every night in their room studying. Yes, they're on scholarship, but we want them involved with some clubs and to get involved in the community."
And that involvement won't stop when they leave campus, because Williams wants to build a community where Heyl scholars support each other beyond their undergraduate career.
"If alumni want to provide a student with a job shadowing experience or internship, or if they know about a job opportunity coming available appropriate for a graduate, or if they want to come back and talk with students about their profession, I want those types of opportunities shared in our community," Williams said. "We're just starting to see some of those connections among the students, faculty and alumni, but long term that's what I'm looking to build."