Check It Out:


Donor and Volunteer Honor Roll
You can view the Donor and Volunteer Honor Roll at kzoo.edu/DonorHonorRoll
The listing acknowledges individuals and organizations that made gifts to Kalamazoo College last fiscal year (July 1, 2020, to June 30, 2021). Your philanthropy in support of the Kalamazoo College Fund, Hornet Athletic Association and various designated funds helps the College provide a powerful liberal arts education that makes a difference in the lives of K students. THANK YOU!
1970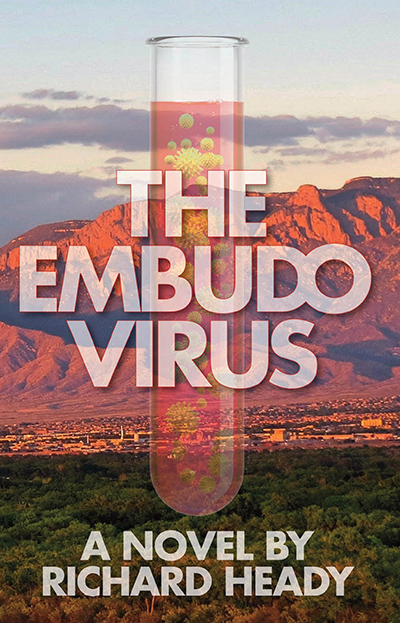 Richard Heady published his novel, The Embudo Virus (Terra Nova Books), in February 2021. For information about the book, visit its website at richardheady.com. Richard's short stories have appeared in Carve Magazine, The Best of Carve Magazine and Aethlon.
1971
Ronald Frantz has been selected by the State Bar of Michigan to receive the Frank J. Kelley Distinguished Public Service Award for 2020. He has also been chosen to receive the 2020 William H. Delhey Prosecution Service Award by the Prosecuting Attorneys Association of Michigan. Ron retired this year after serving as the Ottawa county prosecutor for 30 years. He joined that office 43 years ago after graduating from Case Western Reserve University Law School in Cleveland. The Frank J. Kelley award recognizes extraordinary governmental service that strengthens the American system of justice while demonstrating integrity and leadership as well as dedication to principle and the ideals of democracy. The Delhey award emphasizes the furtherance of justice on behalf of the people of Ottawa County and the State of Michigan along with outstanding contributions to the professional education of Michigan's prosecutors. As a career prosecutor, Ron served on myriad community and professional committees and boards and was president of the Prosecuting Attorneys Association of Michigan in 2006. He was the first in the state of Michigan to prosecute a case using DNA and tried the longest case in the history of Ottawa County, a 10-week murder trial in 1991. In bestowing the Delhey award upon Ron, one of his peers observed, "Ron has fulfilled his role as prosecutor with incomparable dignity and grace."
1973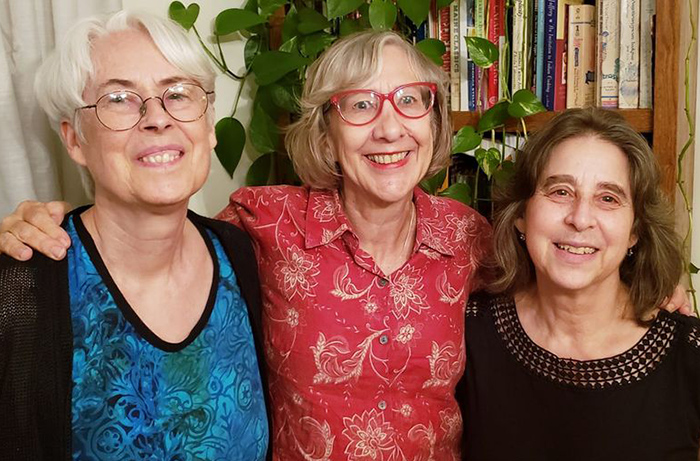 Mary Sies, Deborah Dupont and Lisa Rosenberg (L-R) met as first-year students in Basement East, Trowbridge, during fall of 1969. The three friends see each other every few years and recently met for a catch-up dinner at Mary's house in Greenbelt, Maryland, and Deb's house in Washington, D.C. (Photo: Tom Carrico, June 2021).
1976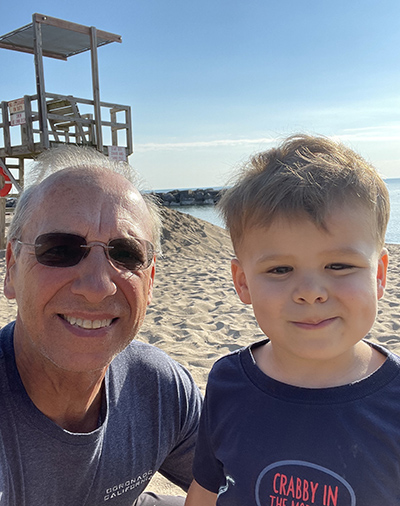 Carlton Marcyan recently completed a two-year master's program in conflict resolution at Dominican University located in River Forest, Illinois. The curriculum included Psychology of Conflict, International Conflict Resolution, and Circle Practice/Restorative Justice. He continues to carry on as a senior partner at his Chicago law firm, Schiller DuCanto & Fleck, and is its former managing partner. His family is doing well and he and his wife, Ana, are expecting their second grandchild soon. He is pictured with his grandson, Cameron, at the Lake Forest beach.
1977
Clarkson University Professor of Mathematics Scott R. Fulton has been named professor emeritus for exemplary service to the University. Throughout the past 35 years, Scott has accrued a distinguished record of excellence in research, teaching and service. His teaching spans 66 semesters and 126 course offerings, and has impacted more than 6,100 students. He has taught nearly the full spectrum of departmental courses, with 14 different undergraduate courses and six different graduate courses. He has supervised six master of science students and five Ph.D. students. Scott's research interests lie in mathematics and atmospheric science. He has had a nearly continuous record of research funding, sourced from the National Science Foundation, the Office of Naval Research and the Department of Energy, with efforts directed at the development of models and methods for the study of atmospheric dynamics, including balanced flows and hurricanes. He continues to both perform research and publish and has continued a collaboration with his former thesis advisor for more than 40 years. He has also provided superior service to his department, school and university, including 10 years as the executive officer of the Department of Mathematics and continuous service on the department undergraduate committee. His multiple university committees include the tenure, promotion, honors research, teaching excellence and president's budget committees. Scott has also led a number of curricular reviews and assessments and recently contributed to the development of new majors in data science and mathematical economics. He has been honored with the Clarkson Personal Computer Curriculum Development Award and the Outstanding Advisor Award. He was also named to the Clarkson Million Dollar Club for his level of research funding. He is a member of the Society for Industrial and Applied Mathematics, and the American Meteorological Society, as well as the Phi Beta Kappa, Phi Kappa Phi and Pi Mu Epsilon honor societies. Fulton received both his Ph.D. and master of science degrees in atmospheric science from Colorado State University.
Steven Schmidt was nominated this year for the 2021 Association of Performing Arts Professionals William Dawson Award for Programmatic Excellence and Sustained Achievement in Programming. Steven served as the Rochester Civic Music general manager in Rochester, Minnesota, for 32 years and retired in September. Steven is a past recipient of the Sally Irvine Ordway award for Commitment, recognizing lifetime achievement, contribution and leadership in Minnesota arts and/or culture and a Mayor's Medal of Honor Award for Excellence in City Service. In addition to serving as the leader of the Civic Music department, he is a touring and recording singer/songwriter/musician.
1980
Terri Kline has been appointed to the Board of Directors of Apria Inc. and will serve on the Board's audit committee. Terri brings to Apria deep expertise in healthcare advisory work and currently serves on the boards of Amedisys, Intersect ENT, SaVida Health and Presbyterian Health Plan Inc. Previously, she served as executive vice president of Henry Ford Health System (HFHS), as president and chief executive officer of Health Alliance Plan—a subsidiary of HFHS—and as senior vice president and chief health care management officer of Health Care Service Corporation. Terri holds a Master of Public Health from the University of Michigan.
1985
The Shyft Group Inc. announced the appointment of Joshua Sherbin as chief legal officer and chief compliance officer. The Shyft Group is the North American leader in specialty vehicle manufacturing and assembly for the commercial and fleet vehicle industries, as well as for the recreational vehicle markets. Josh brings more than two decades of experience in corporate legal and compliance. He most recently served for 16 years as senior vice president, general counsel, chief compliance officer and corporate secretary at Trimas Corporation. Previously, he served for eight years as North American corporate counsel and corporate secretary for Valeo and as senior counsel at Kelly Services.
1987
Misonix Inc. announced its board of directors has appointed Patrick J. Beyer as an independent member of the board. Pat joined the board on May 12, 2021. Pat is currently president of International and Global Orthopedics for ConMed, a position in which he has served since October 2020. He previously served as president of ConMed International. Prior, he served as chief executive officer of ICNet, a privately held infectious control software company. Prior to this, he spent 21 years at Stryker Corporation where he led Stryker Europe from 2005 to 2009; Stryker U.K., South Africa and Ireland from 2002 to 2005; and Stryker Medical from 1999 to 2002. Pat graduated from K with a B.A. in economics, obtained his M.B.A. in finance from Western Michigan University and attended Harvard Business School's Advanced Management Program.
1988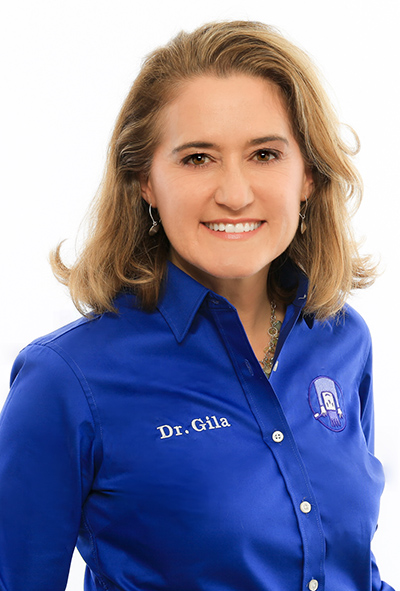 Gila (Dorostkar) Millar was recently installed as the 47th president of the California Society of Pediatric Dentistry (CSPD). CSPD is a professional organization that represents the specialty of pediatric dentistry in California and is dedicated to advocating for optimal oral health for infants, children and adolescents. With more than 900 members, it is the largest pediatric dental state organization in the U.S. and a component of the American Academy of Pediatric Dentistry.
Elizabeth (Haselden) Monahan was appointed human resources department director for the city of Bellingham, Washington. In this position, she will lead a team of 16 human resource professionals and serve on the mayor's executive-level department head team. Elizabeth most recently served as the director of human resources for the Port of Bellingham. Prior to her more than 11 years with the Port, she was the labor relations manager for Western Washington University and held various human resources roles for Weyerhaeuser. She earned a bachelor's degree in psychology from K and a master's in labor and industrial relations from Michigan State University.
1990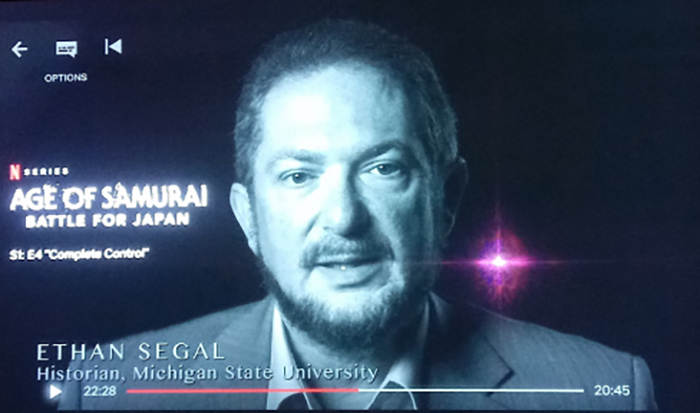 Ethan Segal, who is a professor of East Asian history at Michigan State University, appeared in the recent Netflix series Age of Samurai. Segal, a scholar of medieval Japan, is one of the historians interviewed for the program. He appears in episodes four and six.
1992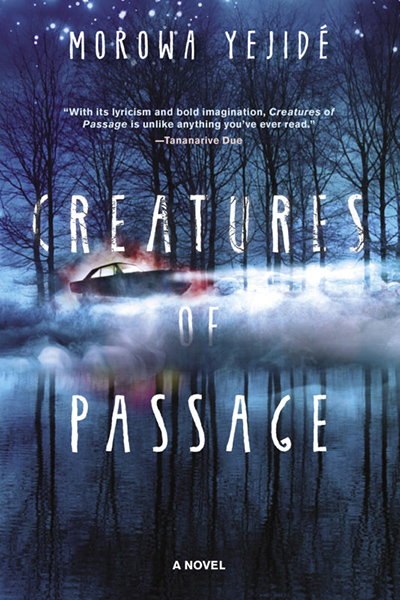 Morowa Yejidé has published her second novel, Creatures of Passage (Akashic Books, 2021). In naming it one of the Best Books of Winter 2021, The Philadelphia Inquirer said, "Yejidé's surreal new novel has no shortage of otherworldly surprises, but it's her this-worldly protagonist who steals the show…Informed by a richly woven mythology and propelled by themes of regret and revenge, Creatures of Passage has earned some apt comparisons to Toni Morrison's Beloved." The Chicago Review of Books says, "History-haunted in the best sense, readers shouldn't miss this mythic thriller." Morowa is also the author of the critically acclaimed novel Time of the Locust, which was a 2012 finalist for the PEN/Bellwether Prize, long-listed for the 2015 PEN/Bingham Prize and a 2015 NAACP Image Award nominee. She lives in the D.C. area with her husband and three sons.
1994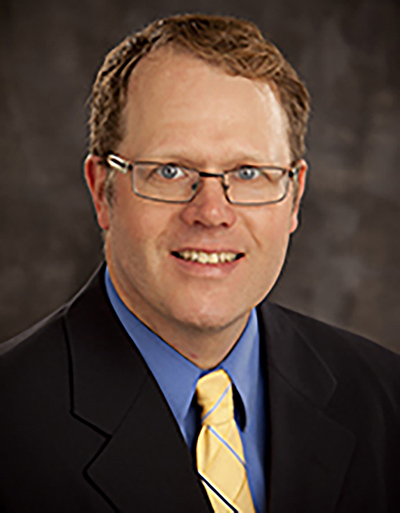 In May, David K. Best, D.O., was sworn in as the president of the Michigan Osteopathic Association for a one-year term after serving several years as a trustee. David has practiced medicine since 2002, specializing in primary care and addiction medicine, and has served on the Michigan Osteopathic Association's board of directors since 2014. In addition, he served on the board of the Michigan Osteopathic Family Physicians for eight years. He has spent the majority of his career in northern Michigan, most recently serving as a hospice physician at Heartland Hospice and running Best Medical Services, PLLC in Traverse City. He holds a D.O. from Des Moines University College of Osteopathic Medicine and an M.S. in Medical Sciences from Wayne State University.
Nate Bolin has joined DLA Piper's litigation and regulatory practice in Washington, D.C. Nate advises on U.S. trade remedies, export controls, economic sanctions, the Committee on Foreign Investment in the United States (CFIUS) and related areas of national security and international trade laws. He regularly helps clients successfully navigate the complex CFIUS process and national security issues involving investments and cross-border transactions. He has extensive experience with emerging technologies in the aerospace, defense, oil and gas, medical, transportation, semiconductor, consumer electronics and telecommunications industries. Nate has helped hundreds of companies across various industries successfully resolve internal and government investigations and compliance issues involving these laws. Due to his extensive experience with the International Traffic in Arms Regulations (ITAR), he has been appointed by the assistant secretary of state for political-military affairs to serve on the U.S. State Department's Defense Trade Advisory Group for three consecutive terms, most recently for the 2020-2022 session. He also advises companies on compliance with the Office of Foreign Assets Control (OFAC) sanctions and U.S. export control laws. Nate received his J.D. from George Washington University Law School and his M.A. from Stanford University.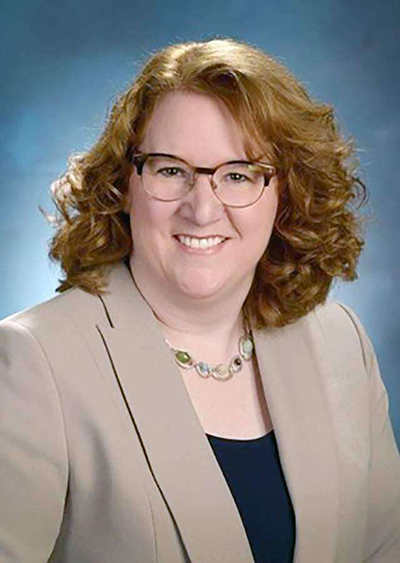 Wendy E. (Manning) Stark has been appointed senior vice president, general counsel and corporate secretary at PPL Corporation. In her new role, Wendy will lead PPL's legal department and oversee the company's ethics and compliance program. She brings more than two decades of legal experience to PPL, with the vast majority of her service in the public utility sector. She joins PPL from Pepco Holdings LLC, where she was senior vice president, Legal and Regulatory Strategy, and general counsel. She began her legal career in labor and employment law, representing clients first at Calfee, Halter & Griswold LLP and then at Baker & Hostetler LLP, both in Cleveland. In 2002, she joined FirstEnergy Corporation's legal team as an attorney and spent a decade with the company, her last seven years as associate general counsel before joining Pepco. Wendy holds a bachelor's degree in English and political science from K and earned her J.D. from University of Michigan Law School. Throughout her career, she has served on numerous nonprofit and industry boards, including the Girl Scouts Council of the Nation's Capital, GridWise Alliance, the New Jersey Utilities Association, Homeless Children's Playtime Project in Washington, D.C., and the Energy Association of Pennsylvania.
1997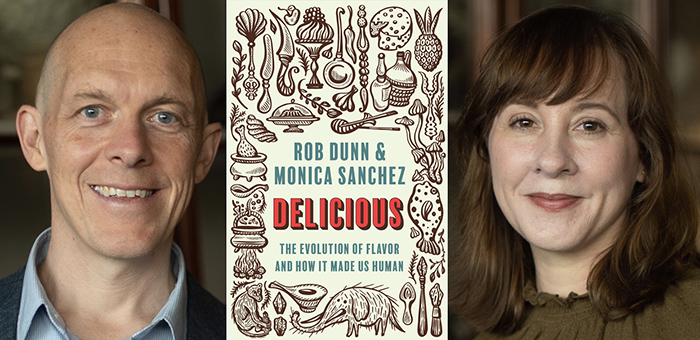 Rob Dunn and Monica Sanchez have published Delicious: The Evolution of Flavor and How It Made Us Human (Princeton University Press, 2021), which offers new perspectives on why food is enjoyable and how the pursuit of delicious flavors has guided the course of human history. Kirkus Reviews says, "Our hosts at this empirical dinner party envision a new future for the study of flavor, with seats for the curious of every stripe…A persuasive, entertaining argument about how our avid pursuit of deliciousness helped shape our evolutionary path." Rob is a professor of applied ecology at North Carolina State University and in the Center for Evolutionary Hologenomics at the University of Copenhagen. His books include Never Home Alone. Monica is a medical anthropologist who studies the cultural aspects of health and well-being. Rob and Monica live in Raleigh, North Carolina.
1999
Christopher Seaton, professor in the Department of Mathematics and Computer Science at Rhodes College, was a 2021 recipient of the Faculty Mentor Award from the Council on Undergraduate Research (CUR) Mathematics and Computer Sciences Division. The award honors mentors for their success in mentoring undergraduate researchers. After K, Christopher earned his Ph.D. in mathematics from the University of Colorado at Boulder. His research interests include differential geometry and topology of singular spaces, invariant theory and symplectic reduction. Promoting research experiences that synthesize techniques from many fields of mathematics to build student skills, he has co-authored nine articles with undergraduate students and supervised more than 20 theses of fourth-year students.
2002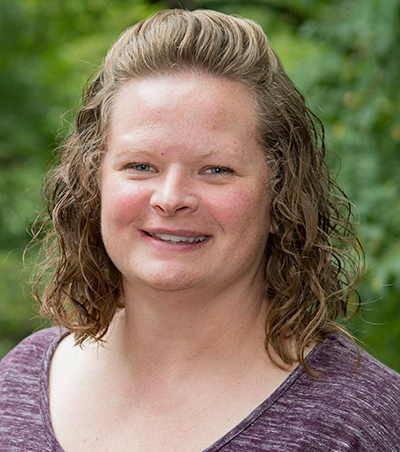 In the spring of 2021, Brittany (Nestell) Dillman completed her Ph.D. in educational psychology and educational technology from the College of Education at Michigan State University. Brittany's dissertation study involved examining lesson planning and classroom discourse practices of secondary mathematics pre-service teachers. Brittany works as the graduate certificate programs director for the Master of Arts in Educational Technology program at MSU. She and her husband, Peter, live in East Lansing with their 5-year-old twins. Brittany is supremely grateful for her K undergraduate education, experiences and connections and wishes everyone well. You can reach Brittany via email at dillmanb@msu.edu.
2003
Scott A. Petz has been selected among America's Top 100 High Stakes Litigators® for 2021. Scott is a member in Dickinson Wright PLLC's Troy, Michigan, office, where he focuses his practice in the areas of commercial and business litigation, class and collective actions, labor litigation, consumer protection, and condemnation and land use. Scott received his J.D. from The John Marshall Law School, magna cum laude.
2004
Jacob Bolton recently graduated from Portland Theological Seminary with a Doctor of Ministry in Leadership and Global Perspectives. Writing a dissertation titled The Green Lectionary: Creation Care and the Revised Common Lectionary, Jacob graduated with distinction while researching the intersection of creation, scripture and liturgy. After earning his Master of Divinity from Union Theological Seminary (2007), he served multiple churches in New York for 15 years, and recently began a new position at Westminster Presbyterian Church in Alexandria, Virginia, as the associate pastor for Christian formation.
2005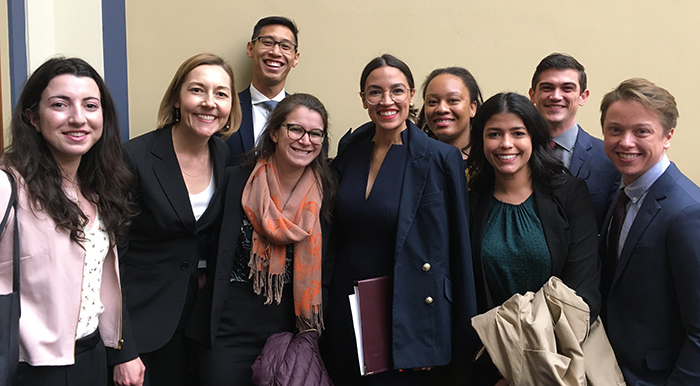 Heather Abraham was appointed to a tenure-track position at the University at Buffalo School of Law as an associate professor of law and director of the Civil Rights and Transparency Clinic. She recently completed a clinical teaching fellowship at Georgetown Law, where she served as a supervising attorney in the Civil Rights Clinic. Her scholarly research focuses on fair housing and race-conscious policies to decrease racial segregation. (Heather is second from left with law students and Congresswoman Alexandria Ocasio-Cortez.)
2006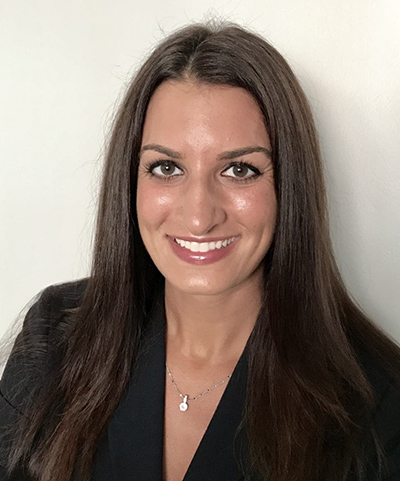 Lisa Dallacqua was named executive director of curriculum and assessment for Troy Community School District 30-C in Illinois. Previously, Lisa served as senior executive director of teaching and learning at East Aurora School District 131. She is the previous principal at Western Avenue School in Flossmoor School District 161. She also previously served at Bloom Township High School in School District 206 as its district coordinator for the history and foreign language departments. After graduating from K with a bachelor's in Spanish literature and political science, Lisa earned a master's in teaching from National Louis University and a master's in educational leadership from the American College of Education. She also earned a doctorate in curriculum and instruction from the University of Illinois at Chicago.
2010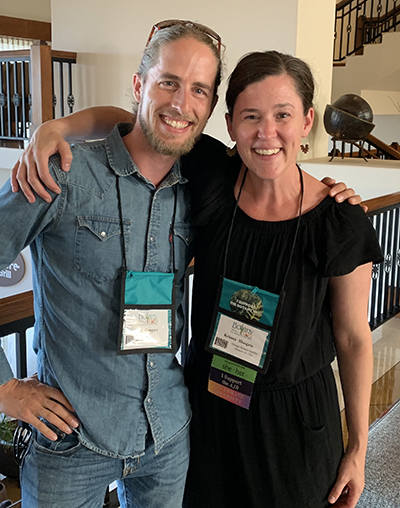 Benjamin Cooper will be joining the Yang Lab of Plant Evolution as a Ph.D. candidate in the plant and microbial biology program at the University of Minnesota in fall 2021. Following graduation from K, Ben received his Master of Science in plant biology and conservation from Northwestern University in 2016 and currently is employed as a data analyst for the National Park Service.
2016
Senior Wealth Management Associate Brian Farrell has earned his Certified Financial Planner certification (CFP®). Brian has worked at Greenleaf Trust since 2017 and is responsible for the development of comprehensive wealth management plans, the execution of goal-based planning strategies and the management of investment portfolios. He earned a bachelor's degree in finance from Kalamazoo College.
A Record-Setting Kalamazoo College Friendship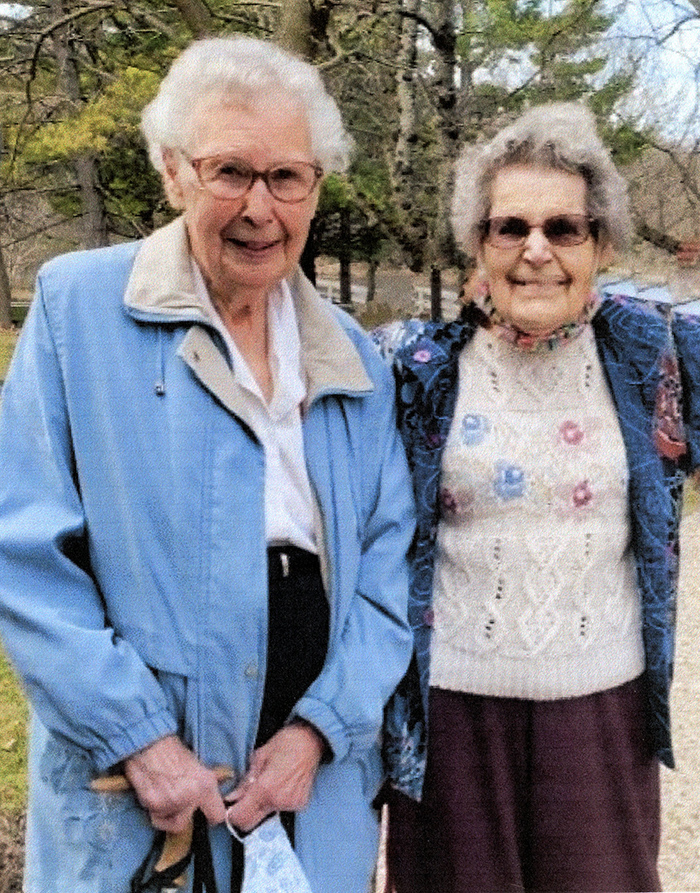 Seventy-seven years! That's the result if one subtracts 1944 from 2021. It also represents the continuous number of years that Joan (Akerman) Millar '48 and Jackie (Buck) Mallinson '48 have been close friends. The friendship began when both young women arrived on the K campus in September 1944. Neither had ever even seen the campus before. Both were nervous, frightened young women, leaving home for the first time. They had been randomly assigned to be roommates by the dean of women. After observing the two girls during their initial meeting, Jackie's mother commented, "Well, that arrangement won't last two weeks!" Wrong! Not only were Joan and Jackie roommates all four years at K, they have remained very close friends for the many years since, even though they have always lived in different states. Both women will celebrate their 95th birthdays in November. In March 2021, Joan, who now lives in Ohio, made a brief trip to Michigan on family business. During the trip, she and Jackie were able to have lunch together. Fortunately, they had both been fully vaccinated against COVID-19, wore masks and social distanced, except for the brief time when this picture was taken.
Members of the Class of 1944 lived through the Great Depression, World War II, Vietnam, 9/11 and the COVID-19 pandemic. But through it all, close friendships have endured. This one had its beginning at Kalamazoo College.