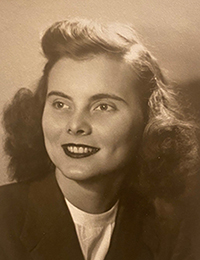 Janet (Ensing) Skillman '46 on January 14, 2022. Janet earned a bachelor's in biology at Kalamazoo College and a master's in zoology with a specialty in poisonous snakes. She was an avid horsewoman, hunter and fisherwoman and was selected by Outdoor Life to present the Conservation Pledge to President Harry Truman. She also met Presidents Ford and Reagan. From college, she went to work at the Detroit Zoo where she enjoyed her love of all animals. Marrying William McCaren Skillman, they shared a passion for travel and had seen the entire world by the early 1980s. Janet was the loving mother of two sons, beloved grandmother of five grandchildren and great-grandmother of two great-grandchildren. She was also the beloved sister of Barbara (Ensing) Ludington '47.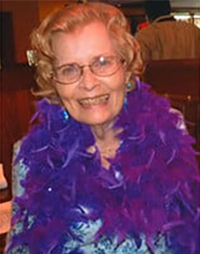 Dorothy (Chisholm) Wallace '46 on April 19, 2015, in Savannah, Georgia. Dorothy was born in Kalamazoo but established her family in Savannah and became a tightly woven thread in the city's fabric. Genealogy and history were as important to Dorothy as her family. She was a founding and active member of the Savannah Genealogical Society, kept volumes of personal research and filled her hallways with photos of family past and present. Dorothy was proud of her Scottish heritage, and put time, love and energy into the Coastal Scottish Heritage Society. The organization presented her and her husband the President's Award for 17 years of voluntary service to the Scottish Games. Dorothy loved to travel the world, and ventured to Japan, Europe and Australia, many times getting to enjoy the journey with children and grandchildren. Dorothy was a member of the Ladies Auxiliary of the Georgia Medical Society, a member of Asbury Memorial United Methodist Church and a former member of Memorial Baptist Church. She was the widow of Dr. Stuart M. Wallace '44 and the matriarch of eight children, 12 grandchildren, two great-grandchildren and many grand-dogs and -cats.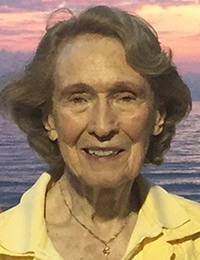 Alice Louise (Duncan) Akin '48 on November 15, 2021. Alice graduated from Kalamazoo College and worked as a research scientist for Upjohn (Pfizer) in Kalamazoo and Michael Reese Hospital in Chicago before moving to the Grand Haven area. She received her master's degree in education from Grand Valley State College, where she was also a lab instructor. She was also a chemistry and biology teacher at Grand Haven High School for over 20 years until her retirement. Alice was a faithful member of First Presbyterian Church of Grand Haven. She enjoyed golfing at the Spring Lake Country Club, skiing, tennis, classical music and travel. She also loved walking her beloved golden retrievers in Duncan Woods with friends and family. Alice was preceded in death by her husband, Robert, and her brother, Frank "Al" Duncan '47. She is lovingly remembered and missed by her two daughters, Marta Northam '76 and Jennifer Reibel '81, her stepson Matthew Akin, four grandchildren and five great-grandchildren.
Robert H. Burge '48 on December 31, 2019. Beloved husband of the late Josephine, loving father of six children and proud grandfather of four grandchildren.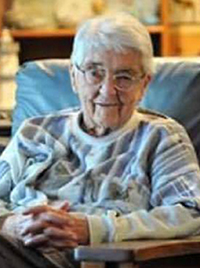 Jean (Klein) Dentler '48 on January 9, 2022, in Pinckney, Michigan, after battling heart failure for many years. Jean earned a bachelor's in English from K and a master's in library science from the University of Michigan. She worked on one of the first bookmobiles in Detroit prior to having her children. Jean always enjoyed life regardless of what she was doing. She had many memorable trips with her husband and they spent many summers as campground hosts at Mears State Park in Pentwater, Michigan. Jean was preceded in death by her husband of 68 years, Jack Dentler '48. She is survived by two children, five grandchildren and four great-grandchildren.
Carolyn (Kauffman) Fedewa '48 on January 6, 2019. Carolyn was the beloved wife of the late James A. Fedewa; former wife of the late Robert E. Aaron '47. She was preceded in death by her daughter, Sarah Beth Aaron. Carolyn is survived by her son, Mark Aaron.
Thomas Edward Thompson '49 on November 16, 2021, in Charlottesville, Virginia. After serving in the Army, Thomas obtained his B.A. from K and his Ph.D. in biochemistry from Harvard University. Following postdoctoral fellowships in Sweden and England, he taught physiological chemistry at the Johns Hopkins University School of Medicine before joining the faculty of the University of Virginia as professor and chair of the Department of Biochemistry in 1966. Tom served as department chair until 1976, and continued to teach and conduct research in the department until his retirement in 1997. He authored more than 200 scientific publications, held fellowships and received many honors and awards for his work. He served as editor of the Biophysical Journal, a member of the editorial and advisory boards of several scientific journals, and a scientific consultant to the National Institutes of Health and the National Science Foundation for many years. In addition to his scientific interests, Tom was devoted to his wife, Maria-Michaela (Mike) Smits. Their Greenwood home and table were a welcome gathering site for family, neighbors, friends and colleagues. Guests could count on a meal drawn from their garden's bounty, which Tom and Mike planned and tended together. Family ski, canoe, camping and fishing trips were treasured events, as were department and neighborhood gatherings. Thompson holiday meals nearly always included graduate students and post-docs, and Tom maintained friendships across the nation and around the world. In later years Tom and Mike made annual trips to Montana, Wyoming and Colorado to pursue their shared passion for fly fishing and the outdoors. He was predeceased in 1980 by his oldest son, Peter. Tom is survived by his wife of 68 years, Maria-Michaela Smits, three sons and four grandchildren.
Herman Halladay Flynn '51 on April 7, 2021. Hal was a lifelong Presbyterian. He was educated at Kalamazoo College, University of Michigan and various professional institutes. Most of his working life, he and his late wife, Carolyn, resided in Flushing, while he was employed at Genesee Bank, retiring after 30 years as vice president for special projects. After a year traveling as a senior counsel with American City Bureau, Chicago, he returned as president and CEO of Flint Public Trust where he helped guide its merger with Flint Area Health Foundation, forming Community Foundation of Greater Flint. In retirement, Hal and Carolyn lived in Fairfield Glade, Tennessee, before returning to Ann Arbor. In later years, he enjoyed life with Jean in Grand Blanc, Siesta Key and Higgins Lake. His wisdom, experience and caring have benefited many organizations through the years, including in leadership roles of local branches of Salvation Army, Girl Scouts, Boy Scouts, United Way, Urban Coalition, Child and Family Services and Chamber of Commerce. Hal was blessed by the love of two wonderful, strong, faithful women. He was married to his loving partner, Carolyn, for 54 years before she preceded him in death. He is survived by Jean Craig Flynn, whom he lovingly called his "bride," celebrating their anniversaries by counting months, not years. His legacy will be cherished by his three children, six grandchildren, including Grace McGookey '11, seven great-grandchildren and many extended family and friends.
Betty (Leonard) Glen '51 on November 19, 2021, after a short illness. Betty lived in Kalamazoo for almost 70 years before moving to Madison, Wisconsin. Betty attended Kalamazoo College for two years before marrying William Glen '49 and starting a family. She returned to college and finished her bachelor's degree at Western Michigan University in 1979, where she graduated magna cum laude. Upon graduation, she went to work at Western's library in the serials department until her retirement. Betty enjoyed travel, music, reading, word games and gardening. She was preceded in death by her husband, William, and daughter, Laurie Glen McDuffie. Betty is survived by her two sons, one grandson, 17 nieces, nephews and cousins plus her last pet cat.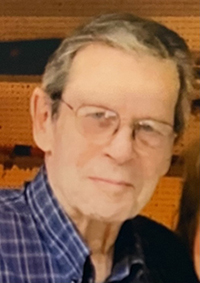 Donald G. Hassberger '51 on October 13, 2021. Donald was drafted into the Army in 1945. He served in the artillery in Germany with the rank of Tech-Sergeant. Donald graduated from Kalamazoo College, where he met his wife of 68 years, Ellen (Alberda) Hassberger '50. He established the Keldon Company in 1957. Donald was president of Green Ridge Country Club and was the construction coordinator of Egypt Valley Country Club during its construction. He was preceded in death by his wife in 2019. He is survived by his two children, three grandchildren and five great-grandchildren.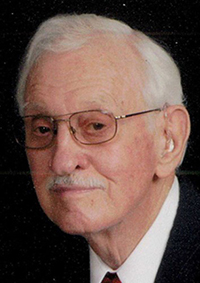 William Harold Rauh '51 on January 24, 2022. Bill served in the U.S. Navy in World War II (Pacific Theater) as a seaman first class on the USS Luzon. He graduated from Benton Harbor Junior College with his associate of arts degree in 1949. He then attended Kalamazoo College, where he learned to play tennis and made extra money cooking grilled cheese sandwiches for his dorm mates on Sunday evenings. He graduated with a bachelor's degree in English literature. He worked in the advertising department of The News-Palladium, a forerunner of The Herald-Palladium, in a variety of roles from 1951 until his retirement in 1989. In 1953, he married the love of his life, Nona Nusbaum. He was perhaps most familiar to many during his part-time job at Lambrecht Package Liquor Store in St. Joseph, Michigan, where he worked for about 60 years. He became the unofficial "wine guy" for a number of years. He finally retired at age 91. He loved his church, St. Matthew's, and served in many roles: Sunday school teacher, choir member, elder and church council. He also was active in serving on the Foundation Board of Michigan Lutheran High School. He was never shy about witnessing his faith, sharing the "Good News" to friends and strangers alike. Bill was preceded in death by his wife, Nona. He is survived by his three children, four grandchildren and many much-loved nieces and nephews.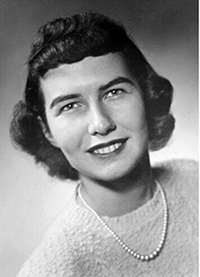 Alice K. Maes '52 on November 22, 2021, in home hospice care. Alice graduated from K in 1952 as the only female economics major and with the economics prize. She pioneered with IBM, working as a system service girl in the 1960s. In the 1970s she joined Movement for a New Society, a national network of activists committed to principles of nonviolence. She was a founder of New Society Publishers in West Philadelphia, which sparked personal, political and environmental work she continued through her life. Alice moved to Putney, Vermont, in 1983, and except for a few years living in Maui, Hawaii, and Amherst, Massachusetts, she remained a vibrant, outrageous and engaged citizen of Putney. She will be missed and we will remember her holding court on the front porch of the Putney General Store. She is survived by her two daughters and two grandchildren.
Bradley M. Patten '52 on October 1, 2021. Bradley attended Kalamazoo College and received a B.S. at Millikin University in Decatur, Illinois. A sea-going Marine veteran, he spent much of his career in retailing and office sales management for W.T. Grant Co., Baskins of Chicago and Waste Management of Chicago. He also worked in buildings and grounds with the First United Methodist Church of Downers Grove, Illinois. He leaves his wife (Inez Patten '52) of 70 years and three sons, along with a sister and many other treasured relatives and friends.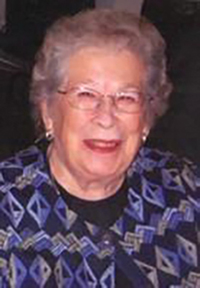 Nancy Fawn (Towsley) Perry '52 on December 16, 2021. Nan attended classes at Kalamazoo College before transferring to Michigan State University to complete her bachelor's degree in teaching and education. Nan taught in Midland, Birmingham and later Ann Arbor at Angell Elementary. In 1956, Nan married Burton Lars Perry. After welcoming two children to their family, Nan decided to dedicate her time to her family. Nan was a longtime member and active volunteer of First Presbyterian Church of Ann Arbor. She also enjoyed a 60-year membership with PEO Chapter W, a group that focuses on women's education. She started the Young Authors Program, which focused on creative writing, and was able to get it started in several elementary schools in Ann Arbor. Nan was an accomplished pianist and enjoyed challenging her mind with puzzles, card games and crosswords. Burt and Nan shared a love for Sutton's Bay and maintained a long tradition of spending summers at their condo up north. They had a succession of black Labrador retrievers throughout their married life who were members of the family. Everyone who knew Nan would agree that she was so sweet, always kind and always upbeat. She was always more interested in hearing about other people and their lives than dwelling on her own. She was preceded in death by her husband of 60 years, Dr. Burton Lars Perry. Nan is survived by her two children, five grandchildren and two great-grandchildren.
Dr. Richard Emmanuel Odiko Quarshie '53 on August 14, 2018.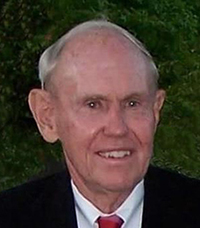 Bruce Douglas '54 on January 12, 2022. Bruce was born at the height of the Great Depression. While his parents struggled financially, they gave him a lifelong love of language and learning, and he seemed to have a quote for any situation. He married his beloved wife, Dolores "Dee" Zerfas, in 1955, and they recently celebrated their 66th wedding anniversary. After receiving a B.A. in physics from K and a B.S. in civil engineering from the University of Michigan, Bruce began his career as a First Lieutenant in the U.S. Navy Civil Engineering Corps with postings in Okinawa, Japan, and Oxnard, California. After his time in the Navy, he and Dee returned to the Midwest where he worked his way up to president of the construction company MacKinnon-Parker Inc. In 1977, he founded his own construction and design services company, The Douglas Company. In 1999, he founded Harvard Development Company, a real estate development firm, leaving The Douglas Company in the very capable hands of his son Pete. In addition, he served on the boards of several corporations and organizations. He received a master's in public administration from Harvard University's Kennedy School of Government at age 62 (roughly 30 years older than most of his classmates), followed by a Ph.D. in history from the University of Toledo in 2004 (at age 71). He took up rowing while studying in Boston and, upon his return to Toledo, could often be seen rowing on the Maumee River alongside the freighters. Bruce entered academia by serving as president of Sterling College in Kansas from 2005 to 2008. Finally, at age 75, he allowed himself to retire to Florida with his bride, where he continued real estate development work, wrote a book about his experiences as an entrepreneur (An Entrepreneur is for All Seasons) and became proficient at croquet and painting. Throughout his life, Bruce engaged in various civic endeavors, including running for governor of Ohio in 1997, and served on many boards for universities, schools and arts organizations. He was a fan of practical jokes, grand gestures and extravagant affection and frequently reminded his family that, "the world belongs to the problem solvers." He shared with his children and grandchildren his relentless optimism, his belief in the power of the individual to change the world, his love for language, his work ethic and his ever-willingness to play board and card games. Bruce was preceded in death by his newborn daughter, Mary Douglas. He is survived by his wife, three children, seven grandchildren and three great-grandchildren.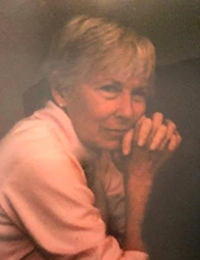 Joyce (Tiefenthal) Macrorie '54 on December 27, 2021. Joyce attended and graduated from Kalamazoo College and earned her Master of Fine Arts in painting from the Cranbrook Academy of Art in 1955. She continued her education with a course of independent study in Frankfurt-am-Main in Germany and took professional workshops in metalsmithing and printmaking throughout the 1960s. A professional artist whose career would span 60 years, she also taught at several colleges and universities. In 1970, while she and her husband, Ken Macrorie, were in Oaxaca, Mexico, on a year-long sabbatical, she plucked up the nerve to ask a respected local goldsmith to take her on as an apprentice in his downtown shop. He said yes, and, sharpening her Spanish-speaking skills every day, she spent the year learning to design and create fine gold jewelry, skills she took with her into the next four decades. As an artist, Joyce excelled in nearly any medium she turned her hand to, from painting and printmaking to jewelry, bronze casting, weaving, photography and fiction writing. From 1972–1977, she served as an art critic for the Kalamazoo Gazette. In 1978, Joyce moved from Kalamazoo to Santa Fe, New Mexico, where she earned a real estate license and began a successful 10-year career as a realtor. In the 1990s, she continued to make art, often traveling to Mexico to paint, and exhibited her work first at the prestigious Munson Gallery and later at Waxlander Gallery. She was also a long-term featured artist at the Joyce Petter Gallery in Saugatuck, Michigan. In 2002, she moved to Las Cruces, New Mexico, where she bought an historic home in the Mesquite neighborhood and became a well-known figure in the local arts scene. She loved the community of artists in Las Cruces and even ran her own gallery there for a few years. After the death of her husband in 2009, she remained in Las Cruces, painting and sharing her home with a series of small and much adored dogs. In 2013, she donated 41 of her paintings and prints to Dona Ana County, where they hang as part of a permanent collection on the second floor of the Dona Ana County Government Center. Joyce is survived by her four children and six grandchildren.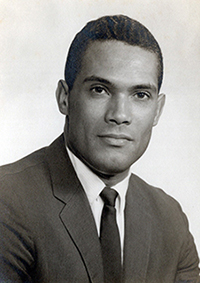 Guyton Ray '54 on January 17, 2022. At 8 years old, Guy came to Kalamazoo for a year of farm work with Florida relatives. After returning to Florida, he wanted to come back to Michigan because of racial tensions in Florida. Grocer J.L. Burke paid Guy $1 per week and helped him save and buy a $42 train ticket. He returned alone to Michigan at 10 or 11 years old and was helped by many families through his school years. Joe Long taught Guy how to repair shoes at Boston Shoe Repairs. He excelled in track and field and academics at Kalamazoo Central and later earned some college credits at Kalamazoo College and Western Michigan University. He started his first family while working at Brown Paper and later studied to become an insurance agent, spending 39 years with Mutual of Detroit. In 1973, he remarried and began a second family. When he was about 45, he found his younger sister in Florida, and then a few years later, they reconnected with their mother. Guy liked gardening, fishing, bowling and playing cards. Guy is survived by his wife, Venah Ray, four children and many grandchildren, great-grandchildren and great-great grandchildren.
Anne K. McCain '57 on October 17, 2021. Anne graduated from Kalamazoo College with a B.A. in English in 1957. She was a long-time resident of Gaithersburg, Maryland, and worked as an indexer for the National Geographic Society for more than 30 years. In her free time, she enjoyed travel, reading and music. She leaves no immediate survivors but a host of beloved friends.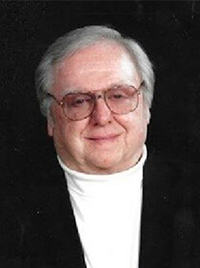 John Albert Leaman '58 on September 18, 2021. He received his bachelor's degree in music from Kalamazoo College in 1958 and his Master of Arts from Western Michigan University in 1964. John's teaching career started at Vanderbilt, Michigan, and continued in Carsonville, and later Bridgeport, Michigan, where he taught music, band and choir. John also directed choir and bell choirs at numerous churches in the area while teaching private piano and voice lessons up until the end of his life. He worked with music groups and nurtured many talented young persons who loved music and many who continued their musical dreams professionally. John met the love of his life, Doris, in Carsonville. They married August 17, 1963. John is survived by his wife, Doris, two children and five grandchildren.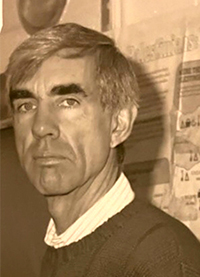 Robert Charles Steward '58 on January 4, 2022. Bob attended Kalamazoo College, where he played basketball and football. Bob started his teaching and coaching career at Richland High School. He spent most of his career at Portage Northern High School as a social studies teacher, retiring in 1994. Bob had many accomplishments over his 30 years of coaching track, cross country and football. He was inducted into the PNHS Hall of Fame and the Michigan Interscholastic Track Coaches Association Hall of Fame, and was awarded the MITCA Charles Sweeney Award. In his role as coach and teacher he served as mentor, positive influence and role model to many young people. Survivors include his wife of 63 years, Jane Vanden Berge '59, five children, two step-daughters and several grandchildren and great-grandchildren.
Richard E. "Dick" Dunbar '59 on January 20, 2022, in Somerset, Wisconsin. He attended Kalamazoo College and was swept up into the computer industry. Richard was a computer geek and towboat enthusiast. In 2004, he built a website eventually consisting of 3,000-plus towboat photos, mainly from the Ohio and Mississippi rivers. He loved working on his site and got many accolades from around the world from those admiring its usefulness. He worked 36 years as a computer programmer, chiefly in St. Paul, Minnesota, and also found much pleasure in boating and keeping in touch with computer and towboat friends. He enjoyed cruising the oceans around the world as well as up and down the Mississippi River. His bright mind, articulate language, intelligent opinions, generous heart and fun personality will leave a gaping hole in the lives of those who knew and loved him. Missing his welcoming, cozy lap are kitties Boomer, Henry, Milo and Willow. He is survived by his wife, Sharon, four children, two stepchildren, eight grandchildren, two great-grandchildren and a couple on the way.
Seau (Sally) Ying Simons '59 on April 14, 2021, in Tacoma, Wisconsin, of cancer. Two days before she died, she got a brief burst of energy and asked to eat Chinese food. Upon being asked if she wanted to go to Chinatown, she replied "Oh, yeah," with a smile and moved as if she was ready to get up and go to the car. After eating beef stew with rice made by her son, she pronounced it excellent. She always wanted the people she loved to eat well and enjoy their food. At her request, she was composted. Her body was placed in a vessel with wood chips, and after a month, she became soil. The soil was used in replanting a forest at Bells Mountain in Washington. She is survived by her husband, Robert Allen Simons, two children and countless friends living around the world.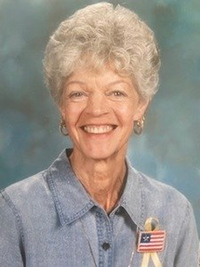 Alison Ann (Groetsema) Werner '59 on October 21, 2021. Alison was born in Fort Wayne, Indiana, but spent her childhood in California and Massachusetts, where her father, Frederic Groetsema '31, was a pastor. An accomplished musician, Alison played the viola as part of a string trio in the school orchestra as well as the piano for a ballet school in her teens; she even had an audition with the famous Boston Pops Orchestra when it was under the direction of Arthur Fiedler. She was almost 6 feet tall by the time she was 13 and out of necessity learned to sew her own clothing. She was a skilled seamstress, making clothes and doing alterations well into her 70s. She inherited a love of travel from her parents and spent the summer she turned 16 in a language immersion program in France, traveling by herself on an ocean-liner across the Atlantic. She enjoyed visiting Panama and many countries in Europe. In 1955, Alison started at K, where she met her husband Clifford "Larry" Werner '58, and they married in June 1957. With their firstborn in tow, she graduated with a Bachelor of Arts in sociology. They became a family of four in 1960, and lived in the Kalamazoo/Portage, Michigan, area until 1964, when they relocated to Whittier, California. A few years later, Alison decided to return to college to earn her teaching certificate. She taught several different grades during her 36-year career at Sorenson Elementary and was described by her colleagues as a fashion icon and grammar queen. She enjoyed it when former students saw her in town and stopped to relive classroom memories. After her husband passed away in 1998, Alison became a frequent patron of Whittier restaurants. She made friends easily and often enjoyed meals with those she lovingly called her "restaurant friends." She gave of her time, talent and treasure and could often be found at her church, Plymouth Congregational, singing, playing in the handbell choir, directing the children's choir, making costumes for and directing the Christmas pageant, or worshiping, praying and enjoying fellowship with her Life Group. Alison was thoughtful and compassionate, always asking what she could do for others and keeping a running list of prayer requests and answers. She is dearly missed and survived by her two children, five grandchildren and two great-grandchildren.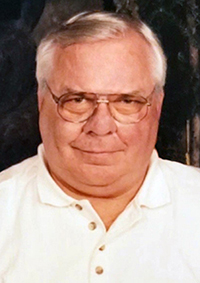 William R. Liggett '61 on November 20, 2021. After K, Bill received his master's from Western Michigan University. He was a teacher and coach in Bronson, Michigan, before starting his 33-year career as a State Farm agent in Kalamazoo. He played baseball, football and basketball and was in track in school. He loved coaching—including his son's rocket football and daughter's softball teams. He also had a passion for traveling and enjoyed trips with friends and family to Florida, Colorado, Alaska and other destinations, including voyages in one of his many motorhomes. He ran the 'chain gang' at K football games for almost 40 years. In 2016, he was inducted into the Comstock Athletic Hall of Fame, one of his proudest accomplishments. He enjoyed NASCAR, skiing, living on the lake and in Florida, and he especially loved his family. On February 1, 1958, Bill was united in marriage to his loving wife of nearly 64 years, Barbara (Ward), who survives. Also surviving are his daughter, four grandchildren, including Jeremy Liggett '10, and several nieces and nephews, including Aaron McGuire '15. Bill was preceded in death by his son, Bret.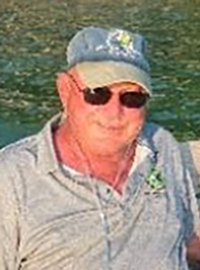 Robert W. McLean '62 on December 15, 2021. Bob graduated from Kalamazoo College and earned his M.B.A. from Harvard University in 1966. Bob's career encompassed the worlds of finance, consulting and insurance. Bob concluded his career at Merrill Lynch where he worked in partnership with his wife, Susan, until his retirement in 2001. He also served on the board of trustees of Kalamazoo College for 17 years, as well as the boards of Durametallic and Safari Circuits, Inc. Bob was quietly generous to an extraordinary number of charities. Bob was passionate about University of Michigan football, golf, boating and traveling the world with his wife. He always had a smile on his face, a booming laugh and a strong moral compass. Bob was blessed with many wonderful friends. Bob loved having a Manhattan in Susan's beautiful garden on Torch Lake, with his golden retriever, while watching the sunset. Surviving is his loving wife of 32 years, Susan McLean, four children, including Thomas McLean '85 and Timothy McLean '86, and six grandchildren.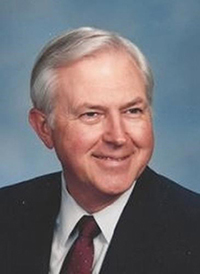 Gary E. VandenBerg '63 on January 22, 2022, in Naples, Florida. He married his high school sweetheart, Ardith D. Taylor, in 1958, and together they celebrated 63 years of marriage. Gary was a proud graduate of Decatur High School at the age of 16, followed by Kalamazoo College in 1963 where he earned his Bachelor of Arts in chemistry. He continued his graduate work in business at Western Michigan University, and lifelong learning in organizational leadership at various institutions. The majority of Gary's career was at The Upjohn Company (31 years) and concluded at HumanEx Ventures, both in Kalamazoo. His love for young people and sports led to a significant role in youth sports where he served as football, basketball and baseball coach for over 20 years. He received several honors and awards from the Optimists of America for his contributions and was seen as a mentor for many, including at-risk youths. Gary also served as president of the Mattawan Consolidated School Board of Education and was instrumental in leading the school to one of the top systems in the region and throughout Michigan. Gary's love for education, youth and making people around him better were at the core of his being and were only surpassed by the love for his family. He was a devoted family man who taught them the meaning and importance of being a good person and doing right by others. He was a gracious, kind, intelligent and selfless person who always saw the positives in people and always put others first. He was always available to help when needed and went out of his way to spread his joy and happiness. He will be missed, but never forgotten. In addition to his wife, Ardith, he is survived by two sons, including Kevin VandenBerg '89, two grandchildren and two great-grandchildren.
Sandra K. Spencer '63 on January 30, 2022.
Heinrich Kelz '67 on November 2, 2021. Heinrich earned his Master of Arts at the University of Bonn in 1966 and his doctorate in communications research and phonetics in 1969. For over 30 years he was a professor at the University of Bonn. In 1977, he founded the Language Learning Center at the university and served as its director for many years. He is survived by his wife, Irene, his daughter and his grandchildren.
Stephen C. Anker '70 on October 4, 2021.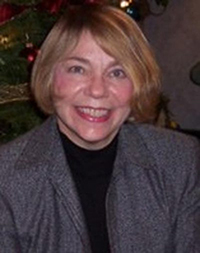 Marianne (Meyer) Armento '70 on January 17, 2022. Marianne studied psychology and French at K before working in human resources at Central National Bank in Chicago. She married Paul Armento III in 1975. The couple moved to Springfield, Illinois, where Marianne served as the senior public service administrator for the state of Illinois. She was an avid fan of learning and furthered her education studying business administration at the University of Illinois Champaign-Urbana. After retirement, Marianne took an interest in traveling. She would travel frequently throughout the year, always including stops to spend time with family. She traveled to Alaska and Ontario and had been to every continent except Antarctica. She would have had her passport stamped from there, too; however, her trip was delayed due to the pandemic. Marianne was passionate about planting flowers and entertaining friends by creating new recipes incorporating flavors from around the world. She cherished experiences, cultures and creating beauty in her life and sharing those experiences with friends and family. Marianne had the most beautiful smile and laugh. She was a vivacious, charismatic, spirited person who loved her family and her treasured four-legged companion, Miss Squigglebottom. She was preceded in death by her husband, Paul. She will be greatly missed by her family, including many nieces and nephews and her husband's daughter and her children.
Mark Small '74 on December 17, 2021. He was born in Defiance, Ohio, and graduated from Defiance High School in 1970. He proceeded to go to Kalamazoo College on scholarship and ran cross country. He then attended Indiana University-Purdue University at Fort Wayne and Ohio State, where he became a Certified Registered Nurse Anesthetist. He worked for 25 years and was one of the best in his field of anesthesia. In his career, he worked at Hackley, Mercy and Lakeshore Medical in Shelby, Michigan. Mark was a very kind and empathetic man who took great care of his patients. Mark loved West Michigan and loved raising his children here. Mark was a great cook, baker and gardener. He loved the outdoors and sports. His greatest passion was golf. Mark is survived by his three daughters, eight grandchildren and his best friend, Mary Beth Squires.
Stephen Hill Mohney '76 on June 30, 2021. When Stephen was 13, his parents took the family to live in Butere, Kenya, where his father taught science at Butere Girls School. Stephen spent his two years in Butere managing the school's library and reading program. He earned degrees in religion and African studies after attending Kalamazoo College and the University of Ghana. He received his master's in elementary education at the Bank Street College of Education. Stephen lived in Rochester where he delivered mail and performed as a member of Rochester Oratorio Society before moving to Brooklyn, New York. There he taught for one year at Public School 109 and two years at Public School 305 before joining Public School 3 in Bedford-Stuyvesant in 1983. Stephen was a beloved teacher who enriched his students' lives by taking them on outings and writing many arts grants. One such grant funded the Day of the African Child, an annual school event where all third graders learned and performed African dances in what became a favorite school and neighborhood tradition. Before retiring from Public School 3 in 2016, Stephen taught generations of kids how to create joy through art as well as serving as the school's art, technology and sustainability coordinator. Stephen loved especially the country of Ghana, so much so that he founded the non-profit Tech4Ghana. Tech4Ghana built and equipped the first computer lab in the rural village of Wli, and later added a library. Another successful Tech4Ghana project is the Wli/Afegame Rainforest Conservancy, which works to re-plant native trees and to develop sustainable agriculture. Stephen left all who loved him unexpectedly after a brief illness.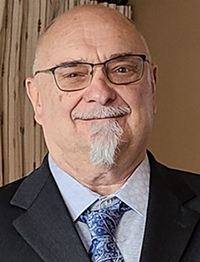 William D. Schallhorn '76 on December 18, 2021. Bill obtained associates training and many certificates, like engine overhaul, and worked as a millwright for many years in Parchment, Michigan. Throughout the years Bill loved fishing trips to Canada, family gatherings, riding his Harley motorcycle, barbecues and many bonfires. His favorite hobbies in the most recent years were being "Uncle Bill" to his four second cousins as well as fishing, wine making and gardening. Bill was also a very loving father who through all the years of basketball, volleyball, track, tennis, cheerleading, band concerts, marching band shows and parades, only missed one middle school basketball game. He could always be found on turn four of the track cheering for his daughter and her teammates in the 400-meter dash and mile relay. Never big on the city or a crowd, Bill is now out of pain and finding peace fishing and planting the perfect garden somewhere on the outskirts of heaven. He is survived by his daughter.
Aron D. Thall '82 on June 23, 2021, in San Diego, California.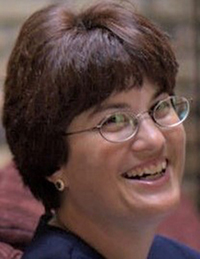 Catherine Ann Ray '87 on November 25, 2021. After graduating from Kalamazoo College with a full-ride scholarship and a degree in biology, Cathy went into research at Upjohn. She also worked part-time as a shift supervisor for the crisis intervention hotline at Gryphon Place. Although she felt a personal calling from God to become a priest for the Episcopal Church, her aspiration was put on pause because she developed bipolar disorder while in seminary. Her experiences with living and coping with bipolar drove Cathy to become an outspoken advocate for anyone with mental illness or emotional trauma. While learning to navigate through the changes that life brought her, Cathy studied Native American teachings, expanding her understanding of God in all creation and peoples. She loved God and her church community and was beloved by her parish members. Cathy was heavily involved with St. Mark's Parish, including the choir, outreach and the Vestry. After a 20-year break, she was finally able to return to seminary. As a second-year seminarian, Cathy was required to participate in two internships, one at St. Augustine's in Benton Harbor, and one at Bronson Hospital. She also enjoyed writing homilies for St. Augustine's. Cathy's wish was to one day return to her home parish and become their priest while working at the hospital as well. Cathy considered herself a joy seeker and spiritual encourager. She had many other endeavors as well, such as helping build homes for indigenous communities and performing wedding ceremonies. Cathy found tremendous joy and abundance in the simplest things, devoted her creativity and energy in the service of others and "lived life imperfectly with such great delight." She will be dearly missed by all. Cathy is survived by her parents, three siblings, beloved horse, two dear companion cats and many extended family members.

Faculty, Staff and Friends of the College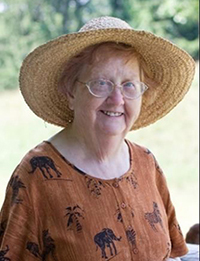 Dorothy J. Ashley on January 20, 2022. Dorothy was a world-wide traveler, having visited almost every place but Asia. She loved fine art, classical and big band music. Her pets were very important to her. She loved all animals. On February 20, 1947, Dorothy married Francis Carroll Ashley, who preceded her in death. For more than 20 years, Dorothy worked as administrative assistant for the English, religion and philosophy departments at Kalamazoo College. She was a long-time member of First United Methodist Church of Kalamazoo, where she volunteered on several committees. She was an avid gardener and while she loved all flowers, she particularly loved roses. Dorothy enjoyed visiting lighthouses. She also enjoyed reading. Dorothy is survived by her two daughters, granddaughter, nieces and nephews and many friends.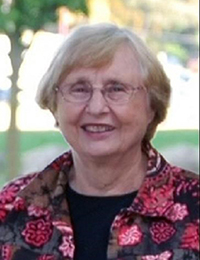 Grace Flesche on February 5, 2022. Grace was born in Sheboygan, Wisconsin, spent her childhood in Yankton, South Dakota, and received her B.A. and elementary education certificate from Drury College (now University). After graduation, she taught in Colorado, Washington and Missouri. In 1962, she married Dr. Donald Flesche, whom she had met at Drury. That same year they moved to Kalamazoo, where Don joined the teaching faculty at Kalamazoo College and Grace joined the teaching staff at Kalamazoo Public Schools, working at Chime School for two years. After the birth of their two daughters, in 1965 and 1968, she became involved in their schools and activities. When her children were older, she returned to Chime Elementary as a secretary. When Grace and Don retired in 1996, they traveled extensively, attending the Atlanta Olympics, 17 Road Scholar experiences and visiting all 50 states. She loved spending time with her two daughters and their families. Grace loved the city of Kalamazoo and was a devoted volunteer. She was active in numerous roles for the USTA Nationals, receiving the tournament's Distinguished Service Award in 2011. She volunteered with Kalamazoo in Bloom, chaired the sale of UNICEF Christmas cards and was on the board of Planned Parenthood. She and Don volunteered at North Glade Elementary, helping with reading and math, and provided weekly food distribution for Loaves and Fishes. Grace was a member of the Kalamazoo College Women's Association, an avid gardener, reader and baker. She loved playing tennis and was a member of the same bridge group for 25 years. She and Don regularly attended concerts of the Kalamazoo Symphony, the Gilmore and the Kalamazoo Concert Band, as well as plays at Farmer's Alley, Miller Auditorium and Barn Theatre. Grace is survived by her husband of 59 years, Don, two daughters and five grandchildren. Donations in Grace's name may be made to the Donald Flesche Visiting Scholars and Lecture Endowment and/or the USTA Tennis Tournament.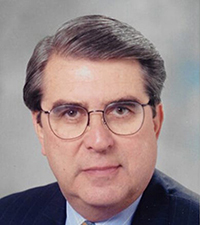 Robert O. Kramer, beloved husband, father, grandfather and highly respected corporate executive and community leader. Bob was born and raised in the greater Cincinnati area in a German-speaking community where his English language skills enabled him to serve as a valued interpreter for the adults throughout the neighborhood. The confidence and ability to speak clearly that Bob gained in these early years was an important factor in his later success. He was a standout basketball player in high school, as well as at the University of Cincinnati. He graduated with a Bachelor of Arts degree in industrial relations and economics, and a master's degree in economics with the highest honors. Bob taught economics at the University of Cincinnati before being recruited by the Ford Motor Company to serve as an industrial relations analyst, leading to his moving to Detroit. Bob rose through the ranks at Ford, eventually becoming vice president of human resources, with worldwide responsibility for human resources and labor relations. It was while at Ford that Bob met Judy, who became his wife of 51 years. Bob and Judy lived in England from 1981-1984, while Bob was responsible for human resources for Ford of Europe, and they traveled extensively throughout Europe and later in the United States. Bob retired from Ford in 1999 and spent the rest of his life enjoying his time with Judy and taking pride in the growth and accomplishments of his grandchildren. It was during this time that Bob also began his service as a valued community leader. He served as a trustee of the Michigan Colleges Foundation beginning in 1996, and as its chair from 2003-2007. During this time Bob led the effort to generate significant resources for Michigan's liberal arts colleges, for which he was awarded the degree of Honorary Doctor of Humane Letters from Kalamazoo College. Bob was an Emeriti Trustee of Kalamazoo College, having served on the board from 2008-2015. In addition to his wife, Judy, Bob is survived by his daughter Stephanie Spinale '93, and three grandsons.