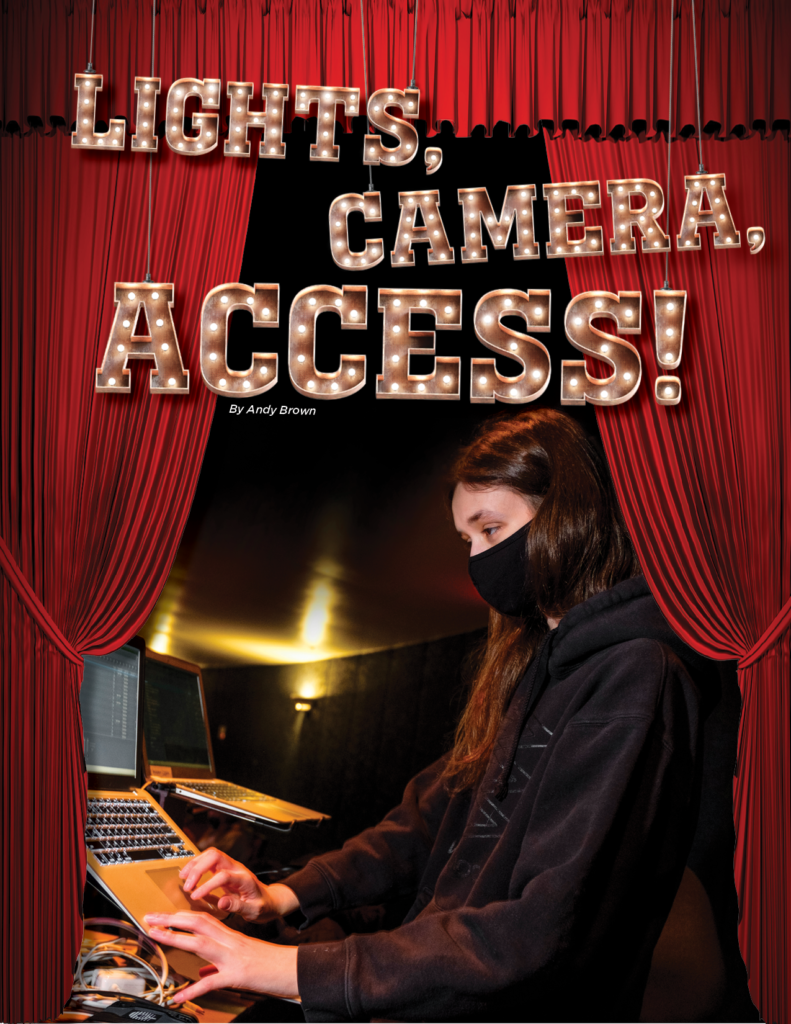 Angela Mammel '22 had an opportunity this past summer they might not have been able to pursue without a little help from some Kalamazoo College alumni and a fund that honors an old friend.
Mammel, a theatre major, has built their talents—along with a great deal of respect in K's Festival Playhouse—as a projection designer, working to add layers to scenery through images and film that are projected on stage. Their recent credits at K include Unzipped, a play written by theatre major Rebecca Chan '22, unveiling the struggles and realizations behind Chan's personal racial discovery; and The Conviction of Lady Lorraine, a one-person show written and performed by Dwandra Nickole Lampkin, a Western Michigan University theatre professor, and set at the Lorraine Motel in Memphis, where Martin Luther King Jr. was assassinated.
"Projection design combines my passions for graphic design, theatre and storytelling in a way I really like," Mammel said. "It's such a new field, I hope it's bringing me some extra skills I can one day take to the table professionally."
Earlier work and acclaim provided Mammel with an opportunity to intern at the GhostLight Theatre in Benton Harbor, Michigan. However, an hour-long drive one way to the theatre from Kalamazoo seemed daunting given the cost of gas, which would add up fast with a daily commute.
Enter from stage left alumni such as Joseph Bigelow '74.
Bigelow's memories from his time as a theatre major at K prompt him to relate with students like Mammel. Such understanding led him—along with other alumni such as Barbara Ostroth '74 and Paul Eads '73, and former theatre department leader Clair Myers—to create a helping hand in the Vincent Liff Memorial Fund, which targets the roadblocks that could derail experiences like Mammel's.
"There were things I just couldn't take advantage of because I didn't have an extra $100 to do something off campus," Bigelow said. "When I decided to create and endow the fund, access was the impetus. We wanted technicians and designers and people interested in the backstage aspects as well as actors to have access to what they needed, and hopefully, that's what it provides."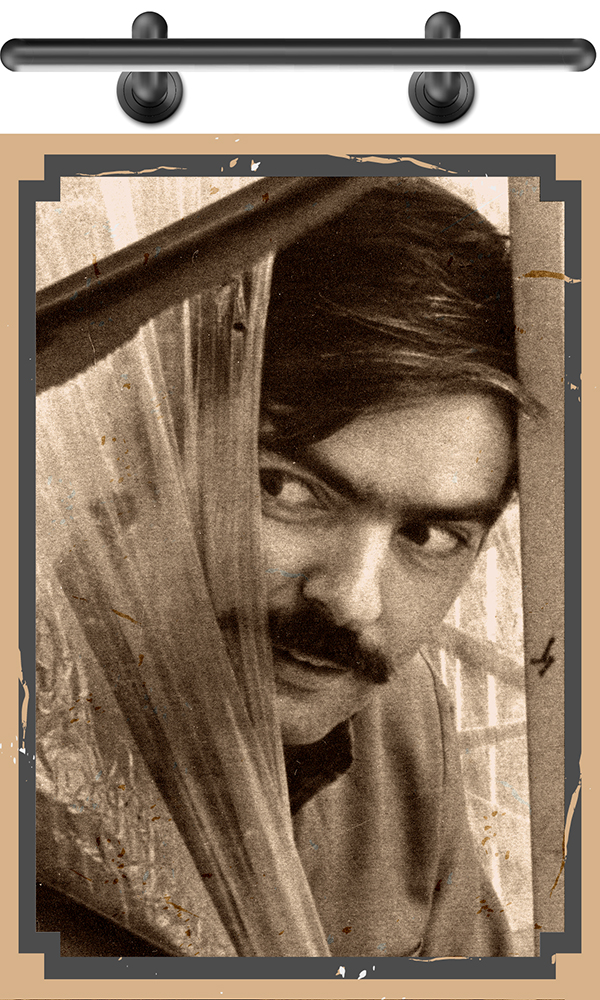 Mammel was grateful to be among this year's beneficiaries.
"I honestly feel I was able to have that internship because of the funding that I received," they said. "It gave me the extra gas money I needed and I learned so much through working in a different theatre setting. I helped with building sets and learning about sound, and Kalamazoo College lets you do everything in this theatre program so I had a wide range of experience I could bring to the table for them."
The Vincent Liff Memorial Fund allows theatre students to obtain small grants at the theatre department's discretion, empowering students to attend more conferences, receive more internships and gain more ambitious career experience. Faculty, such as Professor of Theatre Arts Lanny Potts, are just as grateful for it as the students.
"We once asked ourselves what institutional money we had available for students to do an internship or to go to a conference or to go do something professionally somewhere," Potts said. "The answer was there wasn't any—none. Being a student at K means thinking about doing job searches, internship searches and apprenticeships, getting resumes together and doing online interviews. Then imagine doing all of the things that you would need to do in order to get an outside gig and questioning whether you can do it financially. We're grateful to have the Liff fund available to say for a student, 'We can supplement this experience for you with these finances and make it happen.'"
At K, Vincent Liff '73 was the lead in the theatre department's production of the musical Celebration in his first year. He also had a starring role in The Entertainer and was Professor Clair Myers' assistant director for the summer production of Boys From Syracuse. His sophomore year, he interned in the casting office at the New York Shakespeare theatre company. Liff then pursued two terms abroad in Spain during his junior year, before conducting a Senior Integrated Project (SIP) with the Royal Shakespeare Theatre in London during its production of Richard II.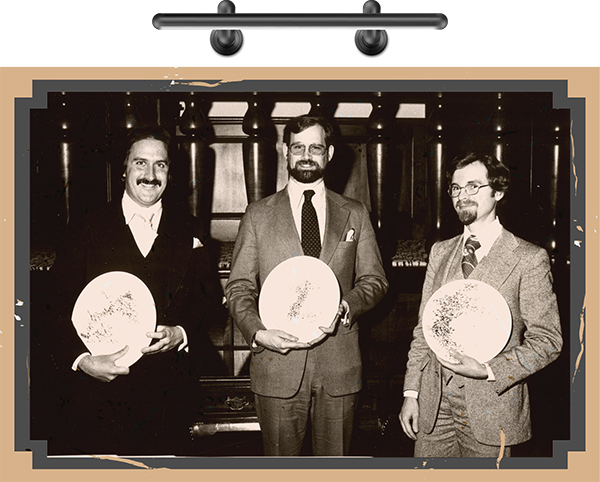 As a professional, Liff was fortunate to have a family connection to theatre through his Uncle Biff, a New York City stage manager, producer and agent. Yet in his own exceptional 30-year career, Liff was a casting director. He first worked for Otto-Windsor Casting, a 1970s New York casting agency that was responsible for the original productions of Grease, Over Here and The Wiz.
Continuing his passion for theatre, Liff partnered with Geoffrey Johnson in 1975 to form Johnson-Liff Associates, which oversaw the casting of more than 150 Broadway and touring productions such as Les Miserables, Phantom of the Opera, Dreamgirls, Cats, Miss Saigon and the revival of The Producers as well as the television miniseries, The Holocaust. The partnership dominated casting in New York for more than 25 years. Liff mentored dozens of young actors and worked with outstanding directors and producers during his career before he died from cancer in 2003.
Ostroth attended the same high school as Liff in Wellesley, Massachusetts. Altogether, Ostroth and Liff were close friends for more than 35 years even after their years at K led them both to New York City.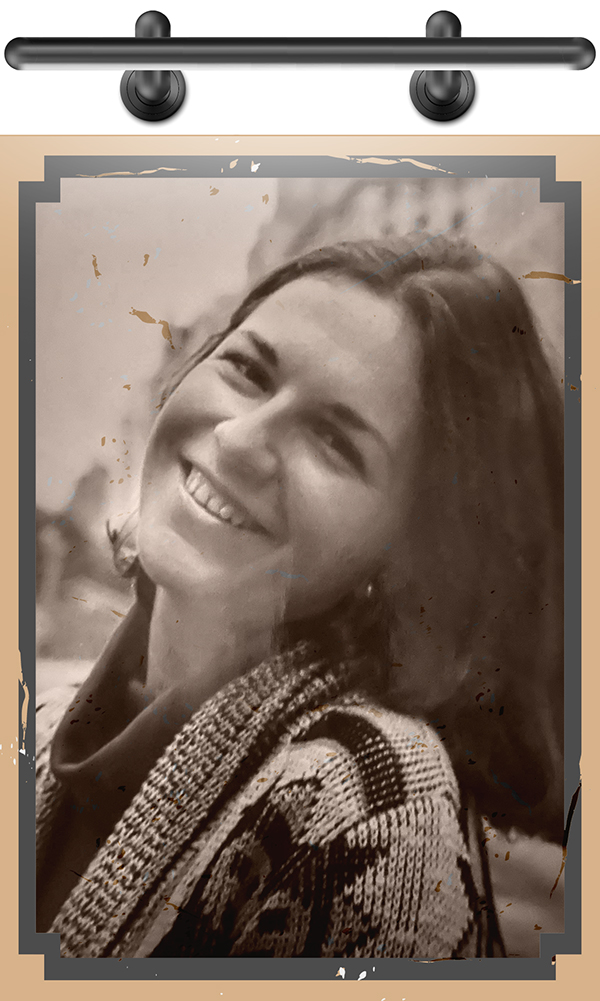 "He helped me land on my feet in New York City with my first job as a receptionist for the producers of Grease," Ostroth said. "We often met up with other friends at the Hungarian Bakery across from the Cathedral of St. John the Divine on Sunday afternoons for warm croissants and to pour over the Arts and Leisure section of the New York Times. We enjoyed exploring all the cultural opportunities that New York had to offer. I deeply admired his encyclopedic knowledge of actors, plays and musicals, directors, show songs and more, not only for Broadway but also movies and TV. He always saw the potential in actors and their careers."
Paul Eads is a Los Angeles-based TV and film production designer who attended the Yale School of Drama in addition to K. He credits Liff for enabling some of his opportunities as well. Eads has earned three Emmy Awards in his career for his work on NYPD Blue, Murder One and Boston Public.
"Vinnie was one of the most gregarious people I think I've ever met," Eads said. "It wasn't superficial either. He was a very generous soul who listened to what you had to say. We were very close friends and housemates senior year when I was trying to figure out what to do for my SIP. Vinnie suggested that I write cold letters to a number of set designers. We went to the library and got out a yearly journal of all the different shows that opened and closed on Broadway. From that he picked a few set designers that he thought were really good based on his experience with his uncle."
From that effort, which Eads used to request internships, he received a few responses including one that was especially intriguing.
"I had seen a play in Detroit called Ain't Supposed to Die a Natural Death, which was written by Melvin Van Peebles," he said. "I thought it was one of the coolest sets I'd ever seen with a junky car on stage. It was very urban and gritty, and just wonderful in its details. The set designer was Kert Lundell and he was one of the guys I wrote to. When he responded, he said, 'Sure, come to New York,' and I went there for my SIP. It was a great experience that set me off on my path in life, and I'm certain I'm not the only one that had that sort of experience with Vinnie."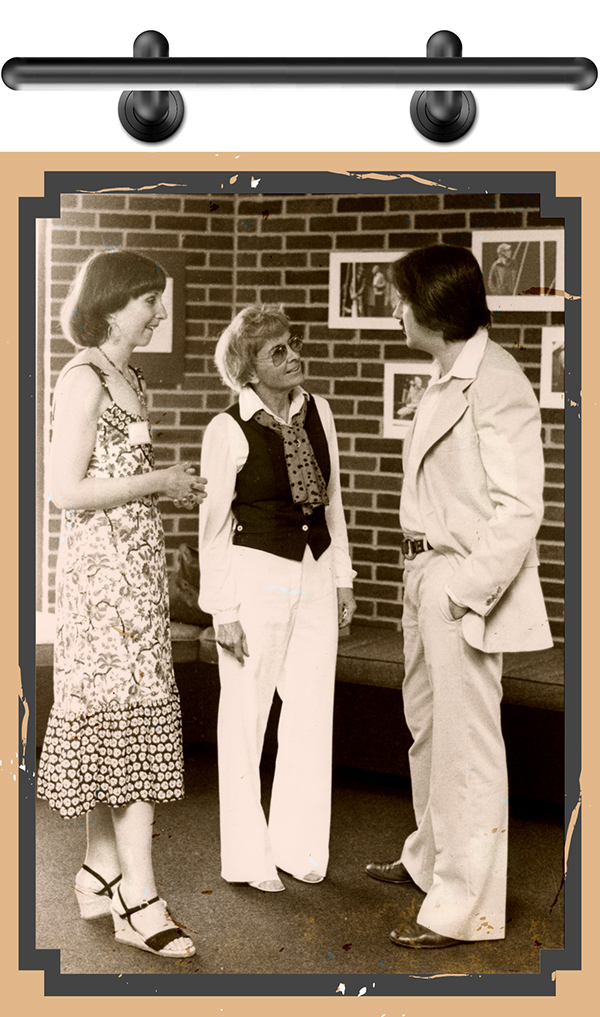 Myers said Liff took full advantage of the K-Plan when K had a year-round academic schedule. The hope is that the fund will help more students have comparable experiences to Liff's through opportunities like summer internships, because his activities helped enable his remarkable career.
"I don't think there has been a K alum who had as great a career in the Broadway theatre as did Vinnie," Myers said. "He was at the forefront of the move to having a casting director bring together a full range of potential actors, including unknowns, for a Broadway show. Many actors owe their careers to him."
And thanks to the people Liff touched, his name will continue to benefit K students for years to come. Others can also donate to the fund by going to K's "Give to K Page" or by contacting Matthew Brosco, senior associate director of planned giving in the Kalamazoo College Advancement Office, at Matthew.Brosco@kzoo.edu.
"I think those of us who support this memorial fund hope the current K students who receive the grants will feel the connection with generations of past theatre arts students who walked the walk before them," Ostroth said. "Our wish is that they will learn more about what a dedication to theatre is all about through the example of Vinnie's life path."