BY JEFF PALMER '76
LuxEsto heard rumors that four Kalamazoo College alumni own and operate craft breweries in the following Michigan cities: Ann Arbor, Cedar Springs, Kalamazoo (and Escanaba), and South Haven.
The rumors suggested that these alumni not only brew excellent beers, ciders and meads, they also serve a variety of tasty foods that, like their brews, include ingredients harvested from Michigan's agricultural abundance. AND, they are heard to openly credit K for some of their brewing/business success.
To confirm these rumors, LuxEsto went undercover to all the breweries where we quizzed the alumni and, well, sampled their products. Our trip was so successful, we suggest you visit each establishment and see/taste for yourself.
Bottom's up!
Cedar Springs Brewing Company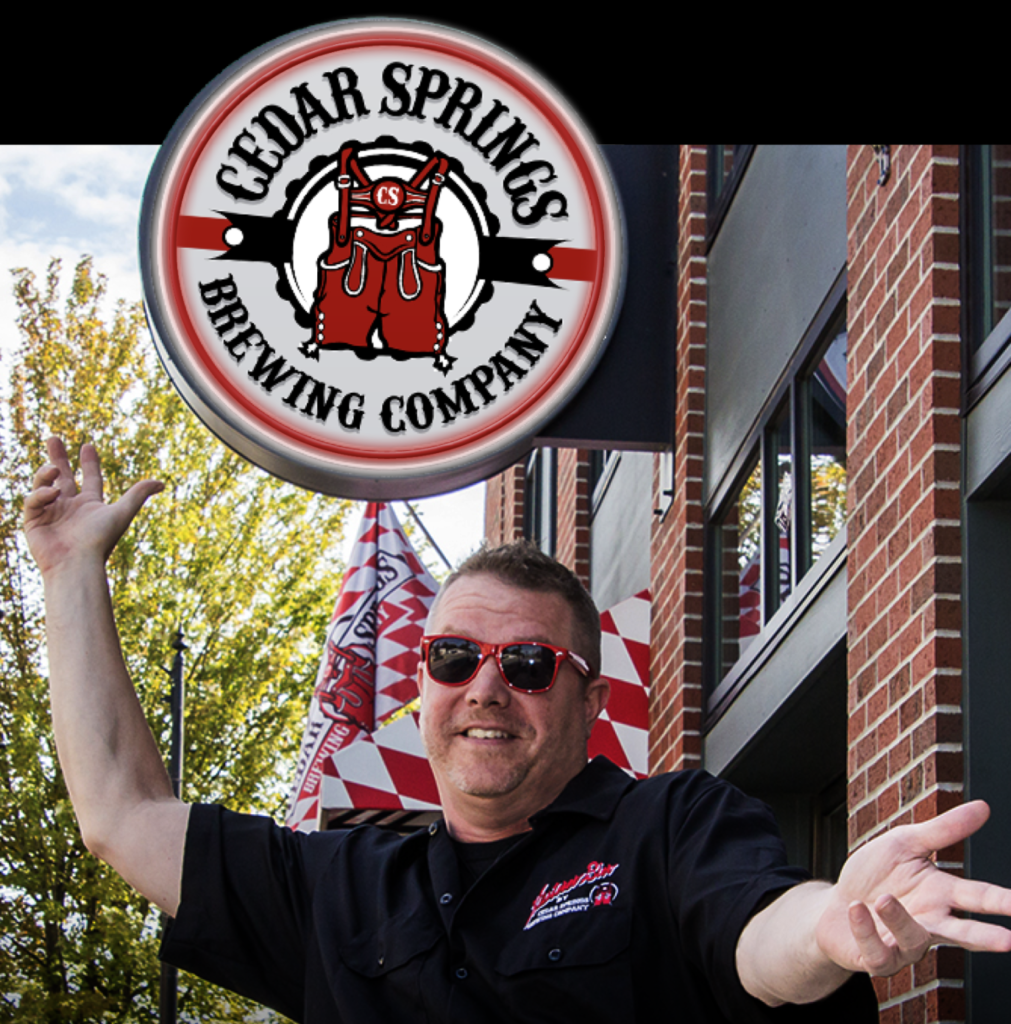 95 N. Main Street NE Cedar Springs, Mich. csbrew.com
Cedar Springs Brewing Company is in a colorful brick and glass building at Maple and Main streets in downtown Cedar Springs, a town of 3,500 people some 20 miles northeast of Grand Rapids. 
"You have to earn the title," he said, beer stein in hand while joking with some patrons and waitstaff. "I was in the buttoned-up investment world for 15 years. Now I'm in a business that's all about hospitality, good cheer and fellowship—what the Germans call Gemütlichkeit."
That German reference tells you a lot about David and his brewery.
During high school in Grand Rapids, he forged a lifelong friendship with a German exchange student. At Kalamazoo College, he majored in history, took a lot of econ classes, played football and baseball, and studied abroad in Hanover, Germany. After K, he returned to Germany for five years, living mostly in Bavaria, working in several breweries and entering an apprenticeship program to learn beermaking.
Upon his return to Michigan, he continued to work in breweries before embarking on a successful career in finance and investment.
Yet opening a German-themed brewery and restaurant had long been his dream. In November 2015, he opened Cedar Springs Brewery with a beer lineup focused on traditional Bavarian styles and a food menu rooted in Oberbayern (Upper Bavaria) meals. His own American craft beers and smokehouse pub options complement the German fare.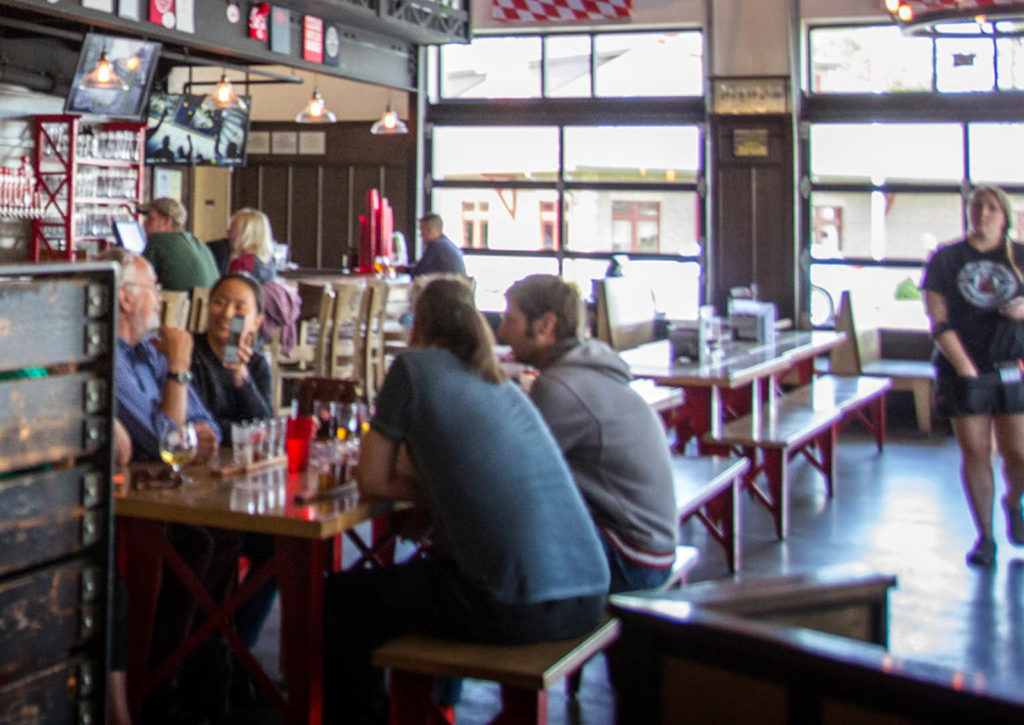 In the taproom (and in 70+ bars and restaurants in the region), the most popular Cedar Springs beer is Küsterer Original Weissbier, a wheat beer auburn in color with hints of almond and nuts. It and a lighter version have earned awards in several American and international beer competitions.
A pale bock (hearty lager with malty sweetness), Bohemian pilsner, dunkelweizen (dark wheat beer with hints of coffee and chocolate), Maibock (a malty and somewhat hopped-up lager), Marzen (Oktoberfest lager), and Schwarzbier (dark lager) round out the Bavarian-style beers on tap. All bear the Küsterer brand, named for Christoph Küsterer, the first German brewer in West Michigan who set up shop in Grand Rapids in the 1840s.
"No one in Michigan and very few in the Midwest are doing what we do," David said. "It's traditional and authentic, right down to the lederhosen on our logo."
To keep the authenticity going, some of the hops and malts for his Bavarian brews come from the old country. David takes some of his brewing and kitchen staff there each year, too. They visit breweries to watch and learn from some of the same people he worked with years ago. He and his wife took their young twin sons for their first visit this year.
According to David, the brewery has also participated in a downtown revival in recent years. 
"Ours was the first new building downtown in 40 years. Since then, four other buildings have been constructed, including a new public library. I can think of a dozen other new buildings and businesses that are planned. It's become a vibrant place where people want to be.
"Through our donations, fundraising events for local causes, and a Community Give Back program, we're helping make our community a better place," he said.
Many visitors arrive via the White Pine Trail, a 92-mile-long linear park that passes by the brewery's back door. A covered bike rack and biergarten greet them.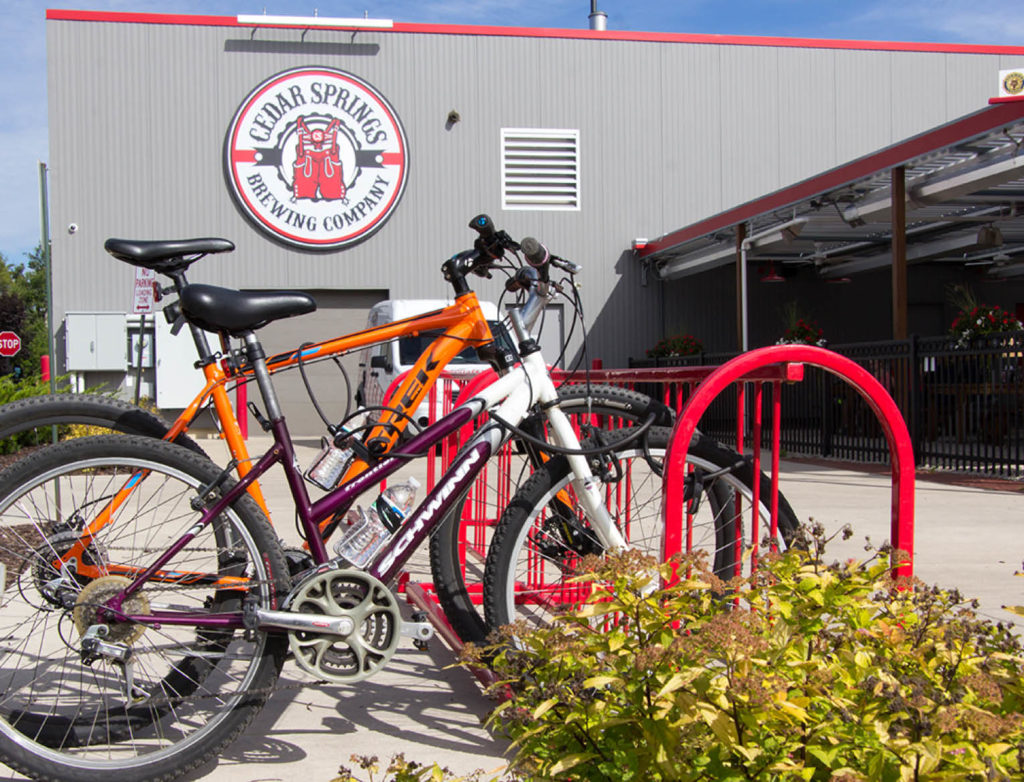 "We love being along their path," said David. "I've had a winding path to where I am today, and K inspired me. That's in part what K is about. Liberal arts, travel, SIPs, career internships, athletics…learning and exploring what you love.
"I explored a German culture that I fell in love with. Now I'm sharing it with others in a little cultural oasis in West Michigan."
Prost, David!
Bløm Meadworks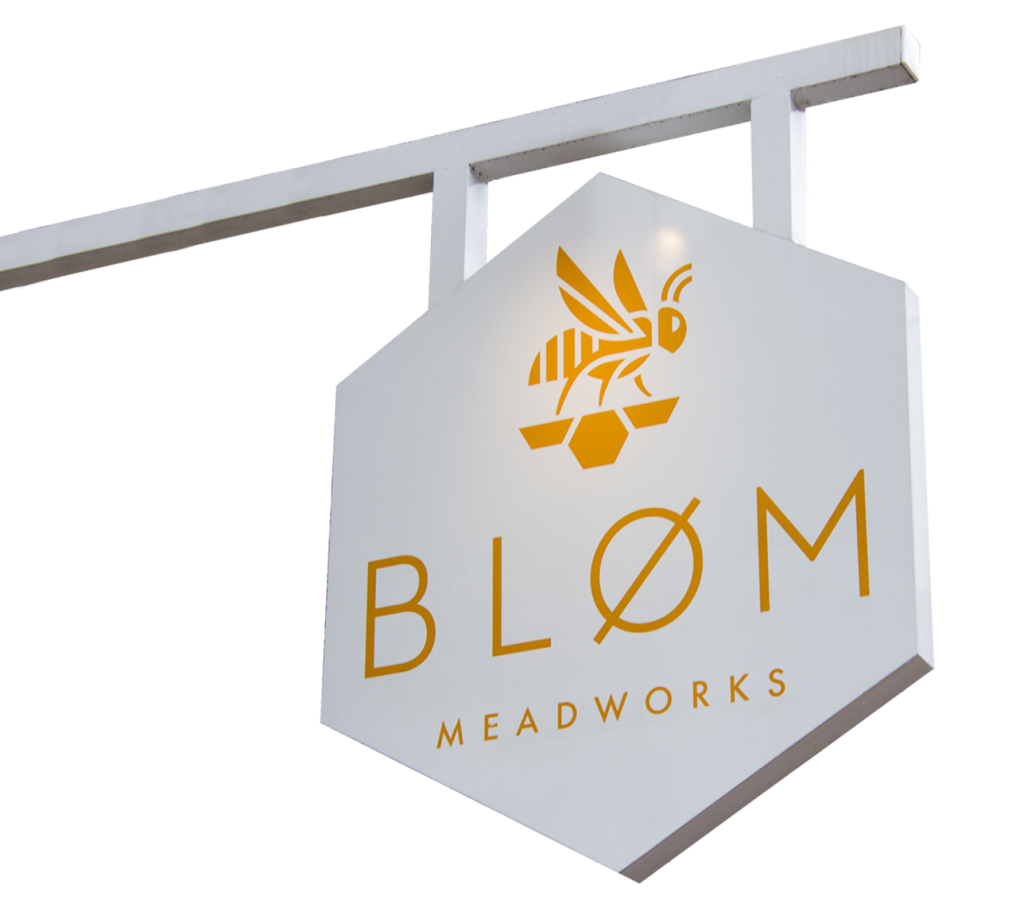 100 S. 4th Ave. #110, Ann Arbor, Mich., drinkblom.com
Bløm Meadworks, owned and operated by Lauren Bloom '07 and her husband Matt Ritchey, sits near the intersection of S. 4th Ave. and Huron St., on the south edge of Ann Arbor's historic Kerrytown neighborhood, known for its brick streets, charming shops, restaurants, and theatres, all in the shadow of nearby University of Michigan.
For Lauren and Matt, Bløm (the name is a nod to her Swedish heritage) also sits at the intersection of local foods and fermentation, passions that fuel their personal and professional lives.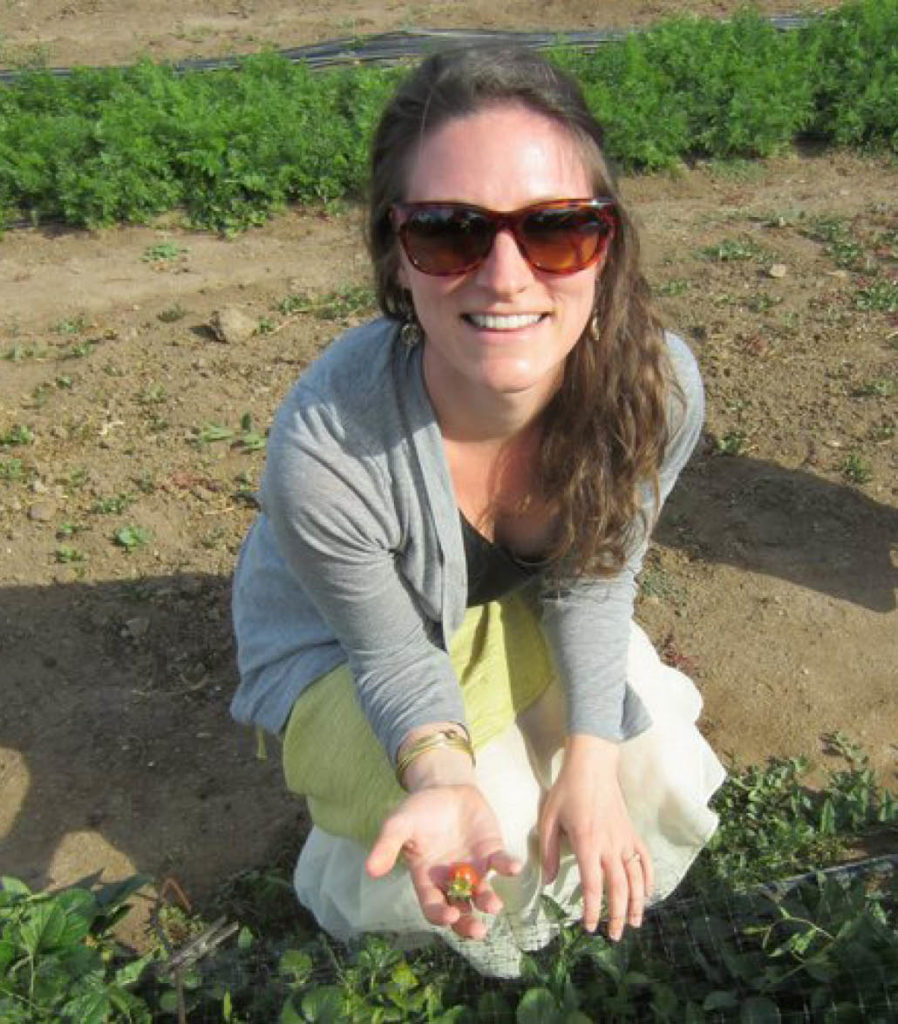 Following her graduation from Kalamazoo College with a degree in international relations, Lauren moved to Chicago where she worked in development and marketing in the nonprofit sector. Yet her real joy was cooking, especially with locally sourced foods.
"My study abroad in Santiago, Chile, and the Farms to K program on campus really ignited an interest in local foods and showed me a potential career path," Lauren said.
This path eventually led Lauren to join the board of Slow Food Chicago, an organization that advocates for the value and pleasures of food produced in a way that's good for consumers, farmers and the environment.
Meanwhile, Matt had a career in finance before he, too, followed his passion, becoming owner and head brewer for a small Chicago brewery. Unfortunately, he developed an intolerance to gluten, a protein found in wheat, barley and rye (some of the main ingredients in beer), and had to leave the brewery.
The couple moved back to their home state and started a business that united her local food knowledge with his fermentation skills—in a way that wouldn't make him sick.
They opened Bløm in May 2018.
"We make light, dry and carbonated drinks," Lauren said. "Our meads start with honey, water and yeast—ingredients sourced from Michigan. Unlike most mead, however, we ferment ours like a dry craft cider, so the result isn't nearly as thick or sweet as traditional mead."
According to Lauren, each batch can take on unique seasonal highlights, depending on the blooms their Michigan honeybees have been pollinating. Also, their locally sourced fruits, hops and spices can change season by season.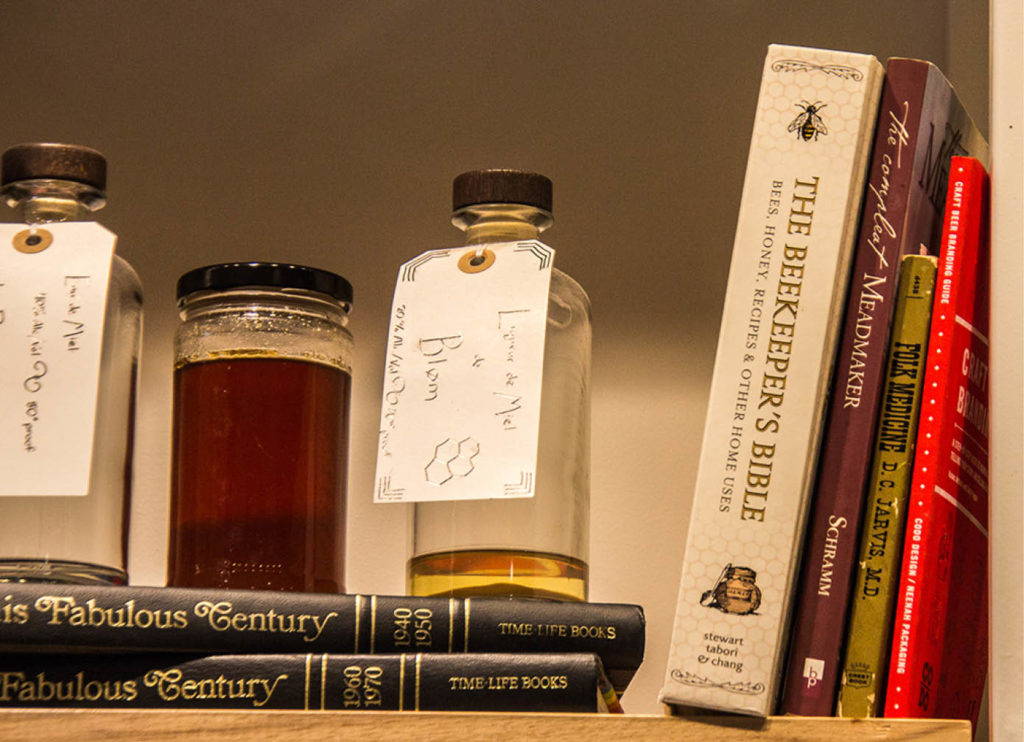 "It's Mother Nature's call on all the subtle notes you'll get to enjoy," she said.
Fermenting small batches for the taproom also means "we can try cool things with small farmers, maybe a small batch of wild foraged pears, or hoop house ginger grown here in Ann Arbor," she said.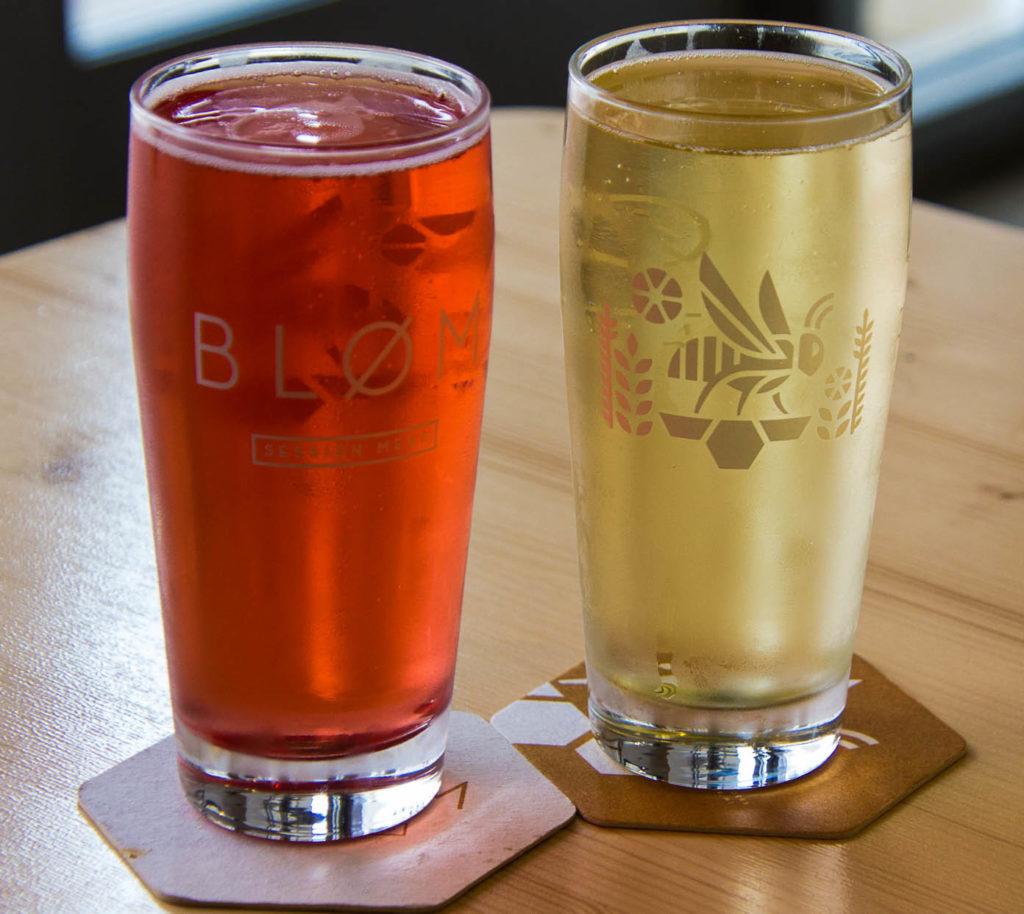 Bløm's top-selling meads include a Hopped (popular with beer lovers), a Black Currant and a thirst-quenching Rhubarb. A Christmas Mead sold out faster than expected last year, so they're brewing a bigger batch this year.
House ciders include Tart, Dry, Semi-Dry and Apple Cyser pours.
All Bløm meads and ciders range from 5-6.5 percent alcohol by volume. All are gluten free. Many can be purchased in cans at about 25 area stores and restaurants.
The food menu at Bløm is small; it's also Michigan sourced: Crackers from a local shop, cheeses from four area dairies, jams from northern Michigan and chocolates from a shop in nearby Dexter.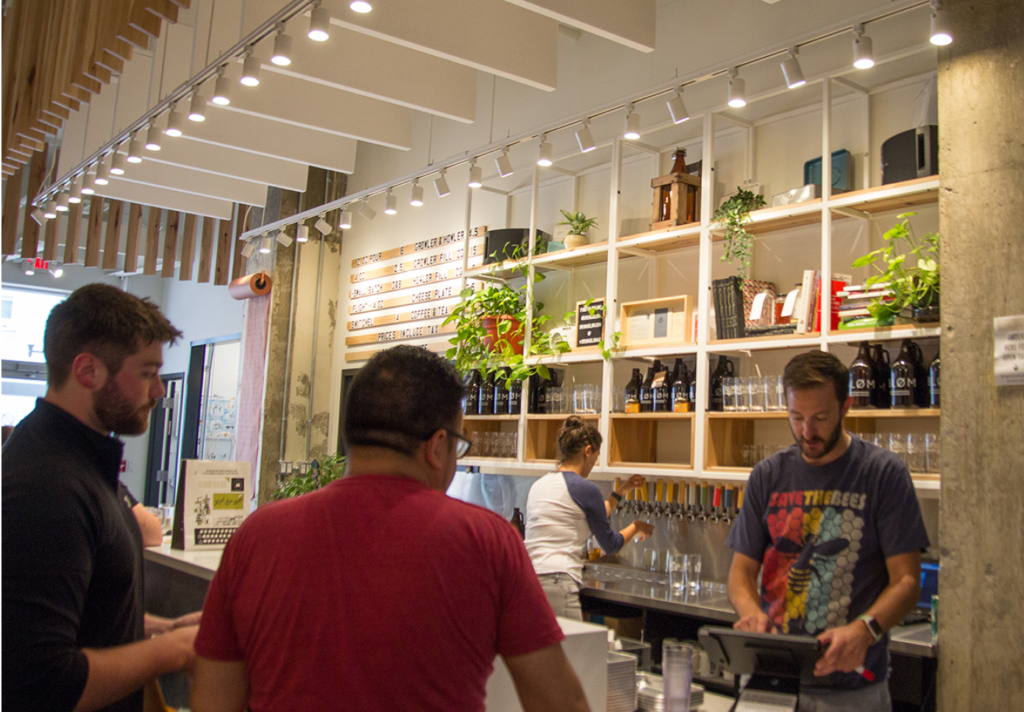 "We encourage visitors to BYO food from home or nearby restaurants," Lauren says. She also encourages folks to stop in during weekly trivia and board game nights, Sunday afternoon "Movies and Meads," and sessions with a local baker. Throughout the week, part of the Bløm taproom is available for community events like yoga classes and beekeeping workshops.
"We love having a downtown space that fosters community ties and supports small businesses that are deeply invested in our town."
Skål to that, Lauren!
Three Blondes Brewing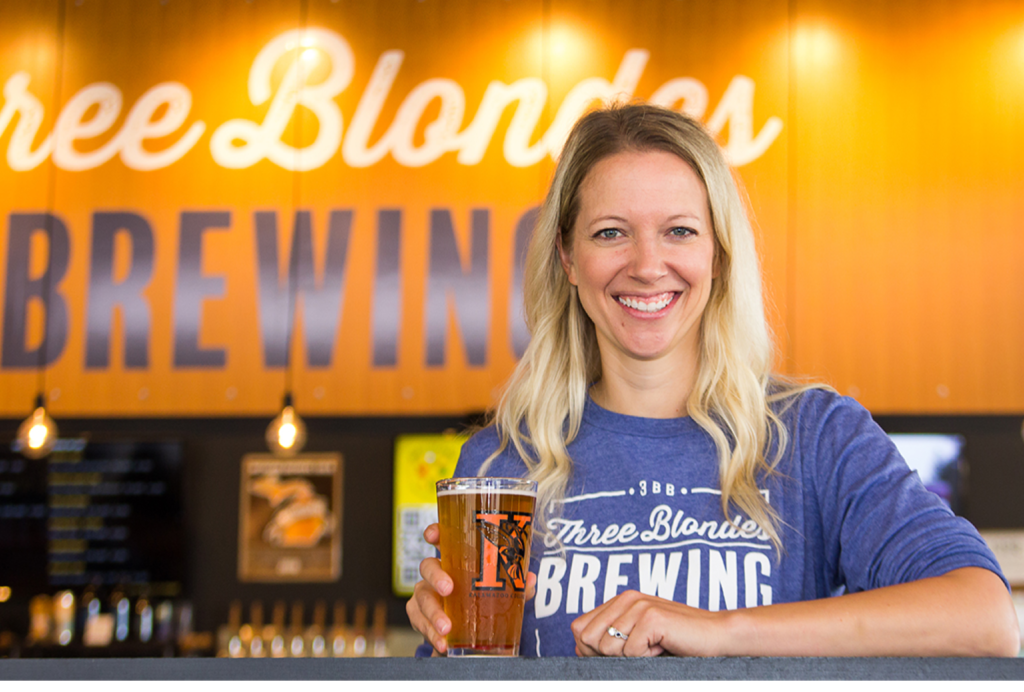 1875 Phoenix Street, South Haven, Mich., threeblondesbrewing.com
When Carrie VanDerZee '05 and her two sisters decide to meet for a beer, there's little discussion about where to go. Since June 2018, they've been co-owners of Three Blondes Brewing in South Haven, the Lake Michigan beach town where they were born and raised.
Their brewpub is on bustling Phoenix Rd., less than two miles east of downtown. Venerable Sherman's Ice Cream Shop is just to the west and the Kal-Haven bike trail that stretches all the way to Kalamazoo is less than a mile away from their bike rack.
Three Blondes Brewing features a lounge, bar, patio and mezzanine level called "The Library" available for private parties. On tap are 14 styles of beer brewed on site in a 15-barrel brewhouse. Three styles are available in cans and on tap in numerous Southwest Michigan restaurants.
Carrie earned a bachelor's in economics from K, studied abroad in Madrid, and joined the Hornet swimming and volleyball teams. She said the intervention of a professor put her on the academic and career path she wanted.
"I took an accounting class my sophomore year from [Associate Professor of Economics and Business] Tim Moffit '80 that really sparked my interest in the field, but K didn't have an accounting curriculum. When I talked to Professor Moffit, he really listened to me and said, 'We will find a way for you to focus on accounting and still earn a degree from K.'"
He arranged for Carrie to take accounting classes at Western Michigan University that fulfilled her SIP requirement and provided credits toward the CPA exam. He then connected her with a recruiter at a large accounting firm. She landed a job before her graduation and worked in corporate accounting for 12 years.
Meanwhile, family reunions in South Haven were frequent and included sisters Megan and Amanda, their husbands and Carrie's husband Adam Troyer '05.
"We talked about craft breweries popping up in other cities, creating cool community gathering places, and even revitalizing small neighborhoods and towns. We wondered when one would open in South Haven." 
Soon, the idea turned to research and more family discussions. Carrie and Adam created a business plan and Three Blondes Brewing was in motion.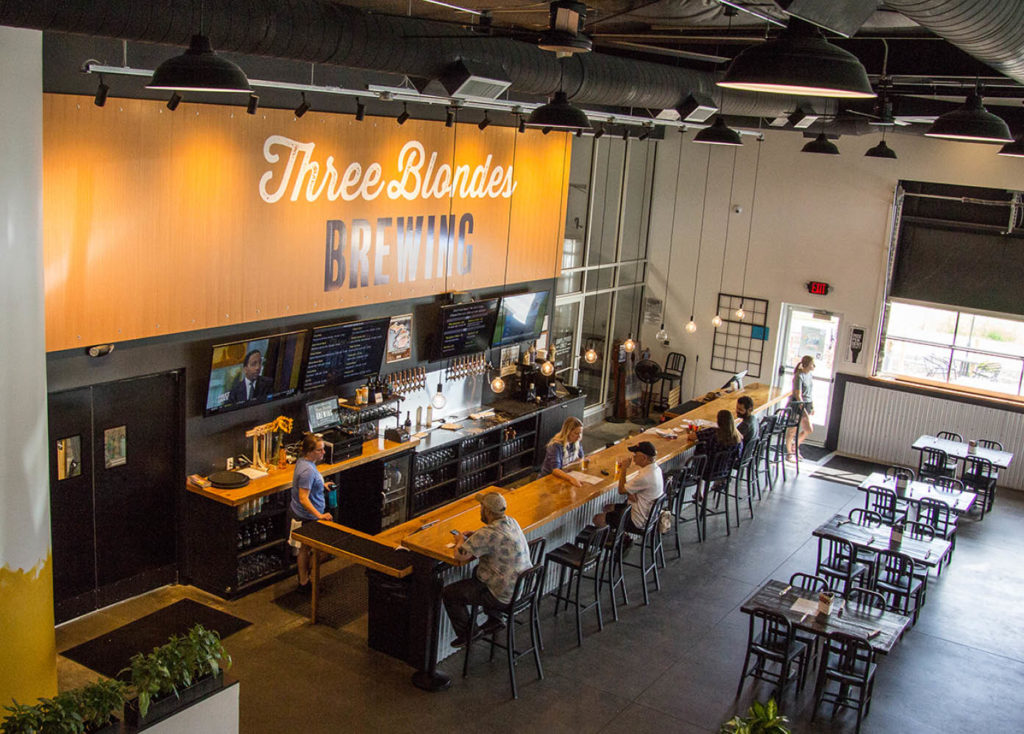 "Our goal was to create a place where family, friends, locals and tourists could gather to experience exceptional South Haven beer with a unique, locally based menu, and parking spots aplenty," she said.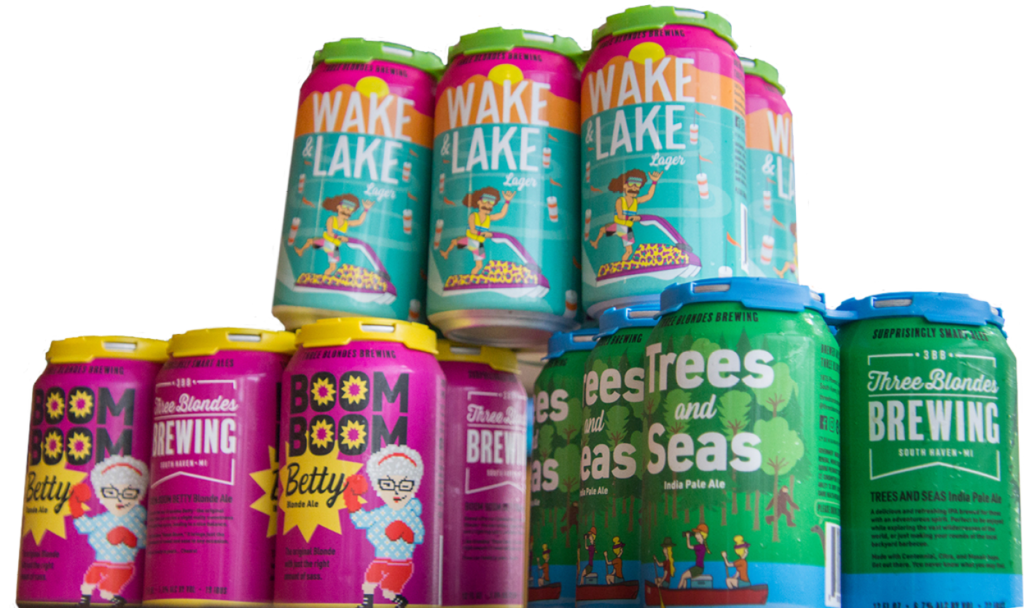 The most popular pour at Three Blondes is "Boom Boom Betty," a blonde ale (naturally) named for the sisters' grandmother. "Trees & Seas," a classic IPA that Carrie said might be her favorite, and "Wake & Lake," a light lager, are also popular. And because South Haven is the blueberry capital of the universe, they serve "Boom Boom Berry."
A few cider and white/red wine options are also available, as is a full food menu.
"We take pride in everything that comes out of our 'from scratch' kitchen and brewery," Carrie said. "We source as much local, family and sustainable foods/products as possible year-round and proudly serve Michigan-raised beef, turkey, eggs and pork. We have a lot of veggie options, too."
Engaging the local community is very important to the sisters, especially after the summer tourists depart. They host live music and trivia nights, fundraisers for school supplies and at-risk families, a holiday toy drive, arts and crafts classes…and you don't want to miss "Blondetoberfest."
During the "Day of Gracious Living" in May, K students get a discount—on food only! Carrie happily recalls borrowing her parents' convertible and driving classmates around South Haven during Day of Gracious Living when she was a student. It's one of her many fond K memories.
"Study abroad was amazing, of course. The econ department was so good to me. And the swim and volleyball teams were like having two more families. My entire liberal arts education continues to be so valuable. In a small business, you are called upon to play many roles. K prepared me well."
We'll drink to that, Carrie!
Bell's Eccentric Café & General Store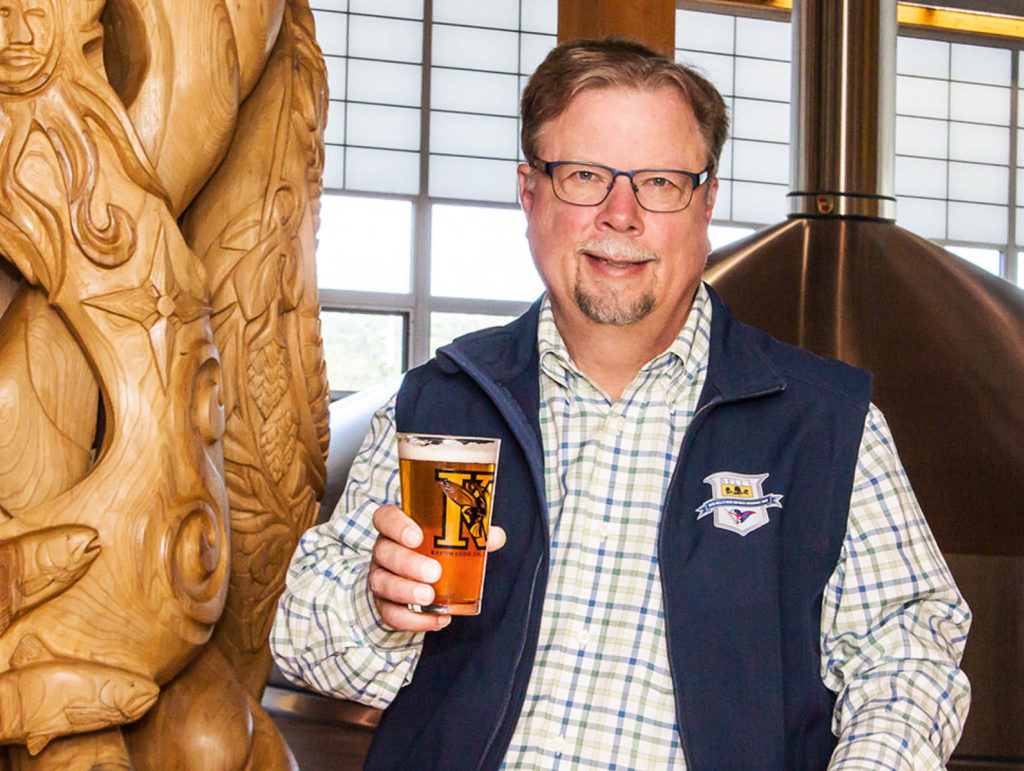 355 E. Kalamazoo Avenue, Kalamazoo, Mich., bellsbeer.com
Bell's Eccentric Café—just a one-mile stroll from Kalamazoo College through downtown Kalamazoo—is the epicenter of Kalamazoo's now bustling craft beer scene, begun in the early 1980s by Larry Bell '80, founder and president of Bell's Brewery, Inc.
High walls covered with some of Larry's old maps, quirky artwork and an extensive collection of beer memorabilia help Eccentric Café earn its name. It also boasts a concert venue called The Back Room that attracts national touring acts, a family-friendly beer garden with its own performance stage, a large patio and an on-site brewhouse.
Add in a casual fine-dining restaurant serving locally sourced, primarily non-GMO and sustainable ingredients made from scratch to complement its beer, plus a retail store selling Bell's beers, merch and homebrew supplies, and you'll find good vibes offered by few places in the North American beerosphere. 
Popular brews among the 20+ taps include Amber Ale, "the beer that helped build our brewery," Larry said. According to tasting notes on the brewery's website, Bell's Amber "features both toasted and sweet caramel notes from carefully selected malts, balanced with herbal and citrus hop aromas."
Oberon, a seasonal wheat ale, is also hugely popular, even though it's available only from late March until supplies run out, usually in September (except in lucky Arizona and Florida, where it's available year-round). Oberon is a wheat ale fermented with Bell's signature house ale yeast "mixing a spicy hop character with mildly fruity aromas."
Annual Oberon release parties are legendary at Eccentric Café and beyond.
"I had no idea a beer named after a Shakespeare character would be so popular," Larry said. "It took on a life of its own. I think it's all about spring and summer weather that's about to greet us each year."
Bell's top-seller now is Two Hearted Ale, an American IPA "bursting with hop aromas ranging from pine to grapefruit …balanced with a malt backbone." Named after a river in Michigan's Upper Peninsula, Two Hearted was recognized in 2019 as the "Best Beer in America" for the third year in a row by members of the American Homebrewers Association.
Larry's favorite? "Well, there's nothing like a cold Oberon on a warm summer day, but I'm really excited about our new series of beers inspired by Walt Whitman's book of poetry, Leaves of Grass."
Beer Central
As popular as Bell's Eccentric Café is, it's just the rich foam on top of the brewing behemoth that is Bell's. The business end of the operation lies seven miles east in neighboring Comstock. Here, in a 330,000-sq.-ft. brewhouse, you'll find most of Larry's 570 employees. In 2020, they will brew and ship nearly 500,000 barrels of beer. [Note: 1 barrel = 31 gallons. That's nearly 15.5 million gallons, 124 million 16-oz. glasses, or 165 million 12-oz. bottles and cans.]
By sheer volume of beer produced, Bell's is now the 7th largest craft brewer and 16th largest overall in the country—out of some 4,000—according to the Brewers Association. Bell's beers are sold in 41 states (and counting), plus D.C. and Puerto Rico.
BTW, if you're traveling through Michigan's Upper Peninsula, stop for sustenance at Upper Hand Brewery in Escanaba, Bell's northernmost outpost on the shore of Lake Michigan.
The brewery's downtown Kalamazoo and Comstock locations combine to make one of the true meccas of American craft brewing. Beer pilgrims by the busload arrive throughout the year to take free tours of each facility that cover the history of Bell's and brewing, plus sustainability, packaging, ingredients and quality. The tours are so popular that USA Today rates Bell's as #2 on its 2019 "10-Best Reader's Choice Brewery Tours" list.
"We're going for #1 next year," Larry said. "If you haven't taken a tour or even if you have, you'll want to see what we're adding."
Bell's Early Days
When asked whether his affinity for beer traces to his K days, Larry admits that he did live in a section of Trowbridge Hall that students affectionately called "Stroh's Row" when the legal drinking age in Michigan was 18.
"My interest in yeast, grains and fermentation didn't really begin until after I left K and took a job at Sarkozy Bakery in downtown Kalamazoo. I've been hip deep in all of these ever since."
Meeting Paul H. Todd, president of Kalamazoo Spice Extraction Company (now called Kalsec) in Kalamazoo, was also key.
"Todd's company was developing hop products for the homebrew market in England. They hired me to test some of their products by brewing beer at home. I visited the company every month with my brews to conduct taste tests. Making as much as 20 gallons a week in my basement, I learned a lot."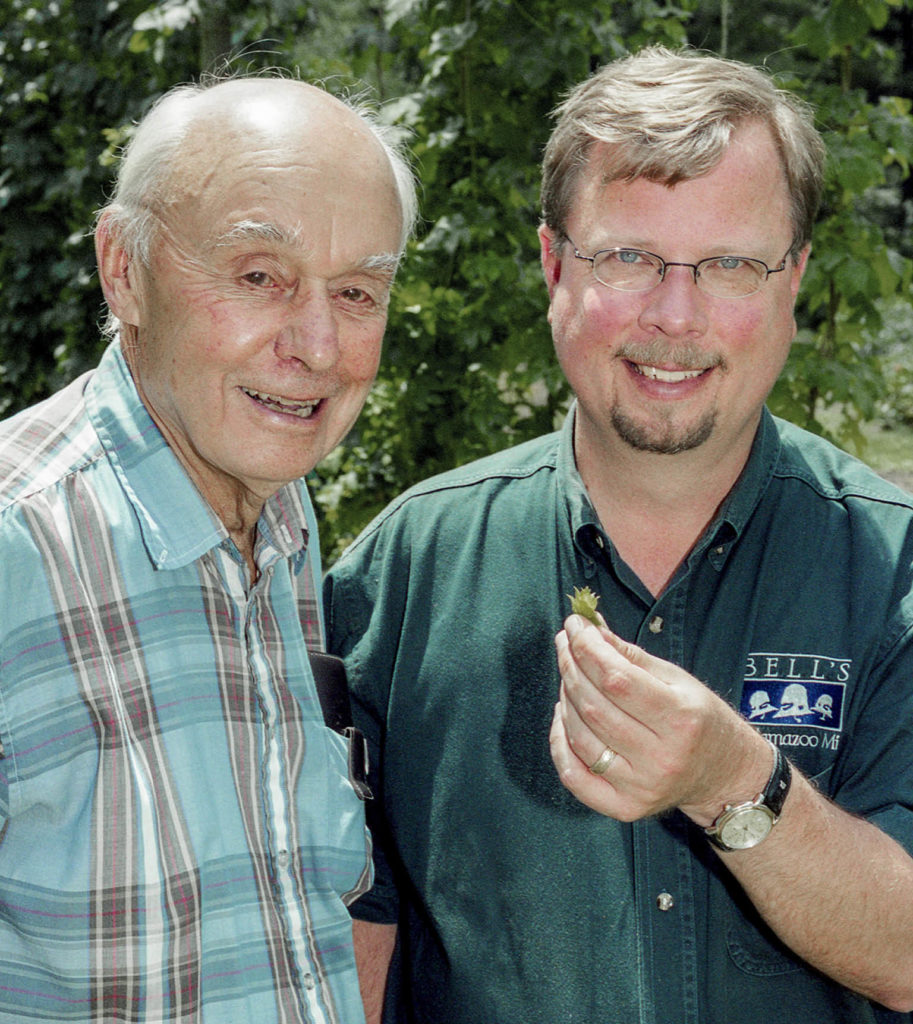 With seed money from Todd and other small investors—and after a six-week class at the former Stryker Center at K titled "How to Start a Small Business"—Larry opened a homebrew supply store under the name Kalamazoo Brewing Co. in 1983.
Brewing with a 15-gallon soup pot, he sold his first commercial beer on Sept. 19, 1985. Within a year, annual production reached 135 barrels. By 1990, Larry and nine employees brewed, bottled and distributed more than 500 barrels of his craft beers across Michigan and into other states.
When Eccentric Café opened in 1993, it was the first onsite pub at a Michigan brewery since Prohibition and became a catalyst for future growth in what had been a long neglected Kalamazoo neighborhood.
"It was pretty rough down here," Larry said. "There were a lot of abandoned factories and warehouses, a junkyard, prostitution, many homeless folks."
In the years since, Kalamazoo's "East Town to River's Edge Neighborhood" has become an entertainment and business hub with few empty buildings, many new ones and patrons galore. Other restaurants, coffee shops and another brewery have opened nearby.
Bell's Eccentric Café remains at its center.
Serving His Communities
As one of the "elder statesmen" in the craft brewers' community, Larry Bell is a sought-after advisor and has served in many leadership roles within industry organizations. He's also been an outspoken business advocate for clean water and the environment in the Great Lakes region.
Through the years, he's served and supported the Kalamazoo Brownfield Redevelopment Authority, Gilmore Keyboard Festival, Boys & Girls Club, Boy Scouts and many other local nonprofits, including Kalamazoo College.
Larry supports K's annual fund and a scholarship for students coming to K from the Chicago area where he grew up. He's been a guest lecturer in economics and business department classes led by faculty members Tim Moffit '80 and Amy MacMillan, and he's advised students in the K-Trek program who are exploring the intersection of business and sustainability.
Larry has also supported K students' Farms to K, Just Food Collective and Hoop House initiatives intended to increase the use of locally sourced food, bring more transparency to the food supply system and reduce the College's carbon footprint.
The Eccentric Café also hosts quarterly Hornet Happy Hours for local and visiting alumni.
Several K alumni work in fulltime business and science positions within the company. More than a few have held part-time jobs at Eccentric Café. Others have served internships.
"I tell students to cherish their liberal arts education, because life is complicated and it's great to know as much you can," Larry said. "A Kalamazoo College education is all about gaining experience and knowledge in many areas. It's worked for me and I've seen it work for many others through the years.
"K is a real gem. I love that students, faculty and staff are so involved in the community. They inspire me."
Cheers to that, Larry!