The first memory Donald L. Hafner '66 has of Kalamazoo College is of a pristine campus draped in freshly fallen snow.
The tall young man had traveled south from his home in Grand Rapids to visit the campus over his Christmas break. He was curious to see the college his high school librarian, Lodisca Payne Alway, a Kalamazoo College Class of '31 alumna, had told him about.
"She was the embodiment of a liberal arts education," Hafner recalls. "She was a mentor to me in high school, recommending books, telling me about her wide range of interests."
The librarian's advice was sound. As soon as he stepped into the snow on the Quad, Hafner knew he would attend Kalamazoo College.
"When I enrolled at K, the K-Plan was a new concept," he says. "I wasn't a very assertive type back then, and the College proved to be a prod for me, encouraging me to try new things, get involved in new experiences I might have never otherwise tried."
Still in his freshman year, however, Hafner's college experience nearly came to a screeching halt.
"I had been estranged from my father for some time," Hafner says. "In my freshman year, my mother had a mental breakdown. The marriage was coming apart. My father opposed my going to college and he told me I had to come home. He said he would no longer pay my tuition."
Hafner went to Dean Paul Collins, fighting back tears. He wanted to stay. Surely, somehow, he could stay and continue his education?
The dean was sympathetic to Hafner's plight and helped to put together a financial package that would keep the young man at K. It consisted of a scholarship, a loan and on-campus jobs.
"I scrubbed toilets in the residence halls, and I pulled hot dishes from the dishwashers in the cafeteria," Hafner says. "And I studied. I did what I needed to do to stay."
Yet there were far more positive aspects of Kalamazoo College that were even more memorable.
"Kalamazoo College developed me into the person I am today," Hafner says. He embraced the new K-Plan in its every offering.
"For study abroad, I chose the place I knew I would never get to, if it weren't for Kalamazoo College," he says. "All my K friends were going to Europe, but I chose Sierra Leone in West Africa. I went with a group of seven other K students, and we lived in the college residence halls there." The food in the dining hall was monotonous—rice with a sauce or a stew every day of the week. His weight dropped from 140 pounds to 125 pounds. Living lean was an experience he would never forget.
For his internship, Hafner traveled to Washington, D.C. He passed up the obvious option of working in a Congressional office ("That usually ended up as feeding paper into copy machines"), and instead he opted to work in the United States Department of Health, Education and Welfare office.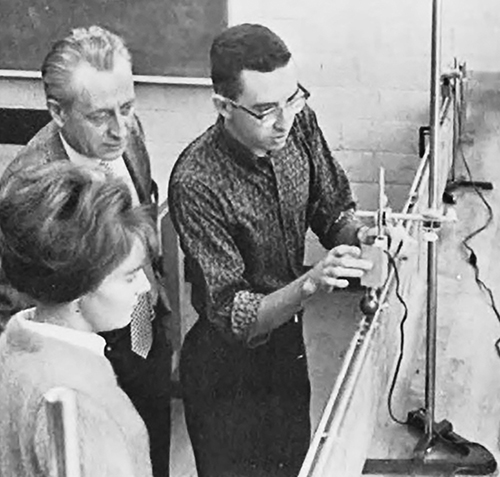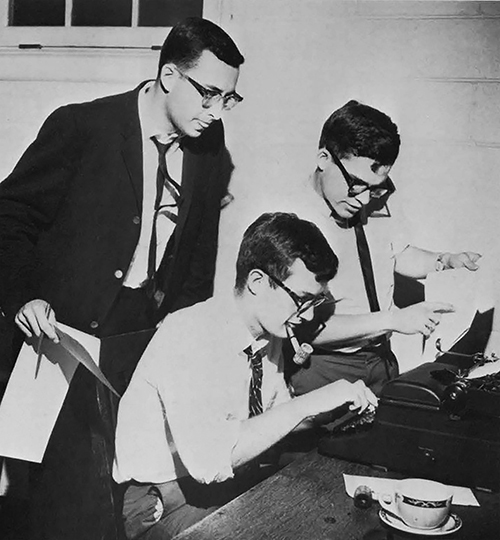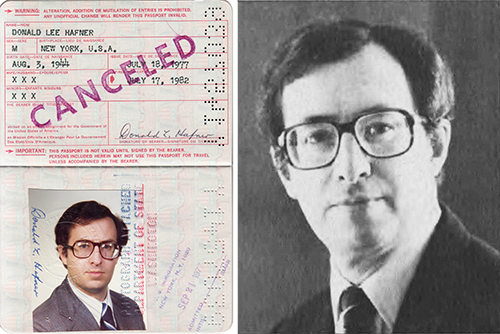 "I worked in the cancer control division, tracking cervical cancer screening programs," Hafner says. "I worked for women and with women mentors. Working for women, I found out, was different—they taught me valuable lessons in leadership that have helped me throughout life."
In his senior year, Hafner worked on a Senior Individualized Project (SIP) about American foreign policy, once again in Washington, D.C., conducting his research in the Library of Congress.
"I was given a desk in the bowels of the library," Hafner recalls. "Any book I wanted, I just asked and within five minutes, it was delivered to my desk. I was surrounded by college professors writing their own books. It was a wonderful experience. Again, all because of Kalamazoo College arrangements."
Hafner's interest in international politics and foreign policy remained with him, and after graduating from K, he went on to the University of Chicago, earning his master's degree in 1968 and his Ph.D. in political science, specializing in international politics, in 1972.
A newly minted Ph.D., Hafner moved to Boston, returning to the classroom, but this time as a college professor at Boston College, teaching international politics, American foreign policy, international politics of Europe, national security policy and about the Vietnam War.
Tucked within those years at Boston College, Hafner returned to Washington, D.C., to serve with the U.S. Arms Control and Disarmament Agency during the Carter administration, from 1977 through 1978. That, too, he attributed to Kalamazoo College.
"I learned to write well at K," Hafner says. "When someone needed a report written on arms control, I quickly volunteered where others were reluctant, knowing that well-crafted writing could shape the policy debate. It was something I enjoyed. I was sent to Geneva for the U.S. SALT II nuclear arms negotiations, and there was great joy in that."
Hafner also served as an analyst for the National Security Council SALT and Anti-Satellite Arms Control working groups. At the end of 1978, he returned to Boston College, where in 2007 he was promoted to vice provost for undergraduate academic affairs, until he retired in 2014, rounding out an academic career of 43 years. His legacy at Boston College included his work on developing the University Fellowships Program, aiding many hundreds of students to win national and international fellowships. Working with his faculty colleagues, he helped to establish the faith, peace and justice academic minor, the political science department honors program, the international studies major and the global public health program at Boston College.
"I like to say that I have had 6,000 children, and I am proud of every one of them," Hafner smiles.
Hafner likes to think his experiences in the Kalamazoo College classroom prepared him to teach new generations of students. He cites a history professor who taught him African politics and another in religion who taught him critical thinking skills and developed his lifelong intellectual curiosity.
"My history professor, John Peterson, asked me for another copy of a paper I had done for him, to keep in his own files. I remember how complimented I felt," he says. "And John Mark Thompson in religion was also an important influence in my freshman year. He taught us to be open-minded as we confronted contradictions and puzzles in the synoptic gospels. He taught us to ask questions; he got me to think about things I'd never considered before—all of that was a wonderful experience that shaped me."
That life-shaping experience, Hafner says, was one that he wanted no student at K to be denied. He would never forget his financial hardships that so nearly led him to leave Kalamazoo College in his freshman year. Looking back, that might have changed—everything.
"And so, my wife Mieko—she, too, comes from an academic background—agreed that we should establish an endowment at Kalamazoo College to help other students who might be facing financial hardships. It will take a few years to fully fund it, but I understand the endowment has already helped a few students stay at K."
The Donald Hafner and Mieko Kamii Scholarship was established in 2016. The scholarship aids students experiencing financial emergencies. Dr. Kamii, now also retired, was a professor and administrator at Wheelock College and Roger Williams University.
Retirement has not meant shelving his interests or sense of responsibility to pay forward what Hafner feels he was given. Hafner, who earned the Kalamazoo College Distinguished Alumni Award in 1987, has served on the Kalamazoo College Board of Trustees since 2016. He is a member of the Lincoln Historical Society in Lincoln, Massachusetts, volunteering as a tour guide and interpreter and participating in historical reenactments and school programs.
"I dress in the historical garb of a minuteman of the American Revolution, and to play the part, I challenged myself to learn to play the fife, an 18th century instrument," Hafner says.
Playing the fife, Hafner says, is another challenge he might never have taken on but for that Kalamazoo College prod, that nudge to expand his horizons, to try the new and unusual and to learn something he might have otherwise never considered.