K launches a new learning framework to help students take on the world's biggest challenges
By Katherine Rapin '15
Photography by Keith Mumma
K students especially, as they always have, want to affect change. And this fall, the college is launching an innovative approach that will better equip students to take on our biggest contemporary challenges: the Pathway.
Climate catastrophes. Pervasive injustice and systemic racism. Pandemics. The number and scope of pressing crises students face today is daunting. Fewer young people are content with a college experience that will help them "find themselves" and a degree that will get them a good job—because they know that's not all they'll need for their future.
This new framework of learning is distinct from a minor or concentration—the requirements are more flexible and the purpose much deeper.
"It's a way of pulling together our offerings around a specific theme or topic or wicked problem in the world," says Amy Newday, the professor of English, farmer, and Civic Engagement Mellon Fellow charged with leading the first Pathway.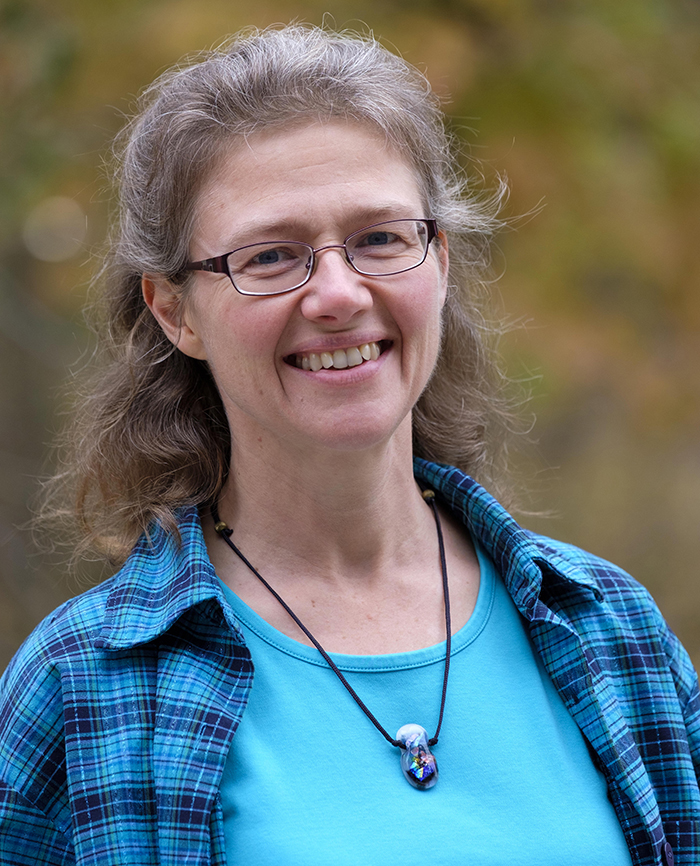 Newday was part of conversations around strengthening experiential learning at K, the focus of an $800,000 Mellon grant Kalamazoo College received in 2018, and part of the larger goal of expanding the impact of the K-Plan as both the world and students at K change.
"We want our K-Plan to be flexible enough and useful enough to work for all of the students who come to Kalamazoo College today, and they have really different needs, backgrounds and hopes," says Alison Geist, director of the Mary Jane Underwood Stryker Center for Civic Engagement (CCE). K's student population is more economically diverse and, in the last ten years, the percentage of students of color on campus has grown from about 17 to about 40 percent.
Through the design process, "We were looking for ways to create a future that is more fully inclusive—for all of our students—and also responsive to the needs of the world," says Geist.
The Pathway is founded on the idea of praxis: turning ideas into on-the-ground work, and then allowing the space to reflect. It aims to show students the interconnections between and value of learning from their civic, personal and professional lives, and to empower them to make change.
This fall, students will be able to join the first Pathway, focused on food and farming justice. The foundational issue is deeply tied to so many other challenges—like exploited labor, environmental degradation and health disparities. And it's the basis of life–sustenance that must come before everything else, to which we are all connected.
"[Food and farming justice] has generated more excitement among all constituencies—students, staff, faculty, alumni and donors—than any other single area of our work," says Geist.
There are already many experiential learning opportunities related to food at K, thanks to passionate professors who have created food-focused courses and forged relationships with organizations in the Kalamazoo community.
Food Justice in Context at K
Much of the recent legacy of education around food systems at K can be traced back to English professor Amelia Katanski's first-year seminar, "Cultivating Community." Students learn about our country's mainstream industrial food system through reading about factory farming and monocropping in Michael Pollan's The Omnivore's Dilemma, and about migrant farmworkers and exploitation of labor in Francisco Jiménez's The Circuit: Stories from the Life of a Migrant Child.
They explore alternative systems in the Kalamazoo community by talking with local farmers, community organizers and farmworkers' advocates, and participating in service-learning with the People's Food Co-op.
For Samantha Rodriguez '22, who has been working with Newday to develop the Pathway framework, Katanski's seminar sparked her interest in food. She was shocked to learn "how we've commodified [crops] and how we put antibiotics into animals and pesticides on plants, so we can mass produce them," she says.
"We were looking for ways to create a

future that is more fully inclusive, for all of our students, and also is responsive to the needs of the world."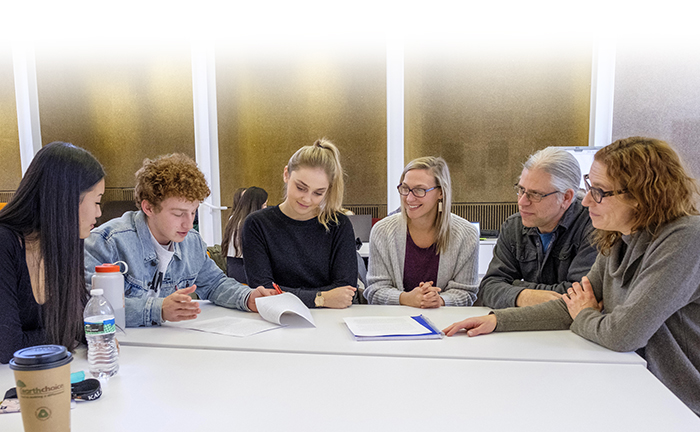 For the first time, she, like many students, was faced with the devastating fact that the way we eat largely depends on exploited labor, stolen land, degraded ecosystems and animal cruelty.
Through her work at Club Grub, an afterschool food and nutrition program at Woodward Elementary, Rodriguez was also realizing the disparity in access to healthy food and alternative systems.
"I was working with predominantly brown and black students who would enter the classroom, and say, 'Kale? Oh my gosh, it literally looks like poop!'" She says. "I was thinking, how do we make healthy food more accessible and also remove that stigma of healthy food only being for a certain type of people?"
It's one question also being asked by the Just Food Collective, a student organization that grew out of Katanski's seminar back in 2005—then called Farms to K.
"Our service-learning project that quarter was to assess the possibility of developing a farms-to-cafeteria program at K," says Katanski. Students talked with local farmers, food activists in Kalamazoo and the dining services manager at Sodexo. Spurred by interest in the community and Sodexo's openness to the conversation, the group was invested in continuing the work, and launched Farms to K as a student organization.
Its work has grown and changed over the last 15 years. When Sodexo's contract was up for renewal in 2013, the group worked to rally campus around selecting a new dining services provider that would be further committed to responsible sourcing and fair wages for cafeteria workers. In 2018, students built a hoop house on campus to extend the growing season of the campus garden and gain a deeper connection to growing food.
"We realized that none of us know how to farm," says Yasi Shaker '20, recent civic engagement scholar for the Just Food Collective. "We thought, wouldn't it be cool to have more of an experiential space, where we can not just talk about farming, but actually do it and connect our community to the land?"
She hopes it will help address campus hunger, too. During the pandemic, Shaker and her housemates were distributing food grown in the hoop house to students in need.
Shaker first became interested in food systems through Newday's first-year seminar, "Roots in the Earth," and she was part of the student design team that worked to develop the Pathway framework. She graduated last spring, with plans to carry on her food work in the next community she joins.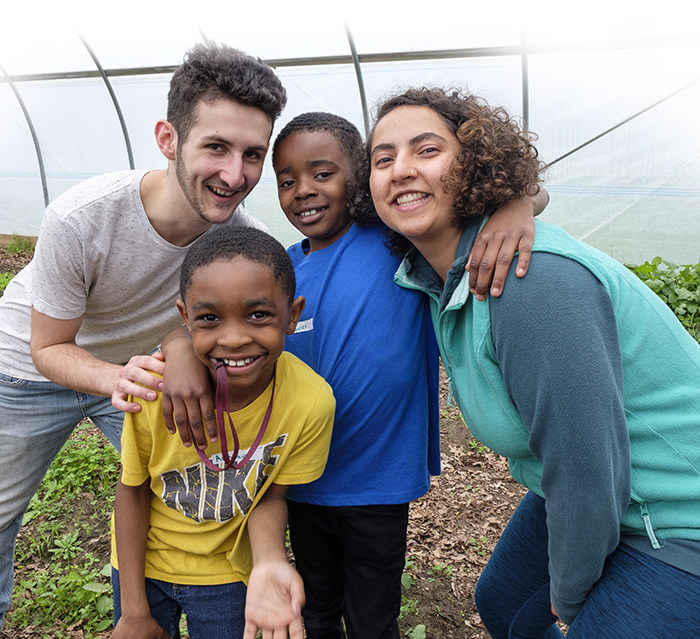 Making the path by walking
There is momentum around food justice at K; students are already engaging with food justice in many ways, and the Pathway will serve to connect and further define their learning.
"We're trying to provide structure for students to ground all the experiences that they're having around the theme and topic that they care deeply about," says Emily Kowey '17, assistant director for innovation at the CCE.
Kowey worked with Newday and the student design team to develop the framework for the first Pathway last fall:
Students will cultivate an interdisciplinary, critical understanding of food and farming systems; reflect on their personal identity and place within these systems; and develop their agency and abilities to act effectively in relationship to these systems.
Students will do this by examining their relationships to the land, themselves and their community, starting in the Foundations course, which Newday will debut this fall.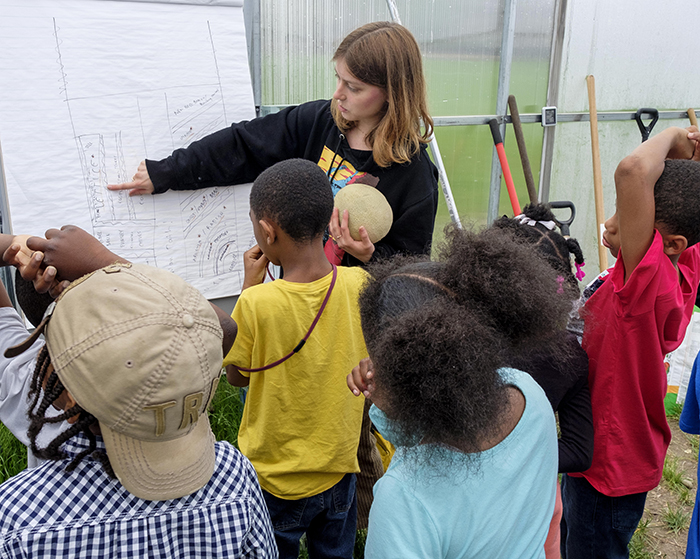 The goal of the course is to introduce students to the systems we live and work in and our role in them. "How do we, as individuals and members of communities, move within those systems? How do we create change both on a personal level and on a systemic level?" Newday says.
She aims to help students build context around their place in the world and reflect on their own purpose.
"What are your passions? What are your skill sets? What are your curiosities? What are the experiential learning opportunities that are available to you that will help you explore the person that you want to be and the world that you want to live in?" Newday says.
Also embedded in the course is something truly foundational: wellness. Examining massive systemic problems—on top of a staggering academic workload and the often tumultuous process of finding independent identity—can cause anxiety, depression and burnout among students. Newday plans to structure the course to give students a way to practice wellness, which is often thought of as an individual pursuit, together. "How do we create this class community that cultivates wellness in a culture that doesn't?" she says.
Students can take the Foundations course at any point during their time at K; it will serve as the prerequisite for experiential, community-based learning projects. Other "required courses" are open-ended; students should take a course that deepens their understanding of food and farming systems, a course that encourages critical thinking about social justice, and a physical education course that teaches hands-on gardening, land-stewardship or cooking skills.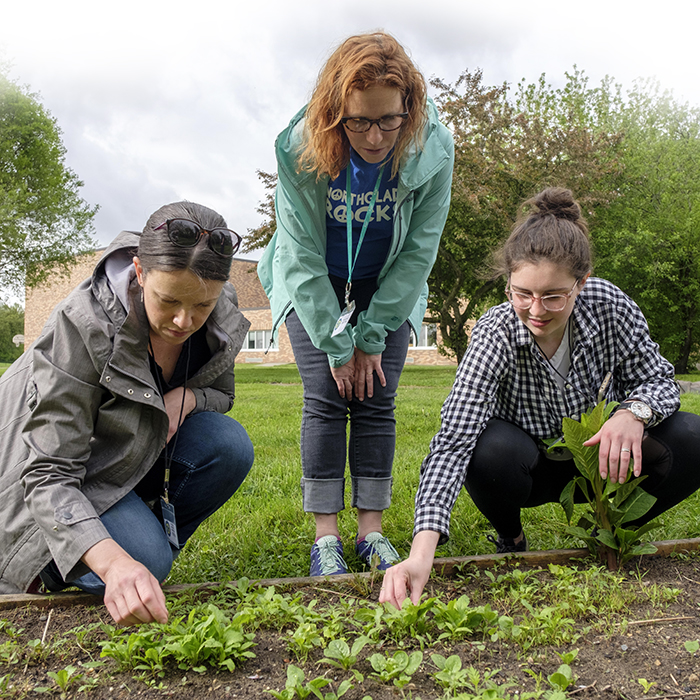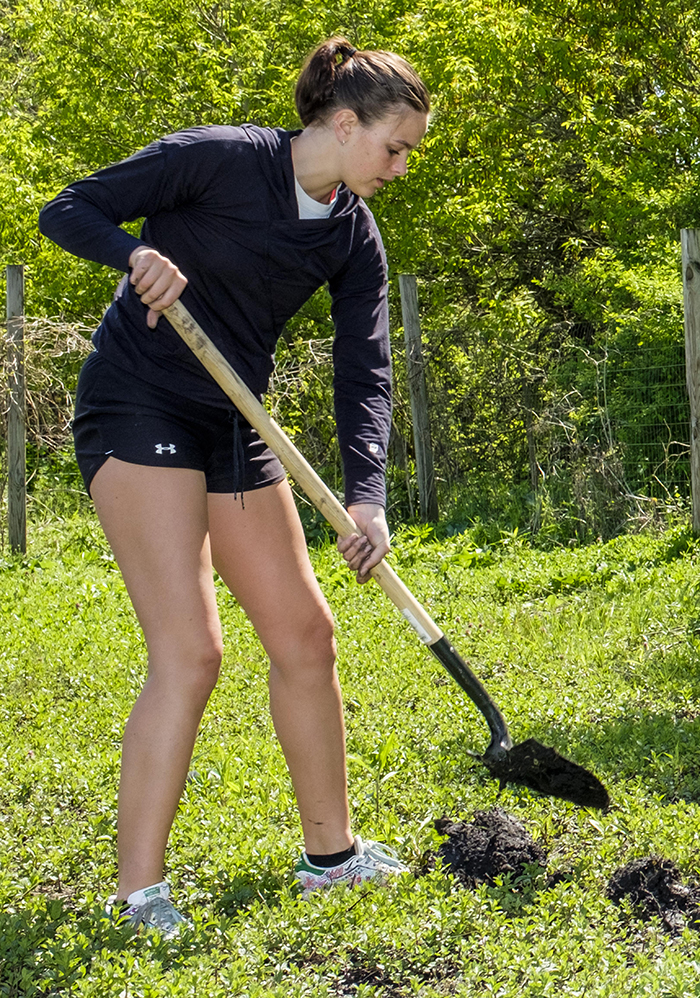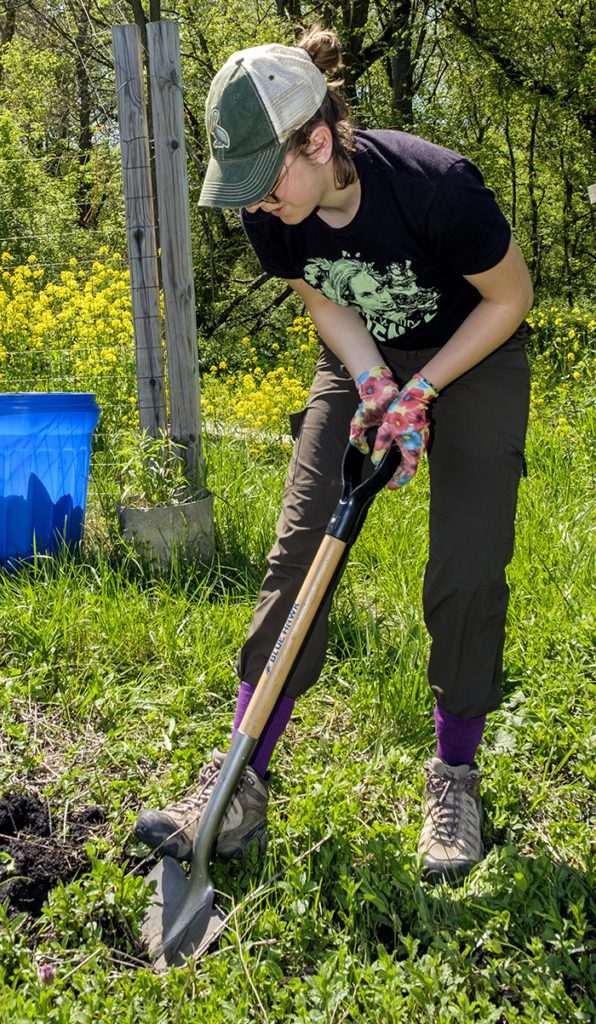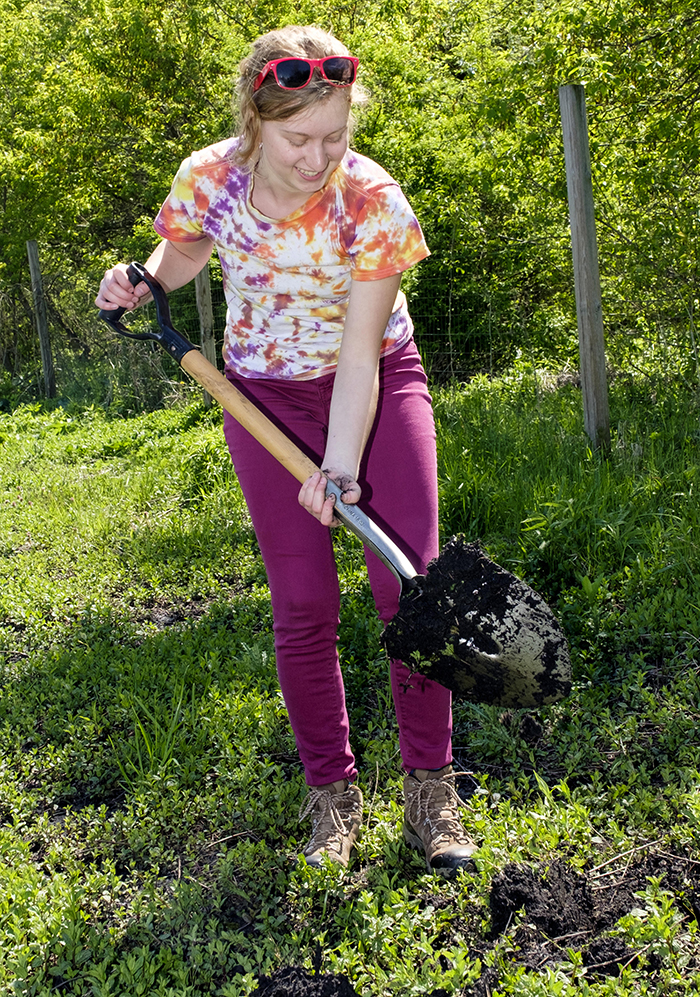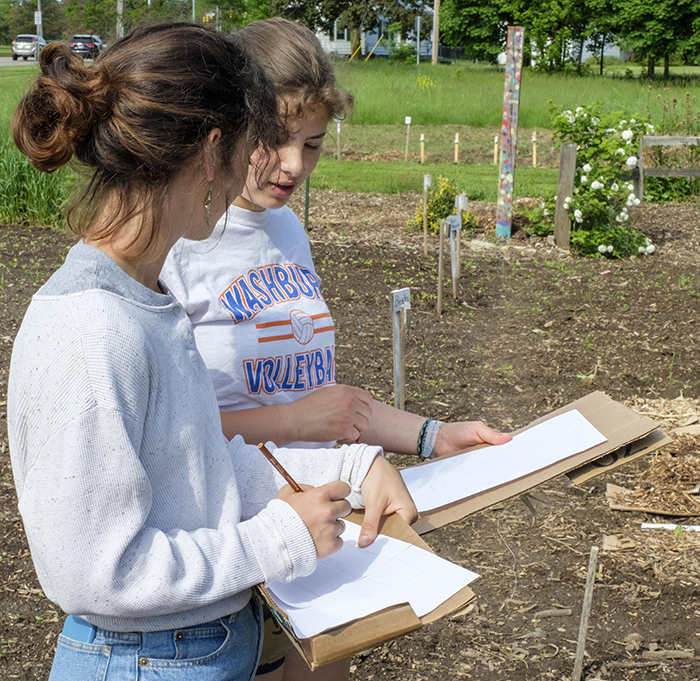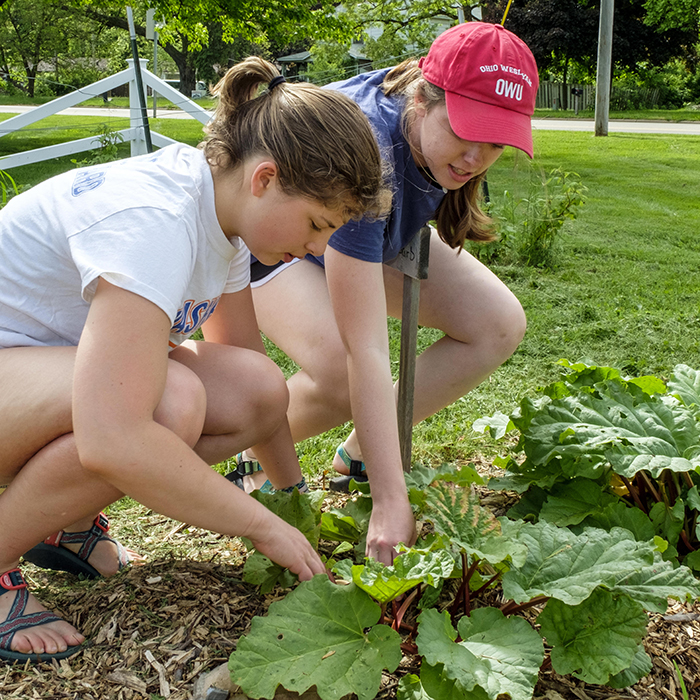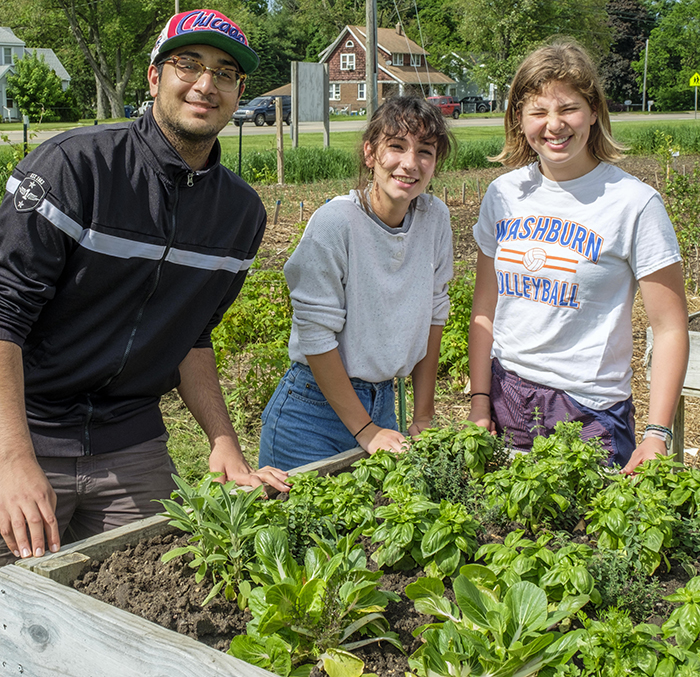 K students work in the community garden at Interfaith Homes.
As students complete these first steps, they will be eligible for more opportunities, including leading community-based projects and mentoring other students in the Pathway.
Over the years, the CCE and professors like Katanski have developed strong community partners, including Fair Food Matters, the Vine Neighborhood Association, Kalamazoo Loaves and Fishes and Woodward School for Technology and Research. Katanski hopes to develop long-term community projects that Pathway students will work on over the course of a year or more. Taking on a piece of a larger project could provide opportunities for deeper involvement with community partners, where they can "invest some time in giving context and knowledge and information to students so that students can then put it right back into the project and do something that ends up being really meaningful for the partner, too," Katanski says.
And throughout these experiences, students will be given opportunities to reflect—both internally through completing exercises, and in conversations with peers and mentors. It's an antidote to the non-stop culture of K. "A lot of students really live by the motto, 'More in Four'," says Kowey. "We also want them to pause and really think about what they're doing and why they're doing it. What are you really learning? How is it impacting you? Your peers? Your community?"
Food and Farming Justice is only the start. The next Pathway will likely focus on cities—how students can be a part of shaping the future of our cities. And what comes after is yet to be determined. "We are making the path by walking," says Geist (quoting Antonio Machado).
She envisions that students' work in the Pathways will overlap, creating even more opportunities for interdisciplinary learning. "Helping people discover the ways that intersectionality exists in us as human beings, but also in the issues that we address—that's a powerful objective."