Click a decade to jump to that decade's class notes.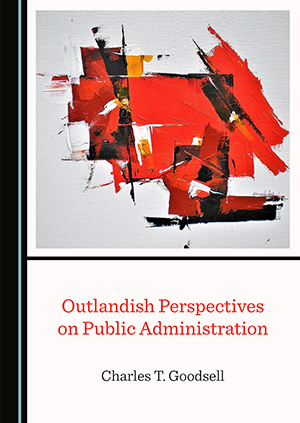 Charles True Goodsell '54 has published his 15th book, Outlandish Perspectives on Public Administration (Cambridge Faculty Publishers, 2021). This book brings together Charles' works on public administration, some of which are of ancient vintage or go outside the field for inspiration, possibly earning the appellation "outlandish." Such essays draw from fields including symbol analysis, theory of art, room phenomenology and theories of public space. The book also deals with more orthodox topics, such as bureau culture, government contracting and the early New Deal. The author's methodological biases, placed in full view, will assure controversy. The book ends by encouraging young new scholars to have fun by picking unusual topics and treating them at a fresh angle. Charles is professor emeritus of public administration at Virginia Tech in Blacksburg. He received his B.A. from Kalamazoo College and his M.P.A., M.A. and Ph.D. from Harvard University. His late (namesake) father was a professor of history at K between 1928 and 1941. He is the author of 14 books, 40 peer-reviewed articles and ten book chapters. His primary field of interest has been public administration, while his work also explores international corporations, history and architecture.

David '67 and Ellen (Taylor) '65 Freytag have been retired and are settled on acreage in the countryside of northern Trinity, Alabama. At retirement, David received a 50 years of service award. He started as student manager with Saga Food Service at K. Then, Saga became Marriott, and then Sodexo. Before her retirement, Ellen taught French, history, English to Speakers of Other Languages, English and home school. She earned a master's in creative writing. David and Ellen have three children and four grandchildren in Alabama and in Florida.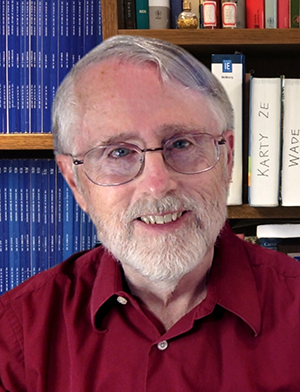 Dan Mattern '70 was selected as the inaugural holder of the Andrew Stefani and Eldon Miller Chair for Teaching Excellence at the University of Mississippi for 2021–24. He has been on the faculty since 1980, and has previously won the Elsie M. Hood Outstanding Teaching Award for the University, and the Outstanding Teacher Award from the College of Liberal Arts. During the pandemic year on Zoom, he "flipped" his organic chemistry classroom, recording all the lectures on video for students to watch outside of class. During class, he monitors students as they work problem sets in small groups to solidify their understanding. The big advantage: when students have misunderstandings, it's possible to catch and correct them right away.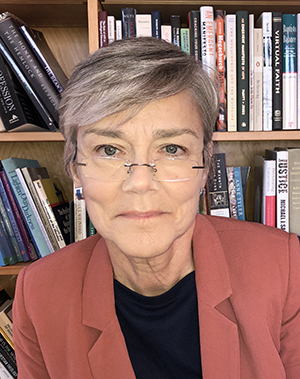 Leigh (Hunt) Greenhaw '72 plans to attend the 2022 reunion with her husband, David, and looks forward to seeing any and all related to the class of 1972. Retired from law teaching at Washington University in St. Louis, Leigh still teaches an online course for lawyers licensed abroad. She and her husband normally live in St. Louis, but this year, his work took them to Naples, Florida, until May 2023. Leigh and David have two adult sons, who are a minister and an educator, and four grandchildren.
Joe Folz '75 retired in 2019. Joe spent his career as a lawyer in the automobile industry, as he always intended. After he graduated from the University of Michigan Law School, Joe spent three years at General Motors, then 40 years (to his and perhaps others' surprise) at Volkswagen, then 10 years at Porsche. Joe has moved to Naples, Florida, where he refuses to leave cars; he will be a caretaker and docent at the Revs Institute, which has a world-class array of competition Porsches and is highly recommended. Joe will always welcome the chance to talk about Porsche or Kalamazoo College with anyone else so disposed.
Clint David '77 retired from the practice of law and moved to retired partner status with his firm as of March 31, 2022, after a 42-year career. Clint began practicing law with a large downtown Dallas law firm in 1980. In 1984, he left that firm and started his own law firm as a sole practitioner. Over the next 30 years, he built his firm to 18 attorneys, with a total of 43 employees, where he served as managing shareholder. In 2014, his firm merged with national law firm Fox Rothschild. For the first five years after the merger, Clint served as office managing partner of the Dallas office and on the firm's executive committee. His Dallas office was and remains Fox's only Texas office after over a century in business. "I am truly looking forward to what's next for me, which is a growing list of activities and fun I haven't had the luxury of time to pursue," Clint wrote. "Building a business can be all-consuming. See you during the next chapter!"

Governor Gretchen Whitmer appointed Christopher P. Yates '83 to the Court of Appeals – District 3. At the time of the appointment, Chris was a judge with the 17th Circuit Court of Kent County. Prior to his time with the courts, Chris was a partner with Yates, LaGrand & Denenfeld, PLLC and Willey, Chamberlain & Yates, LLP. He has also served as the chief defender for the Federal Public Defender's Office, as an assistant U.S. attorney, and as an attorney and advisor for the U.S. Department of Justice. He began his law career as a law clerk to Chief U.S. District Judge James Churchill and to U.S. Appellate Judge Ralph Guy. Chris earned his Juris Doctor degree and Master of Business Administration from the University of Illinois. He is the current president of the Michigan Judges Association, vice president of the American College of Business Court Judges, a member and former president of the Grand Rapids Bar Association, and an appointed council member of the judicial section of the State Bar of Michigan. Chris is a long-time resident of Grand Rapids where he lives with his wife, Janice, and their twin daughters. This appointment was made to fill a partial term, which will expire on January 1, 2023.
Anne (Buckley) Dueweke '84 published Reckoning: Kalamazoo College Uncovers Its Racial and Colonial Past (Myers Education Press, 2022), the story of how American ideas about colonialism and race shaped Kalamazoo College. Beginning with its founding in 1833 during the era of Indian Removal, the book follows the development of the College through the Civil War, the long period of racial entrenchment that followed Reconstruction, minstrel shows performed on campus in the 1950s during the rise of the Civil Rights movement, Black student activism in the wake of Martin Luther King's assassination, the quest for multiculturalism in the 1990s, and the recent activism of a changing student body. By examining the ways in which a progressive, Midwestern college has absorbed, resisted and perpetuated American systems of colonialism and racism, the book challenges higher education to use this moment to make the deep, structural changes necessary to eliminate disparities in experiences and outcomes among students of color and their white peers. To learn more, read our K news piece on the book.
Innoviz Technologies Ltd. has appointed Scott Craig '87 as country manager of the U.S. Scott will be responsible for sales and business development of Innoviz LiDAR products and associated software in North America. Scott brings decades of experience in the semiconductor and automotive industries, previously serving as the executive director of Automotive Strategy and OEM Business Development at semiconductor company onsemi. Prior to joining onsemi, he served as global account executive at Infineon. Scott holds a B.A. in physics from K, a B.S. in electrical engineering from Wayne State University, and is working on a M.A. of Divinity from Fuller Seminary. Innoviz is a global leader in LiDAR technology, working toward a future with safe autonomous vehicles on the world's roads.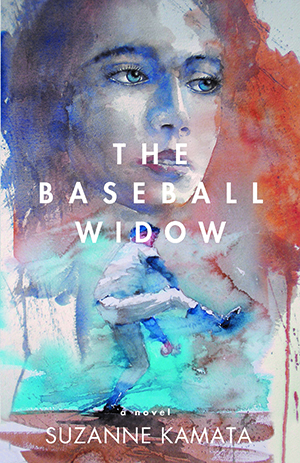 Suzanne (Borsum) Kamata '87 published the novel The Baseball Widow (Wyatt-Mackenzie Publishing, 2021), about a bi-cultural family in crisis. When Christine, an idealistic young American teacher, meets and marries Hideki Yamada, an aspiring Japanese high school baseball coach, she believes their love will be enough to sustain them as they deal with cultural differences. However, Hideki's duties, and the team of fit, obedient boys whom he begins to think of as a surrogate family, take up more and more of his time, just as Christine is struggling to manage the needs of their sensitive son and their daughter, who has multiple disabilities. Things come to a head when their son is the victim of bullies. The Baseball Widow explores issues of duty, disability, discrimination, violence and forgiveness through a cross-cultural lens. Although flawed, these characters strive to advocate for fairness, goodness and safety, while considering how their decisions have been shaped by their backgrounds. The Baseball Widow was selected as an official 2022 pick by the International Pulpwood Queens and Timber Guys Book Club, Shelf Unbound 2021 top notable book, and finalist for the William Faulkner—William Wisdom Creative Writing Competition and was shortlisted for the 2021 CIBA Somerset Book Awards. The Japan Times says, "Kamata's authentic glimpse into Japanese life is appealing and her prose deftly exposes her characters' flaws while evoking empathy. The Baseball Widow is a moving read of great emotional depth."
Scott Nowling '87 was named summa cum laude of Western Michigan University Cooley Law School's Samuel Blatchford Class during the law school's graduation ceremony at Michigan State University Auditorium on May 12. He ranked first with a cumulative grade point average of 4.0. Scott is one of 17 WMU-Cooley students who have graduated with a 4.0 GPA since the law school's first graduating class in 1976. While at WMU-Cooley, Scott founded the Health Law Society and served as its president for two terms. Additionally, he was a member of the law school's National Health Law Moot Court team; wrote for the student newspaper, The Pillar; and externed at McKeen & Associates in Detroit, and with Justice Elizabeth Welch at the Michigan Supreme Court. Scott earned certificates of merit for academic excellence in Research & Writing, Advocacy, Criminal Procedure, Scholarly Writing, Evidence, Medical Malpractice, Property I & II, Appellate Advocacy/Moot Court, Equity & Remedies, Drafting, Expert Witnessing, Taxation and Bar Exam Skills. Before attending WMU-Cooley, Scott received a bachelor's in economics from K, and a Master of Business Administration from the University of Michigan in 2002. Scott, who has enjoyed a 27-year career in field management at Johnson & Johnson, will join McKeen & Associates in June—first as a law clerk and then as associate attorney.
Craig Tooman '88 has been appointed president, chief executive officer and board member of Silence Therapeutics, a leader in the discovery, development and delivery of novel short interfering ribonucleic acid therapeutics for the treatment of diseases with significant unmet medical need. Craig previously served as chief financial officer of Silence. He joined Silence in January 2021, and brings more than 30 years of operational, financial and merger and acquisition experience. Most recently, he was chief operating officer and CFO at Vyome Therapeutics; prior to that, he was CEO of Aratana Therapeutics. Before Aratana, Craig was CEO of Avanzar Medical Inc., a private oncology company, and CFO of Enzon Pharmaceuticals until its acquisition by Sigma Tau. Prior to that, he led the $1.1 billion merger and acquisition initiative and integration of ILEX Oncology and Genzyme Corporation. He also held key positions at Pharmacia and Upjohn. Craig currently serves on the supervisory board and audit committee of CureVac, which accomplished a successful initial public offering on Nasdaq in August of 2020. He holds a bachelor's in economics from K and an M.B.A. from the University of Chicago.

Politico has hired Adam Allington '99 as senior producer for audio, helming Playbook Deep Dive, Politico's flagship political podcast. Adam joins from Bloomberg Industry Group, where he recently served as senior audio producer for podcasts. Before that, he was an environmental reporter. He has covered the auto industry, retail sales and supply chains for "Marketplace." He has also reported for St. Louis Public Radio and worked freelance for the BBC and NPR, among others.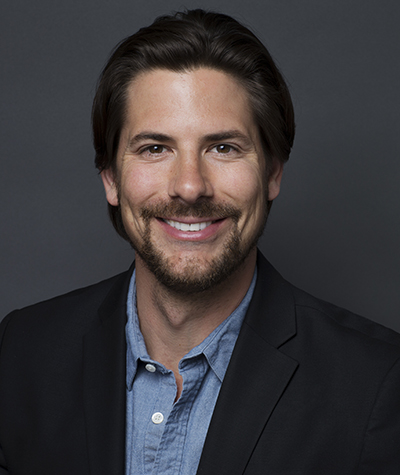 Aaron Thornburg '02, a professor of international business at Seattle University, still fosters Michigan roots and his love for all things cultural, with which he was inculcated at K. As part owner of the Hobson Flats building in Grand Rapids, he is collaborating with Korean street artist Royyal Dog, globally known for photorealistic murals installed on buildings around the world. The massive mural will be a public art project celebrating Asian culture and promoting a message of unity and will portray a woman in traditional Korean hanbok along with the message, "Peace on Earth, Good Will Toward All." The Hopson Flats apartment building is located across from Founders Brewing Company, which is planning to introduce a special brew to welcome Royyal Dog and the project to the city. Hopson Flats is at 212 Grandville Ave. SW, recently commemoratively renamed Cesar E. Chavez Ave. SW.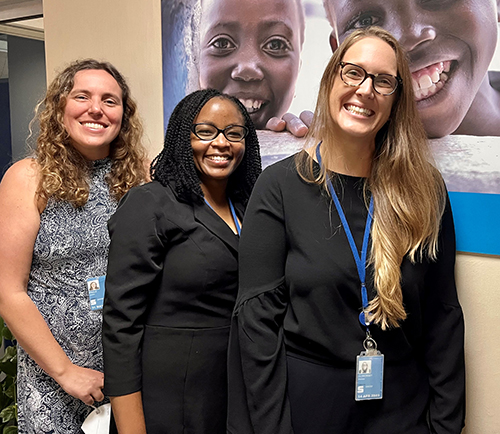 Paloma Clohossey '11 writes, "Greetings from East Africa! I'm reaching out to share some lovely news that there are currently three Kalamazoo College alumni working for the UNICEF Eastern and Southern Africa Regional Office here in Nairobi, Kenya. In addition to myself, my colleagues, Annika Rigole '04 and Sharon Musee (who was a 2009 international student at Kalamazoo College through the University of Nairobi exchange program), are all here together. It also happens that I studied abroad in Kenya through Kalamazoo's program. We were thrilled to learn about this magical coincidence and so are sharing the above photo." Read more about their story in K News.
Quinn McCormick '14 successfully completed and passed the Project Management Academy Certified Associate in Project Management Certification Training and has been awarded the Certified Associate in Project Management. Quinn is responsible for assisting with Greenleaf Trust's compliance and risk management processes through policy and procedure development, regulatory research and implementation and process improvement initiatives. She has been in financial services with Greenleaf Trust for over seven years.
Warner Norcross + Judd LLP recently welcomed Joshua R. Reuter '18 to the firm. Reuter received his law degree summa cum laude from MSU College of Law. He has a bachelor's degree in political science from K. Joshua interned with the Jackson County Prosecutor's Office.
---
Have a ZooBit to Share?
Did you get married? Have a baby? Get a new job or move to a new city? Tell us about your recent travels, career developments, family updates, mini-reunions or anything else! Photos are welcome. Use our online form or email us to submit a note. If you email, please include your class year.
---