by Sarah Frink
The Amazon spheres feel as far from a classic corporate setting as you can get: In this verdant tropical biodome, 40,000 varieties of leafy plants crawl up walls and adorn pathways; lush trees hang over benches; the smell of damp earth lingers in the humid air. Patio tables sit on overhangs for meetings, couches circle small tables, and wooden nests and jungle-like nooks invite workers and visitors alike to gather. Amidst the din and bustle, you catch the accents of the world—Spanish, Dutch, Chinese, to name a few—as Amazonians escort guests around the scenic central sphere. The spheres are a place where employees can think and work differently, the kind of environment that might attract and keep the kind of talent Amazon is looking for: customer-centric innovative leaders at all levels.
This is our first stop as we catch up with three Kalamazoo College alums who are building their careers at Amazon, each of them leaders in their own departmental spheres: Michael Zak '09, Claire Amsler '10 and Jeff Hotchkiss '97.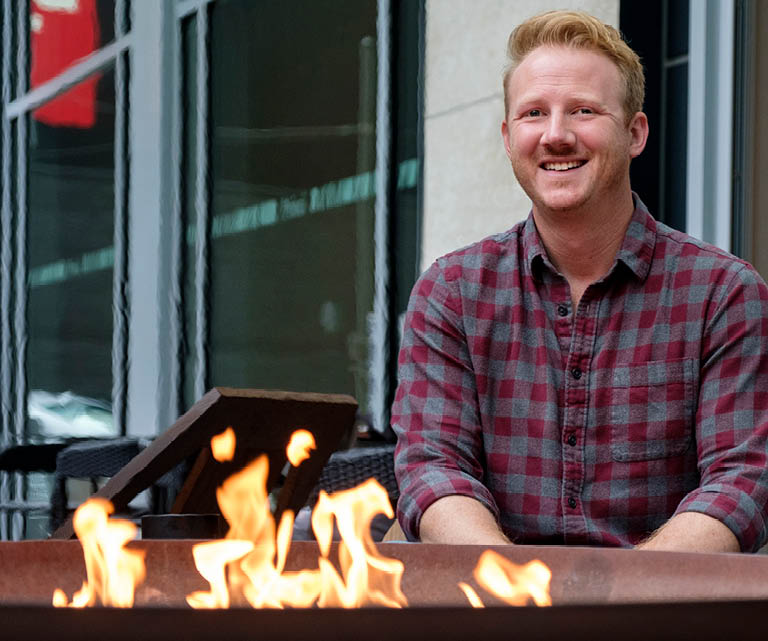 MICHAEL ZAK '09
If you've bought a soccer ball for your grandson or a pet bed for your puppy on Amazon, chances are you've come across items near and dear to Michael Zak. Zak is a senior product manager of global sourcing for Amazon's private label business. He is responsible for product development for the "AmazonBasics" offerings for pets, sports and outdoors, working on everything from cat trees to yoga mats to tents. On a typical day, he might be working with people from China, collaborating with the office that handles sourcing and factory relationships. He'll attend meetings on topics ranging from product changes to marketing to how products are forecast and purchased. His primary focus, however, is on developing and managing product from ideation to completion.
Zak didn't know he'd end up working in the tech sector when he came to Kalamazoo College from Clarkston, Michigan. His decision to go to K was based in large part on study abroad. "I took a high school trip to France with my French class. It was the first time I'd been abroad and I absolutely fell in love with the experience," Zak said. His decision paid off. "Study abroad was amazing. In Strasbourg, France, I stayed with a French family who spoke virtually no English, and I was forced to acclimate to the culture and language." That study abroad component has served Zak well in his work at Amazon. "My job has a global scope. When I want to launch a product, I can't just think about how it's going to impact people in the U.S. How can people in India use this? How about in Japan? I think that international focus that K instilled in me has been a big help."
Zak also played club hockey at K and was a member of the International Student Organization. He majored in history; Professor Charlene Boyer Lewis was his mentor and advisor in the history department. As he went through the normal deliberations about what path he wanted to take, he says, "Dr. Lewis was really understanding and framed the major in a way that made me comfortable with my decision to study something I just really enjoyed. She had a wealth of knowledge about history that went beyond 'this is the day that such and such happened,' to the broader ramifications and what happens when people don't have agency over their stories."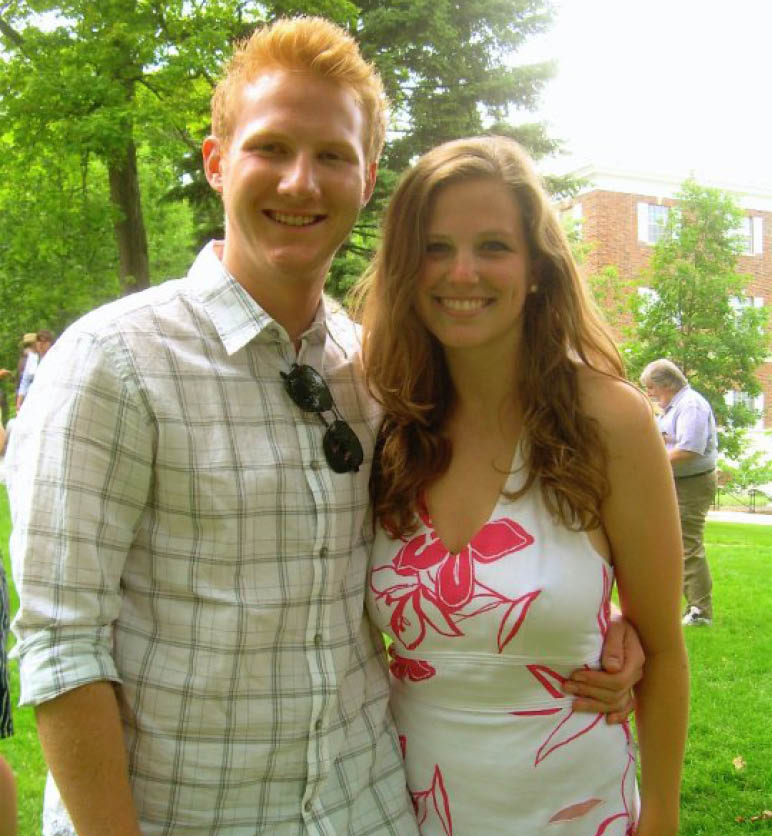 After graduation, Zak interned at the International Visitors Council of Detroit before taking a position as a writer and editor at AOL. "That was in the automotive space. I reviewed cars, driving cars all around the world and doing basic reporting about technology—things like green powertrains. I managed writers; there was a lot of cool, creative talent at AOL. I worked first in Detroit, and then Los Angeles, and then moved up to the Bay Area for a couple of years."
He joined Amazon in 2014, starting out as a brand manager in automotive, managing the business relationship for two major vendors, before moving into a larger vendor management role for the automotive equipment and tools business. From there, he took a marketing position in video games, where he spent about two years before switching to product management. "We tend to move jobs here frequently," Zak says, "It's highly encouraged as a way of making sure people continually learn and grow."
In his current role, Zak's enjoys scoping out the customer reviews for the products he manages. "I like looking up, say, pet beds, and seeing all the pictures of pets that people have uploaded into their reviews. It's a nice reminder that people appreciate the work that we're doing."
Zak notes that while he wasn't a business major, what's contributed to his success in the business world are the critical thinking skills he developed at K, and the ability to take ambiguous information from many sources and piece together solutions to problems. "Coming from a liberal arts background, maybe you don't know how to code, or you don't have a background in finance. That's okay—there are still a number of places here for you, because companies like Amazon and Google value that kind of thinking."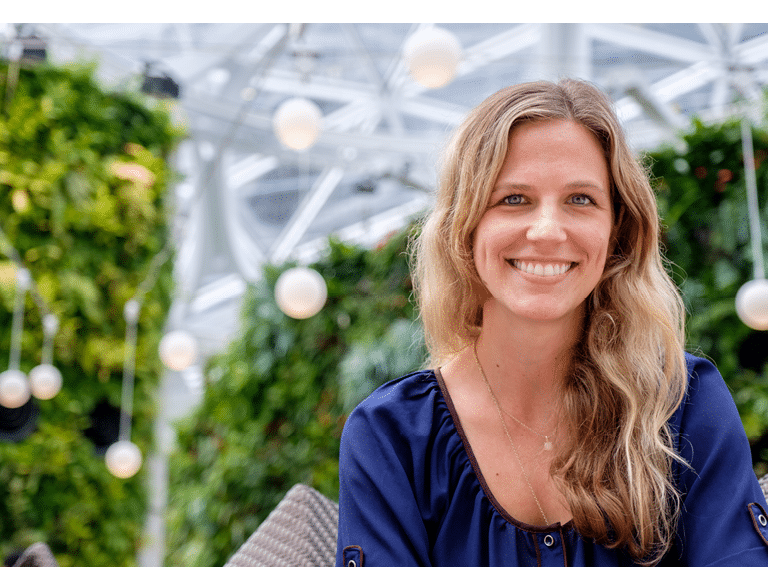 CLAIRE AMSLER '10
Amazon wouldn't be the giant it is today without hiring and developing the best talent, and that includes the people who build and manage Amazon's human resources (HR) strategies, programs and systems.
Claire Amsler has been a part of Amazon's HR team for nearly four years. After a year as an HR business partner, Amsler worked as a specialist within the global talent management program, focusing on performance management and coaching, before returning to a senior business partner role last summer. In this capacity, she provides strategic HR support to a business unit within the company, running and supporting cyclical processes like talent and performance reviews, compensation and rewards, succession planning, and career development. She also provides coaching and consulting, as well as performing day-to-day tasks like data analysis and employee relations activities.
Amsler majored in psychology at K. As a sophomore, she attended an informational meeting hosted by the Michigan State University master's program for human resources and labor relations, and it piqued her interest. By the time Amsler graduated from K, the U.S. was in a recession, so she took a gap year to join the Teaching Assistance Program in France (TAPIF), a program that places Americans as assistant English teachers in French schools. While there, she decided to apply to the master's program at MSU and start graduate school as soon as she returned. "The MSU program parallels the MBA program, with strong corporate connections and a recruiting season for summer internships—a lot of those internships turn into full-time offers, which is what happened for me."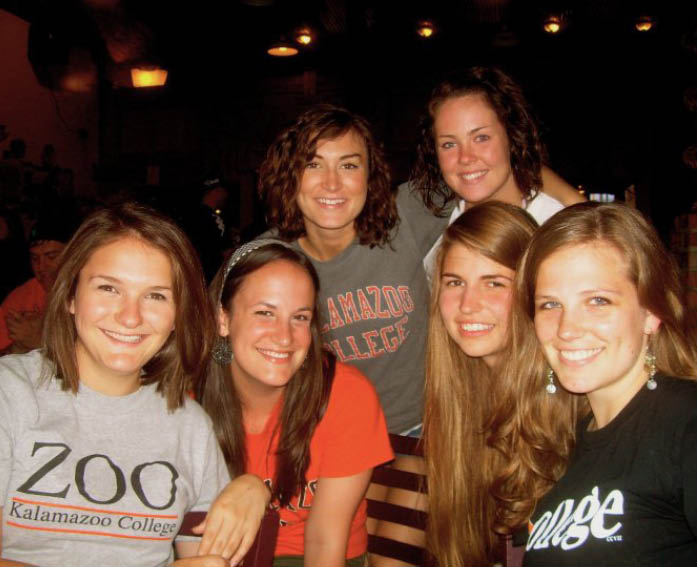 Amsler was an HR operations management intern for Avaya, a digital communications company in New Jersey. After her graduation from MSU in 2012, she was hired into Avaya's Santa Clara, California, location as an entry level HR advisor. After a couple of years in the Bay Area, she and her now-husband, Michael Zak, decided they wanted to move to Seattle. Zak applied to Amazon and was soon hired; Amsler continued to work for her company remotely until they settled into the area. She then worked briefly for a start-up before Amazon recruited her.
Amsler is a fan of Amazon's culture. It's fast-paced; it's data-driven; it operates as a big company in some ways and as a smaller company in others; and it gives employees the opportunity to develop their passions and skills. Amsler is most passionate about the work she does in coaching and consulting. "The coaching piece is an inquiry-based process to help people find clarity and decide on actions they want to take—and then create accountability for them. I really love being able to help leaders think through tricky challenges and give them a supplementary perspective to help with their decision-making."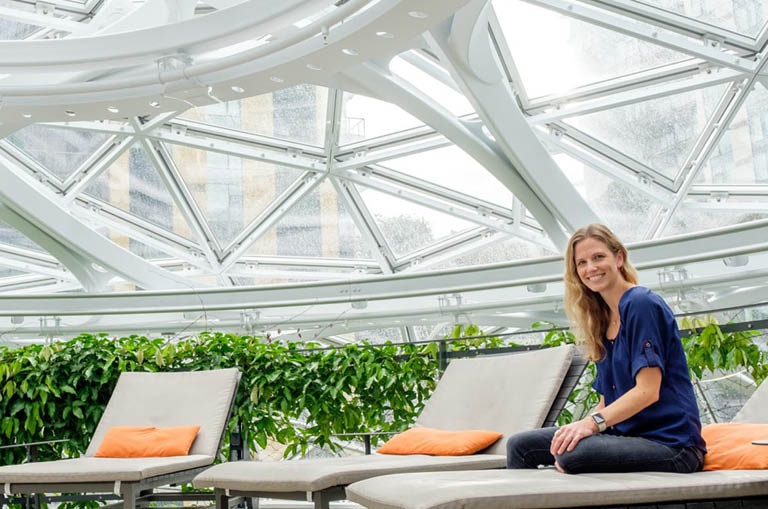 Amazon touts its 14 Leadership Principles—attributes like customer obsession, learn and be curious, and bias for action—as underpinning everything they do. From an HR perspective, Amsler says that Amazon holds true to these principles in hiring decisions, promotion processes and how they develop people. "You hear the Leadership Principles used in conversation every single day," she says. "Concepts like ownership, or showing up as an owner—there's no saying 'it's not my job;' you see a problem and you try to solve it. It's earning trust by following up on what you say you're going to do. It's also about actively working to build strong, productive relationships with partners, team members and stakeholders who may have diverse backgrounds and competing priorities."
A K education, Amsler says, is an excellent base for the types of hires Amazon is looking for. "Amazon has a catchphrase you might hear: Work hard. Have fun. Make history. I think back to K, where it's Saturday night and we're all at the same party. On Sunday, we all see each other at the library. You work hard, you play hard, you become well-rounded and able to relate to different types of people—and you get things done."
Like Zak, Amsler studied abroad in Strasbourg, France. "It was the first time I'd ever lived independently in a city and I just thrived. After I went the second time, I knew I wanted to work for a company that has a global presence so that I could work abroad if I wanted. Amazon is that place. There are fulfillment and corporate presences in dozens of countries around the world."
For students and graduates looking to migrate to the tech sector, Amsler advises, "Every experience counts. You don't have to demonstrate that you've spent years at one company or have experience in any one particular job. Take advantage of externships, internships, finding ways to take on more ownership. If you're a barista—can you be a team leader? Can you expand the scope of what you're doing, the level of autonomy, the level of influence in whatever you're doing? Find ways to push yourself and then develop an elevator pitch to promote who you are and why you add value. Stay curious and say yes to opportunities."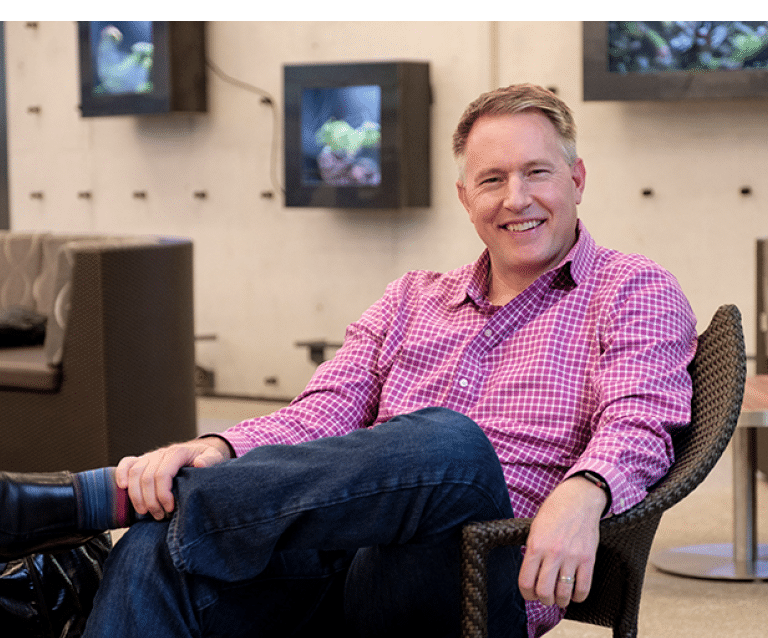 JEFF HOTCHKISS '97
As a principal in business development, Jeff Hotchkiss works in the Amazon Devices organization with scope in the U.S. and overseas, including Alexa and household consumer technology gadgets, such as Echo, Fire Tablets, Fire TV, Kindle and Ring doorbells. This role requires complex contract negotiation with partners like Microsoft, focusing mainly on search (like Bing, which is now the default search engine on Amazon devices), browsers (like Edge) and knowledge, which Hotchkiss describes as making Alexa smarter. Additionally, Hotchkiss manages special projects to support Alexa with other partners.
At K, Hotchkiss was a political science major from Fenton, Michigan, who completed his career internship at a law firm in Washington, D.C. He studied abroad in Oaxaca, Mexico, and worked on a political campaign for his Senior Individualized Project. His future seemed destined for politics and law. After graduation, two of his classmates, Aaron Malenfant '97 and Colin Evans '97, moved to the Bay Area to work for tech start-ups and they urged Hotchkiss to come and be a part of the new digital frontier. "I decided to do a radical U-turn," Hotchkiss said. "I was working for Senator Debbie Stabenow at the time, and I decided to leave and head out west to San Francisco. I was about 25 years old, with no money and just my car and everything I owned, ready to fight it out and make it work. I worked there for 13 years in different start-ups."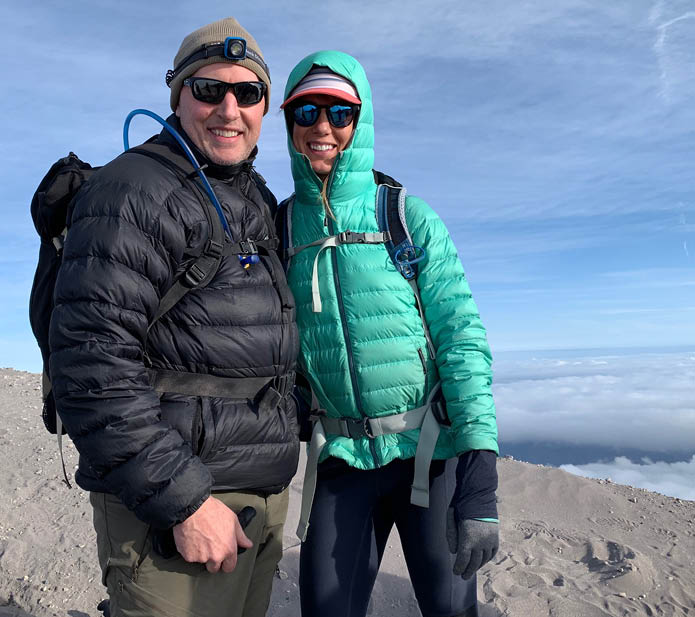 Along the way Hotchkiss met his wife, Shannon, who was from Seattle. When they were ready to start a family, they decided to relocate. Hotchkiss joined a small start-up in Seattle in 2014, and was a director of business development there when Amazon recruited him; he joined the company in 2016.
Hotchkiss is a firm believer in the value of a liberal arts education in preparation for the tech and business world. There are three foundational skills that students learn at K that apply in any role, Hotchkiss asserts: First, recognizing that detail matters. "At Amazon, we focus on detail and use a very rigorous scientific method in how we make decisions." Second, understanding context. "Professors like David Strauss [history], David Barclay [international studies], Don Flesche [political science]—all of them taught me how context frames a situation. I think if you don't study the humanities, you may not have that deeper perspective and the ability to read situations quickly." Finally, the ability to think critically and question everything; in this area, Hotchkiss credits political science professor Amy Elman for opening up his eyes and re-orienting how he engages in his work and the broader world.
As an example, Hotchkiss notes that when it comes time to make a proposal, Amazonians write white papers—several page narratives that require the author to dive deep, then crisp it up and bring it back to the bigger picture so that an executive can quickly make a decision. The theory is that if you dive into the details, you'll hash out the best possible decision. Hotchkiss relishes this process.
"These papers can inform strategic decisions, decisions that make the news," says Hotchkiss. "The scale of Amazon is such that anyone can work on a project that might touch millions and millions of customers. In business development, situations arise where we have to very quickly develop a paper that will outline a course of action—sometimes within a week. Sometimes I'm framing decisions that are one-way door decisions, meaning, once we make that decision, we can't go back. It's important to ask the right questions, and to get the context and every detail right. It's very rewarding and very motivating."
Hotchkiss says that a willingness to experiment is another a highly valued competency learned at K. When Amazon works with software developers and engineers, they encourage them to take risks. "If we try to get things perfect all the time, it slows you down, and you miss an opportunity. One thing liberal arts teaches you is it's okay to iterate and it's okay to fail fast. You build up almost an inoculation to failure, and then you keep iterating. This is what we do at Amazon, and in my experience, it's also true across most of the technology business world."
Hotchkiss adds, "One of the things I've learned in my career is that your ability to move your career forward is dependent less on how you specialize, and more about how you can master multiple domains of specialization. The breadth and rigor of a liberal arts education prepares you for any career, whether you're going to Africa to do development work, working in higher education or in the private sector and tech in particular."
The long-term return on investment is key. "If a parent is looking at a college decision based on ROI, you have to think about it over a 10-, 20- or 30-year horizon. People are working longer, starting families later, trying different careers until they find their fit. If you look at it that way, the foundational benefits you get from a liberal arts college like K are very, very worth it."