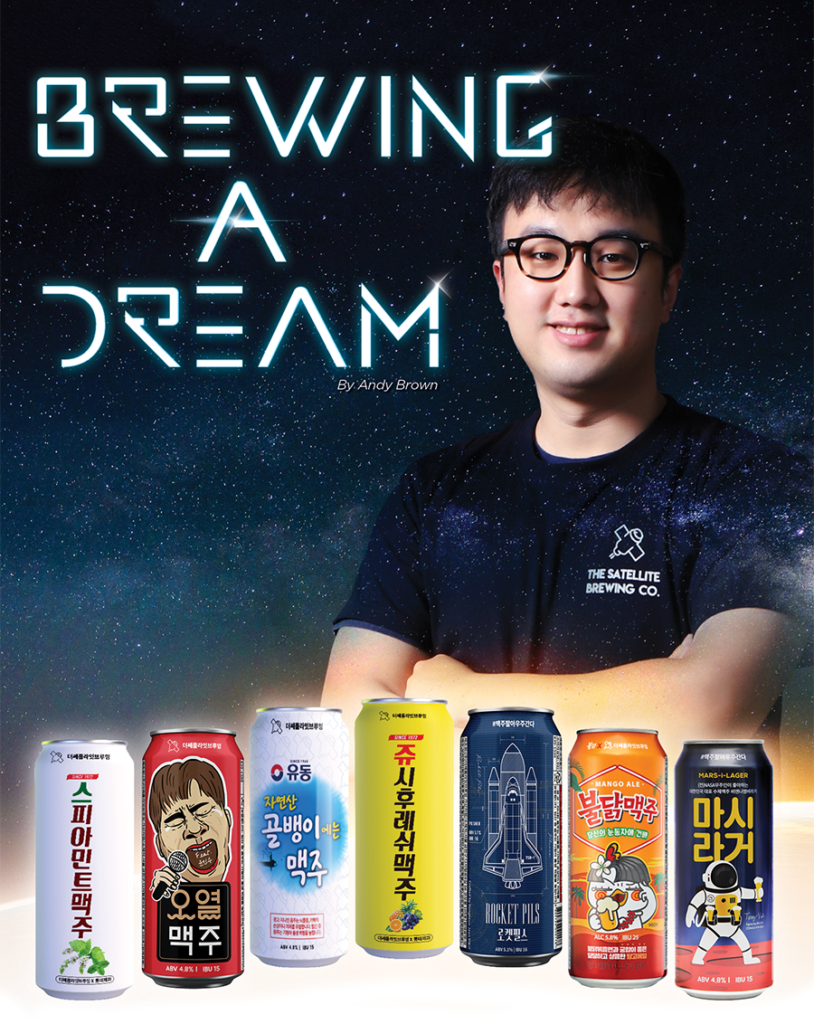 If you love beer, you'll love to know that Kalamazoo College's undeniable mark on the craft beer industry is growing and has gone global. Chances are you've heard of brewpubs and brands crafted in Michigan by K alumni, such as Bell's, the Cedar Springs Brewing Company, Bløm Meadworks and Three Blondes Brewing. But what about the Satellite Brewing Company, in Seoul, South Korea?
Dongkeun Jeon '16 founded the business in 2017 as a brewpub in his native country, and since, it's grown to include multiple canned varieties that are gaining footholds as some of Korea's most popular libations.
The beers are well-known partly thanks to a Satellite Brewing marketing partnership with NARA Space Technology Inc., a company specializing in small space systems. The project sent a Satellite Brewing beer—Would You IPA—into space, about 27 miles into the stratosphere through a helium balloon, an idea Jeon developed while at K by studying Red Bull's marketing strategies.
However, Jeon credits the business-pitching lessons he learned as an economics major at K through faculty such as L. Lee Stryker Associate Professor of Business Management Amy MacMillan for being the greatest influencers of his brewery's success. Those lessons prompted him to knock on the doors of convenience store executives, who were facing consumer movements that wanted Korean craft beers in the stores' coolers, to promote his products.
Those coolers, at three chains including 7-Eleven in particular, are now stocked with Satellite Brewing varieties such as Beer with Whelk, created through a partnership with canned whelk maker Yoo Dong and dedicated to pairing with various kinds of sea snail; Juicy Fresh Beer, developed with a Korean fruity chewing-gum brand; Buldak Mango Ale, established through a connection with Samyang's Spicy Buldak Ramen; Mars-I-Lager, a Vienna lager; and Rocket Pilsner, a German-style beer.
Beer with Whelk quickly became the highest-selling beer at 7-Eleven convenience stores in Korea, a mark of popularity passed down to Juicy Fresh Beer when it was launched. And such success, through distribution channels such as other convenience stores and additional businesses, is prompting Jeon, the youngest beer executive in Korea at age 28, to dream of growing his company into the country's largest brewery.
"Many craft beer executives are in their 40s and 50s, so many of the store executives are inspired by my age and story," Jeon said. "It's allowing us to win other distribution channels as well, with places like the Korean version of Walmart or Meijer—nearly every channel that can sell beer."
Before finding this successs, Jeon arrived in Michigan after thirsting for a liberal arts education in the U.S. and learning from former K attendees such as Yale Economics Professor Robert Shiller, a Nobel Prize winner.
"K College was the perfect place for me at the time, especially considering the scholarships and notable alumni," Jeon said. "Professors allowed me to explore many options and extracurricular activities along with my interest in entrepreneurship. There was the rigorous homework, and yet professors gave me a lot of permission and flexibility to pursue my interests, even in Korea. I ran a nonprofit organization in Korea called SAGE, which stands for Students for the Advancement of Global Entrepreneurship, and I was able to build a great entrepreneurial network."
Jeon graduated from K in just two years and one term, leaving an indelible impression on faculty such as MacMillan. Jeon's work ethic and ambition left no doubt he'd be successful in whatever he chose to do.
"He might be the only student I have ever let take Advertising and Promotion before he took the pre-requisite, Principles of Marketing," MacMillan said. "I told him he'd need a thorough understanding of the textbook we read. I quizzed him on it verbally and he'd obviously read the entire textbook. He readily conversed about the core topics. Then, on the first day in class in Advertising and Promotion, he was there in the first row and he very eagerly wanted to talk with me after class about the big book I was assigning. He'd already read it. He has a voracious appetite for learning."
That appetite for learning extended beyond the classroom. Jeon once connected with Kalamazoo AirZoo leaders so he could learn how he might meet former astronaut Buzz Aldrin. He even once requested to be absent from MacMillan's class so he could drive 11 hours to Philadelphia and attempt to meet businesswoman Arianna Huffington at a conference.
"He is one of the most motivated and driven students I have ever had," MacMillan said. "He combines an out-of-the-box creativity with a drive to get things done. Some people are ideas people and some are tactical. Dongkeun is both. He has visionary ideas and he won't stop at anything until he gets it done."
MacMillan and Jeon stay in contact and he has served as a guest speaker in her classes, where he draws rave reviews from students.
"In fall 2020, during the first full year of online teaching," MacMillan said, "I was trying to think how I could make the course exciting and motivating for students in such an unusual, exhausting environment. I challenged student teams to create a marketing plan to launch a fashion or clothing brand into South Korea. I thought it would be wonderful to get Dongkeun as a speaker on Zoom to help us better understand South Korea and to learn from his entrepreneurial experience starting successful breweries. He immediately said yes and enthusiastically joined us although it was after 1 a.m. for him. Enthralled students peppered him with questions. He gave students confidence that they might be able to launch their own business, possibly even internationally. They were inspired to see another young person, a recent K grad, doing something on such a big scale. We all feel pride and joy in Dongkeun's success, with me at the top of that list."
About the time he graduated from K, Jeon sensed an opportunity to build his knowledge of beer in Michigan.
"At the time, I had no knowledge at all about beer," Jeon said. "I started to search for who might be able to help me and I reached the founder of the Short's Brewing Company in Traverse City. I asked him to think of me as additional labor and give me a chance to learn how to brew in his brewery by working for him for free."
The craft beer market, Jeon said, seemed to be plateauing in the U.S., but the industry, according to his research, was ready for growth in Korea. The Short's Brewing experience provided Jeon with job knowledge. He also spent three weeks in Europe visiting about 90 breweries before re-establishing roots in South Korea to develop support from investors, leading to more marketing partnerships and pitching presentations that continue today.
"Our company's slogan is 'Brewing Your Dream,'" Jeon said. "I think we're achieving that motto and I'm proud of myself. I'm proud that I've been able to turn my ideas into reality. Next, I want to be the number one craft brewery in the Asia-Pacific region and then the world. Sometimes I feel like I've operated the business for more than 20 years because of its success, but it's been only about five years. I think that's quite an amazing achievement. Maybe in a couple of years we could be in the United States. Nobody imagined about 10 years ago what K-Pop's or Korean drama's influence would be, and now it's widespread. I think our food-and-drink culture could be next."