Eighteen-year-old Ed Hortelano '83, at that time finishing his high school education in Detroit, Michigan, and pondering a college education, had only once been out of North America. He knew almost nothing about travel abroad, even as the thought intrigued him. 
"I was hopelessly naïve then, as most 18-year-olds are," Hortelano laughed. "I had only been to the Philippines because my parents were from there. But then we had College Day at my high school, and Kalamazoo College had a booth there—I had never heard of K—and it was all about study abroad."
Hortelano did not know it then but choosing Kalamazoo College was about to open doors to the world for him, doors that would never close.
"My other interest was chemistry," he said. "I had a teenage fascination with melting things, changing things, but I also wanted to understand nature. At K, I majored in chemistry, and my sophomore year was the first time I got to work in a lab. From the experiences I had during my career development quarter, I knew that was what I wanted to do—to be a chemist."
Hortelano took his first transatlantic trip to Hanover, Germany, with about a dozen other Kalamazoo College students, to study abroad for two quarters while living with a host family. Eyes wide, heart beating hard, he embraced the opportunity to walk into a world completely new and wonderfully strange to him.
"Fantastic," he said. "Living with a German family forced me to speak the language in daily life. I got all the cultural elements. I had heard in high school that German was important to chemistry—not true, that was just random advice—but I chose that path and it changed me. This was during the Cold War when Germany was divided into the East and the West. I hadn't been interested in politics before then, but we were taken on a trip into Berlin, this bizarre island in the middle of East Germany, and seeing that gave me an entirely different perspective on the world—and also on America."
Without the modern technological connections of today, Hortelano felt his separation from home sharply.
"I wasn't really homesick, just aware of distance, of my separation," Hortelano said. "Writing letters became important. Transatlantic phone calls weren't easy to arrange and were expensive. I began to understand how my parents must have felt leaving the Philippines and coming into a different culture and language."
It was an experience Hortelano would never forget. After earning his Ph.D. in physical organic chemistry at Wayne State University, Hortelano began a career which would take him on the road across the country and overseas, traversing the globe. His ease adjusting to different countries, different cultures, became a quality employers noticed and rewarded.
"My first job after earning my doctoral degree and postdoctoral fellowship eventually took me back to Germany," Hortelano said. "For two-and-a-half years, I worked at the Bayer headquarters in Leverkusen. I was hired as a research chemist in part because I could speak both German and English. It was a good opportunity to see and be seen at the headquarters. It was the first opportunity to lead multi-cultural teams."
For the next two decades, Hortelano worked for Bayer, moving from location to location as his work and positions progressed upward. Hortelano worked on—and led teams working on—polyurethane raw materials for coatings, adhesives and other applications. Over the course of his career, he had a variety of assignments, including heading a project to commercialize materials for holographic data storage, leading to sales to a global key account.
Hortelano married a chemical engineer, Jane, in 2000. Their son, Ethan, was born in Pittsburgh in 2002. In 2009, the Hortelano family moved to Shanghai, China. The family returned to the United States when their son was in second grade at an international school, after 18 months in Asia.
"While in China, I tried to learn some Mandarin words alongside my son. As we traveled in China or spent weekends together in Shanghai, I tried to help him understand the differences in culture and the privileges we enjoy in America," Hortelano said. "When we returned to the States, to work at Bostik in Milwaukee, once again I was able to apply my global experiences. I was leading international teams developing adhesives—mostly for diapers. It's a huge market." By 2010, Hortelano was chief technology officer for the Bostik North American operations, and in 2015, he became global vice president at Loparex, leading product development, tech service and research activities.
This resulted in another family move to Raleigh, North Carolina, and once again Hortelano's global reach was a valuable quality. Visiting his team required him to travel to the Netherlands, India, Thailand and back to China. At present, Hortelano leads materials development as the senior vice president of engineering and development at 3D Systems in South Carolina.
And the travel never stops.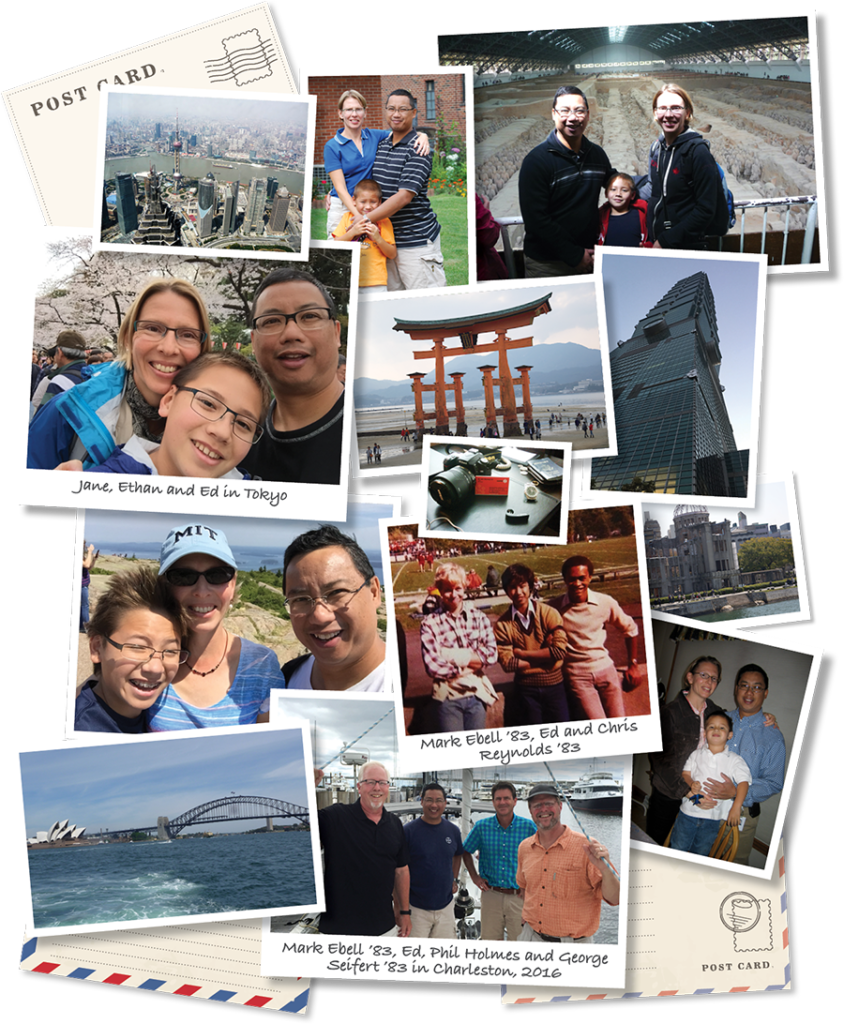 "At 3D Systems, we are leaders in the field of 3D printing," Hortelano said. "It's a fantastic technology, building layers upon layers of plastic or metal, fusing powders with lasers. We also have technologies where we convert liquid resins to solids using light. My team is responsible for the development of all materials that are used by our printers."
Maintaining his connection to Kalamazoo College throughout, Hortelano still remembers himself at that tender young age, looking out upon an unknown world and the adventures it offered. He wanted to pass that privilege along to those coming up in generations behind him.
"I heard that my classmates were raising funds for an endowment so that students who couldn't afford to study abroad could still have that experience," he said. "I wanted to help to close that gap, so that anyone who wants to study abroad, can."
It is not the only K connection Hortelano has maintained over the years.
Since 2019, Hortelano has served as a trustee on the Kalamazoo College Board of Trustees, currently serving as vice chair of the buildings and grounds committee.
"If everything is working as it should, the physical footprint of K is invisible to you," he said. "There's still a lot to be done, but K has been working hard to maintain buildings and it's been investing in renewing the physical plant. However, we do have a lot of constraints—for example, the challenge of having limited open land. Our dormitories are aging—I lived in Trowbridge, so I have a lot of affection for that building, but it is ancient. It needs to be updated or replaced, but where do we move the students during that time? Overcoming these challenges will require creativity and resources. The College is preparing to renew the Campus Master Plan, which will address this critical need."
While working to solve such problems, Hortelano also manages to schedule in time to visit with friends from K—friends he's had since he was a first-year student on Lux Row.
"A handful of us have stayed close over the years, and about seven years ago, we decided to charter a sailboat for a long weekend together," Hortelano said. "We've been doing that every year since—except this past year during the COVID-19 pandemic when we got together over Zoom calls, playing video games together once a week."
Hortelano laughed. "I need to apologize to my friends' wives for the video games," he said. "I treasure these friendships. We'll be back on the water again this August."
Travel, Hortelano has learned, creates distance but also reduces it. It has brought people close in business and in his personal life, expanded understanding of what makes us different and the same, breaking down barriers and building collaborations.
"Study abroad was transformational in my life," Hortelano said. "K gave me that."