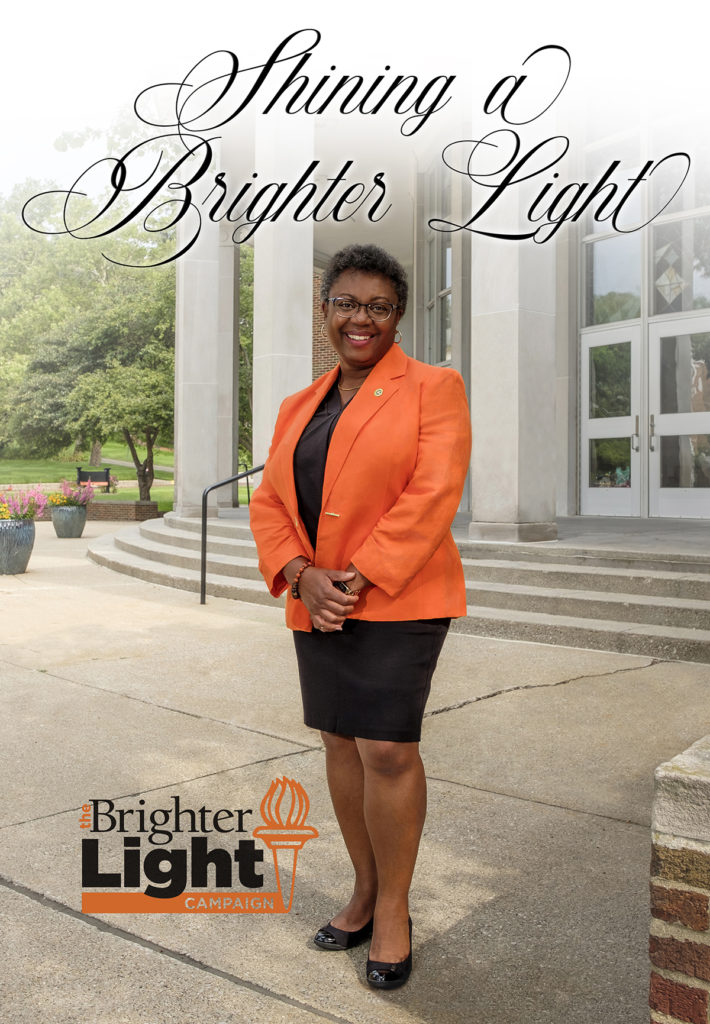 Letter from the Vice President
Growth, Renewal, Endurance.
These words describe the bold outcomes K strives for as part of the Brighter Light Campaign.
Growth in the College's ability to provide access to the full richness of the K experience to bright and talented students, regardless of their means. Growth in its ability to attract and nurture high caliber, dedicated faculty as they continue to innovate, teach and mentor K students year after year.
Renewal of this beautiful, lively campus, creating and enhancing the environments where K students learn, live and play. Renewal of our students' commitment to fellowship, leadership and learning and the College's commitment to provide welcoming spaces in which those activities occur.
Endurance of the programming that makes K a catalyst for the transformative personal and professional development of its students and extends K's reach into the local community of which it is a part. Endurance created by a strong endowment and financial sustainability that will weather the types of challenges we collectively faced this past year.
In my short time at K, I have been continually gratified by the enthusiasm and generosity of so many of the College's alumni and friends. I have delighted in hearing from alumni, students, faculty and community members who each have a remarkable and unique K story to tell, and I look forward to hearing many more!
Every gift to K is a part of the Brighter Light Campaign; I invite you to learn more about the effort as we share stories of opportunity and the immediate and lasting impact of your collective philanthropy. As members of this vibrant and strong community, I invite you to "be the light" that will make the campaign's goals a reality, sustaining and enhancing the excellence of a K education for future generations of students who will, in turn, bring a brighter light to the world.
I look forward to connecting with you all as we work to transform K's future.
Lux esto,


Karen T. Isble
Vice President
for College Advancement
A Transformational Campaign
A Q&A with campaign co-chairs and Board of Trustees members Amy Upjohn and Jim Heath '78.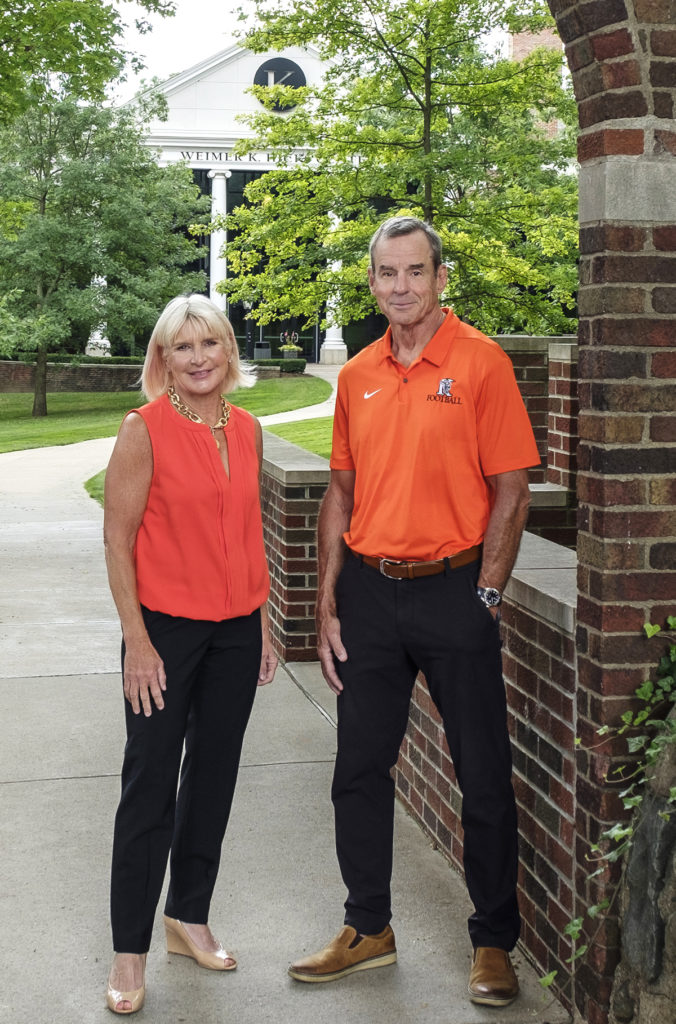 K has a mission to develop enlightened leaders. What does enlightened leadership mean to you and how does K deliver on it?
JIM: Leadership to me is really about being able to define purpose for both yourself and for your team—to provide a vision of what paths you might take and then trying to encourage others to follow that path, supporting and guiding them. I think that's what Kalamazoo College teaches and what K represents. The College has a very clear purpose in trying to develop students—mind, body and soul—and the faculty, the staff and the coaches are there to guide and direct and provide this vision, and they do a fantastic job at it. This was certainly my experience.
I was deeply impacted by several people at Kalamazoo College—professors and coaches who influenced me beyond what I learned on the field or in the classroom. People like Ed Baker who was the head football coach, who pushed me and taught me about going harder than I thought I could ever go, and Madame Dale, my French teacher, who was not going to accept my rather mediocre efforts, so to speak. And as a history major, I had three history professors—John Wickstrom, David Strauss and David Barclay—who were just terrific. They were super smart guys that never tried to be the smartest person in the room. They really tried to bring out the best in every one of their students. They taught me to appreciate history, a subject I really loved, and they pushed me beyond my comfort zone, forcing me to prepare and to really up my game. The lessons they taught me are the lessons that I have tried to instill in my children and also in my professional life.
One of the campaign's top priorities is growing the endowment. How does strengthening the endowment help K's competitive position?
AMY: K has managed to do a lot of really good work without a huge endowment, yet we know that in order to stay competitive, we need to grow our resources. When I talk about being competitive, it's not just about recruiting students. The larger our endowment, the more competitive we can be in recruiting and retaining faculty. K has an extremely impressive faculty, but for us to continue to attract these talented individuals and have them want to stay and grow here, and really invest themselves in the culture at Kalamazoo College and in the K-Plan, we have to be able to invest in them as well.
The K-Plan itself is an exceptional program where we focus on developing students holistically—it isn't just about giving them the academics and the degree and letting them figure out the world on their own after graduation. They've traveled overseas, they've had internships, they've had externships. We spend a lot of time focused on social justice and what the real needs are in society, and they're exploring this abroad, in the U.S. and in our own community. We are helping prepare these students to be caring and perceptive individuals, people who really take the time to focus on others. We're sending students into careers or off to graduate school who are fully prepared for whatever that next step brings. That's what makes K competitive relative to other institutions, so continuing to expand those opportunities—as well as access to those opportunities—through the endowment is really important.
In what ways do you see K creating a brighter light within the community?
AMY: That, for me, is the reason that I sit on the board as a trustee. I didn't go to Kalamazoo College. I have connections to K through my family; my mother sat on the board, my father has an honorary degree, and my brother-in-law and niece graduated from the College. So as a young person I knew a lot about K. When I was first asked to sit on the board, it was really an honor, because I feel that Kalamazoo College brings so much to our community. And our community brings so much to K.
When we look at community-based internships, for example, not only are our students growing and learning, they're also giving back locally. Consider the Kalamazoo Public Schools and how hard they're working to prepare kids for the Kalamazoo Promise scholarship program—our students are involved in many of those schools. And they aren't just helping these students academically; with the personal experiences they bring, the experiences they've had with the Mary Jane Underwood Stryker Center for Civic Engagement and the Arcus Center—our students are equipped to understand the difficulties that some of the kids are facing. They understand diversity and inclusion, which is incredibly helpful to those schools and their students.
When I look at the arts and the opportunities for theatre, music and collaboration with the community, like the Gilmore Piano Festival or the Bach Festival, all those things make our community stronger. It's great for our faculty and staff, too, living in a vibrant community where they can see the support and the philanthropy. And this outstanding faculty and student body that we have, they want to be a part of the Kalamazoo community. The K-Plan encourages them to get involved. That's huge for Kalamazoo. And it provides a whole other support network for students while they're here.
What led you sign on as a campaign co-chair?
AMY: I am so excited about this campaign and the focus on endowment, because I think that is our greatest need, and it will have the greatest impact on the college as a whole, as well as individually to our faculty, staff and students. As I said earlier, this is an opportunity for me to give back to an institution that has had a huge impact on a community I love and have lived in all my life.
JIM: In its own way, Kalamazoo College has transformed the lives of so many and we need to continue to do that, in a way that's a little more personalized, that offers a variety of experiences that students can take advantage of and with faculty and a staff who are very committed to fulfilling the mission. This campaign is a way for us to build up the endowment and other areas that are necessary to continue K's great legacy.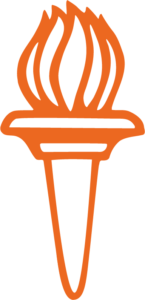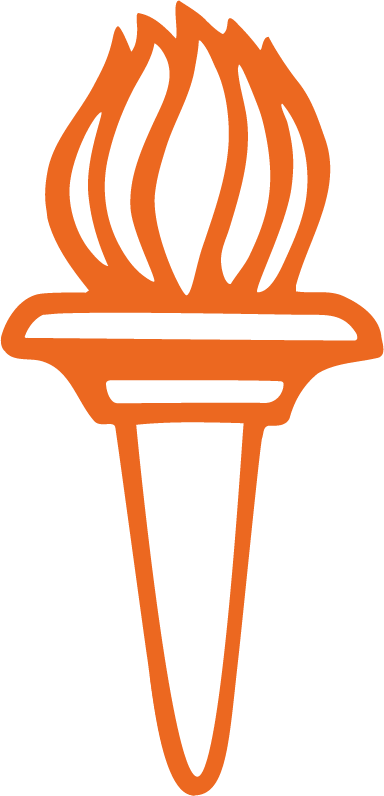 Be The

Light
When students come to K, it's not just about becoming a physics major or getting a job. It's really about transforming young people's lives and teaching them that learning never ends. I'm learning as much today if not more than I did 40 years ago. I started out in my career as a teacher and a coach, and later I went into business. I was ready to tackle anything even though I was more of a generalist—I felt like I could assimilate into just about any role because I had this well-rounded education. My experience as a student at K was something that I feel very strongly about, and I want to continue to be able to help other kids get these opportunities—in the classroom, outside the classroom, overseas, etcetera. That's why I'm a member of the Board of Trustees and why I agreed to be a campaign co-chair. Contributing to this campaign and being able to further this mission is really important to creating a brighter future and ultimately a brighter world.
GIVE TODAY:
The Kalamazoo College Fund: Provide vital support for all aspects of the K student experience.
Endowed Gifts: Support K's liberal arts mission with a gift that lasts forever by endowing scholarships, faculty recruitment and retention, academic and co-curricular programs, experiential learning and athletics.
Planned Gifts: Create a legacy by including K in your estate plans or by making a gift that provides you with income for life.
WAYS TO GIVE:
Online: Give securely online by visiting kzoo.edu/onlinegiving/. Gifts can be made using a MasterCard, Visa, American Express, Discover card, PayPal, Venmo, or ACH bank transfer (wire transfer).
Call: Please call 269.337.7236 and Advancement staff can process your credit card gift over the phone.
Send a Check: Checks may be made payable to Kalamazoo College and sent to: Kalamazoo College, Office of Advancement, 1200 Academy Street, Kalamazoo, MI, 49006.
Securities Transfers: Transferring appreciated publicly traded securities to K allows you to avoid capital gains taxes and receive a tax deduction for your gift.
IRA Qualified Charitable Distribution (QCD): A QCD is an otherwise taxable distribution from an IRA owned by an individual who is 70½ or older that is paid directly from the IRA to a qualified charity. Making a QCD to K counts toward your required minimum distribution and is excluded from your taxable income.
Corporate Matching Gifts: Gifts matched by your employer provide a wonderful opportunity to double, sometimes even triple, your contribution to K.
More questions? Contact our Advancement team at 269.337.7236 for assistance, or visit kzoo.edu/brighterlight.