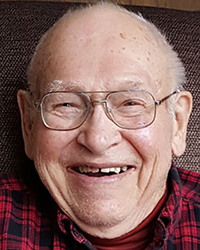 Donald Raymond Griffith '47 on March 6, 2022. Don received a bachelor's degree magna cum laude from Kalamazoo College. He attended the University of Michigan Medical School and received an M.D. cum laude in 1951. Following a rotating internship, he served as a medical officer in the Navy from 1952–54, with duty on destroyers and at the U.S. Naval Academy. Don met Constance Newcomer '47 in college. They were happily married for 72 years and had two children. In 1957, following completion of a residency in internal medicine at the University of Michigan, Don and his family moved to Eau Claire, Wisconsin, where Don joined the Midelfort Clinic. Don remained a member of Midelfort Clinic until he retired in 1988, practicing internal medicine and serving as president of the board of directors and medical director. He was the first to suggest a merger of the Midelfort and Mayo Clinics. The merger occurred after his retirement and was an important factor leading to what is now Mayo Clinic Health System. Don was active in the American Group Practice Association, serving on its board of directors and as president. He was a preceptor for the University of Wisconsin Medical School for many years, helping to teach senior medical students. He remained active on several committees at Midelfort Clinic and Luther Hospital after his retirement. Don was preceded in death by his son. He is survived by his wife, his daughter, four granddaughters and three great-grandchildren.
Lorraine Ann (Kostelny) Drbull '48 on June 27, 2019. Beloved wife, mother, daughter, sister, aunt and more.
Caroline Elizabeth Burke '49 on March 27, 2022. From a young age, Caroline was active in church life and youth groups. She earned a bachelor's degree in sociology from Kalamazoo College and a master's in Christian education from New York University. At age 52, she fulfilled her dream of becoming a social worker by earning a second master's degree in social work from the University of Tennessee. In 1956, she married Rev. Carl F. Burke, a widowed pastor with two young daughters, Joyce and Susan. She instantly embraced being both a wife and mother. Her family was complete with the birth of a son, David, in 1957. Caroline was a very active pastor's wife at churches in Schenectady, Buffalo and Derby, New York. One of her most cherished achievements was her role serving God in the founding of the Community Church at Tellico Village in Loudon, Tennessee. She participated in various church activities and often led Sunday school and vacation Bible school. She looked forward each year to participation in the annual conference of the International Council of Community Churches. She enjoyed her career serving as a social worker for child and family agencies in both New York and Tennessee. Her activities and interests included family camping trips, traveling, water aerobics, reading and book club. She was a volunteer board member at Habitat for Humanity as well as at the Good Samaritan Center in Loudon County, Tennessee. She was also a dedicated football fan of the Buffalo Bills and Tennessee Volunteers. Caroline was preceded in death by her husband of 55 years, Carl, daughter Susan, and two brothers, including Lloyd Burns '50. She is survived by her daughter, Joyce, her son, David, two granddaughters and a great-grandson.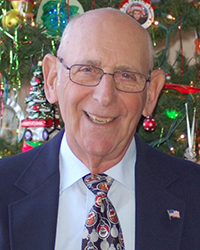 Richard Meyerson '49 on May 28, 2022. He enjoyed the support of his beloved wife, Georgia, with whom he was married for nearly 62 years, traveling the globe with dear friends and family, and enjoying each and every community where they lived, including Kalamazoo, Cleveland/Shaker Heights, Ann Arbor, Sarasota and Pittsburgh. Dick was a beloved dad to two daughters and an adored grandpa of four grandchildren. To his family and friends, Dick was a force of nature. He was generous with intelligent, informed and earnest advice, tailored to the recipient as if they were the most important person in the world. Dick was funny, a good listener, encouraging, motiving and a positive thinker. He had an exemplary professional life. After graduating from K in 1949, he began his career with the Equitable Life Assurance Society (now AXA) and was the youngest agency manager in company history when appointed in 1960 in Kalamazoo. Soon thereafter, he was promoted to head up the Cleveland agency in 1967. Throughout his career with Equitable, Dick mentored hundreds of agents and created a powerfully successful and collaborative work environment. After retiring from Equitable, Dick joined Key Bank as their vice president of marketing and worked with Frank Russell Investments, repeatedly earning national recognition for his efforts. He retired from the bank in 1992. Leadership and service to others were the cornerstones of Dick's life. He served as president of the Jaycees, Rotary Club and Big Brothers (which he co-founded) in Kalamazoo, and Big Brothers and Rotary Club (where he received Rotary's highest honor as a Paul Harris Fellow) in Cleveland. Dick served as Vice President of the Board of Directors of the Ann Arbor YMCA and served for years on the Board of Trustees at the First Congregational Church. During his retirement, Dick worked for over 20 years as an AARP driving instructor. One of his proudest moments was when he coached the Sarasota High School's parliamentary procedures team to a state championship. Dick was a former trustee of Kalamazoo College and received the Emeritus Club Citation of Merit Award in 2006.
Thomas Nick Shopoff '50 on February 26, 2022. He attended Kalamazoo College, where he played football. During World War II, he served under General Patton in the U.S. Army 87th Infantry Division in the Rhineland campaign and Ardennes battle and was honorably discharged in 1946. On June 1, 1947, he married his high school sweetheart, Betty Hensch, and they were married for over 60 years before her passing in 2008. He managed his father's business, Indiana Grocery, prior to becoming a purchasing agent at Magnavox. In 1989, he retired with 21 years of service. His entire adult life he was a member of the Elks Country Club, continuing to play golf until he was 92 and getting his second hole-in-one at the age of 91. Surviving are his daughter, granddaughter and two great-grandchildren as well as his earthly angel, Joyce, who helped guide him through his final days and passage to his heavenly home.
Mary Kathryn (Osborne) Ginden '51 on May 25, 2022. Mary graduated from K and studied for her master's in social work at the University of Michigan. While teaching English on an American air base near Paris, France, she met Charles Benjamin Ginden, an officer in the U.S. Air Force. They were married in 1961 and made the Atlanta area their home, raising two daughters in Dunwoody and then spending their "empty nest" years in the city of Atlanta. Mary worked as a juvenile probation and child welfare officer in Fulton County. Committed to being a voice for the youth she served, she returned to work after the birth of their oldest daughter, Julie Louise, in 1962. Mary retired from her job in 1965 after the birth of their second daughter, Kathryn Ann, but remained a passionate, generous and effective advocate for all of those in need. Whether she was serving in a shelter for women at the First Presbyterian Church of Atlanta, providing meals on wheels, making anonymous donations to first generation college students or establishing scholarships at Emory and Kalamazoo Colleges, she was always putting others ahead of herself. Mary established the John S. and Lena Rockwell Scholarship at K in 2005 to honor her grandparents; their scholarship supports students interested in the arts, humanities or social sciences. As a mother, Mary was a model of hard work, persistence and selflessness, and she was similarly devoted to her husband of 62 years. She delighted in her summers at the home of her grandparents on Gull Lake, Michigan, her church disciple group and her grandchildren; she was a lifelong fan of professional baseball, especially the Detroit Tigers and the Atlanta Braves. Now relieved of her physical limitations and discomfort, she is reunited with her youngest daughter, Kathryn, and her younger sister, Carol, both of whom predeceased her. In addition to numerous friends, Mary is survived by her husband, her daughter, Julie, her grandchildren, extended family members and friends.
Dr. Lewis Alfred Crawford '52 on April 1, 2022. A graduate of Kalamazoo College and of Wayne State School of Medicine in Detroit, he served his country as a commissioned officer in the Public Health Service. He spent his time on the Jicarilla Apache Indian Reservation in Dulce, New Mexico. In 1959, he settled in Colorado Springs, where he opened his office for family practice. Lewie was a cherished member of the medical community. He loved being a doctor–taking care of his patients at all hours of the day or night. He also served on hospital staffs, professional organizations and community committees. Since closing his office in 1996, he served the homeless at the medical clinic at the Marian House. He loved climbing and hiking to the high fishing lakes and was an avid skier and tennis player. He and his wife, Barbara, married July 11, 1981, traveled to all seven continents, and with their small trailer, camped in many parts of the country and Canada. His zest for life and exploration was something he shared with his family and friends, and their lives are richer because of his spirit of adventure. He was a very active member of First United Methodist Church of Colorado Springs and led the Pairs and Spares Sunday school class for over 50 years. The twinkle in his eye, big smile, hearty laugh and caring nature will be missed by all who knew him. He is survived by his wife, Barbara, siblings Dick Crawford '54 and Barbara Cross '57, four daughters and four grandchildren.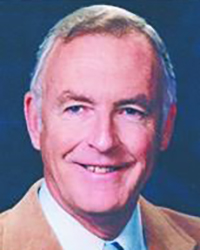 Charles Williams '54 on May 6, 2022. Chuck was born in 1928, in Istanbul (then called Constantinople), Turkey. The fifth of five children born to famed National Geographic photographer and writer Maynard Owen Williams and former missionary Daisy Woods Williams, Chuck's first years were spent in Turkey and France. The Williams family moved to the Washington, D.C., area in 1930, when his father became the chief of the foreign editorial staff of the National Geographic Society. Chuck attended the University of Maryland before enlisting in the Marine Corps. He was discharged in 1948, and immediately re-enlisted. Upon his marriage to Shirley Holmes, the pair began their family, welcoming two sons in 1951 and 1953. After his second discharge, Chuck enrolled at Kalamazoo College with a transfer to Stanford University where he received his master's degree in hydraulic engineering in 1955. Shortly after graduation, the young family relocated to Bakersfield, California, where Chuck was offered a position at Kern County Land Company. A third son was born in 1962. Later, life took an unexpected turn for Chuck. Finding himself a single dad, he turned to his church for prayers and direction. Eventually, he found a soul mate in Rona Dunbar, a single mom with her own large brood. They married in 1967. Ten years later Chuck became manager for the North Kern Water Storage District and interim water master for Kern County. Chuck's wife, Rona, passed away in 1997. Chuck is remembered as a man of great strength and unquestioning faith, while always remaining humble and soft spoken. Generous to a fault, he availed himself to those in need. He found joy in a new partner, Carole Kightlinger, whom he married and traveled with during his last years. Chuck is survived by his sons; wife, Carole, and her children; Rona's children; as well as many grandchildren.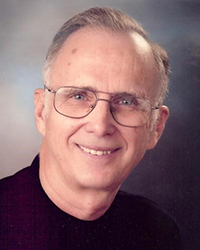 Robert Charles Kelly '61 on May 22, 2022. Bob graduated magna cum laude from Kalamazoo College and received a National Science Foundation scholarship in chemistry to Harvard University, where he earned his Ph.D. Bob spent his entire career as an organic research chemist for The Upjohn Company/Pharmacia and Upjohn/Pfizer, rising to the highest level of distinguished scientist. Holder of multiple patents, Bob was a prolific publisher who presented his research around the world. A 62-year member of the American Chemical Society, Bob was honored to work with Nobel Prize winners. He spent ten years as editor of Organic Reactions and was the Kalamazoo College Senior Integrated Project coordinator for 17 years. In 2012, the chemistry department at K honored him with the Robert C. Kelly SIP Symposium. Bob was an avid outdoorsman, enjoying fishing, hunting and sailing. Bob also ran marathons and played tennis until age 80. In Kalamazoo, Bob was an active member of Judson Baptist and First Baptist churches. He served as church treasurer for decades and especially enjoyed teaching adult Sunday school in later years. In his 50s, Bob learned basket weaving, creating works of art from scratch by felling trees and fashioning the wood strips for weaving. He also took pleasure in creating origami. Bob's thoughtful nature, avid curiosity and mental acuity garnered admiration and respect. He was a kind and gentle man who humbly appreciated his good fortune in both his personal life and in his career. Though he worked hard and was naturally gifted, he realized that opportunity, luck and his strong partnership with his wife, Sylvia, were critical to his success and happiness. Bob's life embodied the ideals expressed by Ralph Waldo Emerson, "The purpose of life is to be useful, to be honorable, to be compassionate, to have it make some difference that you have lived and lived well." Bob is survived by his devoted wife of 62 years, Sylvia Schaaf Kelly '61, his children, Sharon Sinton '86 and Scott Kelly '89, and four grandchildren.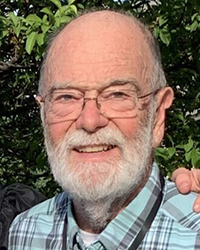 Richard William Bovard '63 on March 23, 2022. Richard attended Kalamazoo College and there, while playing a game of beer baseball, he met the love of his life, Jane (whom he sometimes, in jest, called Cynthia). Richard went on to receive his master's degree from the University of Michigan and his Ph.D. from the University of Denver. North Dakota State University was fortunate to have employed Richard for 30 years in diverse roles, including English literature professor, chairman of the English department, assistant dean of university studies, interim director of the division of fine arts and interim director of the library. Richard was an avid hunter and prolific reader. He will be missed for his ironic sense of humor and intelligence, his sense of beauty in language, poetry and writing, his love of good food and fine wine, his gracious entertaining, his keen political insights and discussion, his appreciation for human kindness and goodness. Richard's lifelong commitment to education has come full circle with his gracious gift of donating his body to the continued education of medical school students at the University of Minnesota. In 1964, he married his wife of 57 years, Jane Marie French. In addition to Jane, he is survived by four sons, three grandchildren and two foreign exchange students who became family. He is also survived by his beloved pets.
Rodney C. Gibeau '64 on February 6, 2021.
Dr. Edward J. Moticka '66 on March 4, 2022. Ed spent his career educating and mentoring graduate and medical students while pursuing laboratory research on autoimmune diseases. He received his bachelor's degree in biology from K and earned his Ph.D. in anatomy from University of Illinois Chicago. His career took him from University of Texas Southwest Medical School to Southern Illinois University School of Medicine. His research was supported by grants from the National Institutes of Health and the National Science Foundation as well as other funding sources. Ed retired from SIU School of Medicine as associate dean for research. He moved to Arizona, where he served as director of research at Scottsdale Healthcare and then retired as a professor and chair of basic science at A.T. Still University Osteopathic Medical School. A deeply respected educator and innovator, he authored numerous peer-reviewed research papers, presentations and publications about novel education methods related to medical education. Ed published A Historical Perspective on Evidence-Based Immunology in 2016. Ed was a valued member of the American Association of Immunology, the American Association for the Advancement of Science and the Arizona State University Emeritus College. He is predeceased by granddaughter, Bethany, and survived by his beloved wife, Jane, five children, seven grandchildren and many other family and friends.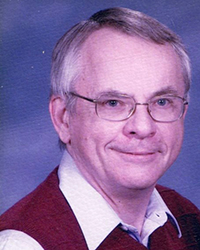 Thomas Clark Benson '67 on January 19, 2022. While at Kalamazoo College, he had the opportunity to study abroad in Erlangen, Germany, for about six months. Soon after graduation, he was drafted into the Army. He served at Fort Sam Houston in San Antonio, Texas, and spent two years serving in the Nuclear Medicine clinic at Brooke Army Medical Center. Afterward he worked for several companies, including State Farm Insurance, Time-Life, Amoco (BP) and freelance work as a technical writer. He enjoyed music, especially classical music, and collected many CDs and LPs. As a young man he also enjoyed running. Throughout life, his faith in Jesus Christ was most important to him. Until Alzheimer's disease gradually robbed him of his personality, he had a great sense of humor—never malicious. He loved puns especially and liked to make people laugh. In 1978, he married his wife, Mildred, whom he met at Moody Church in Chicago. They had two daughters.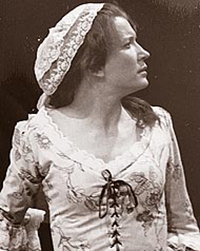 Rebecca Jo Eschliman '69 on March 22, 2022. While at K, Rebecca studied French, the fine arts, theatre and education, with a study abroad year in France. She graduated in 1969 with a Bachelor of Arts in education and returned to her beloved Yellow Springs, Ohio. She taught both English and French in Yellow Springs public schools for a number of years and is still fondly remembered by former students. Rebecca thereafter worked as a marketing specialist for the Antioch Bookplate Company. Rebecca contributed for many years to the upkeep of historical information about the bookplate company in her work with the Yellow Springs Historical Society. In her personal life, Rebecca lived the values she professed and the arts that she admired. She was a perpetual student and an avid reader. She mattered greatly to her many dear friends and far-flung family, to the vibrant cultural life of her lifelong hometown, and to the preservation of the rich, unique history of Yellow Springs. Rebecca was an active contributor to many community organizations. She was secretary and treasurer of the Yellow Springs Shakespeare Study Group for many years. She was also a member of the senior center, the historical society and the Village Library Commission. She had 10-plus years with the Yellow Springs Library Association and was the Ex Libris editor/publisher and current president. She loved theatre and was the angel in the Oberufer Christmas plays at the Presbyterian Church for many years. She was a member of the Center Stage family from the 1970s through the 1990s, both acting and directing. Rebecca was a woman of style and a prolific and talented fiber artist who designed and created exquisite tapestries. She was also a skilled seamstress. Rebecca is survived by her two younger brothers as well as nieces and nephews.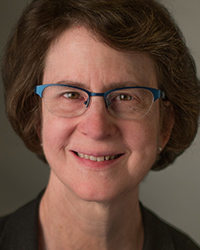 Lois A. Gutman '74 on March 24, 2022. Lois was a private person but incredibly committed to her family, hobbies and career. Following some early volunteer experiences, she had a lifelong interest in medicine and volunteering. Later, she became an avid collector of milk bottles. Lois found solace in her daily walks with partner Joe Sheehi in the woods in the Middle Patuxent Environmental Area behind her home, their wonderful trips and travel together, attending Baltimore Symphony Orchestra concerts, solving the daily NY Times spelling bee, watching British mysteries, and getting together with friends. Lois was most proud of her daughter, son-in-law and two granddaughters, her career of service to the nation, her work assisting Flew the Coop clients as a senior move manager, and numerous volunteer activities for Johns Hopkins Hospital, University of Maryland Shock Trauma Hospital, Howard County General Hospital, and St. Agnes Hospital. Lois spent many Friday nights in the ER at Howard County General Hospital for over 20 years as a patient advocate, and she felt this time was both a mitzvah and a source of deep personal satisfaction. She is survived by her daughter, partner, sister, grandchildren and cousins.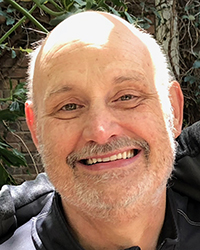 Greg Tushar '76 on July 19, 2020. Storyteller, baker, chef, father, husband and extraordinary friend to many, Greg majored in philosophy at K. He was MIAA heavyweight wrestling champion, played football and was a stalwart first baseman for the Original Masterbatters in intramural softball. He moved to Bellingham, Washington, after college, then to Seattle, where his baking caught the attention of Howard Schultz, who had just opened his first Starbucks. Greg continued development of his culinary skills, ultimately becoming a chef. He moved back to his hometown area near Cleveland, Ohio, adding beer pairing expertise and heading up kitchens that produced outstanding dishes. The Northwest beckoned him back to the Portland, Oregon, area, where he lived until his passing. He was a man of great insight and humor with remarkable stories, many opinions and the ability to make people laugh even in times of great distress. He is survived by his wife, Evelyn, daughter and two grandsons, as well as his mother, two sisters and two brothers.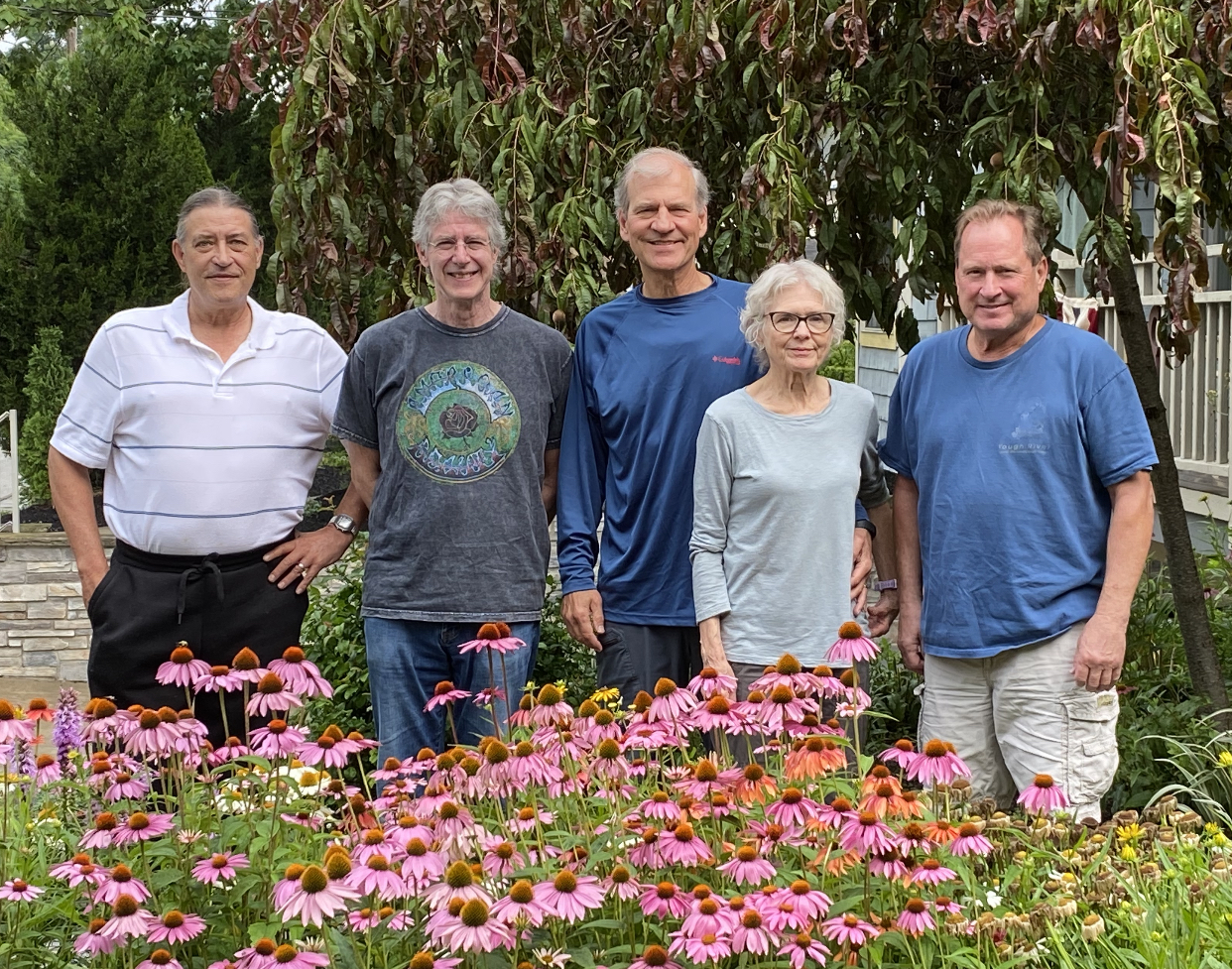 Participating in Tushar's COVID-delayed memorial service in Berea, Ohio, were lifelong Kalamazoo College friends (left to right) Pat Hayes '77, Kevin Riordan '77, Tom Feige '75, Barbara (Brown) Feige '76 and Steve Zuhl '76.
Thomas A. Hinz '77 on March 29, 2022. Thomas was a son of the late Conrad Hinz '51 and Joan Hinz '52. Tom graduated from Portage Central High and from Kalamazoo College with a bachelor's in art. He lived in New York City, enjoying the many experiences it had to offer for many years. In 2013, he moved to Fort Wayne, Indiana. Tom was a gifted artist, extremely witty and enjoyed exploring new places and farmers markets with his sister. He cherished the holidays and milestones spent with his family. He had an amazing mind and a great knowledge for trivia answers. Surviving are his brother Timothy Conrad Hinz '75 and sister, along with many nieces and nephews.
Jeffrey A. Neberman '82 on April 14, 2019.
Allyson B. Rabkin '89 on March 2, 2020.
Gregory D. Miller '94 on November 19, 2020. He was loved and cherished by many people, including his parents, his close friend Chuck, and many loving aunts, uncles, cousins and friends.
Alyssa Marie Zino '22 on February 26, 2022. Alyssa was a senior at Kalamazoo College, studying anthropology, Spanish and environmental studies. She had just completed an exciting term at The American University in Rome where she met many new friends and traveled throughout Europe. Alyssa was a talented musician, playing clarinet, guitar, piano and singing. She was a graduate of Berkley High School where she played in the marching band and pit orchestras. She was an enthusiastic traveler and had visited China, Iceland, Africa, Costa Rica and Alaska, the latter with her beloved Camp Hayowentha. She was passionate about social justice and had completed an internship with the Michigan Immigrant Rights Center and was working for We the People Michigan at the time of her death. She was a deeply loyal friend who loved yoga, coffee, pomegranates, ice cream and wiener dogs. The pandemic served her deep introversion as she often said that her favorite thing to do was…nothing! The world will miss her fine mind, warm heart, singular humor and beautiful smile. Alyssa was greeted in heaven by her grandparents and beloved stepfather, Tom Hamill. Her absence will be deeply felt by her sister, Francesca, her parents, Mary Robertsen and Ken Zino, aunts, uncles and cousins and her friends.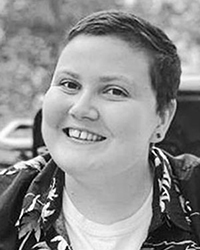 Hazel Anne Houghton '24 on April 2, 2022, unexpectedly and much too young in a tragic car accident. Her extended circle of family and friends are left to cope without her compassion, humor and humanity. Hazel was an energetic, cheerful force from the moment she was born. She never stopped questioning and exploring; she tried every sport, subject and instrument she could. Hazel realized the importance of keeping a close-knit circle of friends, who were near and dear to her heart. She was always in the top tier of her class at Hall-Dale, even as she challenged herself with advanced courses, extracurriculars and a job. This academic rigor landed her on the dean's list every semester at Kalamazoo College, where she was a double major in Spanish and international relations, with a minor in gender studies. Traveling abroad became a passion and piqued her interest in social justice. In the Dominican Republic, she worked with children from impoverished backgrounds, and during her time in Michigan, she helped with the state ID program, giving many new arrivals a chance to establish themselves. She was looking forward to a year abroad in Ecuador beginning in August of 2022. Quick with a joke, meme or smile, Hazel saw the absurdity in so many conventions and became a confident individual in her grounded convictions while, at the same time, she honored the idea of everyone having a place and a voice. It is unbearably sad that her voice has now been silenced. Hazel is survived by her mother, Malley Weber, father Geoff Houghton and stepmother Jamie Houghton, her sister Annabelle, brothers Maxwell and Oscar and her grandparents, as well as numerous aunts, uncles, cousins and countless friends. Hazel has always been a leader, and now we are all a little more adrift without her.
FACULTY, STAFF AND FRIENDS
Phyllis R. Buskirk on February 8, 2022. Phyllis was born in Hollis, New York, graduated from high school at age 16, and attended William Smith College the following fall, earning a B.A. cum laude in economics, with minors in math and English. On graduation, she was initiated into Phi Beta Kappa. While at home on winter break, she met her future husband, Allen V. Buskirk of Bloomington, Indiana, a returned Army captain and graduate student in physics at Indiana University. After their marriage, she and Allen moved to Bloomington and started a family. When Allen was offered a teaching position at Kalamazoo College, they moved to a "seminar house" on campus, and the family continued to grow. Phyllis enjoyed the responsibilities of being a mother of four and a faculty wife. She became involved in local volunteering, serving the public schools, the YWCA, her church, the Girl Scouts and Boy Scouts. Her employment in 1970 at the Upjohn Institute for Employment Research allowed her to grow professionally from research assistant to senior staff economist. Retiring after 17 years at the institute, she took on a new challenge as manager of administration and finance at the First Presbyterian Church of Kalamazoo. She was a charter member of the Kalamazoo Network and was active in the establishment of its mentoring program. In various ways, Phyllis worked to encourage all individuals, and especially women, to achieve their full potential. She was always ready with a helping hand and an encouraging word. Phyllis and Allen were very active in the Kalamazoo Sail & Power Squadron. Her four children, nine grandchildren, 11 great-grandchildren, extended family and many friends are all beneficiaries of her kindness, steadfast loyalty and positive attitude.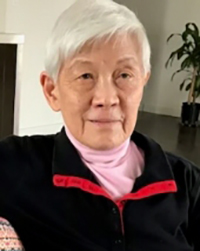 Dr. Madeline Chu on May 30, 2022. Born Chen Men-li (陳曼麗) to a military family in Xi'an, Shaanxi Province, China, during the height of the Second Sino-Japanese War, Madeline lived in various parts of China before leaving the mainland for Taiwan in 1949. There, she attended Taipei City's prestigious and ultra-competitive First Girls' High School and graduated as valedictorian. Madeline continued her studies at National Taiwan University, earning a Bachelor of Arts degree, graduating as salutatorian. Madeline taught high school in Miaoli, Taiwan, married John Chu (born Chu Kuo-ching), and gave birth to two sons before emigrating to the United States in 1970 to take up graduate studies at the University of Arizona in Tucson. There, she earned her master's degree and Ph.D. before joining the faculty at Oberlin College in Ohio as assistant professor. In 1988, Madeline accepted a professorship at Kalamazoo College. While at Kalamazoo, Madeline held an endowed chair, and was elected president of the Chinese Language Teacher's Association, a national organization dedicated to promoting and advancing the quality of the teaching of Chinese. She was intrumental in creating the vibrant programs in East Asian Studies at K that continue today. As a professor, Madeline was beloved by her students, and in 2002, she was awarded Kalamazoo College's Florence J. Lucasse Lectureship in recognition of outstanding classroom teaching. Spots in her course on Chinese calligraphy were coveted among students. She had also held professorships at Connecticut College and the University of Massachusetts at Amherst. Madeline served on the faculty at Kalamazoo College for over 28 years before retiring after the death of her husband in 2017. She joined her second son in living in Chicago a year later. In retirement, Madeline enjoyed a rich and active life, continuing her studies, practicing calligraphy, exploring the River North neighborhood of Chicago where she lived, and reconnecting with dearly missed childhood friends. Madeline was the most selfless wife and mother a family could ever have. She is survived by two older brothers as well as her two sons and a daughter-in-law.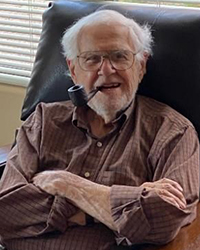 James Herbert Cavanaugh Duncan on April 1, 2022. Jim was very involved in charitable organizations throughout his life, and served as president of the Constance Brown Society, president of the Kiwanis Club of Kalamazoo, president and campaign chairman of The United Way of Southwest Michigan, president of the American Red Cross of Southwest Michigan, trustee of the W.E. Upjohn Foundation, president and trustee of the Western Michigan University Foundation, Board of Trustee member of Kalamazoo College and chairman of the President's Council at Nazareth College. For service to his country in World War II, Jim was awarded many medals, including a Bronze Star with Valor, a Purple Heart with Oak Leaf Cluster, a European-African-Middle Eastern Campaign Medal with three campaign stars, and Combat Infantryman's Badge. After returning from World War II, he attended Western Michigan University, where he met Colleen Patricia Cloney. They were married on September 14, 1946, and had seven children. Jim joined the First National Bank & Trust Company of Kalamazoo in March 1950, as the adjustments manager. In 1952, he was instrumental in the creation of one of the United States' first bank charge account services, which evolved into the current Visa card. He quickly moved up through the management of the bank, becoming the president in 1969. He was named chief executive officer in 1971, and became chairman and president in 1972. In that same year, he turned First National Bank into Michigan's first multi-bank holding company since the Great Depression. The bank later changed its name to First of America Bank Corporation. He retired in 1990. During his long career, Jim served as the president of the Michigan Bankers Association, a member of the board of directors for the American Bankers Association and as a director of the Detroit Branch of the Federal Reserve Bank of Chicago. After his retirement, Jim and Colleen moved to Santa Fe, New Mexico. He became involved in archeology and often traveled to work in northern and central New Mexico, as well as the country of Peru. He was board chair of the Santa Fe Community Foundation and a director of the New Mexico Museum of Natural History. He was also active with the Museums of New Mexico Foundation's Laboratory of Anthropology at the Museum of Indian Arts & Culture. Additionally, he was active with the School of Advanced Research. Jim was awarded honorary doctorate degrees from Western Michigan University and Nazareth College. He is survived by seven children, 15 grandchildren and nine great-grandchildren, as well as his special friend Claire Kropschot.
Rudy Gomis on April 27, 2022. Longtime friend of the College's Senegal program, Rudy was known as one of the pioneers of the post-independence movement of modern popular music in Senegal. Rudy was a singer, songwriter, bandleader, percussionist and co-founder of the famous Orchestra Baobab, Senegal's biggest band from the 1970s into the early '80s. After playing together for 17 years, the band disbanded, reuniting again in 2001 and going international. The group went on to win the award for best African artists and the critics' choice award at the 2003 BBC Radio 3 World Music Awards. The group won both awards for Specialist in All Styles, their first album since their split in 1987. Of Rudy's passing, the group said, "We are shocked and sad as we write these words about our late big brother Rudolphe Clément Gomis. He had long fought and resisted his illness while being dignified and humble without any sign of weakness, and he had never stopped helping and giving advice to the younger musicians and singers of our group. A baobab has just fallen, but we will soldier on so that the torch continues to burn."
John C. Wattles on May 7, 2022. Jack graduated from Howe Military School and Western Michigan University. He married Helen Statler Fischer on February 26, 1955, at Stetson Chapel on the campus of Kalamazoo College. After honoring his commitment as a 1st Lieutenant in the U. S. Army, they settled in Kalamazoo, where he lived for the remainder of his life, and raised their three children. Jack worked at the First National Bank and Trust, the office of William John Upjohn, the Industrial State Bank, and later founded Arcadia Investment Management, where he was the chairman. In 2009, Helen died after a brief illness; they were married for 54 years. On July 4, 2011, Jack and Marian Klein exchanged vows on the shore of Lake Michigan. He was a long-standing non-profit board member of the Howe Military School, the Kalamazoo Civic Theatre, Lakeside Children's Home, the Monroe-Brown Foundation, the YMCA of Kalamazoo and the Sherman Lake YMCA. Jack had a deep affection for Kalamazoo, and took immense pride in his community. The family historian, Jack was known for his capacity to recount stories of the area's history to his children and grandchildren alike. He lived with a clear moral compass, resolute sense of obligation to others and generous spirit. Jack is predeceased by his daughter, Sara. He is survived by his wife, Marian, his daughter, Catherine, his son, Charles, and his eight grandchildren.