1963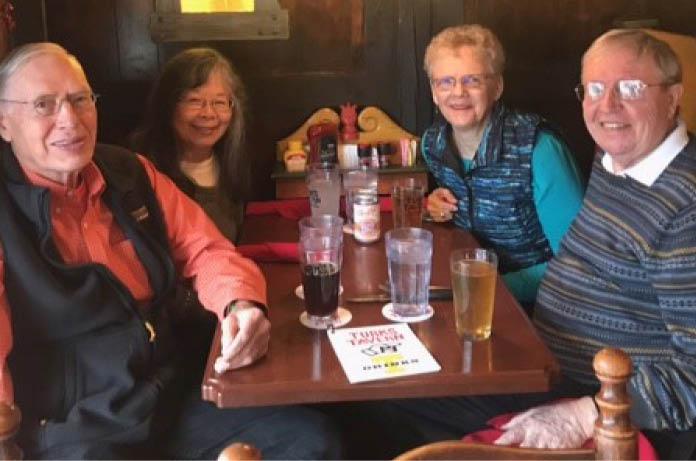 In 1959, Bob Brackenridge and Don Schneider, who grew up 45 miles apart in West Michigan, were assigned as freshmen roommates in Hoben Hall. They remained roommates all four years. After multiple terms in the Michigan Legislature, Bob retired to Tennessee with his spouse Sue (Wotila) '65. After 50 years on the East Coast, including at Dartmouth and the National Institutes of Health, Don, with spouse Jean, returned to hometown Muskegon for retirement in 2018. In 2019, Bob and Sue relocated to Grand Rapids. Thus, Bob and Don are again 45 miles apart! They celebrated the occasion in Nunica in January 2020.
1964
John Osborn, a former editor of The Index, retired as an editor of technical books at O'Reilly Media and Pragmatic Programmers in 2010, but promptly returned to his roots in journalism by signing on as editor of his hometown paper, the Harvard Press of Harvard, Massachusetts. The paper won a first-place award from the New England Newspaper and Press Association in 2019 for its reporting on local government, and earned a shout-out from James Fallows of The Atlantic for its efforts to keep local journalism alive ("We Do It for Love of the Community," theatlantic.com/notes/2019/10/were-doing-it-for-love-of-community/599977/).
1967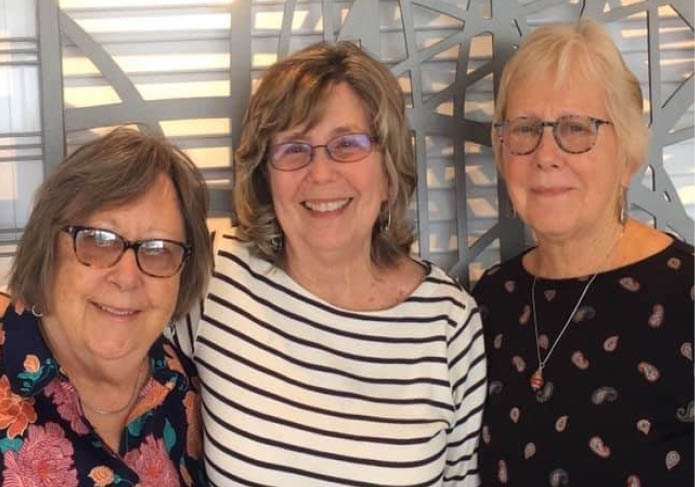 Class Agent Nancy (Southard) Young was looking at Facebook when she noticed two classmates were on the same Viking cruise in South America. She messaged both parties who did not realize that they were on the same ship, and they were able to get together for the first time in 50 years! Pictured left to right are Betsy (Jones) Starman and her friend Pat Laitner DeGraaf who were traveling together with their husbands, and Diane (Looney) Zink who was cruising with her husband.
1970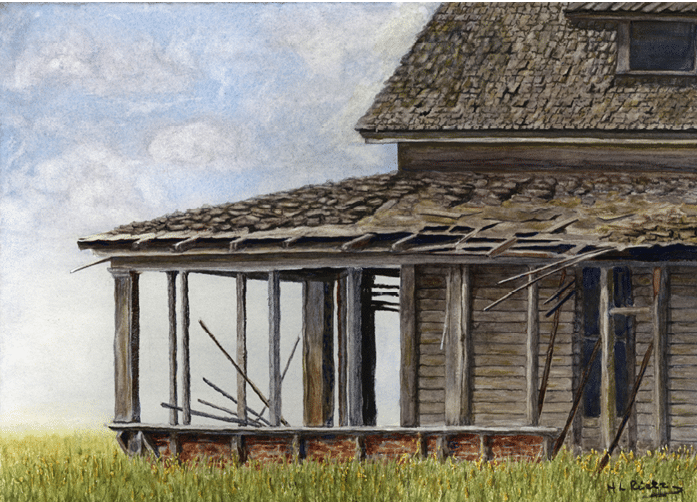 Helen Tatro Rietz will have a solo show of her work at the Holter Museum of Art in Montana, August 7–October 25 of this year. Called Bypassed, the show will feature about 40 of her watercolor paintings of abandoned places in the West—ghost towns, grain elevators, schools, churches and homesteads. (See more of her work at helenrietz.com).
1973
Vincent Liff was one of Kalamazoo's most illustrious alumni with a lifelong career in the NYC theatre. Vincent's company, Johnson-Liff Casting, assembled the talent for many celebrated Broadway shows, including The Wiz, Phantom of the Opera, Les Miserables, Equus, Dreamgirls and Miss Saigon, and was responsible for giving many of today's talented actors their first roles in professional theatre. Sadly, Vincent passed away from a brain tumor in 2003. Several of his classmates have established the Vincent Liff Memorial Theatre Fund to assist K theatre majors with some of their expenses related to educational experiences, such as internships, SIPs, regional and national theatre conferences and competitions, and so on. Funding will be considered on an individual basis based on need and merit, and is open to all theatre disciplines.In addition, all donations to the fund will be matched up to $10,000 by a longtime friend and generous supporter of the K program. We invite you to join us in honoring Vinnie Liff's memory by donating to this fund. Use this link: kzoo.edu/onlinegiving/ to send your tax-deductible donation online (be sure to indicate that this donation is for the "Vincent Liff Memorial Theatre Fund") or contact Elizabeth Lindau, Assistant Director of Development at Kalamazoo College at Elizabeth.Lindau@kzoo.edu.
1979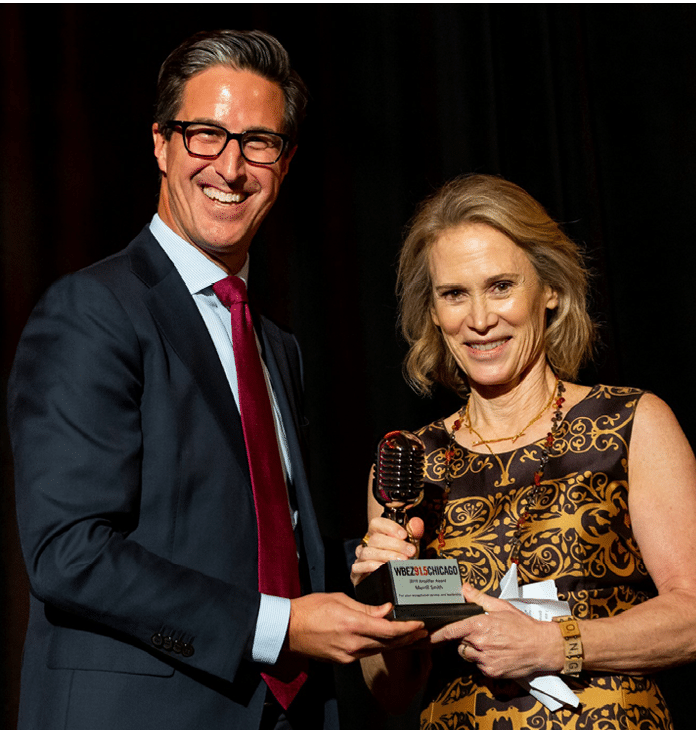 Merrill H. (Thorne) Smith was the recipient of the Amplifier Award at Chicago Public Media (CPM)'s 2019 annual dinner. Each year, the organization honors a leader who has made a significant contribution to CPM and to the Chicago community by championing the values of public media. Merrill was celebrated for her 25+ year legacy as an integral part of the growth of the public radio station. She has been an early champion and funder of some of CPM's most innovative work, including This American Life, Third Coast International Audio Festival and Vocalo. Interim CEO Steve Edwards presented Merrill with the award, and This American Life's Ira Glass made a surprise video appearance to thank Merrill for her support and leadership.
1981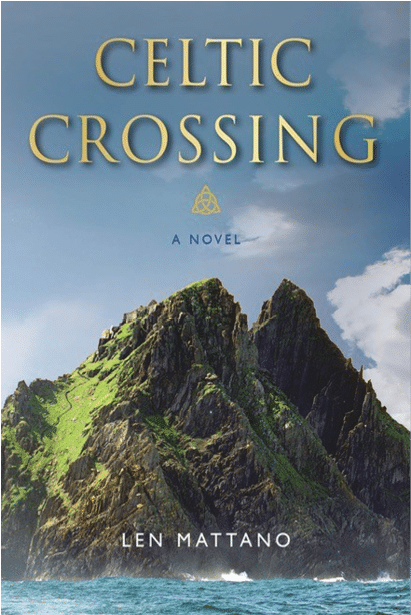 In Celtic Crossing, Len Mattano '81 tells the thought-provoking and touching tale of Aideen Callaghan, whose family members for generations were miraculously cured of cancer through the power of a holy relic, the very one which inspired the iconic Celtic cross, until it disappeared in 1866, becoming a part of Irish lore. As her grandson lies dying of cancer, Aideen turns to a priest and scholar who sets off on a quest to find the relic in a story "where medicine and miracles converge," Len says. Publisher's Weekly notes, "Mattano makes a moving debut with this story set in contemporary Ireland that weaves together ecclesiastical lessons and stories from the New Testament." Learn more about the book and Len's journey from oncologist to author in BeLight: kzoo.edu/belight/article/a-faithful-journey/.
1983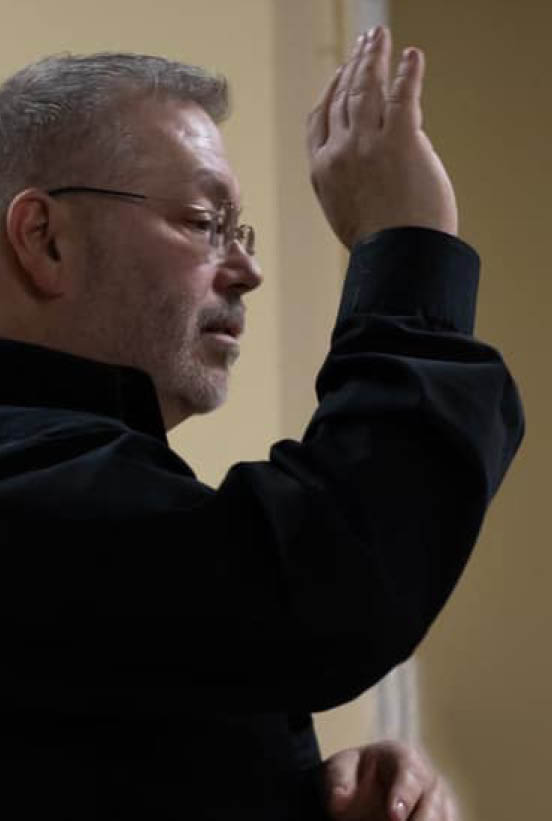 John Bradley is celebrating 25 years as director of Polyhymnia, a professional chamber choir of 16 singers, and 15 years as artist-in-residence at The Church of St. Ignatius of Antioch in New York City. The choir, known for its historically informed performances of early choral music composed between 1450 and 1650, is a long-established fixture in New York's early music concert scene. The choir receives funding from the New York City Department of Cultural Affairs and the New York State Council on the Arts. In its 25 years, the ensemble has performed some of the greatest musical offerings of the Renaissance and early Baroque period. John's academic research focuses on sacred music composed for the Tudors and the Hapsburgs, with concerts ranging from the Eton Choirbook, one of England's national treasures, to the famous Requiem setting by Tómas Luis de Victoria, commissioned for the 1603 funeral of Maria of Austria in Madrid. In addition to directing his own ensemble, John works with libraries from around the world to create modern performing editions from original manuscripts and early printed books. In addition to providing many of the performing editions for Polyhymnia, John has provided editions for numerous other choirs. In 2017 John provided the performing editions and liner notes for the acclaimed CD release by The Choir of St. Luke's of the Missa Reges Terrae and Motets by Pierre de Manchicourt (c.1510-1564). John also lectures on early choral concert repertoire. When not performing, John works in admissions and the MA program at NYU's Gallatin School of Individualized Study. He lives with his husband of 20 years Charles Keenan, in Jersey City, New Jersey, with their two over-fed and over-indulged cats, Abraham and Benjamin.
2006
Young-Jin Chang, the managing director and global head of metals at CME Group, is a Crain's Chicago Business 40 Under 40 honoree. The group includes social activists, Fortune 500 vice presidents, doctors, professors and professional coaches. Since 2016, Young-Jin has been responsible for the strategic development, management and profitability of global products including precious and industrial metals. You can read more about her story at kzoo.edu/news/crains-40-under-40/.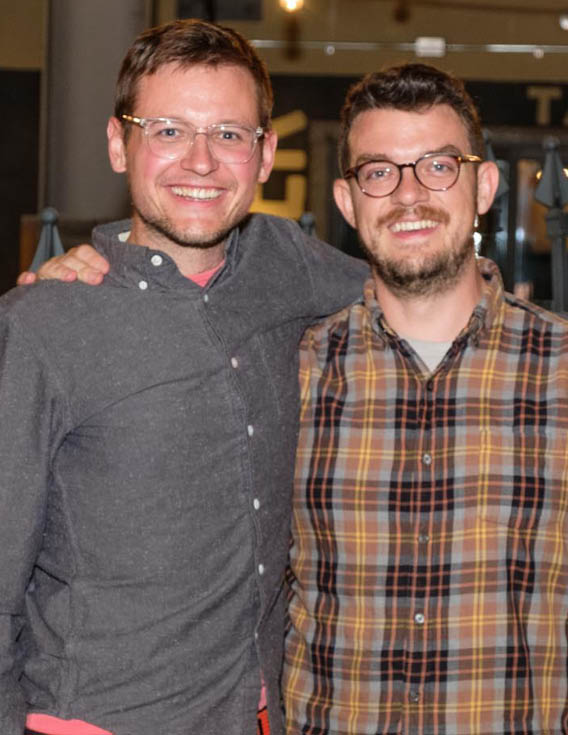 Keegan O'Connor (left) and Tom Beck '07 (right) now live in the Rainier Beach neighborhood of Seattle. Keegan works at a nearby community college as a marketing project manager, and Tom works at an environmental nonprofit as a development and database manager. While he was a student at K, Keegan worked in what was then called the Communication Office, designing publications and writing a few articles for LuxEsto.
2011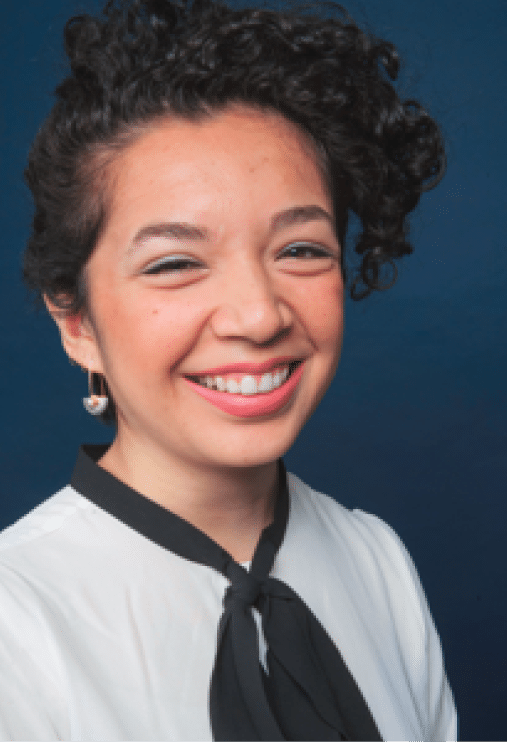 Esperanza F. Cantú has been reappointed to the Hispanic/Latino Commission of Michigan by Governor Gretchen Whitmer. Esperanza is the director of community engagement and inclusion for the United Way of Southeastern Michigan. She is a member of the Hispanic Data Advisory Committee and the Professional Development of Latina Women (PODER). She earned a bachelor's in biology at K before earning her master's in public health from the University of Michigan in 2015. Her term on the commission will run through December 10, 2022.
2016
Mallika Mitra has joined Bloomberg as a municipal bonds intern. Before joining Bloomberg, Mallika was a digital news intern at CNBC and also held an associate post at Bateman Group. She earned her bachelor's degree in English from K, where she was also editor-in-chief of The Index, and holds a master's degree in business journalism from Craig Newmark Graduate School of Journalism at CUNY.