1968
Michael Mertaugh writes, "In 1966, Kalamazoo College sent its first group of foreign study students to the University of Clermont-Ferrand—the first class to attend in that foreign study location. We traveled to Le Havre from New York late in September, 1966, on the German liner, the Europa, and stopped briefly in Paris before taking the train to Vichy, where we did a one-month stage at the Centre Audiovisuel de Langues Modernes (CAVILAM) before going on to Clermont-Ferrand at the end of October. Most of our group of 22 students (first photo) stayed in the student dorms in the Cité Universitaire; a few stayed in private accommodations off campus.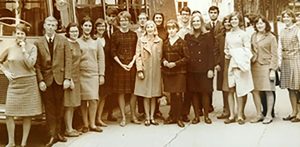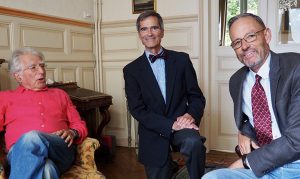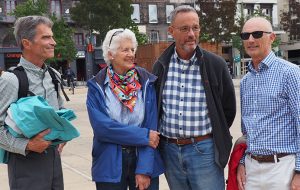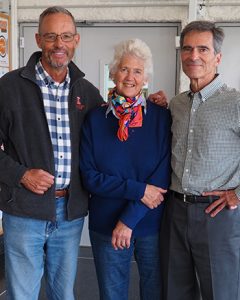 "In October of 2019, three students from our group returned to Vichy and Clermont-Ferrand to revisit that experience: Tom Barber, Elisabeth Jefferis Bartlett and myself—all members of the Class of 1968. In Vichy, we visited the City Hall where we and other CAVILAM students had attended a reception in our honor, and met with one of our CAVILAM professors, Gaston Schott (second photo). Vichy looked much the same, except that there were far fewer visitors who were taking the cure at the various spas. In Clermont-Ferrand, we visited the university, had lunch in the cafeteria at the Cité Universitaire (third photo) and explored downtown (fourth photo). The university and the town looked much spiffier than they did in our student days. The food in the cafeteria was vastly improved, and choices for the day were even posted on a digital screen in the hall. We propose to do another reunion of our foreign study group in Paris, Vichy and Clermont-Ferrand when we are all free to travel again—hopefully, with a larger group of students from our class."
1970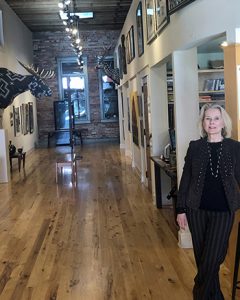 Helen Tatro Rietz was recently accepted in two additional art galleries. Her works are now showing at the Art Spirit Gallery in Coeur d'Alene, Idaho, and at River's Edge Gallery in Kerrville, Texas. Helen is now represented by a total of six galleries.
1973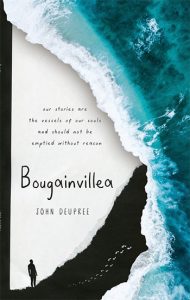 John Deupree has published the novella Bougainvillea (Fieldspring Press, 2020), a mystical tale that follows a lone traveler, Joseph, who comes upon a cottage in a place with no sounds and no wind. Invited to join the three siblings who dwell there, he is asked each night to share a story. As the stories unfold, the siblings help him accept their meaning, allowing him to continue onward to the place where footprints lead backward into the sea. With its enchanting story and compelling prose, one reviewer described it as a "well-written and beautiful read that keeps mesmerizing its readers from page to page."
1978
Richard A. Bitzinger is semi-retired after a long career as a defense analyst. After graduating from K, he earned a master's degree from the Monterey (now Middlebury) Institute of International Studies. Since then, he worked for the CIA, the RAND Corporation, the Asia-Pacific Center for Security Studies and the Center for Strategic and Budgetary Assessments. Since 2006, he has been a senior fellow with the Military Transformations Program at the S. Rajaratnam School of International Studies (RSIS) in Singapore. His career has focused mainly on issues relating to the international arms industry and to defense and security in the Asia-Pacific region. He is the author of several books, journal articles and research monographs. His publications include Arming Asia: Technonationalism and Its Impact on Local Defense Industries, Towards a Brave New Arms Industry? and Emerging Critical Technologies and Security in the Asia Pacific. His articles have appeared in International Security, Orbis, China Quarterly and Survival. He was the recipient of several awards and unit citations while in government service. He currently divides his time between Singapore and Michigan, and until the COVID pandemic kicked in, liked to spend his downtime travelling and visiting his grandchildren. Like everyone else in academia (or so it seems), he is currently writing a novel.
1987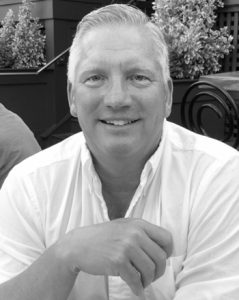 Kevin Benham has been awarded the Prince Charitable Trusts/Kate Lancaster Brewster Rome Prize in Landscape Architecture by the American Academy in Rome (AAR). Fellowships were awarded to 22 Americans and two Italian artists and scholars, who will each receive a stipend, workspace and room and board for a period of four to seven months at the Academy's campus in Rome. Rome Prize winners are selected annually by independent juries of distinguished artists and scholars through a national competition. Kevin will research herd migrations in Italy and reevaluate transhumance through a contemporary ecological and urban lens by deploying a series of landscape interventions integrating rural elements (sheep or other herbivores) into the urban environment. Kevin holds the Jon Emerson/Wayne Womack Design Professorship at the Robert Reich School of Landscape Architecture at Louisiana State University.
1988
Silence Therapeutics announced the appointment of Craig Tooman as the company's chief financial officer (CFO) and member of the executive leadership team. Silence Therapeutics is a leader in the discovery, development and delivery of novel short interfering ribonucleic acid (siRNA) therapeutics for the treatment of diseases with significant unmet medical need. Craig has a successful career in the biopharmaceutical industry spanning more than 30 years, including 15 years of experience as a public company CFO. Most recently, he was CFO and COO at Vyome Therapeutics, and prior to this was CFO and then CEO of Aratana Therapeutics. Before Aratana, he was the CFO of Enzon Pharmaceuticals until its acquisition by Sigma Tau, and prior to that led the $1.1 billion M&A initiative and integration of ILEX Oncology and Genzyme Corporation. He also held key positions at Pharmacia and Upjohn. Craig currently serves on the supervisory board and audit committee of CureVac. Craig earned his bachelor's in economics from K and an M.B.A. from the University of Chicago.
1994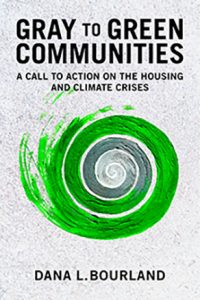 In her new book Gray to Green Communities: A Call to Action on the Housing and Climate Crises (Island Press, 2021), Dana Bourland argues that we need to move away from current housing models—which contribute significantly to a changing climate and put the physical and financial health of residents at risk—to a green model, which considers the health and well-being of residents, their communities and the planet. She demonstrates that we do not have to choose between protecting our planet and providing housing affordable to all. Dana draws from her experience leading the Green Communities Program at Enterprise Community Partners, a national community development intermediary. Her work resulted in the first standard for green affordable housing which was designed to deliver measurable health, economic and environmental benefits. CNN commentator Van Jones noted, "Dana Bourland shows us how a smart approach to climate, housing and social policy can result in a stronger economy and healthier citizens. Communities that were locked out of the last century's pollution-based economy need to be locked into the new clean and green economy. Gray to Green Communities is a must-read for anyone who cares about an inclusive, green path forward."
Equillium, Inc. a clinical-stage biotechnology company, announced that Dr. Y. Katherine Xu has been appointed to Equillium's board of directors. Katherine is a partner at Decheng Capital and has been with the firm since May 2019. Prior to joining Decheng, she was partner, senior biotechnology analyst and co-group head of the Biopharmaceutical Equity Research team at William Blair & Company based in New York. Prior to William Blair, she was senior vice president and senior biotechnology analyst at Wedbush Securities, vice president and senior biotechnology analyst at Credit Suisse and senior biotechnology analyst at Pacific Growth Equities. Before her move to equity research, Katherine was vice president of investment banking at Petkevich & Partners, a boutique investment banking firm in San Francisco focused on the life sciences industry. She serves on the board of directors for the 1990 Institute and the Overseas Young Chinese Forum, two China-related non-profit organizations. Katherine holds a Ph.D. in developmental biology and a Ph.D. minor in engineering-economic systems and operations research from Stanford University Schools of Medicine and Engineering, respectively. She attended Peking University in Beijing before transferring to K in her junior year, where she earned her B.A. with honors.
1997
Dr. Angela (Pratt) Geffre has joined Sun Capital Partners, Inc. as chief human resources officer. Sun Capital is a leading private investment firm focused on investing in market-leading companies. Angela joins the firm from Jones Lang LaSalle in Chicago, where she served as global head of talent. She has more than 16 years of experience in leadership positions at Fortune 500 companies, focusing on talent management, recruiting, assessment, talent analytics and leadership development. Previously she was director of human resources at the Kellogg Company, where she led HR for businesses in North America and Europe. She started her career at Procter & Gamble as a manager in Global Talent and later became a human resources business partner for the Gillette business. After graduating from K, Angela earned a Master of Arts and Ph.D. in Industrial-Organizational Psychology from Wayne State University.
1998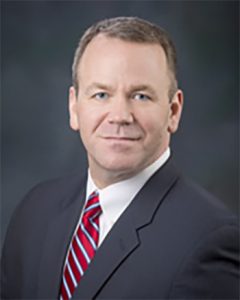 Governor Gretchen Whitmer appointed Brom Stibitz to serve as the director of the Michigan Department of Technology, Management and Budget. Brom has served as acting director for the department and chief information officer for the state since March 2020. Brom has served as the chief deputy director of DTMB since 2015, where he has been head of operations for the agency of nearly 3,000 employees, providing information technology and business and administrative services to Michigan's residents, state agencies and state employees. Prior to his role at DTMB, Brom served in leadership roles at the Michigan Department of Treasury and the Michigan Legislature. Brom holds a bachelor's degree in biology from K and a master's degree in public administration from Northern Michigan University. He and his wife, Youngsook, have three children.
1999
Amy Darrow has received her neonatal therapist certification, one of approximately 500 professionals around the world to have achieved this certification since it was established in 2016. Amy works with high-risk infants and their families in the Neonatal Intensive Care Unit (NICU) at Monroe Carell Jr. Children's Hospital at Vanderbilt University Medical Center. As an NICU physical therapist, she helps address sensory needs, positioning, motor development and family education to help families have a greater understanding of their baby's developmental strengths and needs.
2002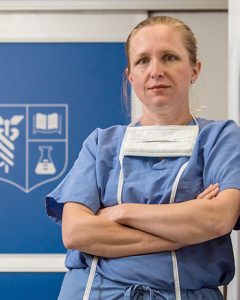 Dr. Stephanie Bonne, M.D., FACS, was recently promoted to associate professor of surgery of Rutgers New Jersey Medical School and was named the trauma medical director at University Hospital in Newark, New Jersey. She is also a Robert Wood Johnson Foundation clinical scholar, awarded for her work in gun violence prevention, hospital-based violence intervention, trauma-informed care and medical legal partnerships. She participates and has leadership roles in a number of trauma surgery and women's surgical organizations. She recently published a book, entitled Why We Are Losing the War on Gun Violence in the United States. Stephanie lives in Westfield, New Jersey, with her husband, Jeremy Roe, and their three children.
2005
CPT. Daniel Kovacs returned home after a year in Poland as the commander of the 724th Transportation Company (US Army Reserves). He lives in Chicago where he is a high school history teacher in Chicago Public Schools.
2006
Gordon Rees Scully Mansukhani welcomed Timothy R. Herman as a partner in the firm's Chicago office, where he joined the firm's commercial litigation, class action and employment law practice groups. Herman joined the firm from Clark Hill PLC in Chicago. Timothy is an experienced litigator and focuses his practice on business litigation and employment disputes. He has been recognized by Illinois Super Lawyers as a "Rising Star" in business litigation from 2016–2020. He is a member of the Chicago Bar Association's Judicial Evaluation Committee and was part of the CBA's 2016 inaugural Leadership Institute composed of 18 lawyers from various law firms and corporate legal departments in the Chicago area. He graduated as the valedictorian of his class at the John Marshall Law School in 2010.
2007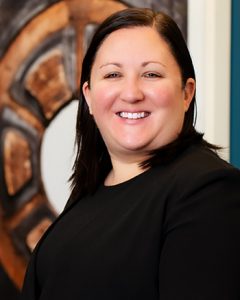 Burris Law, PLLC welcomed Julie Zamler to its team of patent attorneys. Formerly a paralegal at the firm, Julie focuses in patent preparation and prosecution. She has previous industry experience working for a contract research organization in the biopharmaceutical field. She received her J.D. and Master of Laws from Western Michigan University Cooley Law School.
2013 and 2014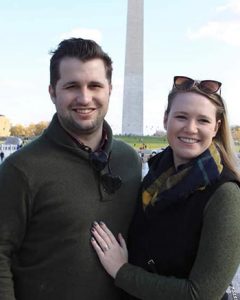 Joshua M. Abbott '13 and Allison M. Tinsey '14 got engaged on the National Mall in Washington, D.C., in late November 2020. The couple met at K when Josh was a member of the student government and Allison was an editor of The Index. After K, Josh pursued a Ph.D. in structural biology and biochemistry at the University of Colorado, Anschutz Medical Campus. Josh successfully defended his thesis in March 2020 and now works as a post-doctoral fellow at the National Institutes of Health. Allison attended the University of Richmond School of Law and graduated in 2018. She currently works in the U.S. Senate as a policy counsel. Josh and Allison live in the Washington, D.C., suburbs with their black lab, Bo, and black cat, Blaise.
2017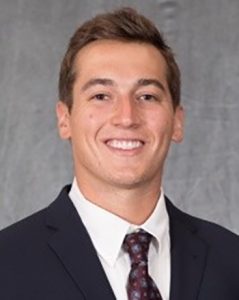 Royal Oak, Michigan-based Howard & Howard has welcomed Brett G. Garwood to the firm. Brett began his career with the firm as a 2019 summer associate and will practice out of the Royal Oak office. Brett concentrates his practice in business and corporate law. He assists on a variety of matters involving business transactions and develops solutions to support clients' diverse and ever-changing needs. Brett earned his J.D. from Wayne State University Law School in 2020.