1960
On September 27, 2019, Donald H. Sanborn was awarded the 2019 Award for Distinguished Volunteer Service by the Michigan Historical Society at the organization's state conference in Ludington, Michigan. A World War II veteran and retiree of The Upjohn Company, Don was recognized for his 78 years of combined volunteer service to the Schoolcraft Historical Society and the Kalamazoo Air Zoo. Don, with other Schoolcraft citizens, organized the purchase, refurbishing and maintenance of the Underground Railroad House, which is on the National Historic Register and open to public tours. At the Air Zoo, Don has volunteered close to 10,000 hours as a docent, and served on the Michigan Aviation Hall of Fame selection committee and the Science Hall of Fame selection committee, organizing and streamlining the selection process for those two committees. He has written dozens of research articles for the Air Zoo newsletter for volunteers. Don's goal is to introduce Michigan citizens and Air Zoo visitors to Michigan history, and he continues to do just that.
1964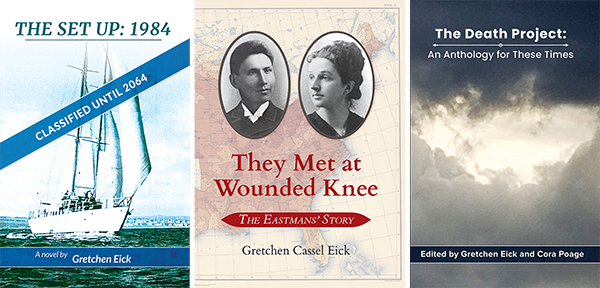 Gretchen (Cassel) Eick worked on Capitol Hill in Washington, D.C., for more than a decade as a foreign and military policy lobbyist before earning a Ph.D. in American Studies from the University of Kansas and becoming a professor of history. Her book on the civil rights movement, Dissent in Wichita: The Civil Rights Movement in the Midwest, 1954-1972 (University of Illinois Press, 2001/2008), won three awards: the Richard L. Wentworth award, issued to the best book in U.S. history published by the University of Illinois Press; the University of Kansas' Hall Center Award for the best book by a Kansas author; and the William Rockhill Nelson award for the best nonfiction book by a Kansas or Missouri author. She received two Fulbright Scholar teaching awards (Latvia and Bosnia and Herzegovina) and a Fulbright Hays grant (South Africa). Since retiring from fulltime teaching, she has been writing books. Her novels include Maybe Crossings (2015), Finding Duncan (2015), The Hard Verge: Britain, 2025 (2019) and The Set Up, 1984: Classified until 2064 (2020). Her double-biography and history of Native American physician, activist and writer Charles Ohiyesa Eastman and his Anglo wife, Elaine Goodale Eastman, was published in 2020 by the University of Nevada Press, and is titled They Met at Wounded Knee: The Eastmans' Story. She edited The Death Project: An Anthology for These Times, published in September 2020. She lives half the year in Bosnia and Herzegovina and half in Kansas, teaching and writing with her husband, the poet Michael Poage. Gretchen graduated from K in 1964 with a Woodrow Wilson Fellowship to Northwestern University for grad school in history and African studies. She had been one of the five K students who were the first to study at Fourah Bay College, Freetown, Sierra Leone. Gretchen writes, "Productivity and creativity don't disappear when you retire from full-time employment. They often expand, nourishing and blessing your life."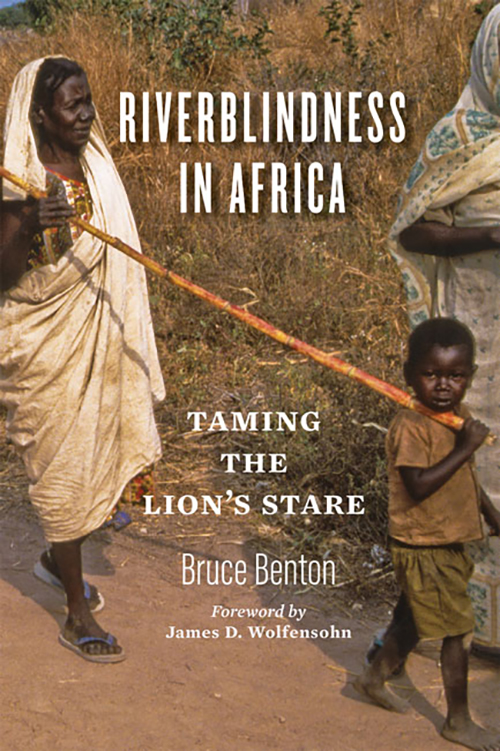 Riverblindness in Africa: Taming the Lion's Stare (Johns Hopkins University Press) tells the story of how a large public-private partnership worked to control and defeat riverblindness—a scourge which had devastated rural communities and impeded socioeconomic development throughout much of Sub-Saharan Africa for generations. Riverblindness (onchocerciasis)—a pervasive neglected disease transmitted by the blackfly—is also known as "lion's stare" in reference to the fixed, lifeless glare of the eyes blinded by the disease. In his book, Bruce Benton draws on twenty years of experience managing the riverblindness program for the World Bank, along with extensive research and interviews, to explore this epic effort and the importance of disease control in alleviating poverty and promoting development. Peter J. Hotez, M.D., Ph.D., dean of the National School of Tropical Medicine at Baylor College of Medicine says, "The story of riverblindness control is one of the most important in all global public health. Bruce Benton was there from the beginning, and his insights provide important and timeless lessons for conquering illness and health disparities."
1970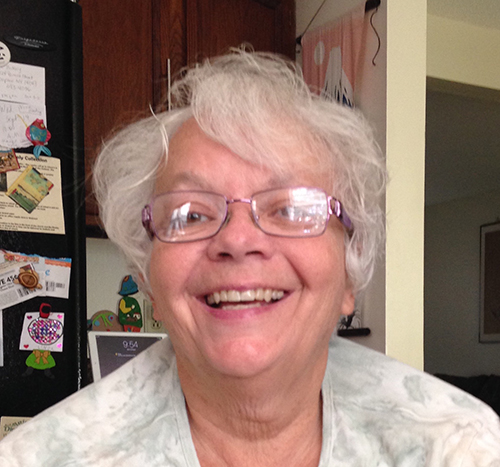 Linda (Schubert) Ryan writes, "I taught ESL at two- and four-year colleges, as well as several private schools for more than 30 years. After moving to the Buffalo area to be near my granddaughter, I started volunteering with the Buffalo literacy group. I had a private student for nine months and most recently taught a class of low-level second-language learners at a local library. I've enjoyed traveling to Thailand, Japan, Costa Rica and Europe since my children finished college. I hope to travel more soon. Right now, I am spending my time reading, Zooming, sewing and swimming."
Lucinda (Hargrave) Bellairs says she is "retired from Hewlett Packard and busy with care for my grandchildren in Michigan and Massachusetts. I enjoy quilting, genealogy, hand bells and singing, book clubs, hiking and camping."
1973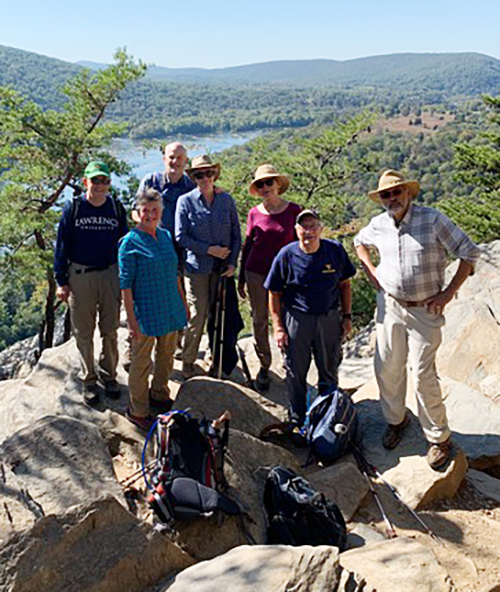 Fifty years after meeting as first-year students at K and helping to found the first outing club, a small group of class of '73 members and their spouses shared memories while gathered on the Appalachian Trail near Harper's Ferry, West Virginia. From left to right: Jim Phelan, Kathy (Smith) Phelan, Al Hauck, Tanya Hauck, Sally Reynolds (spouse of John Deupree), Larry Banta and John Deupree. Many in this group, along with others from the class of '73, have continued to share outdoor adventures over the years including Boundary Waters and Grand Canyon rafting.
1975
MacroGenics Inc., a clinical-stage biopharmaceutical company focused on discovering and developing innovative monoclonal antibody-based therapeutics for the treatment of cancer, announced the appointment of Stephen Eck, M.D., Ph.D., as senior vice president of clinical development and chief medical officer beginning July 1, 2020. Stephen most recently served as chief medical officer of Immatics US, a company focused on TCR-based immunotherapies, and as president and chief executive officer of Aravive Biologics. Before these roles, he was vice president and global head of oncology medical sciences at Astellas Pharma. He has also held leadership positions in drug development as vice president of translational medicine and pharmacogenomics at Eli Lilly and as head of clinical oncology at Pfizer. He began his professional career at Monsanto in cancer target discovery and later joined the University of Pennsylvania, where he was the Anne B. Young Assistant Professor of Cancer Research and the director of the cancer gene therapy program. Eck currently serves as a director for Luminex Corporation and Circulogene, and is on the boards of directors for the Personalized Medicine Coalition and the Central Pennsylvania Clinic. He is also a fellow of the American Association for the Advancement of Science. After graduating from Kalamazoo College, he earned an M.S. and a Ph.D. from Harvard University, and an M.D. from the University of Mississippi School of Medicine with residency and fellowship training at the University of Michigan.
1983
Suzanne Kleinsmith Saganich was recognized for the 12th year in a row by Best Lawyers in the areas of banking and finance law, financial services regulation law and real estate law. Best Lawyers' methodology is designed to capture, as accurately as possible, the consensus opinion of leading lawyers about the professional abilities of their colleagues within the same geographical area and legal practice area.
1985
Rob Buchanan has been sworn in as the 86th president of the State Bar of Michigan. Michigan Supreme Court Chief Justice Bridget Mary McCormack presided at the virtual ceremony on September 17. Rob is cofounder and managing member of Buchanan & Buchanan, PLC in Grand Rapids, and concentrates his practice on plaintiff medical malpractice, auto and truck accidents and commercial litigation. In addition to his service with the State Bar of Michigan, he has also served in various roles with the Michigan State Bar Foundation, Federal Bar Association, Grand Rapids Bar Association, Michigan Association for Justice and International Society of Primerus Law Firms. Rob has been involved in State Bar work for more than a decade and has served on many of its committees and groups. He has served on the SBM Board of Commissioners and as treasurer, secretary, vice president and president-elect. After graduating from K, Rob earned his law degree from Wayne State University Law School.
1991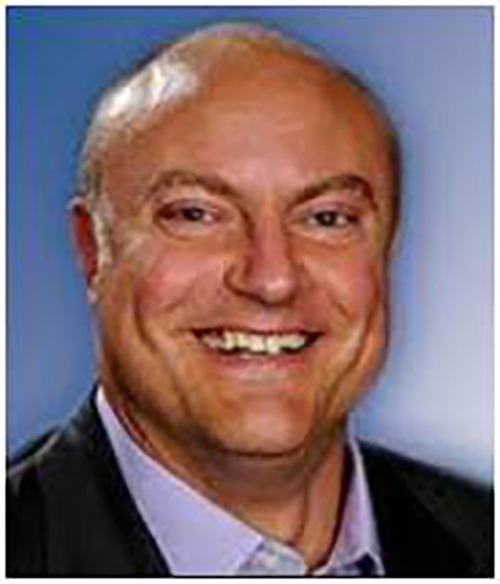 Famous Products Inc. announced the hiring of Paul Reppenhagen as president and CEO. Famous Products markets and sells various BBQ-related consumer packaged foods across the United States under the Famous Dave's brand to the retail class of trade. Before this appointment, Paul founded Bold North Strategy Partners, LLC and was CMO and head of corporate strategy for post-consumer brands and MOM Brands in Minneapolis, Minnesota. He earned a B.A. in economics from Kalamazoo College and both an M.B.A. in strategic management and an M.B.A. in marketing from the University of Minnesota's Carlson School of Management.
1993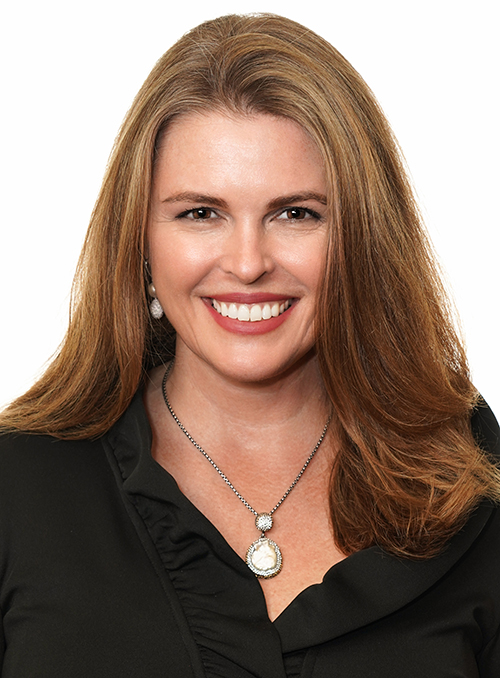 Simona (Boata) King, CPA, M.B.A., joined Tmunity Therapeutics Inc., a clinical-stage biotherapeutics company, as chief financial officer. Tmunity noted that Simona will "leverage nearly two decades of work with Bristol-Myers Squibb, and strategic finance experience across all pharmaceutical business functions, including manufacturing, research and development from preclinical to late stage, mergers and acquisitions, and commercial product launches." In her most recent role with Emergent BioSolutions, Simona led the financial management and long-term financial planning functions, and was heavily involved in external capital financing activities. After graduating from K with a degree in economics and a diploma in African studies from the University of Cape Town, South Africa, Simona earned her M.B.A. in finance from Columbia Business School.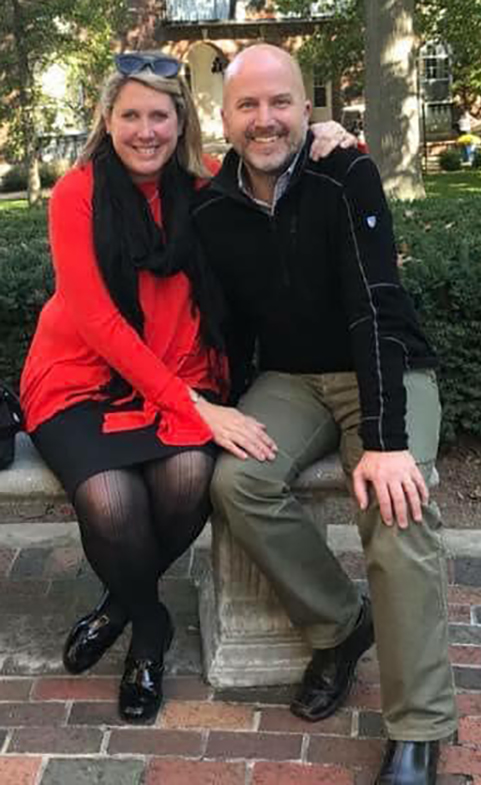 Kyle Dell was named interim academic dean at Guilford College for the 2020-21 academic year. An associate professor of political science, Kyle is co-chair of environmental and sustainability studies and has more than 17 years of experience at Guilford. He has also served as associate academic dean, providing important leadership in implementing the Guilford Edge, and is a recipient of an American Council on Education fellowship. He is pictured with his wife, Erin Brownlee Dell '93.
1996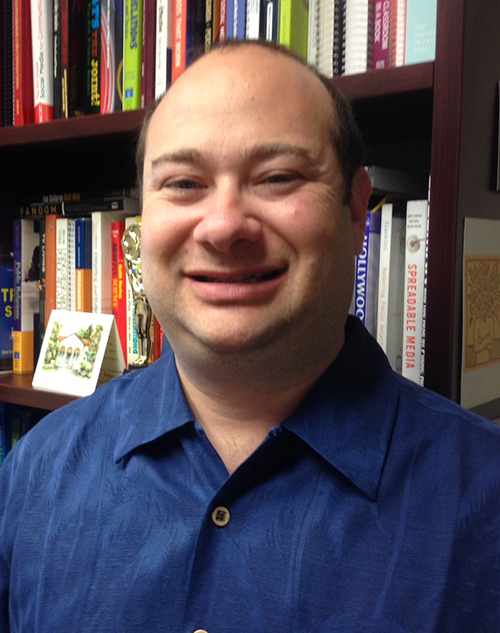 Josh Azriel, Ph.D., is professor of journalism and emerging media at Kennesaw State University in metro Atlanta. He is in his 15th year at the university. He just published a book, Restricting Los Angeles Paparazzi: California's Legal Efforts Impacting Free Press Rights (Lexington Books, 2020). He would love to hear from his old classmates from K: josh.azriel@gmail.com.
The Walters Family Foundation welcomed Libby Levy as the organization's new director. Libby joined the foundation in June 2019, bringing more than 18 years of experience in community development, philanthropy and urban planning. She has held positions at organizations including ProSeeds, Community Foundation for Southeast Michigan and Jefferson East Business Association. She also was an urban planning lecturer at University of Michigan. As director, Libby will focus on building relationships statewide with organizations that successfully pursue objectives reflecting the priorities of the Walters Family Foundation.
Jennifer Mrozowski, APR, has joined the Education-Trust-Midwest to serve as director of communications, recently leaving her role as executive communications lead writer for the CEO of Blue Cross Blue Shield of Michigan. In her new role at the education policy and advocacy organization, Jennifer, a former education journalist, is proud to join a team of fierce advocates working toward the high academic achievement of all Michigan's students, but particularly children of color and students in poverty. Additionally, in partnership with the Detroit Women's Leadership Network and Detour Detroit, Jennifer recently teamed up with a group of women leaders to launch a digital magazine, The Blend, to help women find inspiration, advice and resources while connecting to an inclusive community dedicated to supporting each other. Jennifer also serves as a co-chair of the APR committee for the Public Relations Society of America-Detroit Chapter and strategic content editor for the Detroit Women's Leadership Network. She is a Girl Scout troop leader for her daughters' troop.
1999
Hadley Moore's short story collection, Not Dead Yet and Other Stories, studies the uncertainties of loss, turning a gaze toward the often-silenced voices of the infirm, elderly and adolescent. Rich in humor and honesty, Hadley's debut collection presents a contemporary set of narratives from a lush cast of characters. Not Dead Yet won Autumn House Press's 2018 fiction contest; was longlisted for the 2020 PEN/Robert W. Bingham Prize for Debut Short Story Collection; won the 2020 Eric Hoffer Book Award's short story/anthology category, as well as a First Horizon Award for debut books, and was on the short list for the grand prize; and was also shortlisted in the short stories category for the Rubery Book Award. Her work has appeared in Newsweek, McSweeney's Quarterly Concern, Witness, Amazon's Day One, Alaska Quarterly Review, December, Indiana Review, Anomaly, Quarter After Eight, Confrontation, The Drum, Sequestrum, Ascent, Midwestern Gothic, Redux, Knee-Jerk Magazine and other publications. She is at work on a novel and another collection, and is an alum of the M.F.A. Program for Writers at Warren Wilson College.
2005
Brett Blaauw landed a coveted spot on the Fruit and Vegetable 40 Under 40 Class of 2020, announced by Fruit Growers News. Brett, an assistant professor and cooperative extension specialist in the Department of Entomology at University of Georgia's College of Agricultural and Environmental Sciences, holds a joint appointment in Clemson University's College of Agriculture, Forestry and Life Sciences. Brett's research and extension programs focus on addressing grower needs through a combination of laboratory studies, research farm trials, on-farm research and collaboration with colleagues and county extension personnel. Currently, his primary initiative zeroes in on reducing the burden caused by the No. 1 pest concern for peach growers in Georgia, San Jose scale. After majoring in biology at K, Brett earned a master's degree in science from Western Michigan University and a doctorate from Michigan State University.
2008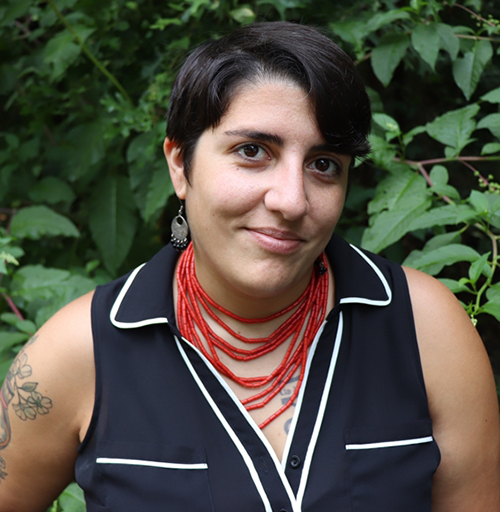 Danielle Badra has been named the winner of the 2021 Etel Adnan Poetry Prize for her collection Like We Still Speak, which will be published by the University of Arkansas Press in fall 2021. Each year, the Etel Adnan Poetry Prize awards publication to a first or second book of poetry by a writer of Arab heritage. Danielle, who is of Syrian and Lebanese heritage, was born and raised in Kalamazoo, Michigan, and currently resides in Virginia. An alumna of the M.F.A. program at George Mason University, she is a management analyst and technical writer. Her poetry has been published in Mizna, the Greensboro Review, Bad Pony, Rabbit Catastrophe Review, Duende, Split This Rock, Beltway Poetry Quarterly and Outlook Springs. Series editors Hayan Charara and Fady Joudah said of Danielle's collection: "Danielle Badra's poems strive to make sense of that most present yet often elusive condition—being human—and she does so with insight, grace and originality. Her attention to grief is polyphonic. The voices of those lost to her become voices we embrace. We're thrilled to help her bring this book into the world."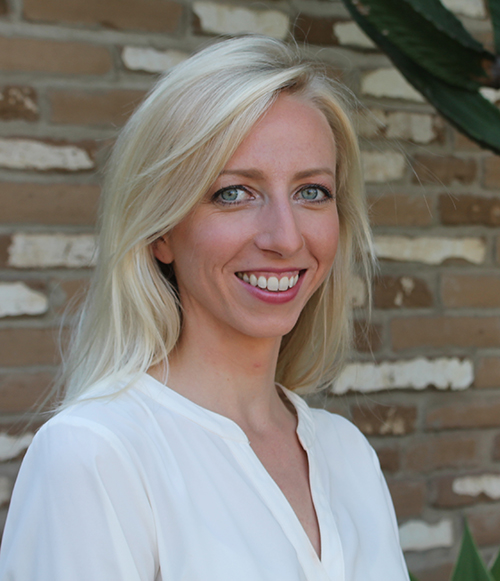 Emily Dayton has commenced a two-year Master of Business Administration at the University of California San Diego Rady School of Management. She is the recipient of two fellowship awards from the Rady School: the Dean's Foster Chair Fellowship as well as one of the inaugural Rady Staff Scholarships.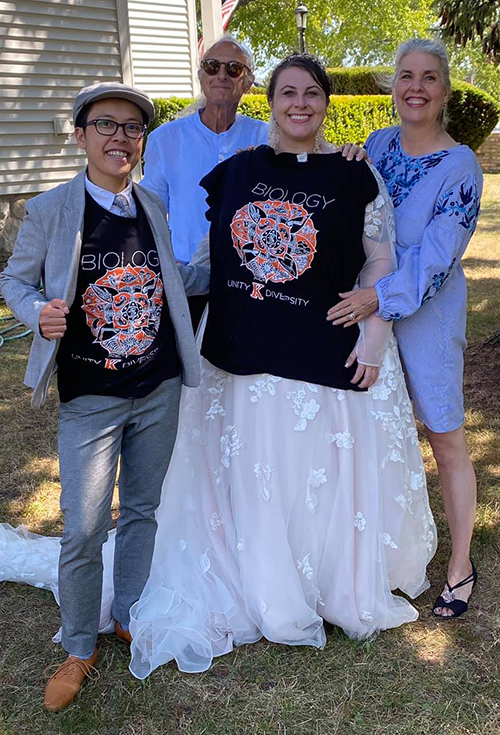 Lenya Friesner married her partner Chau Pham in Ludington, Michigan, on August 22, 2020. Lenya's parents Scott Friesner ('77) and Suzanne Friesner ('78) were in attendance. The couple are wearing t-shirts designed by Lenya for the Kalamazoo College biology department, promoting the concept of unity within diversity.
2009
Will Dickson was named to DBusiness Magazine's 30 in their Thirties list for 2020. The Detroit business journal notes that, as managing director of Finance Michigan and president of Marketplace Homes, Will was among leaders who "dug deep for an extra measure of fortitude to meet the outbreak of COVID-19 and, along the way, developed new products and services, sought out cutting-edge business models, and pivoted into unchartered waters."
Correction:
In the Spring 2020 issue, the ZooBit picturing classmates Betsy (Jones) Starman, Pat (Laitner) DeGraaf and Diane (Looney) Zink should have indicated that Pat is also a member of the class of 1967.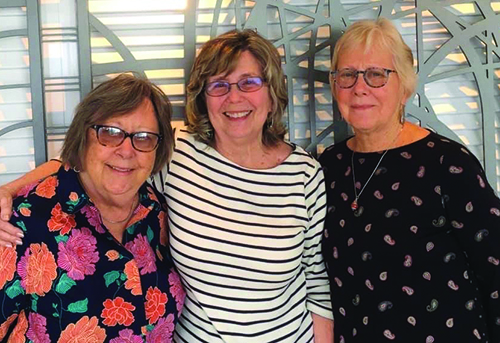 Did you get married? Have a baby? Get a new job or move to a new city? Tell us about your recent travels, career developments, family updates, mini-reunions or anything else you want to share! Photos are welcome. Use the handy form at kzoo.edu/alumni/services/send-in-a-class-note/ or email us at info@kzoo.edu. If you email, please include your class year.