Click a decade to jump to that decade's class notes.
Athletics Across Generations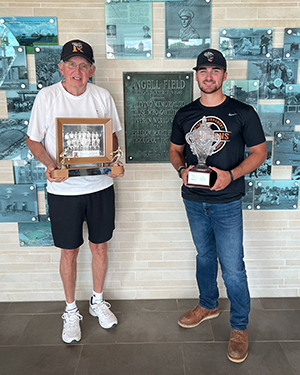 Bob Morgan '63 and his grandson Ryan Morgan '22 were both successful student-athletes at Kalamazoo College and both members of a Michigan Intercollegiate Athletic Association championship team at K, 60 years apart. Bob was a member of the MIAA basketball championship team in 1962, while Ryan was a member and captain of the 2022 MIAA baseball championship team. Bob and Ryan recently visited campus together and took a photo with their respective teams' trophies, immortalizing their family Hornet history.
Bob was a four-year starter in basketball, and a captain and leading scorer his senior year. He said being a student-athlete may have been the most important part of his K experience. As a rare K commuter, he found connection primarily through the basketball team.
Bob's mother kept a scrapbook of all his high school and college games, which he still enjoys reminiscing about. He attends many basketball games at K and is still in touch with a couple of teammates.
"It's one of the things I'm most proud of in my life," Bob said. "It's fun to share what Ryan has accomplished and what it was like in the old days. The amount of preparation and time athletes today put into their sport is quite a bit different; we didn't work year-round and have weight training programs and all that. I really admire Ryan's dedication, and I am so proud of him."
Ryan played baseball all four years, serving as captain his junior and senior years. His student-athlete experiences gave him a sense of purpose, motivated him to represent his team well, and helped him develop time management skills and self-discipline. While Bob and Ryan shared similar experiences balancing K's academic and athletic demands, Ryan said the athletic facilities have come a long way since his grandfather's time, thanks in large part to the many gracious donors who enhance student-athletes' experiences at K.
"Winning a conference championship is an incredible accomplishment and is not something that just happens overnight," Ryan said. "To be able to see all of the hard work pay off for not only himself, but also for me, is something that I know is very special for my grandfather. This is something that very, very few grandfathers and grandsons get to share, so we cherish that, and it definitely brings us together."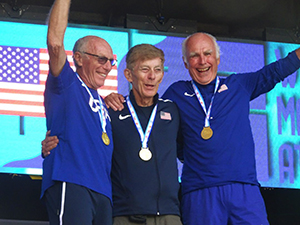 Walt Herscher '66, a former cross country runner at K, recently competed in the World Masters Athletics (WMA) Championships in Tampere, Finland. The WMA is an Olympics-style competition for athletes 35 and older. More than 4,300 athletes from 87 countries competed in track and field events. Walt competed as part of Team USA in the half marathon, finishing fifth in his age group (75-79). He earned a gold medal as part of Team USA's winning half marathon team, in which the total time of a country's first three finishers is used to determine team placement. Walt was the first finisher (2 hours, 4 minutes, 23 seconds) of the three USA runners in his age group; he is pictured at center on the podium. Walt lives in Winter Garden, Florida.
Patricia Minkler '67 writes, "Hello, everyone who has reached this interesting age! Such an eye opener….and full of appreciation and enjoyment. After retiring for the third time from a professional work life of directorships of six education-based nonprofit organizations, I find myself looking about for the next cause, and finding it in the small things of life! Children grown, significant other of 22 years passed away from repercussions of Vietnam—I am learning to fly solo, and what a journey. Tried something new in July 2022: Enjoyed being a volunteer lighthouse keeper in northern Michigan. Enjoying travel (K taught us that), kayaking and sailing, reading, watercolor painting, hiking, music and singing, volunteering for local nature centers, and spending winters in Sun Valley, Idaho, with my daughter. Summers along Lake Michigan are beautiful and I am glad to host any of you who can stop by. May life grant you love and health always."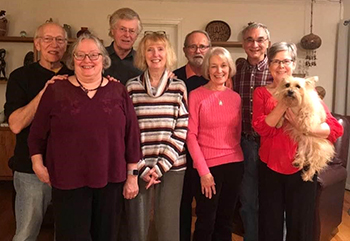 A group of five K graduates currently living in or near Chapel Hill, North Carolina, have been getting together regularly for dinners with their spouses. Graduates of 1968 are Julie Eastman, Susan Eastman, Brent Jenkins, Carol Osburn Jenkins and Vernie Davis. The carved calabash on the shelf in the background was acquired in Oyo, Nigeria, by Sybil Smith '68 and Vernie Davis '68 during their study abroad at Fourah Bay College, Sierra Leone.

Helen (Tatro) Rietz '70 opened a solo exhibit of original artwork at Old Main Gallery in Bozeman, Montana, in August. Called Old Wheels, her series of paintings includes "portraits" of vintage cars, trucks and gasoline pumps. This exhibit ran through mid-September; Helen is represented by this gallery and several others on an ongoing basis.
David M. Thoms '70, of the firm Varnum LLP, is recognized in The Best Lawyers in America 2023 for his work in four categories: litigation—trusts and estates, nonprofit/charities law, tax law, and trusts and estates. David was selected by his peers in recognition of his professional excellence. He is the only lawyer in Kalamazoo to be recognized in tax or nonprofit organization law. David was previously named Lawyer of the Year by Best Lawyers for nonprofit/charities law in Detroit in 2015.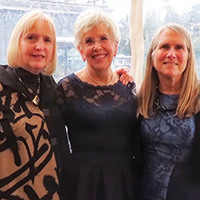 Barbara '72 and Fugate Holt '71 recently celebrated their 50th wedding anniversary with family and friends. Pictured (from left) are Kristin (Korten) Brown '72, Barbara (Cornwell) Holt '72 and Vicky (Minderhout) Thorsell '72 at the anniversary celebration. Barbara and Fugate were married June 17, 1972, in the Olmsted Room in Mandelle Hall, with Dean of the Chapel Robert Dewey officiating the service.
Sharon (Smith) Brechon '72 writes, "Congratulations to us all for making it to our 50th reunion. I finally retired from teaching and school counseling after 36 years just this past January, with my final year online. When I was at K, I worked for Saga as a server at the alumni dinners during reunion week. I never thought I would be attending my 50th. Those grads looked so old! It's nice to see that we don't look that decrepit! We have four children and eight grandchildren, with our oldest currently at Coast Guard boot camp. How time flies! I hope all of you who couldn't attend the festivities in Kalamazoo are doing well and best wishes for the future."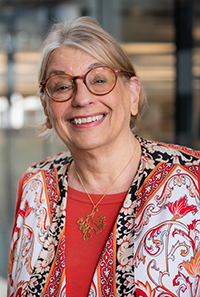 Barbara Lee Waszczak '72 writes, "After a 37-year career as a professor of pharmacology at Northeastern University in Boston, I retired in June 2020 with the intent of continuing my research without the obligations of teaching. During the following year, I submitted and ultimately received a major grant from the National Institutes of Health to fund my research and a new appointment as a research professor at Northeastern. I have been directing the studies of this grant over the last year, and it is a retirement dream come true for me! I have a group of research collaborators who are performing studies to test a novel intranasal gene therapy that we hope will be useful as a treatment for brain disorders, such as opioid use disorder (the topic of this grant) and Parkinson's disease. I am happily living in the beautiful town of Wellesley, Massachusetts, with my husband of 41 years, Arthur Ensroth. Arthur just retired in June 2022 after a 40-year career in not-for-profit health care data analysis. He is exploring volunteer opportunities with local conservation organizations. We enjoy attending the abundant classical music concerts in the Boston area and occasional trips to New York City to attend the Metropolitan Opera. We also love to travel to national parks and other beautiful places. Life is good for us!"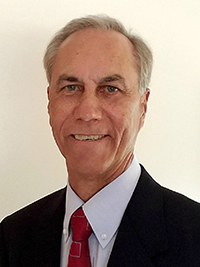 Lawrence Pfaff '73 is semi-retired after a career as an executive consultant, test publisher and professor of psychology at Spring Arbor University. He now does career coaching, develops online career courses and makes media appearances. His work includes a resumé and interview master class on udemy.com and a recent online interview about consumerism for Authority Magazine.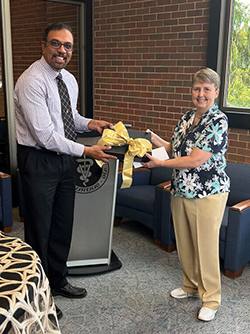 Regina Kreisle '77 retired from Purdue University College of Veterinary Medicine's Department of Comparative Pathobiology in June after a faculty tenure that spanned 33 years. After K, Regina accepted a research position at Purdue in what is now the Department of Comparative Pathobiology. In 1985 and 1986, respectively, she earned her Doctor of Medicine and Ph.D. degrees at the Washington University School of Medicine in St. Louis, and then completed an internship in internal medicine and a postdoctoral fellowship at the University of Wisconsin. During her Purdue tenure, Regina progressed through the academic ranks, receiving promotions to associate professor in 1996, and full professor in 2004. In 2014, Regina was asked to serve as interim director of the Indiana University School of Medicine–West Lafayette. Then, in 2016, she was named the new permanent director and remained in the position until retiring in 2021. Regina received many awards over the years, including the Indiana University Trustee Teaching Award in 2007, 2009, 2010, 2012 and 2014. Regina is pictured receiving a recognition gift in honor of her retirement from Dr. Sanjeev Narayanan, head of the Department of Comparative Pathobiology.
Rich Sewell '79 became the new airport manager at Merrill Field in Anchorage, Alaska, in September 2022. Rich came to the city after 18 years in state government, most recently as an aviation policy planner for the Alaska Department of Transportation and Public Facilities. He previously worked for the municipality as a regional economist and research section supervisor in the Economic Development and Planning Department. Rich received a B.A. in economics from K and an M.B.A. from the University of Alaska Anchorage (UAA) in 1997. He is an avid community volunteer, having spent time on the boards of the UAA Alumni Association, Alaska Center for Public Policy, ASEA/ASFMCE Local 52 Health Benefits Trust, and Food Bank of Alaska.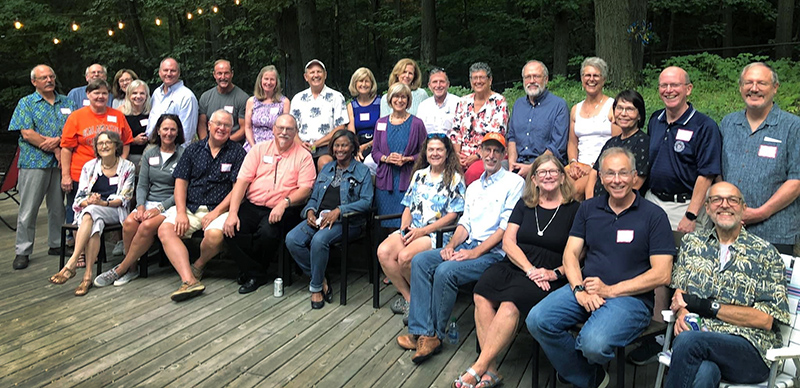 During summer 2022, members of the class of '79 gathered at the Grand Haven home of Barb (Turner) DeRose '79 and Chris DeRose '79 for a party celebrating their milestone 65th birthdays.

Terri Kline '80 was elected to the board of directors of Owens & Minor, a global solutions healthcare company. Terri has more than 25 years of leadership experience in the health care industry. Her most recent leadership role was as president and chief executive officer of Health Alliance Plan, a subsidiary of Henry Ford Health System in Michigan. Terri currently serves on the public company board of Amedisys Inc. and multiple private company boards. Previously, she served on the board of directors of Apria Inc., which was acquired by Owens & Minor in March 2022, and Intersect ENT, which was acquired by Medtronic Inc. in May 2022.
Laura (Gran) Berendson '82 writes, "I am unable to travel to our 40th reunion. I invite anyone in the northwest suburbs of Chicago to visit me at my home. I am now in a wheelchair due to multiple sclerosis but have a lovely apartment here at assisted living, where I work remotely for a publisher as a book editor. Come play one of several versions of mahjong or other board games or card games! Or call to chat. I am on LinkedIn and I am in the 1982 class Facebook group. And I am in the alumni directory."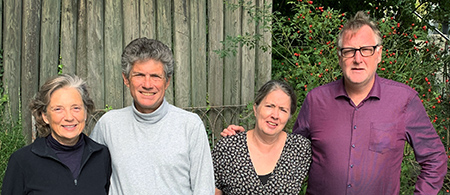 Michael and Carol (Grzelewski) Deck '82 visited Susan Klaiber '82 and her husband, Christof Dobiess, at their home near Winterthur, Switzerland, on September 18, 2022.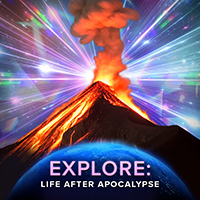 Lorri Hopping '82 writes, "Finally! After years of hard work, I have successfully pivoted my freelance writing/game design career back into video games, where I started in the 1980s while also working as a writer and editor on a computer magazine. I've landed a contract position as a lead writer on Cell to Singularity: Evolution Never Ends! It is a hit international mobile game (10 million downloads! 17 languages!) in which players explore science and humanities topics as they gradually build an interconnected tree of knowledge. My first game event, Life After Apocalypse (about mass extinctions), premiered September 14-19, 2022 on iOS, Android and Steam (a web-based game platform). Meanwhile, I'm hard at work on an exploration of pollination coevolution, starring bees and flowers, which will be followed by a deep dive into artificial intelligence and other fascinating topics. I LOVE this job!"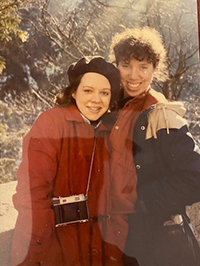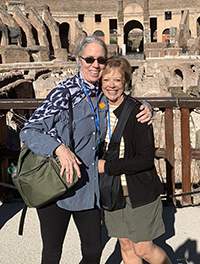 Fran DuRivage '83 and Ann Wilson '83 studied abroad together in Madrid in 1981-82, where they became fast friends and traveled together throughout Italy and other countries. Forty years later, they wanted to travel abroad together again, and planned a wine tour in northern Italy with four couples for September 2020. When that trip was canceled, Fran and Ann signed up for Rick Steve's Heart of Italy tour for September 2022, with Fran's husband, Gerry Brazeau, and Ann's husband, Don Bluitt. The two couples visited the Amalfi Coast before joining the tour in Rome and journeying on to other places in Italy, including Volterra, Cinque Terre and Florence. "We have stayed dear, dear friends this whole time," Fran writes. "We try to see each other at least two times a year. I'm so grateful for this friendship. Thanks to K." Ann writes, "A friendship born out of foreign study that has enriched both of our lives. We are so grateful for K!"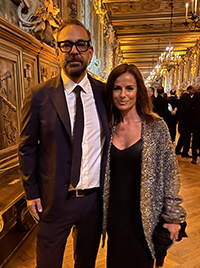 Andres Blazquez '92 writes, "We really wanted to join the reunion, but it was too difficult due to professional engagements. We now live in Genoa, Italy, where I am CEO of the oldest football club in Italy: Genoa CFC. If you are traveling through Italy, please let us know."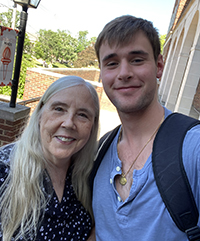 Julie (Purvis-Smith) Fouque '92 writes, "Hi, Class of 1992! Who'd have thought that 30 years after my graduation from K, my son would be doing his K foreign study, also in France! While I'll miss seeing him during homecoming, I hope to see lots of you! A bientôt!" Pictured is Jan Solberg, who taught French to Julie at K 30 years ago, with Julie's son Andre Fouque '24. While Solberg no longer teaches full time, she is still active at K and met Andre in a K French conversation group.
Scott Schulz '92 writes, "Hi everyone, I am sorry to miss our 30-year reunion due to a family wedding. I am practicing orthodontics in Traverse City, Michigan. I have three kids, 19, 18, 16. The older two are off to college already at Michigan and Miami of Ohio. I have such fond memories of our time together at Kzoo. I feel very fortunate to have had the K experience and to have been surrounded by such amazing classmates. My best to you all!"
Sonya Olds Som '94 has joined Diversified Search Group as a global managing partner and will lead the firm's newly created Legal, Risk, Compliance and Government Affairs practice. Sonya is a recognized leader in the legal industry and brings more than a decade of experience in executive recruiting, in addition to more than a decade as a practicing attorney. She will lead search and consulting projects and advise clients in recruiting executive-level management and board members with strong business acumen across industries and locations. Sonya joins Diversified Search Group from a leading global executive search firm, where she was a partner. Prior to that, she was a partner at legal search firm Major, Lindsey & Africa. Before embarking upon her career in executive search, Sonja practiced labor and employment and immigration law at the associate and partner levels at large law firms nationwide. Sonja earned her Juris Doctor degree with specialization in international legal affairs and concentration in business law at Cornell Law School.
Angela (Pratt) Geffre '97 has joined GrowthCurve Capital as head of human capital and a member of the Investment Committee. Angela brings 20 years of human capital experience from private equity and Fortune 500 companies. Her previous experience includes growing businesses and leading global Talent Centers of Expertise and Human Resources at Sun Capital Partners Inc., JLL, Kellogg Company and Procter & Gamble. Angela holds a B.A. in psychology from K, and an M.A. and Ph.D. in industrial-organizational psychology from Wayne State University. She is a frequent speaker at industry and human capital conferences discussing human capital trends, talent assessment, leadership development, and diversity, equity and inclusion. Angela's work has been published in CIOReview, The Cambridge Handbook of the Global Work-Family Interface, and several scholarly journals and textbooks.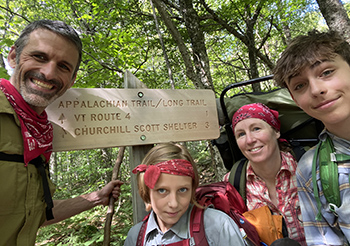 Julia (Quigley) Long '97 writes, "My K experience only whetted my appetite for travel and I wasn't sure what I wanted to do with my life, so I bought a one-way ticket to Ireland, where I worked and traveled for a year. I call it my Forrest Gump year because I met a few famous people and ended up being part of a week-long televised tour of celebrations honoring some friends who won the national hurling championship at Croke Park Stadium. I returned home to realize how little I'd seen of my own country, so a friend and I took another few months to span the U.S. a couple of times in a borrowed Jeep. After all those adventures, I spent a handful of years in Cambridge to work in various nonprofits and earn an M.P.H. from Boston University. Once I met and married my super awesome husband (Dave!), we moved back to my hometown of Beverly, Massachusetts, and we've been watching our two remarkable kids, Carter, 16, and Fiona, 13, grow up. Their elementary years were all homeschooled, but they are both currently enjoying the traditional scenes of middle and high school. Sports, music, art are a big part of our lives, along with one or two video games, but we have managed to stumble through a segment of the Vermont Long Trail every summer since they were 10 and 7, so don't worry, character building is happening. My latest (ad)ventures include teaching elementary Spanish, editing for the World Bank, and founding a nonprofit called Green Beverly, which aims to impart sustainability information, education and inspiration to individuals, organizations and businesses. I am feeling beyond lucky for my charmed little life, and for the role K played in it."
Timothy Smith '97 writes, "After five years in Northern Virginia, we will likely be returning to Africa in summer 2023. This time, we'll be leaving behind our daughters at K—Lily (Class of 2025) and Gwen (Class of 2026)."
The city of Kalamazoo has announced the promotion of Deputy City Manager Laura (Edwardson) Lam '99
to the newly created position of chief operating officer. Laura had been a deputy city manager for Kalamazoo since spring 2019. Her new responsibilities will include collaborating with the city manager in setting and driving organizational vision, culture and operating strategy. Other duties include cultivating and strengthening relationships with partners to advance community goals and actions. After K, Laura earned a master's degree in public administration from San Jose State University. She joined the city of Kalamazoo staff in 2009 as the community development manager and later became director of Community Planning and Development.

Rachel Witalec '07, with her husband, David, and two kids (4 years old and 10 months old), relocated to Colorado after more than 12 years in the Bay Area of California. She is vice president of product and strategy at an AI health care company and has spent her time since graduating working at Google and startups, and getting her M.B.A. at Stanford Graduate School of Business. Rachel loves mentoring aspiring product leaders (especially women product leaders) and getting involved in startup advising (particularly series A–B stage). She also devotes time to volunteer with children with special needs—a cause very close to her heart.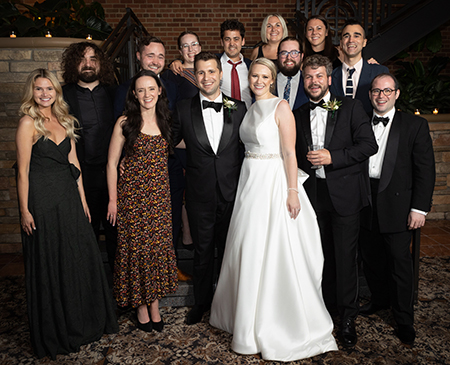 On May 28, 2022, Allison Tinsey '14 and Josh Abbott '13 tied the knot in Plymouth, Michigan, in the presence of family and friends. Allison and Josh met at K when Allison covered the StuComm beat for The Index and Josh was a commissioner. Allison now works as a policy counsel in the U.S. Senate and Josh is a senior scientist at Rapafusyn in Baltimore, where he works with Matthew Olson '86. They live outside Washington, D.C., with their black lab, Bo. Pictured from left: Claire (Diekman) McCormick '14, Eric Silverstein '13, Katie Thiry '14, Colin Lennox '14, Emily Smith '14, Josh Abbott '13, Eren Sipahi '14, Allison Tinsey '14, Jensen Sprowl '13, Curtis Gough '14, Anne Colonius '13, Brennan Watch '14, Ben Richards '13 and Hagop Mouradian '14.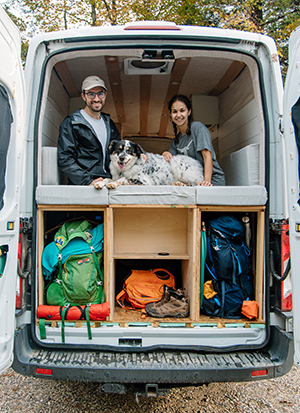 Simone Arora '15 writes, "I've been waiting for the day I could roam. No strings, no borders, no limits; wild and free. So I built a home on wheels! I spent 10 years pining, planning and saving to be able to convert a vehicle into my house. I created 15 different build layouts before settling on one that maximized counter space, a place to work remotely, and one that was conducive to being off-grid for weeks. After nine months of some of the most difficult yet rewarding labor, my self-converted van, Boots, was birthed. I like to joke that I'm a YouTube-certified electrician after wiring the van for solar-powered AC and DC. Even after graduating from K with a biology degree, it's the thing I'm most proud of. With a portable toilet, indoor and outdoor shower, and 30 gallons of freshwater in tow, I've been able to cross the country half a dozen times. My adventures have taken me to Baja, Mexico, all throughout the United States, and into a wonderful relationship with my soon-to-be husband, Nick. With our dog, Charlie, we've toured the country during Nick's summers off. I've never felt a stronger sense of home than I've found in the van life community. Adventurers who have chosen an alternative lifestyle to live the exact lives they want—like-minded, nature-obsessed, slightly "out there" folk who welcome challenge and adapt to life's twists and turns. We're grateful for the friends we've made, locations we've explored, and for places that allow overnight camping. To fuel our adventures, I work full time as a product director for a software company and part time as a photographer and marketing director for The Journal of Lost Time, an adventure journal. Nick is a high school English teacher in Grand Blanc, Michigan. Charlie works as a dishwasher, vacuum and space-heater. You can follow along on our adventures on Instagram, @arora.the.explorer."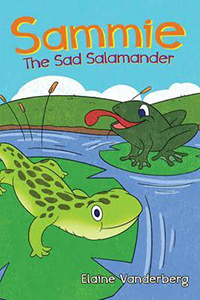 Elaine Vanderberg '52 of Frankfort, Michigan, recently published books two and three of her series of children's books, which are meant to encourage children to believe in themselves. Each of the books in the series of four approaches a different topic of negativity in the lives of children and how it can be overcome. The latest books are titled Sammie, The Sad Salamander and Chloe: The Left-Behind Angel. You can listen to Elaine's radio interview on America Tonight with Kate Delaney on YouTube.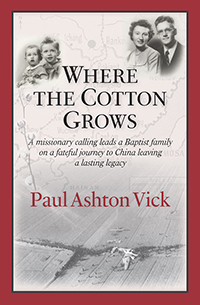 Paul A. Vick '67 has published a memoir, Where the Cotton Grows: A Missionary Calling Leads a Baptist Family on a Fateful Journey to China Leaving a Lasting Legacy. The memoir recalls the legacy of his missionary parents, who died when their plane crashed en route to their first assignment, and his lifelong journey as the sole survivor to find his own identity and path. Paul holds a Master of Divinity from Colgate Rochester Divinity School and a Juris Doctor from University of Buffalo Law School. An ordained American Baptist minister, he retired from Phillips Lytle LLP as partner-in-charge of the Wealth Management Department of the Rochester office in 2007. Paul currently serves as treasurer of the board of the American Baptist Foreign Mission Society as well as chair of the finance committee of the board of trustees of Colgate Rochester Crozer Divinity School. He also coordinates a legal team in India and has traveled extensively to events held in India, Southeast Asia and Africa. Paul resides in Rochester, New York, with his wife, Joyce. They have three children, who are all married, and seven grandchildren. This is Paul's first book and more information can be found at wherethecottongrows.com.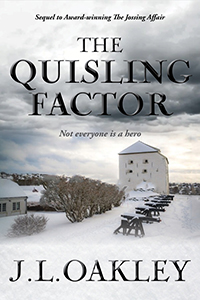 Janet Osborn Oakley '68 has published two award-winning historical thrillers set in Norway during and after World War II. The Jøssing Affair (Fairchance Press, 2016) is the winner of the Goethe Grand Prize and a 2020 silver medal from the Military Writers Society of America. The Quisling Factor (Fairchance Press, 2020) is its sequel. In the aftermath of WWII, an ex-intelligence agent tries to adjust to life in his newly freed country with the woman he loves. But he still has to testify against a Norwegian traitor whom he helped to capture. When mysterious notes threaten him and his family, he must choose between protecting them or bringing to justice the man who tortured him and destroyed the village that hid him. The book won a Hemingway grand prize and an honorable mention from Writer's Digest and was the 2021 Pulpwood Queen International book of the year. Janet has always been grateful to Dr. Ivor Spencer for teaching her how to do historical research.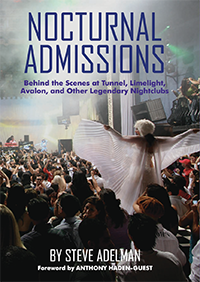 Steven Adelman '84 had his first book released in June. Nocturnal Admissions: Behind the Scenes at Tunnel, Limelight, Avalon, and Other Legendary Nightclubs (Santa Monica Press, 2022) takes a humorous, behind-the-scenes look at nightlife spanning his 30 years as director and owner of some of the world's most popular nightclubs in New York City, Los Angeles, Boston, Singapore and Memphis. In The Daily Beast, Kevin Fallon writes, "With his 30 years of experience running the world's biggest nightclubs, Steve Adelman takes you behind the velvet rope to a world of celebrity, power, debauchery, and, most of all, fun. With his dishy yarns and observational humor, he transports you so you're right there basking under the lights of a disco ball with him."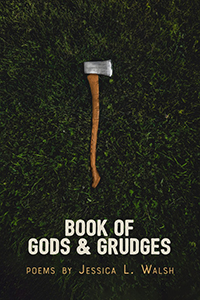 Jessica Walsh '96 published her third book of poetry, Book of Gods and Grudges (Glass Lyre Press), in July 2022. The book "tells a tale of generational trauma and transcendence," according to a review by Grace Bauer. "Her speaker struggles through illness and sobriety and grappling with God as a problem she tries to solve as she finds her own calling. The poems are unflinchingly honest and impeccably crafted." Jessica is a poet and professor of English at Harper College in suburban Chicago.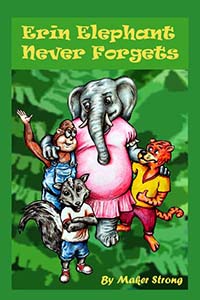 William R.C. Giles '02 has released Erin Elephant Never Forgets, a children's book which features his illustrations. The book is available through Amazon publishing and also can be read in Spanish and Arabic translations. In the story, Stanley Skunk has accidentally upset his good friend Erin. She wants to forgive and forget, but everyone knows that elephants never forget. Erin must learn how to give and receive forgiveness in the storybook jungle. William earned a bachelor's degree in studio art at K. He has worked as an art teacher for more than a decade in public education and celebrates this work as a collaborative effort with writer Maker Strong.
---
Have a ZooBit to Share?
Did you get married? Have a baby? Get a new job or move to a new city? Tell us about your recent travels, career developments, family updates, mini-reunions or anything else! Photos are welcome. Use our online form or email us to submit a note. If you email, please include your class year.
---